Antistatische coating: dit is wat u kunt verwachten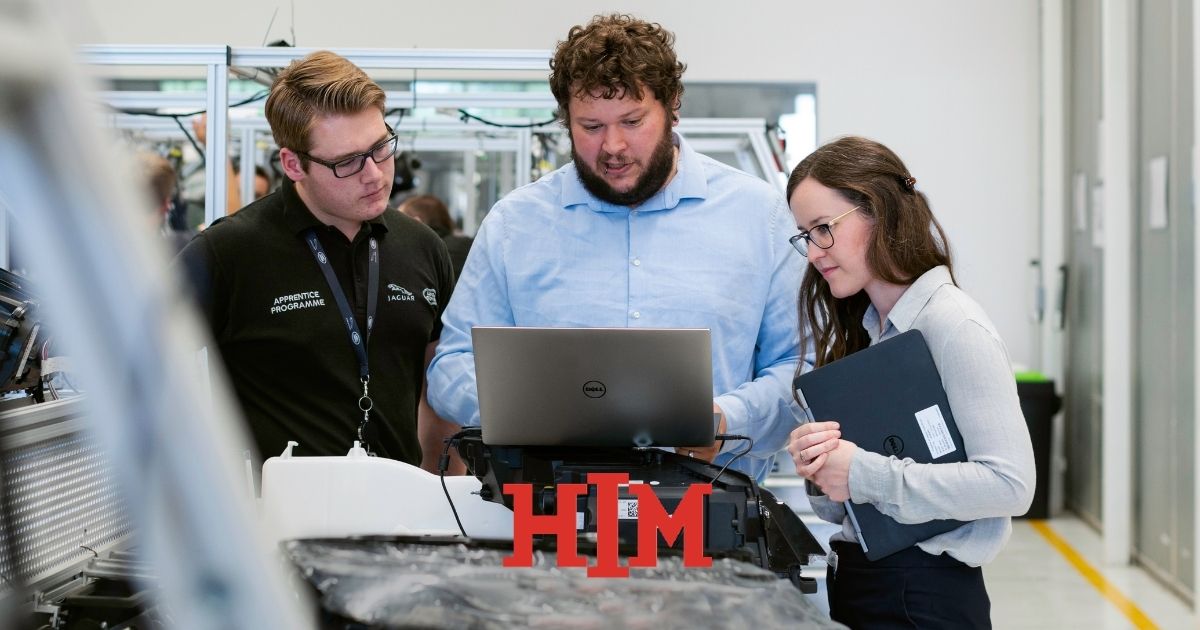 Een antistatische coating vormt de perfecte finish op ESD-vloeren. De antistatische coatings van HIM verminderen persoonslading en geven de vloer tegelijkertijd een mooier en gestructureerd uiterlijk. Alles wat u moet weten over antistatische coatings, leest u hier.
Kenmerken antistatische coating
Met een antistatische coating stroomlijnt u de gang van zaken op de werkvloer, zoveel is duidelijk. Antistatische coatings hebben een aantal belangrijke kenmerken en voordelen:
| | | |
| --- | --- | --- |
| Veiligheid | Praktisch | Esthetisch |
| Voorkomt de opbouw van statische energie | Watergedragen, voor een verantwoorde applicatie | Kleurvast, beschermt het onderliggende systeem tegen vergeling door UV-licht |
| Heeft geen aantrekkingskracht op vuil en stof en daarmee hygiënisch in gebruik | Korte droog- en uithardingstijd voor een minimale werkonderbreking en snelle ingebruikname | Beschikbaar in uiteenlopende RAL- en NCS-kleuren ten behoeve van decoratieve wensen |
| Vonkvrij werken in ruimtes waar met gassen en/of oplosmiddelen wordt gewerkt (in verband met explosiegevaar) | Zorgt voor een naadloze, vloeistofdichte vloerafwerking, welke eenvoudig te reinigen is | Slijtvast en krasbestendig, ook bij gebruik van of wrijving met zwaar materieel |
| Met een antistatische topcoat kan ook persoonsoplading worden voorkomen | Chemisch-resistent, bestand tegen diverse agressieve chemicaliën bij onverhoopt morsen | Beschikbaar in combinatie met belijningen en markeringen |
Toepassingen antistatische coating
Antistatische coatings zijn geschikt voor uiteenlopende branches. De coatings worden als finish van ESD-gietvloeren toegepast in onder meer:
Klik op de links hierboven voor meer informatie over deze specifieke toepassingen.
Kwalitatieve antistatische coatings
Uw veiligheid is onze prioriteit. De antistatische coatings van HIM omvatten alle belangrijke eigenschappen om de werkzaamheden binnen ESD-gevoelige ruimtes in goede banen te leiden. Zo kunt u er blind op vertrouwen dat de vloer het welzijn van uw personeel en het behoud van uw bedrijfsobjecten waarborgt.
We adviseren u graag over de ideale verwerkingsmethode en -condities voor optimaal resultaat.
Meer weten? Onze specialisten staan u graag te woord met aanvullende informatie over onze ESD-vloeroplossingen. Bel hiervoor naar +31 (0)251-276300 of stuur ons een bericht via de contactpagina.
---
Publicatiedatum: 2021-02-02
Categorie: Nieuws
[gravityform id="13" title="false" description="false"]
<div class='gf_browser_unknown gform_wrapper gform_legacy_markup_wrapper gform-theme--no-framework vinduwvloer_wrapper' data-form-theme='legacy' data-form-index='0' id='gform_wrapper_13' style='display:none'><form method='post' enctype='multipart/form-data' id='gform_13' class='vinduwvloer' action='/antistatische-coating/' data-formid='13' > <div class='gform-body gform_body'><ul id='gform_fields_13' class='gform_fields top_label form_sublabel_below description_below'><li id="field_13_1" class="gfield gfield--type-name optin gfield_contains_required field_sublabel_hidden_label gfield--no-description field_description_below hidden_label gfield_visibility_visible" data-js-reload="field_13_1"><label class='gfield_label gform-field-label gfield_label_before_complex' >Naam<span class="gfield_required"><span class="gfield_required gfield_required_asterisk">*</span></span></label><div class='ginput_complex ginput_container ginput_container--name no_prefix has_first_name no_middle_name no_last_name no_suffix gf_name_has_1 ginput_container_name gform-grid-row' id='input_13_1'> <span id='input_13_1_3_container' class='name_first gform-grid-col gform-grid-col--size-auto' > <input type='text' name='input_1.3' id='input_13_1_3' value='' aria-required='true' placeholder='Voornaam' /> <label for='input_13_1_3' class='gform-field-label gform-field-label--type-sub hidden_sub_label screen-reader-text'>Voornaam</label> </span> </div></li><li id="field_13_2" class="gfield gfield--type-email optin gfield_contains_required field_sublabel_below gfield--no-description field_description_below hidden_label gfield_visibility_visible" data-js-reload="field_13_2"><label class='gfield_label gform-field-label' for='input_13_2' >E-mailadres<span class="gfield_required"><span class="gfield_required gfield_required_asterisk">*</span></span></label><div class='ginput_container ginput_container_email'> <input name='input_2' id='input_13_2' type='text' value='' class='medium' placeholder='E-mailadres' aria-required="true" aria-invalid="false" /> </div></li><li id="field_13_3" class="gfield gfield--type-hidden gform_hidden field_sublabel_below gfield--no-description field_description_below gfield_visibility_visible" data-js-reload="field_13_3"><div class='ginput_container ginput_container_text'><input name='input_3' id='input_13_3' type='hidden' class='gform_hidden' aria-invalid="false" value='https://www.him.nl/antistatische-coating/' /></div></li></ul></div> <div class='gform_footer top_label'> <input type="submit" id="gform_submit_button_13" class="gform_button button btn btn-primary" value="DOWNLOAD DIRECT" onclick='if(window["gf_submitting_13"]){return false;} window["gf_submitting_13"]=true; ' onkeypress='if( event.keyCode == 13 ){ if(window["gf_submitting_13"]){return false;} window["gf_submitting_13"]=true; jQuery("#gform_13").trigger("submit",[true]); }'> <input type='hidden' class='gform_hidden' name='is_submit_13' value='1' /> <input type='hidden' class='gform_hidden' name='gform_submit' value='13' /> <input type='hidden' class='gform_hidden' name='gform_unique_id' value='' /> <input type='hidden' class='gform_hidden' name='state_13' value='WyJbXSIsImQ0NzI3YjdmMzZhYjMzOTI3YzY4MGJhYjMwODMyMDYwIl0=' /> <input type='hidden' class='gform_hidden' name='gform_target_page_number_13' id='gform_target_page_number_13' value='0' /> <input type='hidden' class='gform_hidden' name='gform_source_page_number_13' id='gform_source_page_number_13' value='1' /> <input type='hidden' name='gform_field_values' value='' /> </div> <p style="display: none !important;"><label>&#916;<textarea name="ak_hp_textarea" cols="45" rows="8" maxlength="100"></textarea></label><input type="hidden" id="ak_js_2" name="ak_js" value="100"/><script>document.getElementById( "ak_js_2" ).setAttribute( "value", ( new Date() ).getTime() );</script></p></form> </div><script type="text/javascript"> gform.initializeOnLoaded( function() {gformInitSpinner( 13, 'https://www.him.nl/wp-content/plugins/gravityforms/images/spinner.svg', true );jQuery('#gform_ajax_frame_13').on('load',function(){var contents = jQuery(this).contents().find('*').html();var is_postback = contents.indexOf('GF_AJAX_POSTBACK') >= 0;if(!is_postback){return;}var form_content = jQuery(this).contents().find('#gform_wrapper_13');var is_confirmation = jQuery(this).contents().find('#gform_confirmation_wrapper_13').length > 0;var is_redirect = contents.indexOf('gformRedirect(){') >= 0;var is_form = form_content.length > 0 && ! is_redirect && ! is_confirmation;var mt = parseInt(jQuery('html').css('margin-top'), 10) + parseInt(jQuery('body').css('margin-top'), 10) + 100;if(is_form){jQuery('#gform_wrapper_13').html(form_content.html());if(form_content.hasClass('gform_validation_error')){jQuery('#gform_wrapper_13').addClass('gform_validation_error');} else {jQuery('#gform_wrapper_13').removeClass('gform_validation_error');}setTimeout( function() { /* delay the scroll by 50 milliseconds to fix a bug in chrome */ }, 50 );if(window['gformInitDatepicker']) {gformInitDatepicker();}if(window['gformInitPriceFields']) {gformInitPriceFields();}var current_page = jQuery('#gform_source_page_number_13').val();gformInitSpinner( 13, 'https://www.him.nl/wp-content/plugins/gravityforms/images/spinner.svg', true );jQuery(document).trigger('gform_page_loaded', [13, current_page]);window['gf_submitting_13'] = false;}else if(!is_redirect){var confirmation_content = jQuery(this).contents().find('.GF_AJAX_POSTBACK').html();if(!confirmation_content){confirmation_content = contents;}setTimeout(function(){jQuery('#gform_wrapper_13').replaceWith(confirmation_content);jQuery(document).trigger('gform_confirmation_loaded', [13]);window['gf_submitting_13'] = false;wp.a11y.speak(jQuery('#gform_confirmation_message_13').text());}, 50);}else{jQuery('#gform_13').append(contents);if(window['gformRedirect']) {gformRedirect();}}jQuery(document).trigger('gform_post_render', [13, current_page]);gform.utils.trigger({ event: 'gform/postRender', native: false, data: { formId: 13, currentPage: current_page } });} );} ); </script>
[gravityform id="22" title="false" description="false"]
<div class='gf_browser_unknown gform_wrapper gform_legacy_markup_wrapper gform-theme--no-framework vinduwvloer_wrapper' data-form-theme='legacy' data-form-index='0' id='gform_wrapper_22' ><form method='post' enctype='multipart/form-data' id='gform_22' class='vinduwvloer' action='/antistatische-coating/' data-formid='22' > <div class='gform-body gform_body'><ul id='gform_fields_22' class='gform_fields top_label form_sublabel_below description_below'><li id="field_22_1" class="gfield gfield--type-name optin gfield_contains_required field_sublabel_hidden_label gfield--no-description field_description_below hidden_label gfield_visibility_visible" data-js-reload="field_22_1"><label class='gfield_label gform-field-label gfield_label_before_complex' >Naam<span class="gfield_required"><span class="gfield_required gfield_required_asterisk">*</span></span></label><div class='ginput_complex ginput_container ginput_container--name no_prefix has_first_name no_middle_name no_last_name no_suffix gf_name_has_1 ginput_container_name gform-grid-row' id='input_22_1'> <span id='input_22_1_3_container' class='name_first gform-grid-col gform-grid-col--size-auto' > <input type='text' name='input_1.3' id='input_22_1_3' value='' aria-required='true' placeholder='Voornaam' /> <label for='input_22_1_3' class='gform-field-label gform-field-label--type-sub hidden_sub_label screen-reader-text'>Voornaam</label> </span> </div></li><li id="field_22_2" class="gfield gfield--type-email optin gfield_contains_required field_sublabel_below gfield--no-description field_description_below hidden_label gfield_visibility_visible" data-js-reload="field_22_2"><label class='gfield_label gform-field-label' for='input_22_2' >E-mailadres<span class="gfield_required"><span class="gfield_required gfield_required_asterisk">*</span></span></label><div class='ginput_container ginput_container_email'> <input name='input_2' id='input_22_2' type='text' value='' class='medium' placeholder='E-mail adres' aria-required="true" aria-invalid="false" /> </div></li><li id="field_22_3" class="gfield gfield--type-hidden gform_hidden field_sublabel_below gfield--no-description field_description_below gfield_visibility_visible" data-js-reload="field_22_3"><div class='ginput_container ginput_container_text'><input name='input_3' id='input_22_3' type='hidden' class='gform_hidden' aria-invalid="false" value='https://www.him.nl/antistatische-coating/' /></div></li></ul></div> <div class='gform_footer top_label'> <input type="submit" id="gform_submit_button_22" class="gform_button button btn btn-primary" value="DOWNLOAD DIRECT" onclick='if(window["gf_submitting_22"]){return false;} window["gf_submitting_22"]=true; ' onkeypress='if( event.keyCode == 13 ){ if(window["gf_submitting_22"]){return false;} window["gf_submitting_22"]=true; jQuery("#gform_22").trigger("submit",[true]); }'> <input type='hidden' class='gform_hidden' name='is_submit_22' value='1' /> <input type='hidden' class='gform_hidden' name='gform_submit' value='22' /> <input type='hidden' class='gform_hidden' name='gform_unique_id' value='' /> <input type='hidden' class='gform_hidden' name='state_22' value='WyJbXSIsImQ0NzI3YjdmMzZhYjMzOTI3YzY4MGJhYjMwODMyMDYwIl0=' /> <input type='hidden' class='gform_hidden' name='gform_target_page_number_22' id='gform_target_page_number_22' value='0' /> <input type='hidden' class='gform_hidden' name='gform_source_page_number_22' id='gform_source_page_number_22' value='1' /> <input type='hidden' name='gform_field_values' value='' /> </div> <p style="display: none !important;"><label>&#916;<textarea name="ak_hp_textarea" cols="45" rows="8" maxlength="100"></textarea></label><input type="hidden" id="ak_js_3" name="ak_js" value="36"/><script>document.getElementById( "ak_js_3" ).setAttribute( "value", ( new Date() ).getTime() );</script></p></form> </div><script type="text/javascript"> gform.initializeOnLoaded( function() {gformInitSpinner( 22, 'https://www.him.nl/wp-content/plugins/gravityforms/images/spinner.svg', true );jQuery('#gform_ajax_frame_22').on('load',function(){var contents = jQuery(this).contents().find('*').html();var is_postback = contents.indexOf('GF_AJAX_POSTBACK') >= 0;if(!is_postback){return;}var form_content = jQuery(this).contents().find('#gform_wrapper_22');var is_confirmation = jQuery(this).contents().find('#gform_confirmation_wrapper_22').length > 0;var is_redirect = contents.indexOf('gformRedirect(){') >= 0;var is_form = form_content.length > 0 && ! is_redirect && ! is_confirmation;var mt = parseInt(jQuery('html').css('margin-top'), 10) + parseInt(jQuery('body').css('margin-top'), 10) + 100;if(is_form){jQuery('#gform_wrapper_22').html(form_content.html());if(form_content.hasClass('gform_validation_error')){jQuery('#gform_wrapper_22').addClass('gform_validation_error');} else {jQuery('#gform_wrapper_22').removeClass('gform_validation_error');}setTimeout( function() { /* delay the scroll by 50 milliseconds to fix a bug in chrome */ }, 50 );if(window['gformInitDatepicker']) {gformInitDatepicker();}if(window['gformInitPriceFields']) {gformInitPriceFields();}var current_page = jQuery('#gform_source_page_number_22').val();gformInitSpinner( 22, 'https://www.him.nl/wp-content/plugins/gravityforms/images/spinner.svg', true );jQuery(document).trigger('gform_page_loaded', [22, current_page]);window['gf_submitting_22'] = false;}else if(!is_redirect){var confirmation_content = jQuery(this).contents().find('.GF_AJAX_POSTBACK').html();if(!confirmation_content){confirmation_content = contents;}setTimeout(function(){jQuery('#gform_wrapper_22').replaceWith(confirmation_content);jQuery(document).trigger('gform_confirmation_loaded', [22]);window['gf_submitting_22'] = false;wp.a11y.speak(jQuery('#gform_confirmation_message_22').text());}, 50);}else{jQuery('#gform_22').append(contents);if(window['gformRedirect']) {gformRedirect();}}jQuery(document).trigger('gform_post_render', [22, current_page]);gform.utils.trigger({ event: 'gform/postRender', native: false, data: { formId: 22, currentPage: current_page } });} );} ); </script>
[gravityform id="24" title="false" description="false"]
<div class='gf_browser_unknown gform_wrapper gform_legacy_markup_wrapper gform-theme--no-framework vinduwvloer_wrapper' data-form-theme='legacy' data-form-index='0' id='gform_wrapper_24' ><form method='post' enctype='multipart/form-data' id='gform_24' class='vinduwvloer' action='/antistatische-coating/' data-formid='24' > <div class='gform-body gform_body'><ul id='gform_fields_24' class='gform_fields top_label form_sublabel_below description_below'><li id="field_24_1" class="gfield gfield--type-name optin gfield_contains_required field_sublabel_hidden_label gfield--no-description field_description_below hidden_label gfield_visibility_visible" data-js-reload="field_24_1"><label class='gfield_label gform-field-label gfield_label_before_complex' >First name<span class="gfield_required"><span class="gfield_required gfield_required_asterisk">*</span></span></label><div class='ginput_complex ginput_container ginput_container--name no_prefix has_first_name no_middle_name no_last_name no_suffix gf_name_has_1 ginput_container_name gform-grid-row' id='input_24_1'> <span id='input_24_1_3_container' class='name_first gform-grid-col gform-grid-col--size-auto' > <input type='text' name='input_1.3' id='input_24_1_3' value='' aria-required='true' placeholder='First name' /> <label for='input_24_1_3' class='gform-field-label gform-field-label--type-sub hidden_sub_label screen-reader-text'>First name</label> </span> </div></li><li id="field_24_2" class="gfield gfield--type-email optin gfield_contains_required field_sublabel_below gfield--no-description field_description_below hidden_label gfield_visibility_visible" data-js-reload="field_24_2"><label class='gfield_label gform-field-label' for='input_24_2' >E-mail address<span class="gfield_required"><span class="gfield_required gfield_required_asterisk">*</span></span></label><div class='ginput_container ginput_container_email'> <input name='input_2' id='input_24_2' type='text' value='' class='medium' placeholder='E-mail address' aria-required="true" aria-invalid="false" /> </div></li><li id="field_24_3" class="gfield gfield--type-hidden gform_hidden field_sublabel_below gfield--no-description field_description_below gfield_visibility_visible" data-js-reload="field_24_3"><div class='ginput_container ginput_container_text'><input name='input_3' id='input_24_3' type='hidden' class='gform_hidden' aria-invalid="false" value='https://www.him.nl/antistatische-coating/' /></div></li></ul></div> <div class='gform_footer top_label'> <input type="submit" id="gform_submit_button_24" class="gform_button button btn btn-primary" value="DOWNLOAD DIRECT" onclick='if(window["gf_submitting_24"]){return false;} window["gf_submitting_24"]=true; ' onkeypress='if( event.keyCode == 13 ){ if(window["gf_submitting_24"]){return false;} window["gf_submitting_24"]=true; jQuery("#gform_24").trigger("submit",[true]); }'> <input type='hidden' class='gform_hidden' name='is_submit_24' value='1' /> <input type='hidden' class='gform_hidden' name='gform_submit' value='24' /> <input type='hidden' class='gform_hidden' name='gform_unique_id' value='' /> <input type='hidden' class='gform_hidden' name='state_24' value='WyJbXSIsImQ0NzI3YjdmMzZhYjMzOTI3YzY4MGJhYjMwODMyMDYwIl0=' /> <input type='hidden' class='gform_hidden' name='gform_target_page_number_24' id='gform_target_page_number_24' value='0' /> <input type='hidden' class='gform_hidden' name='gform_source_page_number_24' id='gform_source_page_number_24' value='1' /> <input type='hidden' name='gform_field_values' value='' /> </div> <p style="display: none !important;"><label>&#916;<textarea name="ak_hp_textarea" cols="45" rows="8" maxlength="100"></textarea></label><input type="hidden" id="ak_js_4" name="ak_js" value="31"/><script>document.getElementById( "ak_js_4" ).setAttribute( "value", ( new Date() ).getTime() );</script></p></form> </div><script type="text/javascript"> gform.initializeOnLoaded( function() {gformInitSpinner( 24, 'https://www.him.nl/wp-content/plugins/gravityforms/images/spinner.svg', true );jQuery('#gform_ajax_frame_24').on('load',function(){var contents = jQuery(this).contents().find('*').html();var is_postback = contents.indexOf('GF_AJAX_POSTBACK') >= 0;if(!is_postback){return;}var form_content = jQuery(this).contents().find('#gform_wrapper_24');var is_confirmation = jQuery(this).contents().find('#gform_confirmation_wrapper_24').length > 0;var is_redirect = contents.indexOf('gformRedirect(){') >= 0;var is_form = form_content.length > 0 && ! is_redirect && ! is_confirmation;var mt = parseInt(jQuery('html').css('margin-top'), 10) + parseInt(jQuery('body').css('margin-top'), 10) + 100;if(is_form){jQuery('#gform_wrapper_24').html(form_content.html());if(form_content.hasClass('gform_validation_error')){jQuery('#gform_wrapper_24').addClass('gform_validation_error');} else {jQuery('#gform_wrapper_24').removeClass('gform_validation_error');}setTimeout( function() { /* delay the scroll by 50 milliseconds to fix a bug in chrome */ }, 50 );if(window['gformInitDatepicker']) {gformInitDatepicker();}if(window['gformInitPriceFields']) {gformInitPriceFields();}var current_page = jQuery('#gform_source_page_number_24').val();gformInitSpinner( 24, 'https://www.him.nl/wp-content/plugins/gravityforms/images/spinner.svg', true );jQuery(document).trigger('gform_page_loaded', [24, current_page]);window['gf_submitting_24'] = false;}else if(!is_redirect){var confirmation_content = jQuery(this).contents().find('.GF_AJAX_POSTBACK').html();if(!confirmation_content){confirmation_content = contents;}setTimeout(function(){jQuery('#gform_wrapper_24').replaceWith(confirmation_content);jQuery(document).trigger('gform_confirmation_loaded', [24]);window['gf_submitting_24'] = false;wp.a11y.speak(jQuery('#gform_confirmation_message_24').text());}, 50);}else{jQuery('#gform_24').append(contents);if(window['gformRedirect']) {gformRedirect();}}jQuery(document).trigger('gform_post_render', [24, current_page]);gform.utils.trigger({ event: 'gform/postRender', native: false, data: { formId: 24, currentPage: current_page } });} );} ); </script>
[gravityform id="22" title="false" description="false"]
<div class='gf_browser_unknown gform_wrapper gform_legacy_markup_wrapper gform-theme--no-framework vinduwvloer_wrapper' data-form-theme='legacy' data-form-index='0' id='gform_wrapper_22' ><form method='post' enctype='multipart/form-data' id='gform_22' class='vinduwvloer' action='/antistatische-coating/' data-formid='22' > <div class='gform-body gform_body'><ul id='gform_fields_22' class='gform_fields top_label form_sublabel_below description_below'><li id="field_22_1" class="gfield gfield--type-name optin gfield_contains_required field_sublabel_hidden_label gfield--no-description field_description_below hidden_label gfield_visibility_visible" data-js-reload="field_22_1"><label class='gfield_label gform-field-label gfield_label_before_complex' >Naam<span class="gfield_required"><span class="gfield_required gfield_required_asterisk">*</span></span></label><div class='ginput_complex ginput_container ginput_container--name no_prefix has_first_name no_middle_name no_last_name no_suffix gf_name_has_1 ginput_container_name gform-grid-row' id='input_22_1'> <span id='input_22_1_3_container' class='name_first gform-grid-col gform-grid-col--size-auto' > <input type='text' name='input_1.3' id='input_22_1_3' value='' aria-required='true' placeholder='Voornaam' /> <label for='input_22_1_3' class='gform-field-label gform-field-label--type-sub hidden_sub_label screen-reader-text'>Voornaam</label> </span> </div></li><li id="field_22_2" class="gfield gfield--type-email optin gfield_contains_required field_sublabel_below gfield--no-description field_description_below hidden_label gfield_visibility_visible" data-js-reload="field_22_2"><label class='gfield_label gform-field-label' for='input_22_2' >E-mailadres<span class="gfield_required"><span class="gfield_required gfield_required_asterisk">*</span></span></label><div class='ginput_container ginput_container_email'> <input name='input_2' id='input_22_2' type='text' value='' class='medium' placeholder='E-mail adres' aria-required="true" aria-invalid="false" /> </div></li><li id="field_22_3" class="gfield gfield--type-hidden gform_hidden field_sublabel_below gfield--no-description field_description_below gfield_visibility_visible" data-js-reload="field_22_3"><div class='ginput_container ginput_container_text'><input name='input_3' id='input_22_3' type='hidden' class='gform_hidden' aria-invalid="false" value='https://www.him.nl/antistatische-coating/' /></div></li></ul></div> <div class='gform_footer top_label'> <input type="submit" id="gform_submit_button_22" class="gform_button button btn btn-primary" value="DOWNLOAD DIRECT" onclick='if(window["gf_submitting_22"]){return false;} window["gf_submitting_22"]=true; ' onkeypress='if( event.keyCode == 13 ){ if(window["gf_submitting_22"]){return false;} window["gf_submitting_22"]=true; jQuery("#gform_22").trigger("submit",[true]); }'> <input type='hidden' class='gform_hidden' name='is_submit_22' value='1' /> <input type='hidden' class='gform_hidden' name='gform_submit' value='22' /> <input type='hidden' class='gform_hidden' name='gform_unique_id' value='' /> <input type='hidden' class='gform_hidden' name='state_22' value='WyJbXSIsImQ0NzI3YjdmMzZhYjMzOTI3YzY4MGJhYjMwODMyMDYwIl0=' /> <input type='hidden' class='gform_hidden' name='gform_target_page_number_22' id='gform_target_page_number_22' value='0' /> <input type='hidden' class='gform_hidden' name='gform_source_page_number_22' id='gform_source_page_number_22' value='1' /> <input type='hidden' name='gform_field_values' value='' /> </div> <p style="display: none !important;"><label>&#916;<textarea name="ak_hp_textarea" cols="45" rows="8" maxlength="100"></textarea></label><input type="hidden" id="ak_js_5" name="ak_js" value="196"/><script>document.getElementById( "ak_js_5" ).setAttribute( "value", ( new Date() ).getTime() );</script></p></form> </div><script type="text/javascript"> gform.initializeOnLoaded( function() {gformInitSpinner( 22, 'https://www.him.nl/wp-content/plugins/gravityforms/images/spinner.svg', true );jQuery('#gform_ajax_frame_22').on('load',function(){var contents = jQuery(this).contents().find('*').html();var is_postback = contents.indexOf('GF_AJAX_POSTBACK') >= 0;if(!is_postback){return;}var form_content = jQuery(this).contents().find('#gform_wrapper_22');var is_confirmation = jQuery(this).contents().find('#gform_confirmation_wrapper_22').length > 0;var is_redirect = contents.indexOf('gformRedirect(){') >= 0;var is_form = form_content.length > 0 && ! is_redirect && ! is_confirmation;var mt = parseInt(jQuery('html').css('margin-top'), 10) + parseInt(jQuery('body').css('margin-top'), 10) + 100;if(is_form){jQuery('#gform_wrapper_22').html(form_content.html());if(form_content.hasClass('gform_validation_error')){jQuery('#gform_wrapper_22').addClass('gform_validation_error');} else {jQuery('#gform_wrapper_22').removeClass('gform_validation_error');}setTimeout( function() { /* delay the scroll by 50 milliseconds to fix a bug in chrome */ }, 50 );if(window['gformInitDatepicker']) {gformInitDatepicker();}if(window['gformInitPriceFields']) {gformInitPriceFields();}var current_page = jQuery('#gform_source_page_number_22').val();gformInitSpinner( 22, 'https://www.him.nl/wp-content/plugins/gravityforms/images/spinner.svg', true );jQuery(document).trigger('gform_page_loaded', [22, current_page]);window['gf_submitting_22'] = false;}else if(!is_redirect){var confirmation_content = jQuery(this).contents().find('.GF_AJAX_POSTBACK').html();if(!confirmation_content){confirmation_content = contents;}setTimeout(function(){jQuery('#gform_wrapper_22').replaceWith(confirmation_content);jQuery(document).trigger('gform_confirmation_loaded', [22]);window['gf_submitting_22'] = false;wp.a11y.speak(jQuery('#gform_confirmation_message_22').text());}, 50);}else{jQuery('#gform_22').append(contents);if(window['gformRedirect']) {gformRedirect();}}jQuery(document).trigger('gform_post_render', [22, current_page]);gform.utils.trigger({ event: 'gform/postRender', native: false, data: { formId: 22, currentPage: current_page } });} );} ); </script>
[gravityform id="16" title="false" description="false"]
<div class='gf_browser_unknown gform_wrapper gform_legacy_markup_wrapper gform-theme--no-framework vinduwvloer_wrapper' data-form-theme='legacy' data-form-index='0' id='gform_wrapper_16' style='display:none'><form method='post' enctype='multipart/form-data' id='gform_16' class='vinduwvloer' action='/antistatische-coating/' data-formid='16' > <div class='gform-body gform_body'><ul id='gform_fields_16' class='gform_fields top_label form_sublabel_below description_below'><li id="field_16_1" class="gfield gfield--type-name optin gfield_contains_required field_sublabel_hidden_label gfield--no-description field_description_below hidden_label gfield_visibility_visible" data-js-reload="field_16_1"><label class='gfield_label gform-field-label gfield_label_before_complex' >Name<span class="gfield_required"><span class="gfield_required gfield_required_asterisk">*</span></span></label><div class='ginput_complex ginput_container ginput_container--name no_prefix has_first_name no_middle_name no_last_name no_suffix gf_name_has_1 ginput_container_name gform-grid-row' id='input_16_1'> <span id='input_16_1_3_container' class='name_first gform-grid-col gform-grid-col--size-auto' > <input type='text' name='input_1.3' id='input_16_1_3' value='' aria-required='true' placeholder='First name' /> <label for='input_16_1_3' class='gform-field-label gform-field-label--type-sub hidden_sub_label screen-reader-text'>First name</label> </span> </div></li><li id="field_16_2" class="gfield gfield--type-email optin gfield_contains_required field_sublabel_below gfield--no-description field_description_below hidden_label gfield_visibility_visible" data-js-reload="field_16_2"><label class='gfield_label gform-field-label' for='input_16_2' >E-mail address<span class="gfield_required"><span class="gfield_required gfield_required_asterisk">*</span></span></label><div class='ginput_container ginput_container_email'> <input name='input_2' id='input_16_2' type='text' value='' class='medium' placeholder='E-mail address' aria-required="true" aria-invalid="false" /> </div></li><li id="field_16_3" class="gfield gfield--type-hidden gform_hidden field_sublabel_below gfield--no-description field_description_below gfield_visibility_visible" data-js-reload="field_16_3"><div class='ginput_container ginput_container_text'><input name='input_3' id='input_16_3' type='hidden' class='gform_hidden' aria-invalid="false" value='https://www.him.nl/antistatische-coating/' /></div></li><li id="field_16_4" class="gfield gfield--type-checkbox gfield--type-choice gfield--width-full gfield_contains_required field_sublabel_below gfield--has-description field_description_below gfield_visibility_visible" data-js-reload="field_16_4"><label class='gfield_label gform-field-label gfield_label_before_complex' >GDPR permission<span class="gfield_required"><span class="gfield_required gfield_required_asterisk">*</span></span></label><div class='ginput_container ginput_container_checkbox'><ul class='gfield_checkbox' id='input_16_4'><li class='gchoice gchoice_16_4_1'> <input class='gfield-choice-input' name='input_4.1' type='checkbox' value='I give permission for HIM to email me and to store my information.' id='choice_16_4_1' aria-describedby="gfield_description_16_4"/> <label for='choice_16_4_1' id='label_16_4_1' class='gform-field-label gform-field-label--type-inline'>I give permission for HIM to email me and to store my information.</label> </li></ul></div><div class='gfield_description' id='gfield_description_16_4'>HIM uses your information to administer your account. By agreeing to these terms you give HIM permission to store your data and provide you with the requested information. </div></li><li id="field_submit" class="gfield gfield--type-submit gfield--width-full field_sublabel_below gfield--no-description field_description_below gfield_visibility_visible" data-field-class="gform_editor_submit_container" data-field-position="inline" data-js-reload="true"><input type="submit" id="gform_submit_button_16" class="gform-button gform-button--white button btn btn-primary" value="DOWNLOAD DIRECT" onclick='if(window["gf_submitting_16"]){return false;} window["gf_submitting_16"]=true; ' onkeypress='if( event.keyCode == 13 ){ if(window["gf_submitting_16"]){return false;} window["gf_submitting_16"]=true; jQuery("#gform_16").trigger("submit",[true]); }'></li></ul></div> <div class='gform_footer top_label'> <input type='hidden' class='gform_hidden' name='is_submit_16' value='1' /> <input type='hidden' class='gform_hidden' name='gform_submit' value='16' /> <input type='hidden' class='gform_hidden' name='gform_unique_id' value='' /> <input type='hidden' class='gform_hidden' name='state_16' value='WyJbXSIsImQ0NzI3YjdmMzZhYjMzOTI3YzY4MGJhYjMwODMyMDYwIl0=' /> <input type='hidden' class='gform_hidden' name='gform_target_page_number_16' id='gform_target_page_number_16' value='0' /> <input type='hidden' class='gform_hidden' name='gform_source_page_number_16' id='gform_source_page_number_16' value='1' /> <input type='hidden' name='gform_field_values' value='' /> </div> <p style="display: none !important;"><label>&#916;<textarea name="ak_hp_textarea" cols="45" rows="8" maxlength="100"></textarea></label><input type="hidden" id="ak_js_6" name="ak_js" value="66"/><script>document.getElementById( "ak_js_6" ).setAttribute( "value", ( new Date() ).getTime() );</script></p></form> </div><script type="text/javascript"> gform.initializeOnLoaded( function() {gformInitSpinner( 16, 'https://www.him.nl/wp-content/plugins/gravityforms/images/spinner.svg', true );jQuery('#gform_ajax_frame_16').on('load',function(){var contents = jQuery(this).contents().find('*').html();var is_postback = contents.indexOf('GF_AJAX_POSTBACK') >= 0;if(!is_postback){return;}var form_content = jQuery(this).contents().find('#gform_wrapper_16');var is_confirmation = jQuery(this).contents().find('#gform_confirmation_wrapper_16').length > 0;var is_redirect = contents.indexOf('gformRedirect(){') >= 0;var is_form = form_content.length > 0 && ! is_redirect && ! is_confirmation;var mt = parseInt(jQuery('html').css('margin-top'), 10) + parseInt(jQuery('body').css('margin-top'), 10) + 100;if(is_form){jQuery('#gform_wrapper_16').html(form_content.html());if(form_content.hasClass('gform_validation_error')){jQuery('#gform_wrapper_16').addClass('gform_validation_error');} else {jQuery('#gform_wrapper_16').removeClass('gform_validation_error');}setTimeout( function() { /* delay the scroll by 50 milliseconds to fix a bug in chrome */ }, 50 );if(window['gformInitDatepicker']) {gformInitDatepicker();}if(window['gformInitPriceFields']) {gformInitPriceFields();}var current_page = jQuery('#gform_source_page_number_16').val();gformInitSpinner( 16, 'https://www.him.nl/wp-content/plugins/gravityforms/images/spinner.svg', true );jQuery(document).trigger('gform_page_loaded', [16, current_page]);window['gf_submitting_16'] = false;}else if(!is_redirect){var confirmation_content = jQuery(this).contents().find('.GF_AJAX_POSTBACK').html();if(!confirmation_content){confirmation_content = contents;}setTimeout(function(){jQuery('#gform_wrapper_16').replaceWith(confirmation_content);jQuery(document).trigger('gform_confirmation_loaded', [16]);window['gf_submitting_16'] = false;wp.a11y.speak(jQuery('#gform_confirmation_message_16').text());}, 50);}else{jQuery('#gform_16').append(contents);if(window['gformRedirect']) {gformRedirect();}}jQuery(document).trigger('gform_post_render', [16, current_page]);gform.utils.trigger({ event: 'gform/postRender', native: false, data: { formId: 16, currentPage: current_page } });} );} ); </script>
[gravityform id="13" title="false" description="false"]
<div class='gf_browser_unknown gform_wrapper gform_legacy_markup_wrapper gform-theme--no-framework vinduwvloer_wrapper' data-form-theme='legacy' data-form-index='0' id='gform_wrapper_13' style='display:none'><form method='post' enctype='multipart/form-data' id='gform_13' class='vinduwvloer' action='/antistatische-coating/' data-formid='13' > <div class='gform-body gform_body'><ul id='gform_fields_13' class='gform_fields top_label form_sublabel_below description_below'><li id="field_13_1" class="gfield gfield--type-name optin gfield_contains_required field_sublabel_hidden_label gfield--no-description field_description_below hidden_label gfield_visibility_visible" data-js-reload="field_13_1"><label class='gfield_label gform-field-label gfield_label_before_complex' >Naam<span class="gfield_required"><span class="gfield_required gfield_required_asterisk">*</span></span></label><div class='ginput_complex ginput_container ginput_container--name no_prefix has_first_name no_middle_name no_last_name no_suffix gf_name_has_1 ginput_container_name gform-grid-row' id='input_13_1'> <span id='input_13_1_3_container' class='name_first gform-grid-col gform-grid-col--size-auto' > <input type='text' name='input_1.3' id='input_13_1_3' value='' aria-required='true' placeholder='Voornaam' /> <label for='input_13_1_3' class='gform-field-label gform-field-label--type-sub hidden_sub_label screen-reader-text'>Voornaam</label> </span> </div></li><li id="field_13_2" class="gfield gfield--type-email optin gfield_contains_required field_sublabel_below gfield--no-description field_description_below hidden_label gfield_visibility_visible" data-js-reload="field_13_2"><label class='gfield_label gform-field-label' for='input_13_2' >E-mailadres<span class="gfield_required"><span class="gfield_required gfield_required_asterisk">*</span></span></label><div class='ginput_container ginput_container_email'> <input name='input_2' id='input_13_2' type='text' value='' class='medium' placeholder='E-mailadres' aria-required="true" aria-invalid="false" /> </div></li><li id="field_13_3" class="gfield gfield--type-hidden gform_hidden field_sublabel_below gfield--no-description field_description_below gfield_visibility_visible" data-js-reload="field_13_3"><div class='ginput_container ginput_container_text'><input name='input_3' id='input_13_3' type='hidden' class='gform_hidden' aria-invalid="false" value='https://www.him.nl/antistatische-coating/' /></div></li></ul></div> <div class='gform_footer top_label'> <input type="submit" id="gform_submit_button_13" class="gform_button button btn btn-primary" value="DOWNLOAD DIRECT" onclick='if(window["gf_submitting_13"]){return false;} window["gf_submitting_13"]=true; ' onkeypress='if( event.keyCode == 13 ){ if(window["gf_submitting_13"]){return false;} window["gf_submitting_13"]=true; jQuery("#gform_13").trigger("submit",[true]); }'> <input type='hidden' class='gform_hidden' name='is_submit_13' value='1' /> <input type='hidden' class='gform_hidden' name='gform_submit' value='13' /> <input type='hidden' class='gform_hidden' name='gform_unique_id' value='' /> <input type='hidden' class='gform_hidden' name='state_13' value='WyJbXSIsImQ0NzI3YjdmMzZhYjMzOTI3YzY4MGJhYjMwODMyMDYwIl0=' /> <input type='hidden' class='gform_hidden' name='gform_target_page_number_13' id='gform_target_page_number_13' value='0' /> <input type='hidden' class='gform_hidden' name='gform_source_page_number_13' id='gform_source_page_number_13' value='1' /> <input type='hidden' name='gform_field_values' value='' /> </div> <p style="display: none !important;"><label>&#916;<textarea name="ak_hp_textarea" cols="45" rows="8" maxlength="100"></textarea></label><input type="hidden" id="ak_js_7" name="ak_js" value="169"/><script>document.getElementById( "ak_js_7" ).setAttribute( "value", ( new Date() ).getTime() );</script></p></form> </div><script type="text/javascript"> gform.initializeOnLoaded( function() {gformInitSpinner( 13, 'https://www.him.nl/wp-content/plugins/gravityforms/images/spinner.svg', true );jQuery('#gform_ajax_frame_13').on('load',function(){var contents = jQuery(this).contents().find('*').html();var is_postback = contents.indexOf('GF_AJAX_POSTBACK') >= 0;if(!is_postback){return;}var form_content = jQuery(this).contents().find('#gform_wrapper_13');var is_confirmation = jQuery(this).contents().find('#gform_confirmation_wrapper_13').length > 0;var is_redirect = contents.indexOf('gformRedirect(){') >= 0;var is_form = form_content.length > 0 && ! is_redirect && ! is_confirmation;var mt = parseInt(jQuery('html').css('margin-top'), 10) + parseInt(jQuery('body').css('margin-top'), 10) + 100;if(is_form){jQuery('#gform_wrapper_13').html(form_content.html());if(form_content.hasClass('gform_validation_error')){jQuery('#gform_wrapper_13').addClass('gform_validation_error');} else {jQuery('#gform_wrapper_13').removeClass('gform_validation_error');}setTimeout( function() { /* delay the scroll by 50 milliseconds to fix a bug in chrome */ }, 50 );if(window['gformInitDatepicker']) {gformInitDatepicker();}if(window['gformInitPriceFields']) {gformInitPriceFields();}var current_page = jQuery('#gform_source_page_number_13').val();gformInitSpinner( 13, 'https://www.him.nl/wp-content/plugins/gravityforms/images/spinner.svg', true );jQuery(document).trigger('gform_page_loaded', [13, current_page]);window['gf_submitting_13'] = false;}else if(!is_redirect){var confirmation_content = jQuery(this).contents().find('.GF_AJAX_POSTBACK').html();if(!confirmation_content){confirmation_content = contents;}setTimeout(function(){jQuery('#gform_wrapper_13').replaceWith(confirmation_content);jQuery(document).trigger('gform_confirmation_loaded', [13]);window['gf_submitting_13'] = false;wp.a11y.speak(jQuery('#gform_confirmation_message_13').text());}, 50);}else{jQuery('#gform_13').append(contents);if(window['gformRedirect']) {gformRedirect();}}jQuery(document).trigger('gform_post_render', [13, current_page]);gform.utils.trigger({ event: 'gform/postRender', native: false, data: { formId: 13, currentPage: current_page } });} );} ); </script>
[gravityform id="24" title="false" description="false"]
<div class='gf_browser_unknown gform_wrapper gform_legacy_markup_wrapper gform-theme--no-framework vinduwvloer_wrapper' data-form-theme='legacy' data-form-index='0' id='gform_wrapper_24' ><form method='post' enctype='multipart/form-data' id='gform_24' class='vinduwvloer' action='/antistatische-coating/' data-formid='24' > <div class='gform-body gform_body'><ul id='gform_fields_24' class='gform_fields top_label form_sublabel_below description_below'><li id="field_24_1" class="gfield gfield--type-name optin gfield_contains_required field_sublabel_hidden_label gfield--no-description field_description_below hidden_label gfield_visibility_visible" data-js-reload="field_24_1"><label class='gfield_label gform-field-label gfield_label_before_complex' >First name<span class="gfield_required"><span class="gfield_required gfield_required_asterisk">*</span></span></label><div class='ginput_complex ginput_container ginput_container--name no_prefix has_first_name no_middle_name no_last_name no_suffix gf_name_has_1 ginput_container_name gform-grid-row' id='input_24_1'> <span id='input_24_1_3_container' class='name_first gform-grid-col gform-grid-col--size-auto' > <input type='text' name='input_1.3' id='input_24_1_3' value='' aria-required='true' placeholder='First name' /> <label for='input_24_1_3' class='gform-field-label gform-field-label--type-sub hidden_sub_label screen-reader-text'>First name</label> </span> </div></li><li id="field_24_2" class="gfield gfield--type-email optin gfield_contains_required field_sublabel_below gfield--no-description field_description_below hidden_label gfield_visibility_visible" data-js-reload="field_24_2"><label class='gfield_label gform-field-label' for='input_24_2' >E-mail address<span class="gfield_required"><span class="gfield_required gfield_required_asterisk">*</span></span></label><div class='ginput_container ginput_container_email'> <input name='input_2' id='input_24_2' type='text' value='' class='medium' placeholder='E-mail address' aria-required="true" aria-invalid="false" /> </div></li><li id="field_24_3" class="gfield gfield--type-hidden gform_hidden field_sublabel_below gfield--no-description field_description_below gfield_visibility_visible" data-js-reload="field_24_3"><div class='ginput_container ginput_container_text'><input name='input_3' id='input_24_3' type='hidden' class='gform_hidden' aria-invalid="false" value='https://www.him.nl/antistatische-coating/' /></div></li></ul></div> <div class='gform_footer top_label'> <input type="submit" id="gform_submit_button_24" class="gform_button button btn btn-primary" value="DOWNLOAD DIRECT" onclick='if(window["gf_submitting_24"]){return false;} window["gf_submitting_24"]=true; ' onkeypress='if( event.keyCode == 13 ){ if(window["gf_submitting_24"]){return false;} window["gf_submitting_24"]=true; jQuery("#gform_24").trigger("submit",[true]); }'> <input type='hidden' class='gform_hidden' name='is_submit_24' value='1' /> <input type='hidden' class='gform_hidden' name='gform_submit' value='24' /> <input type='hidden' class='gform_hidden' name='gform_unique_id' value='' /> <input type='hidden' class='gform_hidden' name='state_24' value='WyJbXSIsImQ0NzI3YjdmMzZhYjMzOTI3YzY4MGJhYjMwODMyMDYwIl0=' /> <input type='hidden' class='gform_hidden' name='gform_target_page_number_24' id='gform_target_page_number_24' value='0' /> <input type='hidden' class='gform_hidden' name='gform_source_page_number_24' id='gform_source_page_number_24' value='1' /> <input type='hidden' name='gform_field_values' value='' /> </div> <p style="display: none !important;"><label>&#916;<textarea name="ak_hp_textarea" cols="45" rows="8" maxlength="100"></textarea></label><input type="hidden" id="ak_js_8" name="ak_js" value="3"/><script>document.getElementById( "ak_js_8" ).setAttribute( "value", ( new Date() ).getTime() );</script></p></form> </div><script type="text/javascript"> gform.initializeOnLoaded( function() {gformInitSpinner( 24, 'https://www.him.nl/wp-content/plugins/gravityforms/images/spinner.svg', true );jQuery('#gform_ajax_frame_24').on('load',function(){var contents = jQuery(this).contents().find('*').html();var is_postback = contents.indexOf('GF_AJAX_POSTBACK') >= 0;if(!is_postback){return;}var form_content = jQuery(this).contents().find('#gform_wrapper_24');var is_confirmation = jQuery(this).contents().find('#gform_confirmation_wrapper_24').length > 0;var is_redirect = contents.indexOf('gformRedirect(){') >= 0;var is_form = form_content.length > 0 && ! is_redirect && ! is_confirmation;var mt = parseInt(jQuery('html').css('margin-top'), 10) + parseInt(jQuery('body').css('margin-top'), 10) + 100;if(is_form){jQuery('#gform_wrapper_24').html(form_content.html());if(form_content.hasClass('gform_validation_error')){jQuery('#gform_wrapper_24').addClass('gform_validation_error');} else {jQuery('#gform_wrapper_24').removeClass('gform_validation_error');}setTimeout( function() { /* delay the scroll by 50 milliseconds to fix a bug in chrome */ }, 50 );if(window['gformInitDatepicker']) {gformInitDatepicker();}if(window['gformInitPriceFields']) {gformInitPriceFields();}var current_page = jQuery('#gform_source_page_number_24').val();gformInitSpinner( 24, 'https://www.him.nl/wp-content/plugins/gravityforms/images/spinner.svg', true );jQuery(document).trigger('gform_page_loaded', [24, current_page]);window['gf_submitting_24'] = false;}else if(!is_redirect){var confirmation_content = jQuery(this).contents().find('.GF_AJAX_POSTBACK').html();if(!confirmation_content){confirmation_content = contents;}setTimeout(function(){jQuery('#gform_wrapper_24').replaceWith(confirmation_content);jQuery(document).trigger('gform_confirmation_loaded', [24]);window['gf_submitting_24'] = false;wp.a11y.speak(jQuery('#gform_confirmation_message_24').text());}, 50);}else{jQuery('#gform_24').append(contents);if(window['gformRedirect']) {gformRedirect();}}jQuery(document).trigger('gform_post_render', [24, current_page]);gform.utils.trigger({ event: 'gform/postRender', native: false, data: { formId: 24, currentPage: current_page } });} );} ); </script>
[gravityform id="22" title="false" description="false"]
<div class='gf_browser_unknown gform_wrapper gform_legacy_markup_wrapper gform-theme--no-framework vinduwvloer_wrapper' data-form-theme='legacy' data-form-index='0' id='gform_wrapper_22' ><form method='post' enctype='multipart/form-data' id='gform_22' class='vinduwvloer' action='/antistatische-coating/' data-formid='22' > <div class='gform-body gform_body'><ul id='gform_fields_22' class='gform_fields top_label form_sublabel_below description_below'><li id="field_22_1" class="gfield gfield--type-name optin gfield_contains_required field_sublabel_hidden_label gfield--no-description field_description_below hidden_label gfield_visibility_visible" data-js-reload="field_22_1"><label class='gfield_label gform-field-label gfield_label_before_complex' >Naam<span class="gfield_required"><span class="gfield_required gfield_required_asterisk">*</span></span></label><div class='ginput_complex ginput_container ginput_container--name no_prefix has_first_name no_middle_name no_last_name no_suffix gf_name_has_1 ginput_container_name gform-grid-row' id='input_22_1'> <span id='input_22_1_3_container' class='name_first gform-grid-col gform-grid-col--size-auto' > <input type='text' name='input_1.3' id='input_22_1_3' value='' aria-required='true' placeholder='Voornaam' /> <label for='input_22_1_3' class='gform-field-label gform-field-label--type-sub hidden_sub_label screen-reader-text'>Voornaam</label> </span> </div></li><li id="field_22_2" class="gfield gfield--type-email optin gfield_contains_required field_sublabel_below gfield--no-description field_description_below hidden_label gfield_visibility_visible" data-js-reload="field_22_2"><label class='gfield_label gform-field-label' for='input_22_2' >E-mailadres<span class="gfield_required"><span class="gfield_required gfield_required_asterisk">*</span></span></label><div class='ginput_container ginput_container_email'> <input name='input_2' id='input_22_2' type='text' value='' class='medium' placeholder='E-mail adres' aria-required="true" aria-invalid="false" /> </div></li><li id="field_22_3" class="gfield gfield--type-hidden gform_hidden field_sublabel_below gfield--no-description field_description_below gfield_visibility_visible" data-js-reload="field_22_3"><div class='ginput_container ginput_container_text'><input name='input_3' id='input_22_3' type='hidden' class='gform_hidden' aria-invalid="false" value='https://www.him.nl/antistatische-coating/' /></div></li></ul></div> <div class='gform_footer top_label'> <input type="submit" id="gform_submit_button_22" class="gform_button button btn btn-primary" value="DOWNLOAD DIRECT" onclick='if(window["gf_submitting_22"]){return false;} window["gf_submitting_22"]=true; ' onkeypress='if( event.keyCode == 13 ){ if(window["gf_submitting_22"]){return false;} window["gf_submitting_22"]=true; jQuery("#gform_22").trigger("submit",[true]); }'> <input type='hidden' class='gform_hidden' name='is_submit_22' value='1' /> <input type='hidden' class='gform_hidden' name='gform_submit' value='22' /> <input type='hidden' class='gform_hidden' name='gform_unique_id' value='' /> <input type='hidden' class='gform_hidden' name='state_22' value='WyJbXSIsImQ0NzI3YjdmMzZhYjMzOTI3YzY4MGJhYjMwODMyMDYwIl0=' /> <input type='hidden' class='gform_hidden' name='gform_target_page_number_22' id='gform_target_page_number_22' value='0' /> <input type='hidden' class='gform_hidden' name='gform_source_page_number_22' id='gform_source_page_number_22' value='1' /> <input type='hidden' name='gform_field_values' value='' /> </div> <p style="display: none !important;"><label>&#916;<textarea name="ak_hp_textarea" cols="45" rows="8" maxlength="100"></textarea></label><input type="hidden" id="ak_js_9" name="ak_js" value="170"/><script>document.getElementById( "ak_js_9" ).setAttribute( "value", ( new Date() ).getTime() );</script></p></form> </div><script type="text/javascript"> gform.initializeOnLoaded( function() {gformInitSpinner( 22, 'https://www.him.nl/wp-content/plugins/gravityforms/images/spinner.svg', true );jQuery('#gform_ajax_frame_22').on('load',function(){var contents = jQuery(this).contents().find('*').html();var is_postback = contents.indexOf('GF_AJAX_POSTBACK') >= 0;if(!is_postback){return;}var form_content = jQuery(this).contents().find('#gform_wrapper_22');var is_confirmation = jQuery(this).contents().find('#gform_confirmation_wrapper_22').length > 0;var is_redirect = contents.indexOf('gformRedirect(){') >= 0;var is_form = form_content.length > 0 && ! is_redirect && ! is_confirmation;var mt = parseInt(jQuery('html').css('margin-top'), 10) + parseInt(jQuery('body').css('margin-top'), 10) + 100;if(is_form){jQuery('#gform_wrapper_22').html(form_content.html());if(form_content.hasClass('gform_validation_error')){jQuery('#gform_wrapper_22').addClass('gform_validation_error');} else {jQuery('#gform_wrapper_22').removeClass('gform_validation_error');}setTimeout( function() { /* delay the scroll by 50 milliseconds to fix a bug in chrome */ }, 50 );if(window['gformInitDatepicker']) {gformInitDatepicker();}if(window['gformInitPriceFields']) {gformInitPriceFields();}var current_page = jQuery('#gform_source_page_number_22').val();gformInitSpinner( 22, 'https://www.him.nl/wp-content/plugins/gravityforms/images/spinner.svg', true );jQuery(document).trigger('gform_page_loaded', [22, current_page]);window['gf_submitting_22'] = false;}else if(!is_redirect){var confirmation_content = jQuery(this).contents().find('.GF_AJAX_POSTBACK').html();if(!confirmation_content){confirmation_content = contents;}setTimeout(function(){jQuery('#gform_wrapper_22').replaceWith(confirmation_content);jQuery(document).trigger('gform_confirmation_loaded', [22]);window['gf_submitting_22'] = false;wp.a11y.speak(jQuery('#gform_confirmation_message_22').text());}, 50);}else{jQuery('#gform_22').append(contents);if(window['gformRedirect']) {gformRedirect();}}jQuery(document).trigger('gform_post_render', [22, current_page]);gform.utils.trigger({ event: 'gform/postRender', native: false, data: { formId: 22, currentPage: current_page } });} );} ); </script>
[gravityform id="24" title="false" description="false"]
<div class='gf_browser_unknown gform_wrapper gform_legacy_markup_wrapper gform-theme--no-framework vinduwvloer_wrapper' data-form-theme='legacy' data-form-index='0' id='gform_wrapper_24' ><form method='post' enctype='multipart/form-data' id='gform_24' class='vinduwvloer' action='/antistatische-coating/' data-formid='24' > <div class='gform-body gform_body'><ul id='gform_fields_24' class='gform_fields top_label form_sublabel_below description_below'><li id="field_24_1" class="gfield gfield--type-name optin gfield_contains_required field_sublabel_hidden_label gfield--no-description field_description_below hidden_label gfield_visibility_visible" data-js-reload="field_24_1"><label class='gfield_label gform-field-label gfield_label_before_complex' >First name<span class="gfield_required"><span class="gfield_required gfield_required_asterisk">*</span></span></label><div class='ginput_complex ginput_container ginput_container--name no_prefix has_first_name no_middle_name no_last_name no_suffix gf_name_has_1 ginput_container_name gform-grid-row' id='input_24_1'> <span id='input_24_1_3_container' class='name_first gform-grid-col gform-grid-col--size-auto' > <input type='text' name='input_1.3' id='input_24_1_3' value='' aria-required='true' placeholder='First name' /> <label for='input_24_1_3' class='gform-field-label gform-field-label--type-sub hidden_sub_label screen-reader-text'>First name</label> </span> </div></li><li id="field_24_2" class="gfield gfield--type-email optin gfield_contains_required field_sublabel_below gfield--no-description field_description_below hidden_label gfield_visibility_visible" data-js-reload="field_24_2"><label class='gfield_label gform-field-label' for='input_24_2' >E-mail address<span class="gfield_required"><span class="gfield_required gfield_required_asterisk">*</span></span></label><div class='ginput_container ginput_container_email'> <input name='input_2' id='input_24_2' type='text' value='' class='medium' placeholder='E-mail address' aria-required="true" aria-invalid="false" /> </div></li><li id="field_24_3" class="gfield gfield--type-hidden gform_hidden field_sublabel_below gfield--no-description field_description_below gfield_visibility_visible" data-js-reload="field_24_3"><div class='ginput_container ginput_container_text'><input name='input_3' id='input_24_3' type='hidden' class='gform_hidden' aria-invalid="false" value='https://www.him.nl/antistatische-coating/' /></div></li></ul></div> <div class='gform_footer top_label'> <input type="submit" id="gform_submit_button_24" class="gform_button button btn btn-primary" value="DOWNLOAD DIRECT" onclick='if(window["gf_submitting_24"]){return false;} window["gf_submitting_24"]=true; ' onkeypress='if( event.keyCode == 13 ){ if(window["gf_submitting_24"]){return false;} window["gf_submitting_24"]=true; jQuery("#gform_24").trigger("submit",[true]); }'> <input type='hidden' class='gform_hidden' name='is_submit_24' value='1' /> <input type='hidden' class='gform_hidden' name='gform_submit' value='24' /> <input type='hidden' class='gform_hidden' name='gform_unique_id' value='' /> <input type='hidden' class='gform_hidden' name='state_24' value='WyJbXSIsImQ0NzI3YjdmMzZhYjMzOTI3YzY4MGJhYjMwODMyMDYwIl0=' /> <input type='hidden' class='gform_hidden' name='gform_target_page_number_24' id='gform_target_page_number_24' value='0' /> <input type='hidden' class='gform_hidden' name='gform_source_page_number_24' id='gform_source_page_number_24' value='1' /> <input type='hidden' name='gform_field_values' value='' /> </div> <p style="display: none !important;"><label>&#916;<textarea name="ak_hp_textarea" cols="45" rows="8" maxlength="100"></textarea></label><input type="hidden" id="ak_js_10" name="ak_js" value="120"/><script>document.getElementById( "ak_js_10" ).setAttribute( "value", ( new Date() ).getTime() );</script></p></form> </div><script type="text/javascript"> gform.initializeOnLoaded( function() {gformInitSpinner( 24, 'https://www.him.nl/wp-content/plugins/gravityforms/images/spinner.svg', true );jQuery('#gform_ajax_frame_24').on('load',function(){var contents = jQuery(this).contents().find('*').html();var is_postback = contents.indexOf('GF_AJAX_POSTBACK') >= 0;if(!is_postback){return;}var form_content = jQuery(this).contents().find('#gform_wrapper_24');var is_confirmation = jQuery(this).contents().find('#gform_confirmation_wrapper_24').length > 0;var is_redirect = contents.indexOf('gformRedirect(){') >= 0;var is_form = form_content.length > 0 && ! is_redirect && ! is_confirmation;var mt = parseInt(jQuery('html').css('margin-top'), 10) + parseInt(jQuery('body').css('margin-top'), 10) + 100;if(is_form){jQuery('#gform_wrapper_24').html(form_content.html());if(form_content.hasClass('gform_validation_error')){jQuery('#gform_wrapper_24').addClass('gform_validation_error');} else {jQuery('#gform_wrapper_24').removeClass('gform_validation_error');}setTimeout( function() { /* delay the scroll by 50 milliseconds to fix a bug in chrome */ }, 50 );if(window['gformInitDatepicker']) {gformInitDatepicker();}if(window['gformInitPriceFields']) {gformInitPriceFields();}var current_page = jQuery('#gform_source_page_number_24').val();gformInitSpinner( 24, 'https://www.him.nl/wp-content/plugins/gravityforms/images/spinner.svg', true );jQuery(document).trigger('gform_page_loaded', [24, current_page]);window['gf_submitting_24'] = false;}else if(!is_redirect){var confirmation_content = jQuery(this).contents().find('.GF_AJAX_POSTBACK').html();if(!confirmation_content){confirmation_content = contents;}setTimeout(function(){jQuery('#gform_wrapper_24').replaceWith(confirmation_content);jQuery(document).trigger('gform_confirmation_loaded', [24]);window['gf_submitting_24'] = false;wp.a11y.speak(jQuery('#gform_confirmation_message_24').text());}, 50);}else{jQuery('#gform_24').append(contents);if(window['gformRedirect']) {gformRedirect();}}jQuery(document).trigger('gform_post_render', [24, current_page]);gform.utils.trigger({ event: 'gform/postRender', native: false, data: { formId: 24, currentPage: current_page } });} );} ); </script>
[gravityform id="22" title="false" description="false"]
<div class='gf_browser_unknown gform_wrapper gform_legacy_markup_wrapper gform-theme--no-framework vinduwvloer_wrapper' data-form-theme='legacy' data-form-index='0' id='gform_wrapper_22' ><form method='post' enctype='multipart/form-data' id='gform_22' class='vinduwvloer' action='/antistatische-coating/' data-formid='22' > <div class='gform-body gform_body'><ul id='gform_fields_22' class='gform_fields top_label form_sublabel_below description_below'><li id="field_22_1" class="gfield gfield--type-name optin gfield_contains_required field_sublabel_hidden_label gfield--no-description field_description_below hidden_label gfield_visibility_visible" data-js-reload="field_22_1"><label class='gfield_label gform-field-label gfield_label_before_complex' >Naam<span class="gfield_required"><span class="gfield_required gfield_required_asterisk">*</span></span></label><div class='ginput_complex ginput_container ginput_container--name no_prefix has_first_name no_middle_name no_last_name no_suffix gf_name_has_1 ginput_container_name gform-grid-row' id='input_22_1'> <span id='input_22_1_3_container' class='name_first gform-grid-col gform-grid-col--size-auto' > <input type='text' name='input_1.3' id='input_22_1_3' value='' aria-required='true' placeholder='Voornaam' /> <label for='input_22_1_3' class='gform-field-label gform-field-label--type-sub hidden_sub_label screen-reader-text'>Voornaam</label> </span> </div></li><li id="field_22_2" class="gfield gfield--type-email optin gfield_contains_required field_sublabel_below gfield--no-description field_description_below hidden_label gfield_visibility_visible" data-js-reload="field_22_2"><label class='gfield_label gform-field-label' for='input_22_2' >E-mailadres<span class="gfield_required"><span class="gfield_required gfield_required_asterisk">*</span></span></label><div class='ginput_container ginput_container_email'> <input name='input_2' id='input_22_2' type='text' value='' class='medium' placeholder='E-mail adres' aria-required="true" aria-invalid="false" /> </div></li><li id="field_22_3" class="gfield gfield--type-hidden gform_hidden field_sublabel_below gfield--no-description field_description_below gfield_visibility_visible" data-js-reload="field_22_3"><div class='ginput_container ginput_container_text'><input name='input_3' id='input_22_3' type='hidden' class='gform_hidden' aria-invalid="false" value='https://www.him.nl/antistatische-coating/' /></div></li></ul></div> <div class='gform_footer top_label'> <input type="submit" id="gform_submit_button_22" class="gform_button button btn btn-primary" value="DOWNLOAD DIRECT" onclick='if(window["gf_submitting_22"]){return false;} window["gf_submitting_22"]=true; ' onkeypress='if( event.keyCode == 13 ){ if(window["gf_submitting_22"]){return false;} window["gf_submitting_22"]=true; jQuery("#gform_22").trigger("submit",[true]); }'> <input type='hidden' class='gform_hidden' name='is_submit_22' value='1' /> <input type='hidden' class='gform_hidden' name='gform_submit' value='22' /> <input type='hidden' class='gform_hidden' name='gform_unique_id' value='' /> <input type='hidden' class='gform_hidden' name='state_22' value='WyJbXSIsImQ0NzI3YjdmMzZhYjMzOTI3YzY4MGJhYjMwODMyMDYwIl0=' /> <input type='hidden' class='gform_hidden' name='gform_target_page_number_22' id='gform_target_page_number_22' value='0' /> <input type='hidden' class='gform_hidden' name='gform_source_page_number_22' id='gform_source_page_number_22' value='1' /> <input type='hidden' name='gform_field_values' value='' /> </div> <p style="display: none !important;"><label>&#916;<textarea name="ak_hp_textarea" cols="45" rows="8" maxlength="100"></textarea></label><input type="hidden" id="ak_js_11" name="ak_js" value="134"/><script>document.getElementById( "ak_js_11" ).setAttribute( "value", ( new Date() ).getTime() );</script></p></form> </div><script type="text/javascript"> gform.initializeOnLoaded( function() {gformInitSpinner( 22, 'https://www.him.nl/wp-content/plugins/gravityforms/images/spinner.svg', true );jQuery('#gform_ajax_frame_22').on('load',function(){var contents = jQuery(this).contents().find('*').html();var is_postback = contents.indexOf('GF_AJAX_POSTBACK') >= 0;if(!is_postback){return;}var form_content = jQuery(this).contents().find('#gform_wrapper_22');var is_confirmation = jQuery(this).contents().find('#gform_confirmation_wrapper_22').length > 0;var is_redirect = contents.indexOf('gformRedirect(){') >= 0;var is_form = form_content.length > 0 && ! is_redirect && ! is_confirmation;var mt = parseInt(jQuery('html').css('margin-top'), 10) + parseInt(jQuery('body').css('margin-top'), 10) + 100;if(is_form){jQuery('#gform_wrapper_22').html(form_content.html());if(form_content.hasClass('gform_validation_error')){jQuery('#gform_wrapper_22').addClass('gform_validation_error');} else {jQuery('#gform_wrapper_22').removeClass('gform_validation_error');}setTimeout( function() { /* delay the scroll by 50 milliseconds to fix a bug in chrome */ }, 50 );if(window['gformInitDatepicker']) {gformInitDatepicker();}if(window['gformInitPriceFields']) {gformInitPriceFields();}var current_page = jQuery('#gform_source_page_number_22').val();gformInitSpinner( 22, 'https://www.him.nl/wp-content/plugins/gravityforms/images/spinner.svg', true );jQuery(document).trigger('gform_page_loaded', [22, current_page]);window['gf_submitting_22'] = false;}else if(!is_redirect){var confirmation_content = jQuery(this).contents().find('.GF_AJAX_POSTBACK').html();if(!confirmation_content){confirmation_content = contents;}setTimeout(function(){jQuery('#gform_wrapper_22').replaceWith(confirmation_content);jQuery(document).trigger('gform_confirmation_loaded', [22]);window['gf_submitting_22'] = false;wp.a11y.speak(jQuery('#gform_confirmation_message_22').text());}, 50);}else{jQuery('#gform_22').append(contents);if(window['gformRedirect']) {gformRedirect();}}jQuery(document).trigger('gform_post_render', [22, current_page]);gform.utils.trigger({ event: 'gform/postRender', native: false, data: { formId: 22, currentPage: current_page } });} );} ); </script>
[gravityform id="12" title="false" description="false"]
<div class='gf_browser_unknown gform_wrapper gform_legacy_markup_wrapper gform-theme--no-framework vinduwvloer_wrapper' data-form-theme='legacy' data-form-index='0' id='gform_wrapper_12' ><form method='post' enctype='multipart/form-data' id='gform_12' class='vinduwvloer' action='/antistatische-coating/' data-formid='12' > <div class='gform-body gform_body'><ul id='gform_fields_12' class='gform_fields top_label form_sublabel_below description_below'><li id="field_12_1" class="gfield gfield--type-name optin gfield_contains_required field_sublabel_hidden_label gfield--no-description field_description_below hidden_label gfield_visibility_visible" data-js-reload="field_12_1"><label class='gfield_label gform-field-label gfield_label_before_complex' >Naam<span class="gfield_required"><span class="gfield_required gfield_required_asterisk">*</span></span></label><div class='ginput_complex ginput_container ginput_container--name no_prefix has_first_name no_middle_name no_last_name no_suffix gf_name_has_1 ginput_container_name gform-grid-row' id='input_12_1'> <span id='input_12_1_3_container' class='name_first gform-grid-col gform-grid-col--size-auto' > <input type='text' name='input_1.3' id='input_12_1_3' value='' aria-required='true' placeholder='First name' /> <label for='input_12_1_3' class='gform-field-label gform-field-label--type-sub hidden_sub_label screen-reader-text'>Voornaam</label> </span> </div></li><li id="field_12_2" class="gfield gfield--type-email optin gfield_contains_required field_sublabel_below gfield--no-description field_description_below hidden_label gfield_visibility_visible" data-js-reload="field_12_2"><label class='gfield_label gform-field-label' for='input_12_2' >E-mailadres<span class="gfield_required"><span class="gfield_required gfield_required_asterisk">*</span></span></label><div class='ginput_container ginput_container_email'> <input name='input_2' id='input_12_2' type='text' value='' class='medium' placeholder='Email address' aria-required="true" aria-invalid="false" /> </div></li><li id="field_12_3" class="gfield gfield--type-hidden gform_hidden field_sublabel_below gfield--no-description field_description_below gfield_visibility_visible" data-js-reload="field_12_3"><div class='ginput_container ginput_container_text'><input name='input_3' id='input_12_3' type='hidden' class='gform_hidden' aria-invalid="false" value='https://www.him.nl/antistatische-coating/' /></div></li></ul></div> <div class='gform_footer top_label'> <input type="submit" id="gform_submit_button_12" class="gform_button button btn btn-primary" value="DOWNLOAD DIRECT" onclick='if(window["gf_submitting_12"]){return false;} window["gf_submitting_12"]=true; ' onkeypress='if( event.keyCode == 13 ){ if(window["gf_submitting_12"]){return false;} window["gf_submitting_12"]=true; jQuery("#gform_12").trigger("submit",[true]); }'> <input type='hidden' class='gform_hidden' name='is_submit_12' value='1' /> <input type='hidden' class='gform_hidden' name='gform_submit' value='12' /> <input type='hidden' class='gform_hidden' name='gform_unique_id' value='' /> <input type='hidden' class='gform_hidden' name='state_12' value='WyJbXSIsImQ0NzI3YjdmMzZhYjMzOTI3YzY4MGJhYjMwODMyMDYwIl0=' /> <input type='hidden' class='gform_hidden' name='gform_target_page_number_12' id='gform_target_page_number_12' value='0' /> <input type='hidden' class='gform_hidden' name='gform_source_page_number_12' id='gform_source_page_number_12' value='1' /> <input type='hidden' name='gform_field_values' value='' /> </div> <p style="display: none !important;"><label>&#916;<textarea name="ak_hp_textarea" cols="45" rows="8" maxlength="100"></textarea></label><input type="hidden" id="ak_js_12" name="ak_js" value="56"/><script>document.getElementById( "ak_js_12" ).setAttribute( "value", ( new Date() ).getTime() );</script></p></form> </div><script type="text/javascript"> gform.initializeOnLoaded( function() {gformInitSpinner( 12, 'https://www.him.nl/wp-content/plugins/gravityforms/images/spinner.svg', true );jQuery('#gform_ajax_frame_12').on('load',function(){var contents = jQuery(this).contents().find('*').html();var is_postback = contents.indexOf('GF_AJAX_POSTBACK') >= 0;if(!is_postback){return;}var form_content = jQuery(this).contents().find('#gform_wrapper_12');var is_confirmation = jQuery(this).contents().find('#gform_confirmation_wrapper_12').length > 0;var is_redirect = contents.indexOf('gformRedirect(){') >= 0;var is_form = form_content.length > 0 && ! is_redirect && ! is_confirmation;var mt = parseInt(jQuery('html').css('margin-top'), 10) + parseInt(jQuery('body').css('margin-top'), 10) + 100;if(is_form){jQuery('#gform_wrapper_12').html(form_content.html());if(form_content.hasClass('gform_validation_error')){jQuery('#gform_wrapper_12').addClass('gform_validation_error');} else {jQuery('#gform_wrapper_12').removeClass('gform_validation_error');}setTimeout( function() { /* delay the scroll by 50 milliseconds to fix a bug in chrome */ }, 50 );if(window['gformInitDatepicker']) {gformInitDatepicker();}if(window['gformInitPriceFields']) {gformInitPriceFields();}var current_page = jQuery('#gform_source_page_number_12').val();gformInitSpinner( 12, 'https://www.him.nl/wp-content/plugins/gravityforms/images/spinner.svg', true );jQuery(document).trigger('gform_page_loaded', [12, current_page]);window['gf_submitting_12'] = false;}else if(!is_redirect){var confirmation_content = jQuery(this).contents().find('.GF_AJAX_POSTBACK').html();if(!confirmation_content){confirmation_content = contents;}setTimeout(function(){jQuery('#gform_wrapper_12').replaceWith(confirmation_content);jQuery(document).trigger('gform_confirmation_loaded', [12]);window['gf_submitting_12'] = false;wp.a11y.speak(jQuery('#gform_confirmation_message_12').text());}, 50);}else{jQuery('#gform_12').append(contents);if(window['gformRedirect']) {gformRedirect();}}jQuery(document).trigger('gform_post_render', [12, current_page]);gform.utils.trigger({ event: 'gform/postRender', native: false, data: { formId: 12, currentPage: current_page } });} );} ); </script>
[gravityform id="10" title="false" description="false"]
<div class='gf_browser_unknown gform_wrapper gform_legacy_markup_wrapper gform-theme--no-framework vinduwvloer_wrapper' data-form-theme='legacy' data-form-index='0' id='gform_wrapper_10' ><form method='post' enctype='multipart/form-data' id='gform_10' class='vinduwvloer' action='/antistatische-coating/' data-formid='10' > <div class='gform-body gform_body'><ul id='gform_fields_10' class='gform_fields top_label form_sublabel_below description_below'><li id="field_10_1" class="gfield gfield--type-name optin gfield_contains_required field_sublabel_hidden_label gfield--no-description field_description_below hidden_label gfield_visibility_visible" data-js-reload="field_10_1"><label class='gfield_label gform-field-label gfield_label_before_complex' >Naam<span class="gfield_required"><span class="gfield_required gfield_required_asterisk">*</span></span></label><div class='ginput_complex ginput_container ginput_container--name no_prefix has_first_name no_middle_name no_last_name no_suffix gf_name_has_1 ginput_container_name gform-grid-row' id='input_10_1'> <span id='input_10_1_3_container' class='name_first gform-grid-col gform-grid-col--size-auto' > <input type='text' name='input_1.3' id='input_10_1_3' value='' aria-required='true' placeholder='Voornaam' /> <label for='input_10_1_3' class='gform-field-label gform-field-label--type-sub hidden_sub_label screen-reader-text'>Voornaam</label> </span> </div></li><li id="field_10_2" class="gfield gfield--type-email optin gfield_contains_required field_sublabel_below gfield--no-description field_description_below hidden_label gfield_visibility_visible" data-js-reload="field_10_2"><label class='gfield_label gform-field-label' for='input_10_2' >E-mailadres<span class="gfield_required"><span class="gfield_required gfield_required_asterisk">*</span></span></label><div class='ginput_container ginput_container_email'> <input name='input_2' id='input_10_2' type='text' value='' class='medium' placeholder='E-mail adres' aria-required="true" aria-invalid="false" /> </div></li><li id="field_10_5" class="gfield gfield--type-checkbox gfield--type-choice gfield--width-full gfield_description gfield_contains_required field_sublabel_below gfield--no-description field_description_below hidden_label gfield_visibility_visible" data-js-reload="field_10_5"><label class='gfield_label gform-field-label gfield_label_before_complex' >Toestemming<span class="gfield_required"><span class="gfield_required gfield_required_asterisk">*</span></span></label><div class='ginput_container ginput_container_checkbox'><ul class='gfield_checkbox' id='input_10_5'><li class='gchoice gchoice_10_5_1'> <input class='gfield-choice-input' name='input_5.1' type='checkbox' value='Ik ga ermee akkoord dat HIM mijn gegevens verwerkt en mij mailt' id='choice_10_5_1' /> <label for='choice_10_5_1' id='label_10_5_1' class='gform-field-label gform-field-label--type-inline'>Ik ga ermee akkoord dat HIM mijn gegevens verwerkt en mij mailt</label> </li></ul></div></li><li id="field_10_6" class="gfield gfield--type-html gfield--width-full gfield_html gfield_html_formatted gfield_no_follows_desc field_sublabel_below gfield--no-description field_description_below gfield_visibility_visible" data-js-reload="field_10_6"><p><br/></p></li><li id="field_10_3" class="gfield gfield--type-hidden gform_hidden field_sublabel_below gfield--no-description field_description_below gfield_visibility_visible" data-js-reload="field_10_3"><div class='ginput_container ginput_container_text'><input name='input_3' id='input_10_3' type='hidden' class='gform_hidden' aria-invalid="false" value='https://www.him.nl/antistatische-coating/' /></div></li></ul></div> <div class='gform_footer top_label'> <input type="submit" id="gform_submit_button_10" class="gform_button button btn btn-primary" value="DOWNLOAD DIRECT" onclick='if(window["gf_submitting_10"]){return false;} window["gf_submitting_10"]=true; ' onkeypress='if( event.keyCode == 13 ){ if(window["gf_submitting_10"]){return false;} window["gf_submitting_10"]=true; jQuery("#gform_10").trigger("submit",[true]); }'> <input type='hidden' class='gform_hidden' name='is_submit_10' value='1' /> <input type='hidden' class='gform_hidden' name='gform_submit' value='10' /> <input type='hidden' class='gform_hidden' name='gform_unique_id' value='' /> <input type='hidden' class='gform_hidden' name='state_10' value='WyJbXSIsImQ0NzI3YjdmMzZhYjMzOTI3YzY4MGJhYjMwODMyMDYwIl0=' /> <input type='hidden' class='gform_hidden' name='gform_target_page_number_10' id='gform_target_page_number_10' value='0' /> <input type='hidden' class='gform_hidden' name='gform_source_page_number_10' id='gform_source_page_number_10' value='1' /> <input type='hidden' name='gform_field_values' value='' /> </div> <p style="display: none !important;"><label>&#916;<textarea name="ak_hp_textarea" cols="45" rows="8" maxlength="100"></textarea></label><input type="hidden" id="ak_js_13" name="ak_js" value="102"/><script>document.getElementById( "ak_js_13" ).setAttribute( "value", ( new Date() ).getTime() );</script></p></form> </div><script type="text/javascript"> gform.initializeOnLoaded( function() {gformInitSpinner( 10, 'https://www.him.nl/wp-content/plugins/gravityforms/images/spinner.svg', true );jQuery('#gform_ajax_frame_10').on('load',function(){var contents = jQuery(this).contents().find('*').html();var is_postback = contents.indexOf('GF_AJAX_POSTBACK') >= 0;if(!is_postback){return;}var form_content = jQuery(this).contents().find('#gform_wrapper_10');var is_confirmation = jQuery(this).contents().find('#gform_confirmation_wrapper_10').length > 0;var is_redirect = contents.indexOf('gformRedirect(){') >= 0;var is_form = form_content.length > 0 && ! is_redirect && ! is_confirmation;var mt = parseInt(jQuery('html').css('margin-top'), 10) + parseInt(jQuery('body').css('margin-top'), 10) + 100;if(is_form){jQuery('#gform_wrapper_10').html(form_content.html());if(form_content.hasClass('gform_validation_error')){jQuery('#gform_wrapper_10').addClass('gform_validation_error');} else {jQuery('#gform_wrapper_10').removeClass('gform_validation_error');}setTimeout( function() { /* delay the scroll by 50 milliseconds to fix a bug in chrome */ }, 50 );if(window['gformInitDatepicker']) {gformInitDatepicker();}if(window['gformInitPriceFields']) {gformInitPriceFields();}var current_page = jQuery('#gform_source_page_number_10').val();gformInitSpinner( 10, 'https://www.him.nl/wp-content/plugins/gravityforms/images/spinner.svg', true );jQuery(document).trigger('gform_page_loaded', [10, current_page]);window['gf_submitting_10'] = false;}else if(!is_redirect){var confirmation_content = jQuery(this).contents().find('.GF_AJAX_POSTBACK').html();if(!confirmation_content){confirmation_content = contents;}setTimeout(function(){jQuery('#gform_wrapper_10').replaceWith(confirmation_content);jQuery(document).trigger('gform_confirmation_loaded', [10]);window['gf_submitting_10'] = false;wp.a11y.speak(jQuery('#gform_confirmation_message_10').text());}, 50);}else{jQuery('#gform_10').append(contents);if(window['gformRedirect']) {gformRedirect();}}jQuery(document).trigger('gform_post_render', [10, current_page]);gform.utils.trigger({ event: 'gform/postRender', native: false, data: { formId: 10, currentPage: current_page } });} );} ); </script>