Benieuwd naar de prijs per m2 van epoxyvloeren? Over het algemeen geldt: hoe groter het oppervlak, hoe lager de kosten per vierkante meter. Maar ook andere omstandigheden spelen een rol. Welke factoren de prijs van een epoxyvloer bepalen, leest u in dit artikel.
Benodigde werkzaamheden vóór plaatsing
Bij het aanbrengen van gietvloeren op zandcement, beton, gips of tegels is het belangrijk dat de ondergrond goed egaal en waterpas is. Met name bij de dunnere gietvloeren is dit van cruciaal belang. Nog vóór de plaatsing dient u stil te staan bij de volgende vragen:
Is het nodig om bestaande vloeren te verwijderen? Ondergronden als linoleum, zeil en kurk zijn niet geschikt als ondervloer voor gietvloeren. Deze materialen bieden over het algemeen geen goede hechting voor kunststof gietvloeren. Twijfelt u of uw ondergrond geschikt is voor epoxyvloer? Met een aanhechtingsproef weet u zeker of uw ondervloer beschikt over voldoende aanhechtingscapaciteit.
Vertoont uw huidige vloer of ondergrond oneffenheden? Dan is het niet altijd nodig om deze volledig te vervangen. Wel dient u dan reparatiewerkzaamheden uit te voeren. Bij een betonnen ondergrond die niet egaal is kunt u HIM Coving Mastic gebruiken om luchtbelgaten en andere oneffenheden te verhelpen.
Is het gewenst een naadloze overgang van wand naar vloer te maken? De gezondheidszorg en de horeca vragen om goede en eenvoudig te reinigen afwerkingen. Binnen deze sectoren is het vanwege hygiëne-eisen en gemak noodzakelijk dat de vloer overgaat in de wand. Holle plinten voorzien hierin.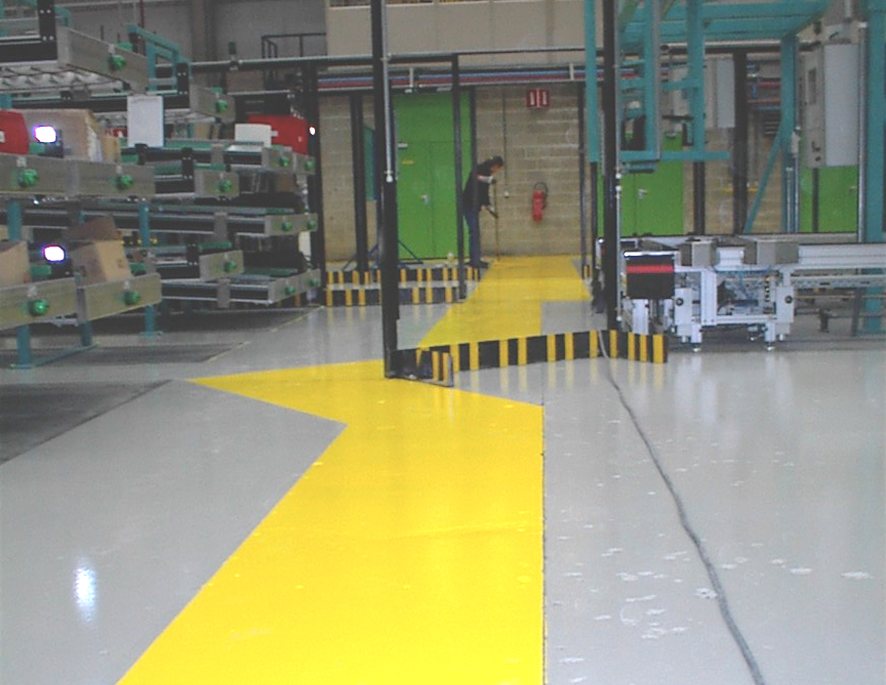 Toegepaste vloersysteem en afwerkingsmogelijkheden
Epoxyvloeren zijn er in veel soorten en maten. Het vloersysteem en de afwerkingsmogelijkheden zijn voor een groot deel van invloed op de prijsvorming:
Hoeveel oppervlakte heeft u nodig? Hier geldt: hoe groter de vloer, hoe kleiner de factor arbeid. Elk project heeft – ongeacht de vloergrootte – vaststaande opstart- en uitvoeringswerkzaamheden, zoals:

Applicatiemethoden en bijbehorende droogtijden;
Logistieke kosten (voorrijkosten);
Bij kleinere gietvloeren vormen deze handelingen een relatief groot deel van de prijs per vierkante meter. Daarbuiten hanteren applicateurs vaak een minimumtarief voor kleinere ruimtes en oppervlaktes, waardoor de kosten naar verhouding hoger uitvallen.
Kiest u voor een volledig vloersysteem of systeemcoating? Epoxyvloeren zijn in de regel opgebouwd uit een primer- en/of schraaplaag, met daarbovenop één of twee lagen van een finishcoat. In deze uitvoering is de vloer van alle gemakken voorzien die binnen uw industrie van belang zijn, zoals UV-bescherming en vochtbestendigheid. Als u alleen uw beton- of zandcementvloeren stofvrij wilt houden, dan volstaat ook een systeemcoating, die bestaat uit twee tot drie op elkaar aangebrachte coatings. Welke optie u ook kiest, elke extra laag impliceert extra arbeid en extra droogtijd. 
Wilt u een decoratieve vloer? Epoxyvloeren zijn uitvoerbaar in een betonlook. Om de kleuren optimaal te kunnen mengen, heeft u iets meer laagdikte nodig: minstens 2,5 mm, afgezet tegen een laagdikte van 2,0 mm bij een epoxyvloer zonder betonlook. De materiaalkosten zullen in dat geval een fractie toenemen. Kiest u ervoor de vloer met flakes in te strooien? De benodigde laagdikte blijft in dat geval gelijk, maar houdt u wel rekening met meerkosten.
Epoxyvloeren: prijs per m2 verschilt per uitvoering
Zoals u ziet, verschilt de prijs per m2 van epoxyvloeren per uitvoering. De prijs per m2 is voordeliger naarmate het oppervlak toeneemt. Als u van plan bent een epoxyvloer te plaatsen, dan adviseren we om meerdere ruimtes tegelijk te behandelen. Eén ding staat vast: HIM beschikt over vloeren voor elk budget.
Wilt u meer weten over onze epoxyvloeren? Onze productspecialisten staan u graag te woord. Bel voor meer informatie naar +31 (0)251-276300 of stuur een bericht via onze contactpagina.
---
Publicatiedatum: 2019-02-28
Categorie: Nieuws