Unique characteristics for every floor
Check all characteristics
A floor for every company
Check all types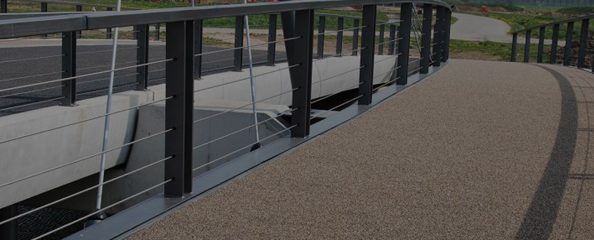 HIM industrial flooring.

For factories and kitchens. Always perfect results.

Since 1932, HIM develops, produces and maintains resin floors and coatings for both industrial as consumer projects. From our factory in the Netherlands, we serve our customers worldwide. Through our extensive network of applicators, we can work closely with architects, constructors and end users to create the perfect floor.

For every situation HIM offers good and safe flooring solutions: flexible synthetic floor, trowel floors, fully liquid-tight floors, chemical resistant floors or ESD floors. All can be produced and delivered within a few days. Our coatings are lightweight and wear-resistant. Making them perfect for not only basic flooring, but also for bridges and parking garages. HIM is available for you during every step of your process to answer all of your questions.
80 years of experience
Since 1932 HIM has been applying epoxy floors for various companies. Every situation is unique, but we know exactly what is important in each specific situation.
Can withstand anything
HIM wear layers can withstand almost anything: heat, moisture, chemicals, impacts, scratches and heavy equipment load.
Extensively tested
We test all floors and coatings before applying them. Making sure they fit our high quality standards.
[gravityform id="13" title="false" description="false"]
<div class='gf_browser_unknown gform_wrapper gform_legacy_markup_wrapper gform-theme--no-framework vinduwvloer_wrapper' data-form-theme='legacy' data-form-index='0' id='gform_wrapper_13' style='display:none'><form method='post' enctype='multipart/form-data' id='gform_13' class='vinduwvloer' action='/en/' data-formid='13' > <div class='gform-body gform_body'><ul id='gform_fields_13' class='gform_fields top_label form_sublabel_below description_below'><li id="field_13_1" class="gfield gfield--type-name optin gfield_contains_required field_sublabel_hidden_label gfield--no-description field_description_below hidden_label gfield_visibility_visible" data-js-reload="field_13_1"><label class='gfield_label gform-field-label gfield_label_before_complex' >Naam<span class="gfield_required"><span class="gfield_required gfield_required_asterisk">*</span></span></label><div class='ginput_complex ginput_container ginput_container--name no_prefix has_first_name no_middle_name no_last_name no_suffix gf_name_has_1 ginput_container_name gform-grid-row' id='input_13_1'> <span id='input_13_1_3_container' class='name_first gform-grid-col gform-grid-col--size-auto' > <input type='text' name='input_1.3' id='input_13_1_3' value='' aria-required='true' placeholder='Voornaam' /> <label for='input_13_1_3' class='gform-field-label gform-field-label--type-sub hidden_sub_label screen-reader-text'>First</label> </span> </div></li><li id="field_13_2" class="gfield gfield--type-email optin gfield_contains_required field_sublabel_below gfield--no-description field_description_below hidden_label gfield_visibility_visible" data-js-reload="field_13_2"><label class='gfield_label gform-field-label' for='input_13_2' >E-mailadres<span class="gfield_required"><span class="gfield_required gfield_required_asterisk">*</span></span></label><div class='ginput_container ginput_container_email'> <input name='input_2' id='input_13_2' type='text' value='' class='medium' placeholder='E-mailadres' aria-required="true" aria-invalid="false" /> </div></li><li id="field_13_3" class="gfield gfield--type-hidden gform_hidden field_sublabel_below gfield--no-description field_description_below gfield_visibility_visible" data-js-reload="field_13_3"><div class='ginput_container ginput_container_text'><input name='input_3' id='input_13_3' type='hidden' class='gform_hidden' aria-invalid="false" value='https://www.him.nl/en/' /></div></li></ul></div> <div class='gform_footer top_label'> <input type="submit" id="gform_submit_button_13" class="gform_button button btn btn-primary" value="DOWNLOAD DIRECT" onclick='if(window["gf_submitting_13"]){return false;} window["gf_submitting_13"]=true; ' onkeypress='if( event.keyCode == 13 ){ if(window["gf_submitting_13"]){return false;} window["gf_submitting_13"]=true; jQuery("#gform_13").trigger("submit",[true]); }'> <input type='hidden' class='gform_hidden' name='is_submit_13' value='1' /> <input type='hidden' class='gform_hidden' name='gform_submit' value='13' /> <input type='hidden' class='gform_hidden' name='gform_unique_id' value='' /> <input type='hidden' class='gform_hidden' name='state_13' value='WyJbXSIsImQ0NzI3YjdmMzZhYjMzOTI3YzY4MGJhYjMwODMyMDYwIl0=' /> <input type='hidden' class='gform_hidden' name='gform_target_page_number_13' id='gform_target_page_number_13' value='0' /> <input type='hidden' class='gform_hidden' name='gform_source_page_number_13' id='gform_source_page_number_13' value='1' /> <input type='hidden' name='gform_field_values' value='' /> </div> <p style="display: none !important;"><label>&#916;<textarea name="ak_hp_textarea" cols="45" rows="8" maxlength="100"></textarea></label><input type="hidden" id="ak_js_2" name="ak_js" value="71"/><script>document.getElementById( "ak_js_2" ).setAttribute( "value", ( new Date() ).getTime() );</script></p></form> </div><script type="text/javascript"> gform.initializeOnLoaded( function() {gformInitSpinner( 13, 'https://www.him.nl/wp-content/plugins/gravityforms/images/spinner.svg', true );jQuery('#gform_ajax_frame_13').on('load',function(){var contents = jQuery(this).contents().find('*').html();var is_postback = contents.indexOf('GF_AJAX_POSTBACK') >= 0;if(!is_postback){return;}var form_content = jQuery(this).contents().find('#gform_wrapper_13');var is_confirmation = jQuery(this).contents().find('#gform_confirmation_wrapper_13').length > 0;var is_redirect = contents.indexOf('gformRedirect(){') >= 0;var is_form = form_content.length > 0 && ! is_redirect && ! is_confirmation;var mt = parseInt(jQuery('html').css('margin-top'), 10) + parseInt(jQuery('body').css('margin-top'), 10) + 100;if(is_form){jQuery('#gform_wrapper_13').html(form_content.html());if(form_content.hasClass('gform_validation_error')){jQuery('#gform_wrapper_13').addClass('gform_validation_error');} else {jQuery('#gform_wrapper_13').removeClass('gform_validation_error');}setTimeout( function() { /* delay the scroll by 50 milliseconds to fix a bug in chrome */ }, 50 );if(window['gformInitDatepicker']) {gformInitDatepicker();}if(window['gformInitPriceFields']) {gformInitPriceFields();}var current_page = jQuery('#gform_source_page_number_13').val();gformInitSpinner( 13, 'https://www.him.nl/wp-content/plugins/gravityforms/images/spinner.svg', true );jQuery(document).trigger('gform_page_loaded', [13, current_page]);window['gf_submitting_13'] = false;}else if(!is_redirect){var confirmation_content = jQuery(this).contents().find('.GF_AJAX_POSTBACK').html();if(!confirmation_content){confirmation_content = contents;}setTimeout(function(){jQuery('#gform_wrapper_13').replaceWith(confirmation_content);jQuery(document).trigger('gform_confirmation_loaded', [13]);window['gf_submitting_13'] = false;wp.a11y.speak(jQuery('#gform_confirmation_message_13').text());}, 50);}else{jQuery('#gform_13').append(contents);if(window['gformRedirect']) {gformRedirect();}}jQuery(document).trigger('gform_post_render', [13, current_page]);gform.utils.trigger({ event: 'gform/postRender', native: false, data: { formId: 13, currentPage: current_page } });} );} ); </script>
[gravityform id="22" title="false" description="false"]
<div class='gf_browser_unknown gform_wrapper gform_legacy_markup_wrapper gform-theme--no-framework vinduwvloer_wrapper' data-form-theme='legacy' data-form-index='0' id='gform_wrapper_22' ><form method='post' enctype='multipart/form-data' id='gform_22' class='vinduwvloer' action='/en/' data-formid='22' > <div class='gform-body gform_body'><ul id='gform_fields_22' class='gform_fields top_label form_sublabel_below description_below'><li id="field_22_1" class="gfield gfield--type-name optin gfield_contains_required field_sublabel_hidden_label gfield--no-description field_description_below hidden_label gfield_visibility_visible" data-js-reload="field_22_1"><label class='gfield_label gform-field-label gfield_label_before_complex' >Naam<span class="gfield_required"><span class="gfield_required gfield_required_asterisk">*</span></span></label><div class='ginput_complex ginput_container ginput_container--name no_prefix has_first_name no_middle_name no_last_name no_suffix gf_name_has_1 ginput_container_name gform-grid-row' id='input_22_1'> <span id='input_22_1_3_container' class='name_first gform-grid-col gform-grid-col--size-auto' > <input type='text' name='input_1.3' id='input_22_1_3' value='' aria-required='true' placeholder='Voornaam' /> <label for='input_22_1_3' class='gform-field-label gform-field-label--type-sub hidden_sub_label screen-reader-text'>First</label> </span> </div></li><li id="field_22_2" class="gfield gfield--type-email optin gfield_contains_required field_sublabel_below gfield--no-description field_description_below hidden_label gfield_visibility_visible" data-js-reload="field_22_2"><label class='gfield_label gform-field-label' for='input_22_2' >E-mailadres<span class="gfield_required"><span class="gfield_required gfield_required_asterisk">*</span></span></label><div class='ginput_container ginput_container_email'> <input name='input_2' id='input_22_2' type='text' value='' class='medium' placeholder='E-mail adres' aria-required="true" aria-invalid="false" /> </div></li><li id="field_22_3" class="gfield gfield--type-hidden gform_hidden field_sublabel_below gfield--no-description field_description_below gfield_visibility_visible" data-js-reload="field_22_3"><div class='ginput_container ginput_container_text'><input name='input_3' id='input_22_3' type='hidden' class='gform_hidden' aria-invalid="false" value='https://www.him.nl/en/' /></div></li></ul></div> <div class='gform_footer top_label'> <input type="submit" id="gform_submit_button_22" class="gform_button button btn btn-primary" value="DOWNLOAD DIRECT" onclick='if(window["gf_submitting_22"]){return false;} window["gf_submitting_22"]=true; ' onkeypress='if( event.keyCode == 13 ){ if(window["gf_submitting_22"]){return false;} window["gf_submitting_22"]=true; jQuery("#gform_22").trigger("submit",[true]); }'> <input type='hidden' class='gform_hidden' name='is_submit_22' value='1' /> <input type='hidden' class='gform_hidden' name='gform_submit' value='22' /> <input type='hidden' class='gform_hidden' name='gform_unique_id' value='' /> <input type='hidden' class='gform_hidden' name='state_22' value='WyJbXSIsImQ0NzI3YjdmMzZhYjMzOTI3YzY4MGJhYjMwODMyMDYwIl0=' /> <input type='hidden' class='gform_hidden' name='gform_target_page_number_22' id='gform_target_page_number_22' value='0' /> <input type='hidden' class='gform_hidden' name='gform_source_page_number_22' id='gform_source_page_number_22' value='1' /> <input type='hidden' name='gform_field_values' value='' /> </div> <p style="display: none !important;"><label>&#916;<textarea name="ak_hp_textarea" cols="45" rows="8" maxlength="100"></textarea></label><input type="hidden" id="ak_js_3" name="ak_js" value="93"/><script>document.getElementById( "ak_js_3" ).setAttribute( "value", ( new Date() ).getTime() );</script></p></form> </div><script type="text/javascript"> gform.initializeOnLoaded( function() {gformInitSpinner( 22, 'https://www.him.nl/wp-content/plugins/gravityforms/images/spinner.svg', true );jQuery('#gform_ajax_frame_22').on('load',function(){var contents = jQuery(this).contents().find('*').html();var is_postback = contents.indexOf('GF_AJAX_POSTBACK') >= 0;if(!is_postback){return;}var form_content = jQuery(this).contents().find('#gform_wrapper_22');var is_confirmation = jQuery(this).contents().find('#gform_confirmation_wrapper_22').length > 0;var is_redirect = contents.indexOf('gformRedirect(){') >= 0;var is_form = form_content.length > 0 && ! is_redirect && ! is_confirmation;var mt = parseInt(jQuery('html').css('margin-top'), 10) + parseInt(jQuery('body').css('margin-top'), 10) + 100;if(is_form){jQuery('#gform_wrapper_22').html(form_content.html());if(form_content.hasClass('gform_validation_error')){jQuery('#gform_wrapper_22').addClass('gform_validation_error');} else {jQuery('#gform_wrapper_22').removeClass('gform_validation_error');}setTimeout( function() { /* delay the scroll by 50 milliseconds to fix a bug in chrome */ }, 50 );if(window['gformInitDatepicker']) {gformInitDatepicker();}if(window['gformInitPriceFields']) {gformInitPriceFields();}var current_page = jQuery('#gform_source_page_number_22').val();gformInitSpinner( 22, 'https://www.him.nl/wp-content/plugins/gravityforms/images/spinner.svg', true );jQuery(document).trigger('gform_page_loaded', [22, current_page]);window['gf_submitting_22'] = false;}else if(!is_redirect){var confirmation_content = jQuery(this).contents().find('.GF_AJAX_POSTBACK').html();if(!confirmation_content){confirmation_content = contents;}setTimeout(function(){jQuery('#gform_wrapper_22').replaceWith(confirmation_content);jQuery(document).trigger('gform_confirmation_loaded', [22]);window['gf_submitting_22'] = false;wp.a11y.speak(jQuery('#gform_confirmation_message_22').text());}, 50);}else{jQuery('#gform_22').append(contents);if(window['gformRedirect']) {gformRedirect();}}jQuery(document).trigger('gform_post_render', [22, current_page]);gform.utils.trigger({ event: 'gform/postRender', native: false, data: { formId: 22, currentPage: current_page } });} );} ); </script>
[gravityform id="24" title="false" description="false"]
<div class='gf_browser_unknown gform_wrapper gform_legacy_markup_wrapper gform-theme--no-framework vinduwvloer_wrapper' data-form-theme='legacy' data-form-index='0' id='gform_wrapper_24' ><form method='post' enctype='multipart/form-data' id='gform_24' class='vinduwvloer' action='/en/' data-formid='24' > <div class='gform-body gform_body'><ul id='gform_fields_24' class='gform_fields top_label form_sublabel_below description_below'><li id="field_24_1" class="gfield gfield--type-name optin gfield_contains_required field_sublabel_hidden_label gfield--no-description field_description_below hidden_label gfield_visibility_visible" data-js-reload="field_24_1"><label class='gfield_label gform-field-label gfield_label_before_complex' >First name<span class="gfield_required"><span class="gfield_required gfield_required_asterisk">*</span></span></label><div class='ginput_complex ginput_container ginput_container--name no_prefix has_first_name no_middle_name no_last_name no_suffix gf_name_has_1 ginput_container_name gform-grid-row' id='input_24_1'> <span id='input_24_1_3_container' class='name_first gform-grid-col gform-grid-col--size-auto' > <input type='text' name='input_1.3' id='input_24_1_3' value='' aria-required='true' placeholder='First name' /> <label for='input_24_1_3' class='gform-field-label gform-field-label--type-sub hidden_sub_label screen-reader-text'>First name</label> </span> </div></li><li id="field_24_2" class="gfield gfield--type-email optin gfield_contains_required field_sublabel_below gfield--no-description field_description_below hidden_label gfield_visibility_visible" data-js-reload="field_24_2"><label class='gfield_label gform-field-label' for='input_24_2' >E-mail address<span class="gfield_required"><span class="gfield_required gfield_required_asterisk">*</span></span></label><div class='ginput_container ginput_container_email'> <input name='input_2' id='input_24_2' type='text' value='' class='medium' placeholder='E-mail address' aria-required="true" aria-invalid="false" /> </div></li><li id="field_24_3" class="gfield gfield--type-hidden gform_hidden field_sublabel_below gfield--no-description field_description_below gfield_visibility_visible" data-js-reload="field_24_3"><div class='ginput_container ginput_container_text'><input name='input_3' id='input_24_3' type='hidden' class='gform_hidden' aria-invalid="false" value='https://www.him.nl/en/' /></div></li></ul></div> <div class='gform_footer top_label'> <input type="submit" id="gform_submit_button_24" class="gform_button button btn btn-primary" value="DOWNLOAD DIRECT" onclick='if(window["gf_submitting_24"]){return false;} window["gf_submitting_24"]=true; ' onkeypress='if( event.keyCode == 13 ){ if(window["gf_submitting_24"]){return false;} window["gf_submitting_24"]=true; jQuery("#gform_24").trigger("submit",[true]); }'> <input type='hidden' class='gform_hidden' name='is_submit_24' value='1' /> <input type='hidden' class='gform_hidden' name='gform_submit' value='24' /> <input type='hidden' class='gform_hidden' name='gform_unique_id' value='' /> <input type='hidden' class='gform_hidden' name='state_24' value='WyJbXSIsImQ0NzI3YjdmMzZhYjMzOTI3YzY4MGJhYjMwODMyMDYwIl0=' /> <input type='hidden' class='gform_hidden' name='gform_target_page_number_24' id='gform_target_page_number_24' value='0' /> <input type='hidden' class='gform_hidden' name='gform_source_page_number_24' id='gform_source_page_number_24' value='1' /> <input type='hidden' name='gform_field_values' value='' /> </div> <p style="display: none !important;"><label>&#916;<textarea name="ak_hp_textarea" cols="45" rows="8" maxlength="100"></textarea></label><input type="hidden" id="ak_js_4" name="ak_js" value="98"/><script>document.getElementById( "ak_js_4" ).setAttribute( "value", ( new Date() ).getTime() );</script></p></form> </div><script type="text/javascript"> gform.initializeOnLoaded( function() {gformInitSpinner( 24, 'https://www.him.nl/wp-content/plugins/gravityforms/images/spinner.svg', true );jQuery('#gform_ajax_frame_24').on('load',function(){var contents = jQuery(this).contents().find('*').html();var is_postback = contents.indexOf('GF_AJAX_POSTBACK') >= 0;if(!is_postback){return;}var form_content = jQuery(this).contents().find('#gform_wrapper_24');var is_confirmation = jQuery(this).contents().find('#gform_confirmation_wrapper_24').length > 0;var is_redirect = contents.indexOf('gformRedirect(){') >= 0;var is_form = form_content.length > 0 && ! is_redirect && ! is_confirmation;var mt = parseInt(jQuery('html').css('margin-top'), 10) + parseInt(jQuery('body').css('margin-top'), 10) + 100;if(is_form){jQuery('#gform_wrapper_24').html(form_content.html());if(form_content.hasClass('gform_validation_error')){jQuery('#gform_wrapper_24').addClass('gform_validation_error');} else {jQuery('#gform_wrapper_24').removeClass('gform_validation_error');}setTimeout( function() { /* delay the scroll by 50 milliseconds to fix a bug in chrome */ }, 50 );if(window['gformInitDatepicker']) {gformInitDatepicker();}if(window['gformInitPriceFields']) {gformInitPriceFields();}var current_page = jQuery('#gform_source_page_number_24').val();gformInitSpinner( 24, 'https://www.him.nl/wp-content/plugins/gravityforms/images/spinner.svg', true );jQuery(document).trigger('gform_page_loaded', [24, current_page]);window['gf_submitting_24'] = false;}else if(!is_redirect){var confirmation_content = jQuery(this).contents().find('.GF_AJAX_POSTBACK').html();if(!confirmation_content){confirmation_content = contents;}setTimeout(function(){jQuery('#gform_wrapper_24').replaceWith(confirmation_content);jQuery(document).trigger('gform_confirmation_loaded', [24]);window['gf_submitting_24'] = false;wp.a11y.speak(jQuery('#gform_confirmation_message_24').text());}, 50);}else{jQuery('#gform_24').append(contents);if(window['gformRedirect']) {gformRedirect();}}jQuery(document).trigger('gform_post_render', [24, current_page]);gform.utils.trigger({ event: 'gform/postRender', native: false, data: { formId: 24, currentPage: current_page } });} );} ); </script>
[gravityform id="22" title="false" description="false"]
<div class='gf_browser_unknown gform_wrapper gform_legacy_markup_wrapper gform-theme--no-framework vinduwvloer_wrapper' data-form-theme='legacy' data-form-index='0' id='gform_wrapper_22' ><form method='post' enctype='multipart/form-data' id='gform_22' class='vinduwvloer' action='/en/' data-formid='22' > <div class='gform-body gform_body'><ul id='gform_fields_22' class='gform_fields top_label form_sublabel_below description_below'><li id="field_22_1" class="gfield gfield--type-name optin gfield_contains_required field_sublabel_hidden_label gfield--no-description field_description_below hidden_label gfield_visibility_visible" data-js-reload="field_22_1"><label class='gfield_label gform-field-label gfield_label_before_complex' >Naam<span class="gfield_required"><span class="gfield_required gfield_required_asterisk">*</span></span></label><div class='ginput_complex ginput_container ginput_container--name no_prefix has_first_name no_middle_name no_last_name no_suffix gf_name_has_1 ginput_container_name gform-grid-row' id='input_22_1'> <span id='input_22_1_3_container' class='name_first gform-grid-col gform-grid-col--size-auto' > <input type='text' name='input_1.3' id='input_22_1_3' value='' aria-required='true' placeholder='Voornaam' /> <label for='input_22_1_3' class='gform-field-label gform-field-label--type-sub hidden_sub_label screen-reader-text'>First</label> </span> </div></li><li id="field_22_2" class="gfield gfield--type-email optin gfield_contains_required field_sublabel_below gfield--no-description field_description_below hidden_label gfield_visibility_visible" data-js-reload="field_22_2"><label class='gfield_label gform-field-label' for='input_22_2' >E-mailadres<span class="gfield_required"><span class="gfield_required gfield_required_asterisk">*</span></span></label><div class='ginput_container ginput_container_email'> <input name='input_2' id='input_22_2' type='text' value='' class='medium' placeholder='E-mail adres' aria-required="true" aria-invalid="false" /> </div></li><li id="field_22_3" class="gfield gfield--type-hidden gform_hidden field_sublabel_below gfield--no-description field_description_below gfield_visibility_visible" data-js-reload="field_22_3"><div class='ginput_container ginput_container_text'><input name='input_3' id='input_22_3' type='hidden' class='gform_hidden' aria-invalid="false" value='https://www.him.nl/en/' /></div></li></ul></div> <div class='gform_footer top_label'> <input type="submit" id="gform_submit_button_22" class="gform_button button btn btn-primary" value="DOWNLOAD DIRECT" onclick='if(window["gf_submitting_22"]){return false;} window["gf_submitting_22"]=true; ' onkeypress='if( event.keyCode == 13 ){ if(window["gf_submitting_22"]){return false;} window["gf_submitting_22"]=true; jQuery("#gform_22").trigger("submit",[true]); }'> <input type='hidden' class='gform_hidden' name='is_submit_22' value='1' /> <input type='hidden' class='gform_hidden' name='gform_submit' value='22' /> <input type='hidden' class='gform_hidden' name='gform_unique_id' value='' /> <input type='hidden' class='gform_hidden' name='state_22' value='WyJbXSIsImQ0NzI3YjdmMzZhYjMzOTI3YzY4MGJhYjMwODMyMDYwIl0=' /> <input type='hidden' class='gform_hidden' name='gform_target_page_number_22' id='gform_target_page_number_22' value='0' /> <input type='hidden' class='gform_hidden' name='gform_source_page_number_22' id='gform_source_page_number_22' value='1' /> <input type='hidden' name='gform_field_values' value='' /> </div> <p style="display: none !important;"><label>&#916;<textarea name="ak_hp_textarea" cols="45" rows="8" maxlength="100"></textarea></label><input type="hidden" id="ak_js_5" name="ak_js" value="114"/><script>document.getElementById( "ak_js_5" ).setAttribute( "value", ( new Date() ).getTime() );</script></p></form> </div><script type="text/javascript"> gform.initializeOnLoaded( function() {gformInitSpinner( 22, 'https://www.him.nl/wp-content/plugins/gravityforms/images/spinner.svg', true );jQuery('#gform_ajax_frame_22').on('load',function(){var contents = jQuery(this).contents().find('*').html();var is_postback = contents.indexOf('GF_AJAX_POSTBACK') >= 0;if(!is_postback){return;}var form_content = jQuery(this).contents().find('#gform_wrapper_22');var is_confirmation = jQuery(this).contents().find('#gform_confirmation_wrapper_22').length > 0;var is_redirect = contents.indexOf('gformRedirect(){') >= 0;var is_form = form_content.length > 0 && ! is_redirect && ! is_confirmation;var mt = parseInt(jQuery('html').css('margin-top'), 10) + parseInt(jQuery('body').css('margin-top'), 10) + 100;if(is_form){jQuery('#gform_wrapper_22').html(form_content.html());if(form_content.hasClass('gform_validation_error')){jQuery('#gform_wrapper_22').addClass('gform_validation_error');} else {jQuery('#gform_wrapper_22').removeClass('gform_validation_error');}setTimeout( function() { /* delay the scroll by 50 milliseconds to fix a bug in chrome */ }, 50 );if(window['gformInitDatepicker']) {gformInitDatepicker();}if(window['gformInitPriceFields']) {gformInitPriceFields();}var current_page = jQuery('#gform_source_page_number_22').val();gformInitSpinner( 22, 'https://www.him.nl/wp-content/plugins/gravityforms/images/spinner.svg', true );jQuery(document).trigger('gform_page_loaded', [22, current_page]);window['gf_submitting_22'] = false;}else if(!is_redirect){var confirmation_content = jQuery(this).contents().find('.GF_AJAX_POSTBACK').html();if(!confirmation_content){confirmation_content = contents;}setTimeout(function(){jQuery('#gform_wrapper_22').replaceWith(confirmation_content);jQuery(document).trigger('gform_confirmation_loaded', [22]);window['gf_submitting_22'] = false;wp.a11y.speak(jQuery('#gform_confirmation_message_22').text());}, 50);}else{jQuery('#gform_22').append(contents);if(window['gformRedirect']) {gformRedirect();}}jQuery(document).trigger('gform_post_render', [22, current_page]);gform.utils.trigger({ event: 'gform/postRender', native: false, data: { formId: 22, currentPage: current_page } });} );} ); </script>
[gravityform id="16" title="false" description="false"]
<div class='gf_browser_unknown gform_wrapper gform_legacy_markup_wrapper gform-theme--no-framework vinduwvloer_wrapper' data-form-theme='legacy' data-form-index='0' id='gform_wrapper_16' style='display:none'><form method='post' enctype='multipart/form-data' id='gform_16' class='vinduwvloer' action='/en/' data-formid='16' > <div class='gform-body gform_body'><ul id='gform_fields_16' class='gform_fields top_label form_sublabel_below description_below'><li id="field_16_1" class="gfield gfield--type-name optin gfield_contains_required field_sublabel_hidden_label gfield--no-description field_description_below hidden_label gfield_visibility_visible" data-js-reload="field_16_1"><label class='gfield_label gform-field-label gfield_label_before_complex' >Name<span class="gfield_required"><span class="gfield_required gfield_required_asterisk">*</span></span></label><div class='ginput_complex ginput_container ginput_container--name no_prefix has_first_name no_middle_name no_last_name no_suffix gf_name_has_1 ginput_container_name gform-grid-row' id='input_16_1'> <span id='input_16_1_3_container' class='name_first gform-grid-col gform-grid-col--size-auto' > <input type='text' name='input_1.3' id='input_16_1_3' value='' aria-required='true' placeholder='First name' /> <label for='input_16_1_3' class='gform-field-label gform-field-label--type-sub hidden_sub_label screen-reader-text'>First name</label> </span> </div></li><li id="field_16_2" class="gfield gfield--type-email optin gfield_contains_required field_sublabel_below gfield--no-description field_description_below hidden_label gfield_visibility_visible" data-js-reload="field_16_2"><label class='gfield_label gform-field-label' for='input_16_2' >E-mail address<span class="gfield_required"><span class="gfield_required gfield_required_asterisk">*</span></span></label><div class='ginput_container ginput_container_email'> <input name='input_2' id='input_16_2' type='text' value='' class='medium' placeholder='E-mail address' aria-required="true" aria-invalid="false" /> </div></li><li id="field_16_3" class="gfield gfield--type-hidden gform_hidden field_sublabel_below gfield--no-description field_description_below gfield_visibility_visible" data-js-reload="field_16_3"><div class='ginput_container ginput_container_text'><input name='input_3' id='input_16_3' type='hidden' class='gform_hidden' aria-invalid="false" value='https://www.him.nl/en/' /></div></li><li id="field_16_4" class="gfield gfield--type-checkbox gfield--type-choice gfield--width-full gfield_contains_required field_sublabel_below gfield--has-description field_description_below gfield_visibility_visible" data-js-reload="field_16_4"><label class='gfield_label gform-field-label gfield_label_before_complex' >GDPR permission<span class="gfield_required"><span class="gfield_required gfield_required_asterisk">*</span></span></label><div class='ginput_container ginput_container_checkbox'><ul class='gfield_checkbox' id='input_16_4'><li class='gchoice gchoice_16_4_1'> <input class='gfield-choice-input' name='input_4.1' type='checkbox' value='I give permission for HIM to email me and to store my information.' id='choice_16_4_1' aria-describedby="gfield_description_16_4"/> <label for='choice_16_4_1' id='label_16_4_1' class='gform-field-label gform-field-label--type-inline'>I give permission for HIM to email me and to store my information.</label> </li></ul></div><div class='gfield_description' id='gfield_description_16_4'>HIM uses your information to administer your account. By agreeing to these terms you give HIM permission to store your data and provide you with the requested information. </div></li><li id="field_submit" class="gfield gfield--type-submit gfield--width-full field_sublabel_below gfield--no-description field_description_below gfield_visibility_visible" data-field-class="gform_editor_submit_container" data-field-position="inline" data-js-reload="true"><input type="submit" id="gform_submit_button_16" class="gform-button gform-button--white button btn btn-primary" value="DOWNLOAD DIRECT" onclick='if(window["gf_submitting_16"]){return false;} window["gf_submitting_16"]=true; ' onkeypress='if( event.keyCode == 13 ){ if(window["gf_submitting_16"]){return false;} window["gf_submitting_16"]=true; jQuery("#gform_16").trigger("submit",[true]); }'></li></ul></div> <div class='gform_footer top_label'> <input type='hidden' class='gform_hidden' name='is_submit_16' value='1' /> <input type='hidden' class='gform_hidden' name='gform_submit' value='16' /> <input type='hidden' class='gform_hidden' name='gform_unique_id' value='' /> <input type='hidden' class='gform_hidden' name='state_16' value='WyJbXSIsImQ0NzI3YjdmMzZhYjMzOTI3YzY4MGJhYjMwODMyMDYwIl0=' /> <input type='hidden' class='gform_hidden' name='gform_target_page_number_16' id='gform_target_page_number_16' value='0' /> <input type='hidden' class='gform_hidden' name='gform_source_page_number_16' id='gform_source_page_number_16' value='1' /> <input type='hidden' name='gform_field_values' value='' /> </div> <p style="display: none !important;"><label>&#916;<textarea name="ak_hp_textarea" cols="45" rows="8" maxlength="100"></textarea></label><input type="hidden" id="ak_js_6" name="ak_js" value="15"/><script>document.getElementById( "ak_js_6" ).setAttribute( "value", ( new Date() ).getTime() );</script></p></form> </div><script type="text/javascript"> gform.initializeOnLoaded( function() {gformInitSpinner( 16, 'https://www.him.nl/wp-content/plugins/gravityforms/images/spinner.svg', true );jQuery('#gform_ajax_frame_16').on('load',function(){var contents = jQuery(this).contents().find('*').html();var is_postback = contents.indexOf('GF_AJAX_POSTBACK') >= 0;if(!is_postback){return;}var form_content = jQuery(this).contents().find('#gform_wrapper_16');var is_confirmation = jQuery(this).contents().find('#gform_confirmation_wrapper_16').length > 0;var is_redirect = contents.indexOf('gformRedirect(){') >= 0;var is_form = form_content.length > 0 && ! is_redirect && ! is_confirmation;var mt = parseInt(jQuery('html').css('margin-top'), 10) + parseInt(jQuery('body').css('margin-top'), 10) + 100;if(is_form){jQuery('#gform_wrapper_16').html(form_content.html());if(form_content.hasClass('gform_validation_error')){jQuery('#gform_wrapper_16').addClass('gform_validation_error');} else {jQuery('#gform_wrapper_16').removeClass('gform_validation_error');}setTimeout( function() { /* delay the scroll by 50 milliseconds to fix a bug in chrome */ }, 50 );if(window['gformInitDatepicker']) {gformInitDatepicker();}if(window['gformInitPriceFields']) {gformInitPriceFields();}var current_page = jQuery('#gform_source_page_number_16').val();gformInitSpinner( 16, 'https://www.him.nl/wp-content/plugins/gravityforms/images/spinner.svg', true );jQuery(document).trigger('gform_page_loaded', [16, current_page]);window['gf_submitting_16'] = false;}else if(!is_redirect){var confirmation_content = jQuery(this).contents().find('.GF_AJAX_POSTBACK').html();if(!confirmation_content){confirmation_content = contents;}setTimeout(function(){jQuery('#gform_wrapper_16').replaceWith(confirmation_content);jQuery(document).trigger('gform_confirmation_loaded', [16]);window['gf_submitting_16'] = false;wp.a11y.speak(jQuery('#gform_confirmation_message_16').text());}, 50);}else{jQuery('#gform_16').append(contents);if(window['gformRedirect']) {gformRedirect();}}jQuery(document).trigger('gform_post_render', [16, current_page]);gform.utils.trigger({ event: 'gform/postRender', native: false, data: { formId: 16, currentPage: current_page } });} );} ); </script>
[gravityform id="13" title="false" description="false"]
<div class='gf_browser_unknown gform_wrapper gform_legacy_markup_wrapper gform-theme--no-framework vinduwvloer_wrapper' data-form-theme='legacy' data-form-index='0' id='gform_wrapper_13' style='display:none'><form method='post' enctype='multipart/form-data' id='gform_13' class='vinduwvloer' action='/en/' data-formid='13' > <div class='gform-body gform_body'><ul id='gform_fields_13' class='gform_fields top_label form_sublabel_below description_below'><li id="field_13_1" class="gfield gfield--type-name optin gfield_contains_required field_sublabel_hidden_label gfield--no-description field_description_below hidden_label gfield_visibility_visible" data-js-reload="field_13_1"><label class='gfield_label gform-field-label gfield_label_before_complex' >Naam<span class="gfield_required"><span class="gfield_required gfield_required_asterisk">*</span></span></label><div class='ginput_complex ginput_container ginput_container--name no_prefix has_first_name no_middle_name no_last_name no_suffix gf_name_has_1 ginput_container_name gform-grid-row' id='input_13_1'> <span id='input_13_1_3_container' class='name_first gform-grid-col gform-grid-col--size-auto' > <input type='text' name='input_1.3' id='input_13_1_3' value='' aria-required='true' placeholder='Voornaam' /> <label for='input_13_1_3' class='gform-field-label gform-field-label--type-sub hidden_sub_label screen-reader-text'>First</label> </span> </div></li><li id="field_13_2" class="gfield gfield--type-email optin gfield_contains_required field_sublabel_below gfield--no-description field_description_below hidden_label gfield_visibility_visible" data-js-reload="field_13_2"><label class='gfield_label gform-field-label' for='input_13_2' >E-mailadres<span class="gfield_required"><span class="gfield_required gfield_required_asterisk">*</span></span></label><div class='ginput_container ginput_container_email'> <input name='input_2' id='input_13_2' type='text' value='' class='medium' placeholder='E-mailadres' aria-required="true" aria-invalid="false" /> </div></li><li id="field_13_3" class="gfield gfield--type-hidden gform_hidden field_sublabel_below gfield--no-description field_description_below gfield_visibility_visible" data-js-reload="field_13_3"><div class='ginput_container ginput_container_text'><input name='input_3' id='input_13_3' type='hidden' class='gform_hidden' aria-invalid="false" value='https://www.him.nl/en/' /></div></li></ul></div> <div class='gform_footer top_label'> <input type="submit" id="gform_submit_button_13" class="gform_button button btn btn-primary" value="DOWNLOAD DIRECT" onclick='if(window["gf_submitting_13"]){return false;} window["gf_submitting_13"]=true; ' onkeypress='if( event.keyCode == 13 ){ if(window["gf_submitting_13"]){return false;} window["gf_submitting_13"]=true; jQuery("#gform_13").trigger("submit",[true]); }'> <input type='hidden' class='gform_hidden' name='is_submit_13' value='1' /> <input type='hidden' class='gform_hidden' name='gform_submit' value='13' /> <input type='hidden' class='gform_hidden' name='gform_unique_id' value='' /> <input type='hidden' class='gform_hidden' name='state_13' value='WyJbXSIsImQ0NzI3YjdmMzZhYjMzOTI3YzY4MGJhYjMwODMyMDYwIl0=' /> <input type='hidden' class='gform_hidden' name='gform_target_page_number_13' id='gform_target_page_number_13' value='0' /> <input type='hidden' class='gform_hidden' name='gform_source_page_number_13' id='gform_source_page_number_13' value='1' /> <input type='hidden' name='gform_field_values' value='' /> </div> <p style="display: none !important;"><label>&#916;<textarea name="ak_hp_textarea" cols="45" rows="8" maxlength="100"></textarea></label><input type="hidden" id="ak_js_7" name="ak_js" value="47"/><script>document.getElementById( "ak_js_7" ).setAttribute( "value", ( new Date() ).getTime() );</script></p></form> </div><script type="text/javascript"> gform.initializeOnLoaded( function() {gformInitSpinner( 13, 'https://www.him.nl/wp-content/plugins/gravityforms/images/spinner.svg', true );jQuery('#gform_ajax_frame_13').on('load',function(){var contents = jQuery(this).contents().find('*').html();var is_postback = contents.indexOf('GF_AJAX_POSTBACK') >= 0;if(!is_postback){return;}var form_content = jQuery(this).contents().find('#gform_wrapper_13');var is_confirmation = jQuery(this).contents().find('#gform_confirmation_wrapper_13').length > 0;var is_redirect = contents.indexOf('gformRedirect(){') >= 0;var is_form = form_content.length > 0 && ! is_redirect && ! is_confirmation;var mt = parseInt(jQuery('html').css('margin-top'), 10) + parseInt(jQuery('body').css('margin-top'), 10) + 100;if(is_form){jQuery('#gform_wrapper_13').html(form_content.html());if(form_content.hasClass('gform_validation_error')){jQuery('#gform_wrapper_13').addClass('gform_validation_error');} else {jQuery('#gform_wrapper_13').removeClass('gform_validation_error');}setTimeout( function() { /* delay the scroll by 50 milliseconds to fix a bug in chrome */ }, 50 );if(window['gformInitDatepicker']) {gformInitDatepicker();}if(window['gformInitPriceFields']) {gformInitPriceFields();}var current_page = jQuery('#gform_source_page_number_13').val();gformInitSpinner( 13, 'https://www.him.nl/wp-content/plugins/gravityforms/images/spinner.svg', true );jQuery(document).trigger('gform_page_loaded', [13, current_page]);window['gf_submitting_13'] = false;}else if(!is_redirect){var confirmation_content = jQuery(this).contents().find('.GF_AJAX_POSTBACK').html();if(!confirmation_content){confirmation_content = contents;}setTimeout(function(){jQuery('#gform_wrapper_13').replaceWith(confirmation_content);jQuery(document).trigger('gform_confirmation_loaded', [13]);window['gf_submitting_13'] = false;wp.a11y.speak(jQuery('#gform_confirmation_message_13').text());}, 50);}else{jQuery('#gform_13').append(contents);if(window['gformRedirect']) {gformRedirect();}}jQuery(document).trigger('gform_post_render', [13, current_page]);gform.utils.trigger({ event: 'gform/postRender', native: false, data: { formId: 13, currentPage: current_page } });} );} ); </script>
[gravityform id="24" title="false" description="false"]
<div class='gf_browser_unknown gform_wrapper gform_legacy_markup_wrapper gform-theme--no-framework vinduwvloer_wrapper' data-form-theme='legacy' data-form-index='0' id='gform_wrapper_24' ><form method='post' enctype='multipart/form-data' id='gform_24' class='vinduwvloer' action='/en/' data-formid='24' > <div class='gform-body gform_body'><ul id='gform_fields_24' class='gform_fields top_label form_sublabel_below description_below'><li id="field_24_1" class="gfield gfield--type-name optin gfield_contains_required field_sublabel_hidden_label gfield--no-description field_description_below hidden_label gfield_visibility_visible" data-js-reload="field_24_1"><label class='gfield_label gform-field-label gfield_label_before_complex' >First name<span class="gfield_required"><span class="gfield_required gfield_required_asterisk">*</span></span></label><div class='ginput_complex ginput_container ginput_container--name no_prefix has_first_name no_middle_name no_last_name no_suffix gf_name_has_1 ginput_container_name gform-grid-row' id='input_24_1'> <span id='input_24_1_3_container' class='name_first gform-grid-col gform-grid-col--size-auto' > <input type='text' name='input_1.3' id='input_24_1_3' value='' aria-required='true' placeholder='First name' /> <label for='input_24_1_3' class='gform-field-label gform-field-label--type-sub hidden_sub_label screen-reader-text'>First name</label> </span> </div></li><li id="field_24_2" class="gfield gfield--type-email optin gfield_contains_required field_sublabel_below gfield--no-description field_description_below hidden_label gfield_visibility_visible" data-js-reload="field_24_2"><label class='gfield_label gform-field-label' for='input_24_2' >E-mail address<span class="gfield_required"><span class="gfield_required gfield_required_asterisk">*</span></span></label><div class='ginput_container ginput_container_email'> <input name='input_2' id='input_24_2' type='text' value='' class='medium' placeholder='E-mail address' aria-required="true" aria-invalid="false" /> </div></li><li id="field_24_3" class="gfield gfield--type-hidden gform_hidden field_sublabel_below gfield--no-description field_description_below gfield_visibility_visible" data-js-reload="field_24_3"><div class='ginput_container ginput_container_text'><input name='input_3' id='input_24_3' type='hidden' class='gform_hidden' aria-invalid="false" value='https://www.him.nl/en/' /></div></li></ul></div> <div class='gform_footer top_label'> <input type="submit" id="gform_submit_button_24" class="gform_button button btn btn-primary" value="DOWNLOAD DIRECT" onclick='if(window["gf_submitting_24"]){return false;} window["gf_submitting_24"]=true; ' onkeypress='if( event.keyCode == 13 ){ if(window["gf_submitting_24"]){return false;} window["gf_submitting_24"]=true; jQuery("#gform_24").trigger("submit",[true]); }'> <input type='hidden' class='gform_hidden' name='is_submit_24' value='1' /> <input type='hidden' class='gform_hidden' name='gform_submit' value='24' /> <input type='hidden' class='gform_hidden' name='gform_unique_id' value='' /> <input type='hidden' class='gform_hidden' name='state_24' value='WyJbXSIsImQ0NzI3YjdmMzZhYjMzOTI3YzY4MGJhYjMwODMyMDYwIl0=' /> <input type='hidden' class='gform_hidden' name='gform_target_page_number_24' id='gform_target_page_number_24' value='0' /> <input type='hidden' class='gform_hidden' name='gform_source_page_number_24' id='gform_source_page_number_24' value='1' /> <input type='hidden' name='gform_field_values' value='' /> </div> <p style="display: none !important;"><label>&#916;<textarea name="ak_hp_textarea" cols="45" rows="8" maxlength="100"></textarea></label><input type="hidden" id="ak_js_8" name="ak_js" value="121"/><script>document.getElementById( "ak_js_8" ).setAttribute( "value", ( new Date() ).getTime() );</script></p></form> </div><script type="text/javascript"> gform.initializeOnLoaded( function() {gformInitSpinner( 24, 'https://www.him.nl/wp-content/plugins/gravityforms/images/spinner.svg', true );jQuery('#gform_ajax_frame_24').on('load',function(){var contents = jQuery(this).contents().find('*').html();var is_postback = contents.indexOf('GF_AJAX_POSTBACK') >= 0;if(!is_postback){return;}var form_content = jQuery(this).contents().find('#gform_wrapper_24');var is_confirmation = jQuery(this).contents().find('#gform_confirmation_wrapper_24').length > 0;var is_redirect = contents.indexOf('gformRedirect(){') >= 0;var is_form = form_content.length > 0 && ! is_redirect && ! is_confirmation;var mt = parseInt(jQuery('html').css('margin-top'), 10) + parseInt(jQuery('body').css('margin-top'), 10) + 100;if(is_form){jQuery('#gform_wrapper_24').html(form_content.html());if(form_content.hasClass('gform_validation_error')){jQuery('#gform_wrapper_24').addClass('gform_validation_error');} else {jQuery('#gform_wrapper_24').removeClass('gform_validation_error');}setTimeout( function() { /* delay the scroll by 50 milliseconds to fix a bug in chrome */ }, 50 );if(window['gformInitDatepicker']) {gformInitDatepicker();}if(window['gformInitPriceFields']) {gformInitPriceFields();}var current_page = jQuery('#gform_source_page_number_24').val();gformInitSpinner( 24, 'https://www.him.nl/wp-content/plugins/gravityforms/images/spinner.svg', true );jQuery(document).trigger('gform_page_loaded', [24, current_page]);window['gf_submitting_24'] = false;}else if(!is_redirect){var confirmation_content = jQuery(this).contents().find('.GF_AJAX_POSTBACK').html();if(!confirmation_content){confirmation_content = contents;}setTimeout(function(){jQuery('#gform_wrapper_24').replaceWith(confirmation_content);jQuery(document).trigger('gform_confirmation_loaded', [24]);window['gf_submitting_24'] = false;wp.a11y.speak(jQuery('#gform_confirmation_message_24').text());}, 50);}else{jQuery('#gform_24').append(contents);if(window['gformRedirect']) {gformRedirect();}}jQuery(document).trigger('gform_post_render', [24, current_page]);gform.utils.trigger({ event: 'gform/postRender', native: false, data: { formId: 24, currentPage: current_page } });} );} ); </script>
[gravityform id="22" title="false" description="false"]
<div class='gf_browser_unknown gform_wrapper gform_legacy_markup_wrapper gform-theme--no-framework vinduwvloer_wrapper' data-form-theme='legacy' data-form-index='0' id='gform_wrapper_22' ><form method='post' enctype='multipart/form-data' id='gform_22' class='vinduwvloer' action='/en/' data-formid='22' > <div class='gform-body gform_body'><ul id='gform_fields_22' class='gform_fields top_label form_sublabel_below description_below'><li id="field_22_1" class="gfield gfield--type-name optin gfield_contains_required field_sublabel_hidden_label gfield--no-description field_description_below hidden_label gfield_visibility_visible" data-js-reload="field_22_1"><label class='gfield_label gform-field-label gfield_label_before_complex' >Naam<span class="gfield_required"><span class="gfield_required gfield_required_asterisk">*</span></span></label><div class='ginput_complex ginput_container ginput_container--name no_prefix has_first_name no_middle_name no_last_name no_suffix gf_name_has_1 ginput_container_name gform-grid-row' id='input_22_1'> <span id='input_22_1_3_container' class='name_first gform-grid-col gform-grid-col--size-auto' > <input type='text' name='input_1.3' id='input_22_1_3' value='' aria-required='true' placeholder='Voornaam' /> <label for='input_22_1_3' class='gform-field-label gform-field-label--type-sub hidden_sub_label screen-reader-text'>First</label> </span> </div></li><li id="field_22_2" class="gfield gfield--type-email optin gfield_contains_required field_sublabel_below gfield--no-description field_description_below hidden_label gfield_visibility_visible" data-js-reload="field_22_2"><label class='gfield_label gform-field-label' for='input_22_2' >E-mailadres<span class="gfield_required"><span class="gfield_required gfield_required_asterisk">*</span></span></label><div class='ginput_container ginput_container_email'> <input name='input_2' id='input_22_2' type='text' value='' class='medium' placeholder='E-mail adres' aria-required="true" aria-invalid="false" /> </div></li><li id="field_22_3" class="gfield gfield--type-hidden gform_hidden field_sublabel_below gfield--no-description field_description_below gfield_visibility_visible" data-js-reload="field_22_3"><div class='ginput_container ginput_container_text'><input name='input_3' id='input_22_3' type='hidden' class='gform_hidden' aria-invalid="false" value='https://www.him.nl/en/' /></div></li></ul></div> <div class='gform_footer top_label'> <input type="submit" id="gform_submit_button_22" class="gform_button button btn btn-primary" value="DOWNLOAD DIRECT" onclick='if(window["gf_submitting_22"]){return false;} window["gf_submitting_22"]=true; ' onkeypress='if( event.keyCode == 13 ){ if(window["gf_submitting_22"]){return false;} window["gf_submitting_22"]=true; jQuery("#gform_22").trigger("submit",[true]); }'> <input type='hidden' class='gform_hidden' name='is_submit_22' value='1' /> <input type='hidden' class='gform_hidden' name='gform_submit' value='22' /> <input type='hidden' class='gform_hidden' name='gform_unique_id' value='' /> <input type='hidden' class='gform_hidden' name='state_22' value='WyJbXSIsImQ0NzI3YjdmMzZhYjMzOTI3YzY4MGJhYjMwODMyMDYwIl0=' /> <input type='hidden' class='gform_hidden' name='gform_target_page_number_22' id='gform_target_page_number_22' value='0' /> <input type='hidden' class='gform_hidden' name='gform_source_page_number_22' id='gform_source_page_number_22' value='1' /> <input type='hidden' name='gform_field_values' value='' /> </div> <p style="display: none !important;"><label>&#916;<textarea name="ak_hp_textarea" cols="45" rows="8" maxlength="100"></textarea></label><input type="hidden" id="ak_js_9" name="ak_js" value="145"/><script>document.getElementById( "ak_js_9" ).setAttribute( "value", ( new Date() ).getTime() );</script></p></form> </div><script type="text/javascript"> gform.initializeOnLoaded( function() {gformInitSpinner( 22, 'https://www.him.nl/wp-content/plugins/gravityforms/images/spinner.svg', true );jQuery('#gform_ajax_frame_22').on('load',function(){var contents = jQuery(this).contents().find('*').html();var is_postback = contents.indexOf('GF_AJAX_POSTBACK') >= 0;if(!is_postback){return;}var form_content = jQuery(this).contents().find('#gform_wrapper_22');var is_confirmation = jQuery(this).contents().find('#gform_confirmation_wrapper_22').length > 0;var is_redirect = contents.indexOf('gformRedirect(){') >= 0;var is_form = form_content.length > 0 && ! is_redirect && ! is_confirmation;var mt = parseInt(jQuery('html').css('margin-top'), 10) + parseInt(jQuery('body').css('margin-top'), 10) + 100;if(is_form){jQuery('#gform_wrapper_22').html(form_content.html());if(form_content.hasClass('gform_validation_error')){jQuery('#gform_wrapper_22').addClass('gform_validation_error');} else {jQuery('#gform_wrapper_22').removeClass('gform_validation_error');}setTimeout( function() { /* delay the scroll by 50 milliseconds to fix a bug in chrome */ }, 50 );if(window['gformInitDatepicker']) {gformInitDatepicker();}if(window['gformInitPriceFields']) {gformInitPriceFields();}var current_page = jQuery('#gform_source_page_number_22').val();gformInitSpinner( 22, 'https://www.him.nl/wp-content/plugins/gravityforms/images/spinner.svg', true );jQuery(document).trigger('gform_page_loaded', [22, current_page]);window['gf_submitting_22'] = false;}else if(!is_redirect){var confirmation_content = jQuery(this).contents().find('.GF_AJAX_POSTBACK').html();if(!confirmation_content){confirmation_content = contents;}setTimeout(function(){jQuery('#gform_wrapper_22').replaceWith(confirmation_content);jQuery(document).trigger('gform_confirmation_loaded', [22]);window['gf_submitting_22'] = false;wp.a11y.speak(jQuery('#gform_confirmation_message_22').text());}, 50);}else{jQuery('#gform_22').append(contents);if(window['gformRedirect']) {gformRedirect();}}jQuery(document).trigger('gform_post_render', [22, current_page]);gform.utils.trigger({ event: 'gform/postRender', native: false, data: { formId: 22, currentPage: current_page } });} );} ); </script>
[gravityform id="24" title="false" description="false"]
<div class='gf_browser_unknown gform_wrapper gform_legacy_markup_wrapper gform-theme--no-framework vinduwvloer_wrapper' data-form-theme='legacy' data-form-index='0' id='gform_wrapper_24' ><form method='post' enctype='multipart/form-data' id='gform_24' class='vinduwvloer' action='/en/' data-formid='24' > <div class='gform-body gform_body'><ul id='gform_fields_24' class='gform_fields top_label form_sublabel_below description_below'><li id="field_24_1" class="gfield gfield--type-name optin gfield_contains_required field_sublabel_hidden_label gfield--no-description field_description_below hidden_label gfield_visibility_visible" data-js-reload="field_24_1"><label class='gfield_label gform-field-label gfield_label_before_complex' >First name<span class="gfield_required"><span class="gfield_required gfield_required_asterisk">*</span></span></label><div class='ginput_complex ginput_container ginput_container--name no_prefix has_first_name no_middle_name no_last_name no_suffix gf_name_has_1 ginput_container_name gform-grid-row' id='input_24_1'> <span id='input_24_1_3_container' class='name_first gform-grid-col gform-grid-col--size-auto' > <input type='text' name='input_1.3' id='input_24_1_3' value='' aria-required='true' placeholder='First name' /> <label for='input_24_1_3' class='gform-field-label gform-field-label--type-sub hidden_sub_label screen-reader-text'>First name</label> </span> </div></li><li id="field_24_2" class="gfield gfield--type-email optin gfield_contains_required field_sublabel_below gfield--no-description field_description_below hidden_label gfield_visibility_visible" data-js-reload="field_24_2"><label class='gfield_label gform-field-label' for='input_24_2' >E-mail address<span class="gfield_required"><span class="gfield_required gfield_required_asterisk">*</span></span></label><div class='ginput_container ginput_container_email'> <input name='input_2' id='input_24_2' type='text' value='' class='medium' placeholder='E-mail address' aria-required="true" aria-invalid="false" /> </div></li><li id="field_24_3" class="gfield gfield--type-hidden gform_hidden field_sublabel_below gfield--no-description field_description_below gfield_visibility_visible" data-js-reload="field_24_3"><div class='ginput_container ginput_container_text'><input name='input_3' id='input_24_3' type='hidden' class='gform_hidden' aria-invalid="false" value='https://www.him.nl/en/' /></div></li></ul></div> <div class='gform_footer top_label'> <input type="submit" id="gform_submit_button_24" class="gform_button button btn btn-primary" value="DOWNLOAD DIRECT" onclick='if(window["gf_submitting_24"]){return false;} window["gf_submitting_24"]=true; ' onkeypress='if( event.keyCode == 13 ){ if(window["gf_submitting_24"]){return false;} window["gf_submitting_24"]=true; jQuery("#gform_24").trigger("submit",[true]); }'> <input type='hidden' class='gform_hidden' name='is_submit_24' value='1' /> <input type='hidden' class='gform_hidden' name='gform_submit' value='24' /> <input type='hidden' class='gform_hidden' name='gform_unique_id' value='' /> <input type='hidden' class='gform_hidden' name='state_24' value='WyJbXSIsImQ0NzI3YjdmMzZhYjMzOTI3YzY4MGJhYjMwODMyMDYwIl0=' /> <input type='hidden' class='gform_hidden' name='gform_target_page_number_24' id='gform_target_page_number_24' value='0' /> <input type='hidden' class='gform_hidden' name='gform_source_page_number_24' id='gform_source_page_number_24' value='1' /> <input type='hidden' name='gform_field_values' value='' /> </div> <p style="display: none !important;"><label>&#916;<textarea name="ak_hp_textarea" cols="45" rows="8" maxlength="100"></textarea></label><input type="hidden" id="ak_js_10" name="ak_js" value="10"/><script>document.getElementById( "ak_js_10" ).setAttribute( "value", ( new Date() ).getTime() );</script></p></form> </div><script type="text/javascript"> gform.initializeOnLoaded( function() {gformInitSpinner( 24, 'https://www.him.nl/wp-content/plugins/gravityforms/images/spinner.svg', true );jQuery('#gform_ajax_frame_24').on('load',function(){var contents = jQuery(this).contents().find('*').html();var is_postback = contents.indexOf('GF_AJAX_POSTBACK') >= 0;if(!is_postback){return;}var form_content = jQuery(this).contents().find('#gform_wrapper_24');var is_confirmation = jQuery(this).contents().find('#gform_confirmation_wrapper_24').length > 0;var is_redirect = contents.indexOf('gformRedirect(){') >= 0;var is_form = form_content.length > 0 && ! is_redirect && ! is_confirmation;var mt = parseInt(jQuery('html').css('margin-top'), 10) + parseInt(jQuery('body').css('margin-top'), 10) + 100;if(is_form){jQuery('#gform_wrapper_24').html(form_content.html());if(form_content.hasClass('gform_validation_error')){jQuery('#gform_wrapper_24').addClass('gform_validation_error');} else {jQuery('#gform_wrapper_24').removeClass('gform_validation_error');}setTimeout( function() { /* delay the scroll by 50 milliseconds to fix a bug in chrome */ }, 50 );if(window['gformInitDatepicker']) {gformInitDatepicker();}if(window['gformInitPriceFields']) {gformInitPriceFields();}var current_page = jQuery('#gform_source_page_number_24').val();gformInitSpinner( 24, 'https://www.him.nl/wp-content/plugins/gravityforms/images/spinner.svg', true );jQuery(document).trigger('gform_page_loaded', [24, current_page]);window['gf_submitting_24'] = false;}else if(!is_redirect){var confirmation_content = jQuery(this).contents().find('.GF_AJAX_POSTBACK').html();if(!confirmation_content){confirmation_content = contents;}setTimeout(function(){jQuery('#gform_wrapper_24').replaceWith(confirmation_content);jQuery(document).trigger('gform_confirmation_loaded', [24]);window['gf_submitting_24'] = false;wp.a11y.speak(jQuery('#gform_confirmation_message_24').text());}, 50);}else{jQuery('#gform_24').append(contents);if(window['gformRedirect']) {gformRedirect();}}jQuery(document).trigger('gform_post_render', [24, current_page]);gform.utils.trigger({ event: 'gform/postRender', native: false, data: { formId: 24, currentPage: current_page } });} );} ); </script>
[gravityform id="22" title="false" description="false"]
<div class='gf_browser_unknown gform_wrapper gform_legacy_markup_wrapper gform-theme--no-framework vinduwvloer_wrapper' data-form-theme='legacy' data-form-index='0' id='gform_wrapper_22' ><form method='post' enctype='multipart/form-data' id='gform_22' class='vinduwvloer' action='/en/' data-formid='22' > <div class='gform-body gform_body'><ul id='gform_fields_22' class='gform_fields top_label form_sublabel_below description_below'><li id="field_22_1" class="gfield gfield--type-name optin gfield_contains_required field_sublabel_hidden_label gfield--no-description field_description_below hidden_label gfield_visibility_visible" data-js-reload="field_22_1"><label class='gfield_label gform-field-label gfield_label_before_complex' >Naam<span class="gfield_required"><span class="gfield_required gfield_required_asterisk">*</span></span></label><div class='ginput_complex ginput_container ginput_container--name no_prefix has_first_name no_middle_name no_last_name no_suffix gf_name_has_1 ginput_container_name gform-grid-row' id='input_22_1'> <span id='input_22_1_3_container' class='name_first gform-grid-col gform-grid-col--size-auto' > <input type='text' name='input_1.3' id='input_22_1_3' value='' aria-required='true' placeholder='Voornaam' /> <label for='input_22_1_3' class='gform-field-label gform-field-label--type-sub hidden_sub_label screen-reader-text'>First</label> </span> </div></li><li id="field_22_2" class="gfield gfield--type-email optin gfield_contains_required field_sublabel_below gfield--no-description field_description_below hidden_label gfield_visibility_visible" data-js-reload="field_22_2"><label class='gfield_label gform-field-label' for='input_22_2' >E-mailadres<span class="gfield_required"><span class="gfield_required gfield_required_asterisk">*</span></span></label><div class='ginput_container ginput_container_email'> <input name='input_2' id='input_22_2' type='text' value='' class='medium' placeholder='E-mail adres' aria-required="true" aria-invalid="false" /> </div></li><li id="field_22_3" class="gfield gfield--type-hidden gform_hidden field_sublabel_below gfield--no-description field_description_below gfield_visibility_visible" data-js-reload="field_22_3"><div class='ginput_container ginput_container_text'><input name='input_3' id='input_22_3' type='hidden' class='gform_hidden' aria-invalid="false" value='https://www.him.nl/en/' /></div></li></ul></div> <div class='gform_footer top_label'> <input type="submit" id="gform_submit_button_22" class="gform_button button btn btn-primary" value="DOWNLOAD DIRECT" onclick='if(window["gf_submitting_22"]){return false;} window["gf_submitting_22"]=true; ' onkeypress='if( event.keyCode == 13 ){ if(window["gf_submitting_22"]){return false;} window["gf_submitting_22"]=true; jQuery("#gform_22").trigger("submit",[true]); }'> <input type='hidden' class='gform_hidden' name='is_submit_22' value='1' /> <input type='hidden' class='gform_hidden' name='gform_submit' value='22' /> <input type='hidden' class='gform_hidden' name='gform_unique_id' value='' /> <input type='hidden' class='gform_hidden' name='state_22' value='WyJbXSIsImQ0NzI3YjdmMzZhYjMzOTI3YzY4MGJhYjMwODMyMDYwIl0=' /> <input type='hidden' class='gform_hidden' name='gform_target_page_number_22' id='gform_target_page_number_22' value='0' /> <input type='hidden' class='gform_hidden' name='gform_source_page_number_22' id='gform_source_page_number_22' value='1' /> <input type='hidden' name='gform_field_values' value='' /> </div> <p style="display: none !important;"><label>&#916;<textarea name="ak_hp_textarea" cols="45" rows="8" maxlength="100"></textarea></label><input type="hidden" id="ak_js_11" name="ak_js" value="157"/><script>document.getElementById( "ak_js_11" ).setAttribute( "value", ( new Date() ).getTime() );</script></p></form> </div><script type="text/javascript"> gform.initializeOnLoaded( function() {gformInitSpinner( 22, 'https://www.him.nl/wp-content/plugins/gravityforms/images/spinner.svg', true );jQuery('#gform_ajax_frame_22').on('load',function(){var contents = jQuery(this).contents().find('*').html();var is_postback = contents.indexOf('GF_AJAX_POSTBACK') >= 0;if(!is_postback){return;}var form_content = jQuery(this).contents().find('#gform_wrapper_22');var is_confirmation = jQuery(this).contents().find('#gform_confirmation_wrapper_22').length > 0;var is_redirect = contents.indexOf('gformRedirect(){') >= 0;var is_form = form_content.length > 0 && ! is_redirect && ! is_confirmation;var mt = parseInt(jQuery('html').css('margin-top'), 10) + parseInt(jQuery('body').css('margin-top'), 10) + 100;if(is_form){jQuery('#gform_wrapper_22').html(form_content.html());if(form_content.hasClass('gform_validation_error')){jQuery('#gform_wrapper_22').addClass('gform_validation_error');} else {jQuery('#gform_wrapper_22').removeClass('gform_validation_error');}setTimeout( function() { /* delay the scroll by 50 milliseconds to fix a bug in chrome */ }, 50 );if(window['gformInitDatepicker']) {gformInitDatepicker();}if(window['gformInitPriceFields']) {gformInitPriceFields();}var current_page = jQuery('#gform_source_page_number_22').val();gformInitSpinner( 22, 'https://www.him.nl/wp-content/plugins/gravityforms/images/spinner.svg', true );jQuery(document).trigger('gform_page_loaded', [22, current_page]);window['gf_submitting_22'] = false;}else if(!is_redirect){var confirmation_content = jQuery(this).contents().find('.GF_AJAX_POSTBACK').html();if(!confirmation_content){confirmation_content = contents;}setTimeout(function(){jQuery('#gform_wrapper_22').replaceWith(confirmation_content);jQuery(document).trigger('gform_confirmation_loaded', [22]);window['gf_submitting_22'] = false;wp.a11y.speak(jQuery('#gform_confirmation_message_22').text());}, 50);}else{jQuery('#gform_22').append(contents);if(window['gformRedirect']) {gformRedirect();}}jQuery(document).trigger('gform_post_render', [22, current_page]);gform.utils.trigger({ event: 'gform/postRender', native: false, data: { formId: 22, currentPage: current_page } });} );} ); </script>
[gravityform id="12" title="false" description="false"]
<div class='gf_browser_unknown gform_wrapper gform_legacy_markup_wrapper gform-theme--no-framework vinduwvloer_wrapper' data-form-theme='legacy' data-form-index='0' id='gform_wrapper_12' ><form method='post' enctype='multipart/form-data' id='gform_12' class='vinduwvloer' action='/en/' data-formid='12' > <div class='gform-body gform_body'><ul id='gform_fields_12' class='gform_fields top_label form_sublabel_below description_below'><li id="field_12_1" class="gfield gfield--type-name optin gfield_contains_required field_sublabel_hidden_label gfield--no-description field_description_below hidden_label gfield_visibility_visible" data-js-reload="field_12_1"><label class='gfield_label gform-field-label gfield_label_before_complex' >Naam<span class="gfield_required"><span class="gfield_required gfield_required_asterisk">*</span></span></label><div class='ginput_complex ginput_container ginput_container--name no_prefix has_first_name no_middle_name no_last_name no_suffix gf_name_has_1 ginput_container_name gform-grid-row' id='input_12_1'> <span id='input_12_1_3_container' class='name_first gform-grid-col gform-grid-col--size-auto' > <input type='text' name='input_1.3' id='input_12_1_3' value='' aria-required='true' placeholder='First name' /> <label for='input_12_1_3' class='gform-field-label gform-field-label--type-sub hidden_sub_label screen-reader-text'>First</label> </span> </div></li><li id="field_12_2" class="gfield gfield--type-email optin gfield_contains_required field_sublabel_below gfield--no-description field_description_below hidden_label gfield_visibility_visible" data-js-reload="field_12_2"><label class='gfield_label gform-field-label' for='input_12_2' >E-mailadres<span class="gfield_required"><span class="gfield_required gfield_required_asterisk">*</span></span></label><div class='ginput_container ginput_container_email'> <input name='input_2' id='input_12_2' type='text' value='' class='medium' placeholder='Email address' aria-required="true" aria-invalid="false" /> </div></li><li id="field_12_3" class="gfield gfield--type-hidden gform_hidden field_sublabel_below gfield--no-description field_description_below gfield_visibility_visible" data-js-reload="field_12_3"><div class='ginput_container ginput_container_text'><input name='input_3' id='input_12_3' type='hidden' class='gform_hidden' aria-invalid="false" value='https://www.him.nl/en/' /></div></li></ul></div> <div class='gform_footer top_label'> <input type="submit" id="gform_submit_button_12" class="gform_button button btn btn-primary" value="DOWNLOAD DIRECT" onclick='if(window["gf_submitting_12"]){return false;} window["gf_submitting_12"]=true; ' onkeypress='if( event.keyCode == 13 ){ if(window["gf_submitting_12"]){return false;} window["gf_submitting_12"]=true; jQuery("#gform_12").trigger("submit",[true]); }'> <input type='hidden' class='gform_hidden' name='is_submit_12' value='1' /> <input type='hidden' class='gform_hidden' name='gform_submit' value='12' /> <input type='hidden' class='gform_hidden' name='gform_unique_id' value='' /> <input type='hidden' class='gform_hidden' name='state_12' value='WyJbXSIsImQ0NzI3YjdmMzZhYjMzOTI3YzY4MGJhYjMwODMyMDYwIl0=' /> <input type='hidden' class='gform_hidden' name='gform_target_page_number_12' id='gform_target_page_number_12' value='0' /> <input type='hidden' class='gform_hidden' name='gform_source_page_number_12' id='gform_source_page_number_12' value='1' /> <input type='hidden' name='gform_field_values' value='' /> </div> <p style="display: none !important;"><label>&#916;<textarea name="ak_hp_textarea" cols="45" rows="8" maxlength="100"></textarea></label><input type="hidden" id="ak_js_12" name="ak_js" value="146"/><script>document.getElementById( "ak_js_12" ).setAttribute( "value", ( new Date() ).getTime() );</script></p></form> </div><script type="text/javascript"> gform.initializeOnLoaded( function() {gformInitSpinner( 12, 'https://www.him.nl/wp-content/plugins/gravityforms/images/spinner.svg', true );jQuery('#gform_ajax_frame_12').on('load',function(){var contents = jQuery(this).contents().find('*').html();var is_postback = contents.indexOf('GF_AJAX_POSTBACK') >= 0;if(!is_postback){return;}var form_content = jQuery(this).contents().find('#gform_wrapper_12');var is_confirmation = jQuery(this).contents().find('#gform_confirmation_wrapper_12').length > 0;var is_redirect = contents.indexOf('gformRedirect(){') >= 0;var is_form = form_content.length > 0 && ! is_redirect && ! is_confirmation;var mt = parseInt(jQuery('html').css('margin-top'), 10) + parseInt(jQuery('body').css('margin-top'), 10) + 100;if(is_form){jQuery('#gform_wrapper_12').html(form_content.html());if(form_content.hasClass('gform_validation_error')){jQuery('#gform_wrapper_12').addClass('gform_validation_error');} else {jQuery('#gform_wrapper_12').removeClass('gform_validation_error');}setTimeout( function() { /* delay the scroll by 50 milliseconds to fix a bug in chrome */ }, 50 );if(window['gformInitDatepicker']) {gformInitDatepicker();}if(window['gformInitPriceFields']) {gformInitPriceFields();}var current_page = jQuery('#gform_source_page_number_12').val();gformInitSpinner( 12, 'https://www.him.nl/wp-content/plugins/gravityforms/images/spinner.svg', true );jQuery(document).trigger('gform_page_loaded', [12, current_page]);window['gf_submitting_12'] = false;}else if(!is_redirect){var confirmation_content = jQuery(this).contents().find('.GF_AJAX_POSTBACK').html();if(!confirmation_content){confirmation_content = contents;}setTimeout(function(){jQuery('#gform_wrapper_12').replaceWith(confirmation_content);jQuery(document).trigger('gform_confirmation_loaded', [12]);window['gf_submitting_12'] = false;wp.a11y.speak(jQuery('#gform_confirmation_message_12').text());}, 50);}else{jQuery('#gform_12').append(contents);if(window['gformRedirect']) {gformRedirect();}}jQuery(document).trigger('gform_post_render', [12, current_page]);gform.utils.trigger({ event: 'gform/postRender', native: false, data: { formId: 12, currentPage: current_page } });} );} ); </script>
[gravityform id="10" title="false" description="false"]
<div class='gf_browser_unknown gform_wrapper gform_legacy_markup_wrapper gform-theme--no-framework vinduwvloer_wrapper' data-form-theme='legacy' data-form-index='0' id='gform_wrapper_10' ><form method='post' enctype='multipart/form-data' id='gform_10' class='vinduwvloer' action='/en/' data-formid='10' > <div class='gform-body gform_body'><ul id='gform_fields_10' class='gform_fields top_label form_sublabel_below description_below'><li id="field_10_1" class="gfield gfield--type-name optin gfield_contains_required field_sublabel_hidden_label gfield--no-description field_description_below hidden_label gfield_visibility_visible" data-js-reload="field_10_1"><label class='gfield_label gform-field-label gfield_label_before_complex' >Naam<span class="gfield_required"><span class="gfield_required gfield_required_asterisk">*</span></span></label><div class='ginput_complex ginput_container ginput_container--name no_prefix has_first_name no_middle_name no_last_name no_suffix gf_name_has_1 ginput_container_name gform-grid-row' id='input_10_1'> <span id='input_10_1_3_container' class='name_first gform-grid-col gform-grid-col--size-auto' > <input type='text' name='input_1.3' id='input_10_1_3' value='' aria-required='true' placeholder='Voornaam' /> <label for='input_10_1_3' class='gform-field-label gform-field-label--type-sub hidden_sub_label screen-reader-text'>First</label> </span> </div></li><li id="field_10_2" class="gfield gfield--type-email optin gfield_contains_required field_sublabel_below gfield--no-description field_description_below hidden_label gfield_visibility_visible" data-js-reload="field_10_2"><label class='gfield_label gform-field-label' for='input_10_2' >E-mailadres<span class="gfield_required"><span class="gfield_required gfield_required_asterisk">*</span></span></label><div class='ginput_container ginput_container_email'> <input name='input_2' id='input_10_2' type='text' value='' class='medium' placeholder='E-mail adres' aria-required="true" aria-invalid="false" /> </div></li><li id="field_10_5" class="gfield gfield--type-checkbox gfield--type-choice gfield--width-full gfield_description gfield_contains_required field_sublabel_below gfield--no-description field_description_below hidden_label gfield_visibility_visible" data-js-reload="field_10_5"><label class='gfield_label gform-field-label gfield_label_before_complex' >Toestemming<span class="gfield_required"><span class="gfield_required gfield_required_asterisk">*</span></span></label><div class='ginput_container ginput_container_checkbox'><ul class='gfield_checkbox' id='input_10_5'><li class='gchoice gchoice_10_5_1'> <input class='gfield-choice-input' name='input_5.1' type='checkbox' value='Ik ga ermee akkoord dat HIM mijn gegevens verwerkt en mij mailt' id='choice_10_5_1' /> <label for='choice_10_5_1' id='label_10_5_1' class='gform-field-label gform-field-label--type-inline'>Ik ga ermee akkoord dat HIM mijn gegevens verwerkt en mij mailt</label> </li></ul></div></li><li id="field_10_6" class="gfield gfield--type-html gfield--width-full gfield_html gfield_html_formatted gfield_no_follows_desc field_sublabel_below gfield--no-description field_description_below gfield_visibility_visible" data-js-reload="field_10_6"><p><br/></p></li><li id="field_10_3" class="gfield gfield--type-hidden gform_hidden field_sublabel_below gfield--no-description field_description_below gfield_visibility_visible" data-js-reload="field_10_3"><div class='ginput_container ginput_container_text'><input name='input_3' id='input_10_3' type='hidden' class='gform_hidden' aria-invalid="false" value='https://www.him.nl/en/' /></div></li></ul></div> <div class='gform_footer top_label'> <input type="submit" id="gform_submit_button_10" class="gform_button button btn btn-primary" value="DOWNLOAD DIRECT" onclick='if(window["gf_submitting_10"]){return false;} window["gf_submitting_10"]=true; ' onkeypress='if( event.keyCode == 13 ){ if(window["gf_submitting_10"]){return false;} window["gf_submitting_10"]=true; jQuery("#gform_10").trigger("submit",[true]); }'> <input type='hidden' class='gform_hidden' name='is_submit_10' value='1' /> <input type='hidden' class='gform_hidden' name='gform_submit' value='10' /> <input type='hidden' class='gform_hidden' name='gform_unique_id' value='' /> <input type='hidden' class='gform_hidden' name='state_10' value='WyJbXSIsImQ0NzI3YjdmMzZhYjMzOTI3YzY4MGJhYjMwODMyMDYwIl0=' /> <input type='hidden' class='gform_hidden' name='gform_target_page_number_10' id='gform_target_page_number_10' value='0' /> <input type='hidden' class='gform_hidden' name='gform_source_page_number_10' id='gform_source_page_number_10' value='1' /> <input type='hidden' name='gform_field_values' value='' /> </div> <p style="display: none !important;"><label>&#916;<textarea name="ak_hp_textarea" cols="45" rows="8" maxlength="100"></textarea></label><input type="hidden" id="ak_js_13" name="ak_js" value="168"/><script>document.getElementById( "ak_js_13" ).setAttribute( "value", ( new Date() ).getTime() );</script></p></form> </div><script type="text/javascript"> gform.initializeOnLoaded( function() {gformInitSpinner( 10, 'https://www.him.nl/wp-content/plugins/gravityforms/images/spinner.svg', true );jQuery('#gform_ajax_frame_10').on('load',function(){var contents = jQuery(this).contents().find('*').html();var is_postback = contents.indexOf('GF_AJAX_POSTBACK') >= 0;if(!is_postback){return;}var form_content = jQuery(this).contents().find('#gform_wrapper_10');var is_confirmation = jQuery(this).contents().find('#gform_confirmation_wrapper_10').length > 0;var is_redirect = contents.indexOf('gformRedirect(){') >= 0;var is_form = form_content.length > 0 && ! is_redirect && ! is_confirmation;var mt = parseInt(jQuery('html').css('margin-top'), 10) + parseInt(jQuery('body').css('margin-top'), 10) + 100;if(is_form){jQuery('#gform_wrapper_10').html(form_content.html());if(form_content.hasClass('gform_validation_error')){jQuery('#gform_wrapper_10').addClass('gform_validation_error');} else {jQuery('#gform_wrapper_10').removeClass('gform_validation_error');}setTimeout( function() { /* delay the scroll by 50 milliseconds to fix a bug in chrome */ }, 50 );if(window['gformInitDatepicker']) {gformInitDatepicker();}if(window['gformInitPriceFields']) {gformInitPriceFields();}var current_page = jQuery('#gform_source_page_number_10').val();gformInitSpinner( 10, 'https://www.him.nl/wp-content/plugins/gravityforms/images/spinner.svg', true );jQuery(document).trigger('gform_page_loaded', [10, current_page]);window['gf_submitting_10'] = false;}else if(!is_redirect){var confirmation_content = jQuery(this).contents().find('.GF_AJAX_POSTBACK').html();if(!confirmation_content){confirmation_content = contents;}setTimeout(function(){jQuery('#gform_wrapper_10').replaceWith(confirmation_content);jQuery(document).trigger('gform_confirmation_loaded', [10]);window['gf_submitting_10'] = false;wp.a11y.speak(jQuery('#gform_confirmation_message_10').text());}, 50);}else{jQuery('#gform_10').append(contents);if(window['gformRedirect']) {gformRedirect();}}jQuery(document).trigger('gform_post_render', [10, current_page]);gform.utils.trigger({ event: 'gform/postRender', native: false, data: { formId: 10, currentPage: current_page } });} );} ); </script>