Curious about the price per m2 of epoxy floors? In general: the larger the surface, the lower the costs per square meter. But other circumstances also play a role. You can read about the factors that determine the price of an epoxy floor in this article.
Required work before installation
When applying resin floors to sand cement, concrete, plaster or tiles, it is important that the surface is smooth and level. This is of crucial importance, in particular for coatings and other thin flooring systems. Before installing the floor you should ask yourself the following questions:
Is it necessary to remove the existing floor? Substrates such as linoleum, tarpaulin and cork are not suitable as substrates for resin floors. These materials generally do not offer good adhesion. Are you unsure whether your substrate is suitable for epoxy flooring? Perform an adhesion test to ensure your substrate has sufficient adhesion capacity.
Is your current floor or surface uneven? It is not always necessary to completely replace it, but you must carry out repair work. You can use HIM Coving Mastic to fix air bubble pockets and repair other irregularities.
Is it desirable to make a seamless transition from wall to floor? Healthcare and the hospitality industry require good and easy to clean finishes. Within these sectors, due to hygiene requirements and convenience, it is necessary for the floor to merge with the wall. HIM Coving Mastic helps you to create this transition.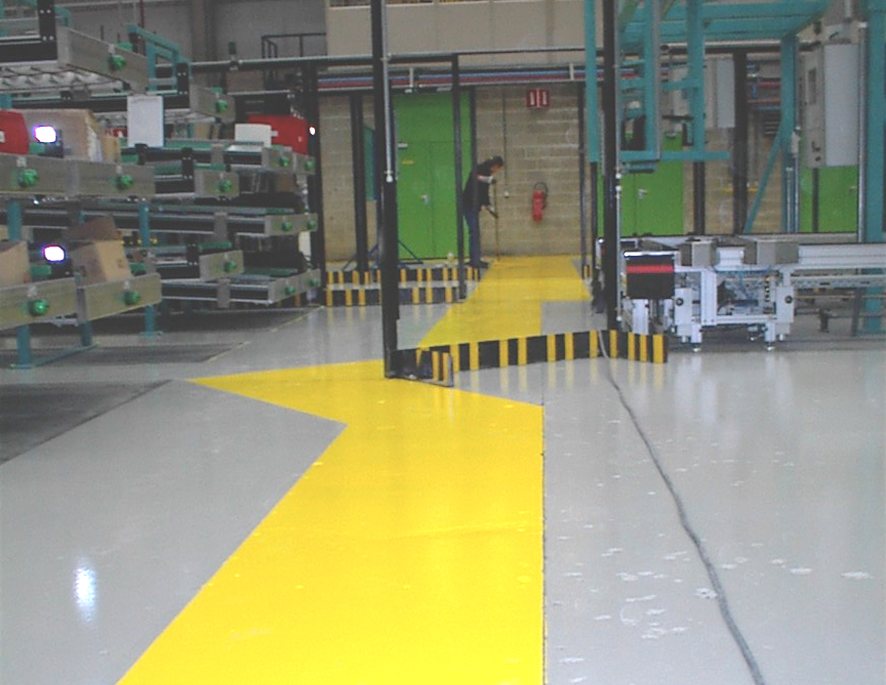 Applied floor system and finishing options
Epoxy floors come in many shapes and sizes. The floor system and the finishing options have a major influence on price formation:
How large is the area to cover? The following applies: the larger the floor, the smaller the labor factor. Every project – regardless of floor size – has fixed start-up and execution activities, such as:

Application methods and associated drying times;
Travel and start-up time;
For smaller floors, these operations form a relatively large part of the price per square meter. Besides, applicators often charge a minimum rate for smaller areas and surfaces, so the costs are proportionately higher.
Do you opt for a complete floor system or just a coating? Epoxy floors are generally composed of a primer and/or scraper layer, the main floor and one or two layers of a finish coat on top. In this case the floor is equipped with all the conveniences that are important in your industry, such as UV protection and moisture resistance. If you only want to keep your concrete or sand cement floors dust-free, then a simple coating is sufficient, applied in one, two to three layers. Whichever option you choose, each extra layer implies extra work and extra drying time.
Do you want a decorative floor? Epoxy floors are available in a concrete look. To be able to mix the colors optimally, you need slightly more thickness: at least 2.5 mm, set against a thickness of 2.0 mm for a self-levelling floor without a concrete look. In that case the material costs will fractionally increase. Do you want to sprinkle the floor with flakes? In that case the required thickness remains the same but do take into account additional costs for the flakes.
Epoxy floors: price per m2 varies per floor type
As you can see there are price differences between different types of epoxy floors. Also the price per m2 is lower as the surface area increases. If you are planning to install an epoxy floor, we recommend treating several rooms at the same time. One thing is certain: HIM has floors for every budget.
Do you want to know more about our epoxy floors? Our product specialists are happy to help you. For more information, call +31 (0) 251-276300 or send a message via our contact page.
---
Publicatiedatum: 2019-04-11
Categorie: News