HIM Products contributes to the opening of de Maastunnel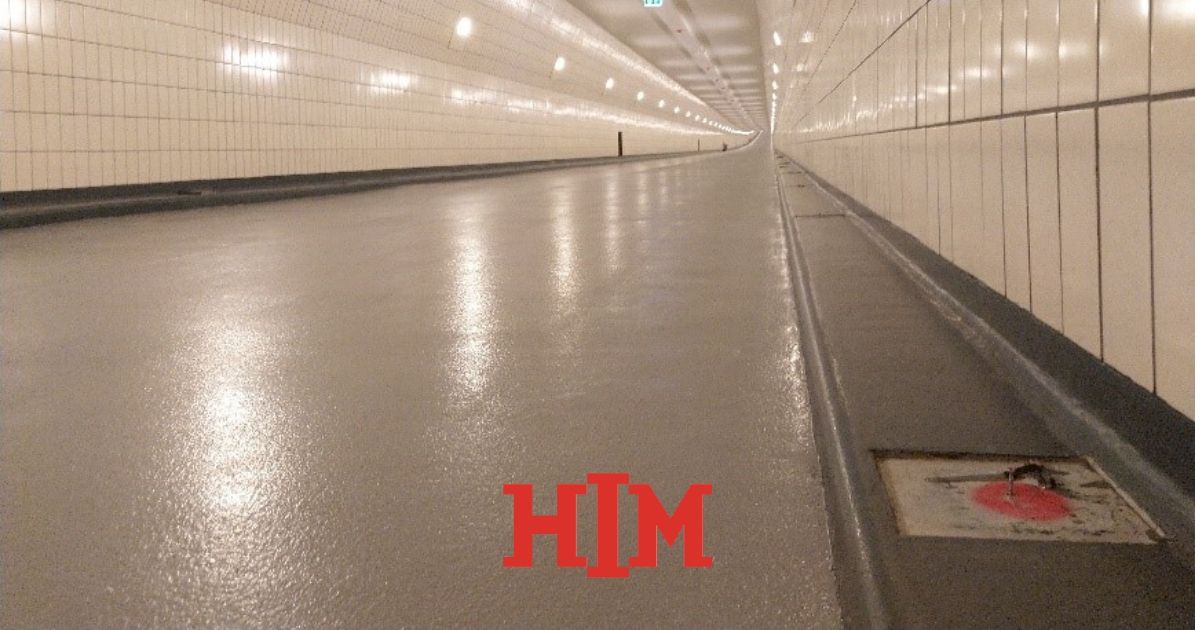 November 15,2019. The day that the bicycle tunnel of de Maastunnel in Rotterdam is closed down for about 7 months. The tunnel, which is known as the oldest submerged tunnel in the Netherlands, is used by about 6,500 cyclists every day. This National Monument of 1936 is due for a thorough renovation. The municipality of Rotterdam therefore has the companies Mobilis and Kreeft Beton Techniek B.V. appointed as contractor and subcontractor for this project, respectively.
May 2020
After months of work, during which the walls and ceiling have been completely renovated, it is time for the construction of the wearing layers and cast floors. HIM Products also contributed to this. The company specializing in wear layers and cast floors was therefore an essential part of this project. In collaboration with subcontractor Kreeft Beton Techniek B.V. a colored wear layer has been applied. (see picture).
June 2020
Nearly finished, he 6,500 cyclist who cycled through the Maastunnel every day only have to use the ferry for a month, before they can go through the new bicycle tunnel again.
July 3rd, 2020
This is the moment we all have been waiting  for. This beautiful project has been completed after a long period of work. The Maastunnel has been accessible for cyclists again and  the oldest submerged tunnel is now in use once again.
---
Publicatiedatum: 2020-07-10
Categorie: News
[gravityform id="13" title="false" description="false"]
<div class='gf_browser_unknown gform_wrapper vinduwvloer_wrapper' id='gform_wrapper_13' style='display:none'><form method='post' enctype='multipart/form-data' id='gform_13' class='vinduwvloer' action='/en/him-products-contributes-to-the-opening-of-de-maastunnel/'> <div class='gform_body'><ul id='gform_fields_13' class='gform_fields top_label form_sublabel_below description_below'><li id='field_13_1' class='gfield optin gfield_contains_required field_sublabel_hidden_label field_description_below hidden_label gfield_visibility_visible' ><label class='gfield_label gfield_label_before_complex' >Naam<span class='gfield_required'>*</span></label><div class='ginput_complex ginput_container no_prefix has_first_name no_middle_name no_last_name no_suffix gf_name_has_1 ginput_container_name' id='input_13_1'> <span id='input_13_1_3_container' class='name_first' > <input type='text' name='input_1.3' id='input_13_1_3' value='' aria-label='First name' aria-required="true" aria-invalid="false" placeholder='Voornaam'/> <label for='input_13_1_3' class='hidden_sub_label screen-reader-text'>First</label> </span> </div></li><li id='field_13_2' class='gfield optin gfield_contains_required field_sublabel_below field_description_below hidden_label gfield_visibility_visible' ><label class='gfield_label' for='input_13_2' >E-mailadres<span class='gfield_required'>*</span></label><div class='ginput_container ginput_container_email'> <input name='input_2' id='input_13_2' type='text' value='' class='medium' placeholder='E-mailadres' aria-required="true" aria-invalid="false" /> </div></li><li id='field_13_3' class='gfield gform_hidden field_sublabel_below field_description_below gfield_visibility_visible' ><input name='input_3' id='input_13_3' type='hidden' class='gform_hidden' aria-invalid="false" value='https://www.him.nl/en/him-products-contributes-to-the-opening-of-de-maastunnel/' /></li> </ul></div> <div class='gform_footer top_label'> <input type="submit" id="gform_submit_button_13" class="gform_button button btn btn-primary" value="DOWNLOAD DIRECT" onclick='if(window["gf_submitting_13"]){return false;} window["gf_submitting_13"]=true; ' onkeypress='if( event.keyCode == 13 ){ if(window["gf_submitting_13"]){return false;} window["gf_submitting_13"]=true; jQuery("#gform_13").trigger("submit",[true]); }'> <input type='hidden' class='gform_hidden' name='is_submit_13' value='1' /> <input type='hidden' class='gform_hidden' name='gform_submit' value='13' /> <input type='hidden' class='gform_hidden' name='gform_unique_id' value='' /> <input type='hidden' class='gform_hidden' name='state_13' value='WyJbXSIsImQ0NzI3YjdmMzZhYjMzOTI3YzY4MGJhYjMwODMyMDYwIl0=' /> <input type='hidden' class='gform_hidden' name='gform_target_page_number_13' id='gform_target_page_number_13' value='0' /> <input type='hidden' class='gform_hidden' name='gform_source_page_number_13' id='gform_source_page_number_13' value='1' /> <input type='hidden' name='gform_field_values' value='' /> </div> </form> </div><script type='text/javascript'> jQuery(document).bind('gform_post_render', function(event, formId, currentPage){if(formId == 13) {gf_global["number_formats"][13] = {"1":{"price":false,"value":false},"2":{"price":false,"value":false},"3":{"price":false,"value":false}};if(window['jQuery']){if(!window['gf_form_conditional_logic'])window['gf_form_conditional_logic'] = new Array();window['gf_form_conditional_logic'][13] = { logic: { 0: {"field":{"actionType":"hide","logicType":"all","rules":[{"fieldId":"2","operator":"contains","value":".ru"}]},"section":null} }, dependents: { 0: [0] }, animation: 0, defaults: {"1":{"1.2":"","1.3":"","1.4":"","1.6":"","1.8":""},"3":"https:\/\/www.him.nl\/en\/him-products-contributes-to-the-opening-of-de-maastunnel\/"}, fields: {"1":[0],"2":[0],"3":[0]} }; if(!window['gf_number_format'])window['gf_number_format'] = 'decimal_dot';jQuery(document).ready(function(){gf_apply_rules(13, [0], true);jQuery('#gform_wrapper_13').show();jQuery(document).trigger('gform_post_conditional_logic', [13, null, true]);} );} if(typeof Placeholders != 'undefined'){ Placeholders.enable(); }} } );jQuery(document).bind('gform_post_conditional_logic', function(event, formId, fields, isInit){} );</script><script type='text/javascript'> jQuery(document).ready(function(){jQuery(document).trigger('gform_post_render', [13, 1]) } ); </script>
[gravityform id="16" title="false" description="false"]
<div class='gf_browser_unknown gform_wrapper vinduwvloer_wrapper' id='gform_wrapper_16' style='display:none'><form method='post' enctype='multipart/form-data' id='gform_16' class='vinduwvloer' action='/en/him-products-contributes-to-the-opening-of-de-maastunnel/'> <div class='gform_body'><ul id='gform_fields_16' class='gform_fields top_label form_sublabel_below description_below'><li id='field_16_1' class='gfield optin gfield_contains_required field_sublabel_hidden_label field_description_below hidden_label gfield_visibility_visible' ><label class='gfield_label gfield_label_before_complex' >Name<span class='gfield_required'>*</span></label><div class='ginput_complex ginput_container no_prefix has_first_name no_middle_name no_last_name no_suffix gf_name_has_1 ginput_container_name' id='input_16_1'> <span id='input_16_1_3_container' class='name_first' > <input type='text' name='input_1.3' id='input_16_1_3' value='' aria-label='First name' aria-required="true" aria-invalid="false" placeholder='First name'/> <label for='input_16_1_3' class='hidden_sub_label screen-reader-text'>First name</label> </span> </div></li><li id='field_16_2' class='gfield optin gfield_contains_required field_sublabel_below field_description_below hidden_label gfield_visibility_visible' ><label class='gfield_label' for='input_16_2' >E-mail address<span class='gfield_required'>*</span></label><div class='ginput_container ginput_container_email'> <input name='input_2' id='input_16_2' type='text' value='' class='medium' placeholder='E-mail address' aria-required="true" aria-invalid="false" /> </div></li><li id='field_16_3' class='gfield gform_hidden field_sublabel_below field_description_below gfield_visibility_visible' ><input name='input_3' id='input_16_3' type='hidden' class='gform_hidden' aria-invalid="false" value='https://www.him.nl/en/him-products-contributes-to-the-opening-of-de-maastunnel/' /></li><li id='field_16_4' class='gfield gform_validation_container field_sublabel_below field_description_below gfield_visibility_visible' ><label class='gfield_label' for='input_16_4' >Phone</label><div class='ginput_container'><input name='input_4' id='input_16_4' type='text' value='' /></div><div class='gfield_description' id='gfield_description_16_4'>This field is for validation purposes and should be left unchanged.</div></li> </ul></div> <div class='gform_footer top_label'> <input type="submit" id="gform_submit_button_16" class="gform_button button btn btn-primary" value="DOWNLOAD DIRECT" onclick='if(window["gf_submitting_16"]){return false;} window["gf_submitting_16"]=true; ' onkeypress='if( event.keyCode == 13 ){ if(window["gf_submitting_16"]){return false;} window["gf_submitting_16"]=true; jQuery("#gform_16").trigger("submit",[true]); }'> <input type='hidden' class='gform_hidden' name='is_submit_16' value='1' /> <input type='hidden' class='gform_hidden' name='gform_submit' value='16' /> <input type='hidden' class='gform_hidden' name='gform_unique_id' value='' /> <input type='hidden' class='gform_hidden' name='state_16' value='WyJbXSIsImQ0NzI3YjdmMzZhYjMzOTI3YzY4MGJhYjMwODMyMDYwIl0=' /> <input type='hidden' class='gform_hidden' name='gform_target_page_number_16' id='gform_target_page_number_16' value='0' /> <input type='hidden' class='gform_hidden' name='gform_source_page_number_16' id='gform_source_page_number_16' value='1' /> <input type='hidden' name='gform_field_values' value='' /> </div> </form> </div><script type='text/javascript'> jQuery(document).bind('gform_post_render', function(event, formId, currentPage){if(formId == 16) {gf_global["number_formats"][16] = {"1":{"price":false,"value":false},"2":{"price":false,"value":false},"3":{"price":false,"value":false},"4":{"price":false,"value":false}};if(window['jQuery']){if(!window['gf_form_conditional_logic'])window['gf_form_conditional_logic'] = new Array();window['gf_form_conditional_logic'][16] = { logic: { 0: {"field":{"actionType":"hide","logicType":"all","rules":[{"fieldId":"2","operator":"contains","value":".ru"}]},"section":null} }, dependents: { 0: [0] }, animation: 0, defaults: {"1":{"1.2":"","1.3":"","1.4":"","1.6":"","1.8":""},"3":"https:\/\/www.him.nl\/en\/him-products-contributes-to-the-opening-of-de-maastunnel\/"}, fields: {"1":[0],"2":[0],"3":[0],"4":[0]} }; if(!window['gf_number_format'])window['gf_number_format'] = 'decimal_dot';jQuery(document).ready(function(){gf_apply_rules(16, [0], true);jQuery('#gform_wrapper_16').show();jQuery(document).trigger('gform_post_conditional_logic', [16, null, true]);} );} if(typeof Placeholders != 'undefined'){ Placeholders.enable(); }} } );jQuery(document).bind('gform_post_conditional_logic', function(event, formId, fields, isInit){} );</script><script type='text/javascript'> jQuery(document).ready(function(){jQuery(document).trigger('gform_post_render', [16, 1]) } ); </script>
[gravityform id="13" title="false" description="false"]
<div class='gf_browser_unknown gform_wrapper vinduwvloer_wrapper' id='gform_wrapper_13' style='display:none'><form method='post' enctype='multipart/form-data' id='gform_13' class='vinduwvloer' action='/en/him-products-contributes-to-the-opening-of-de-maastunnel/'> <div class='gform_body'><ul id='gform_fields_13' class='gform_fields top_label form_sublabel_below description_below'><li id='field_13_1' class='gfield optin gfield_contains_required field_sublabel_hidden_label field_description_below hidden_label gfield_visibility_visible' ><label class='gfield_label gfield_label_before_complex' >Naam<span class='gfield_required'>*</span></label><div class='ginput_complex ginput_container no_prefix has_first_name no_middle_name no_last_name no_suffix gf_name_has_1 ginput_container_name' id='input_13_1'> <span id='input_13_1_3_container' class='name_first' > <input type='text' name='input_1.3' id='input_13_1_3' value='' aria-label='First name' aria-required="true" aria-invalid="false" placeholder='Voornaam'/> <label for='input_13_1_3' class='hidden_sub_label screen-reader-text'>First</label> </span> </div></li><li id='field_13_2' class='gfield optin gfield_contains_required field_sublabel_below field_description_below hidden_label gfield_visibility_visible' ><label class='gfield_label' for='input_13_2' >E-mailadres<span class='gfield_required'>*</span></label><div class='ginput_container ginput_container_email'> <input name='input_2' id='input_13_2' type='text' value='' class='medium' placeholder='E-mailadres' aria-required="true" aria-invalid="false" /> </div></li><li id='field_13_3' class='gfield gform_hidden field_sublabel_below field_description_below gfield_visibility_visible' ><input name='input_3' id='input_13_3' type='hidden' class='gform_hidden' aria-invalid="false" value='https://www.him.nl/en/him-products-contributes-to-the-opening-of-de-maastunnel/' /></li> </ul></div> <div class='gform_footer top_label'> <input type="submit" id="gform_submit_button_13" class="gform_button button btn btn-primary" value="DOWNLOAD DIRECT" onclick='if(window["gf_submitting_13"]){return false;} window["gf_submitting_13"]=true; ' onkeypress='if( event.keyCode == 13 ){ if(window["gf_submitting_13"]){return false;} window["gf_submitting_13"]=true; jQuery("#gform_13").trigger("submit",[true]); }'> <input type='hidden' class='gform_hidden' name='is_submit_13' value='1' /> <input type='hidden' class='gform_hidden' name='gform_submit' value='13' /> <input type='hidden' class='gform_hidden' name='gform_unique_id' value='' /> <input type='hidden' class='gform_hidden' name='state_13' value='WyJbXSIsImQ0NzI3YjdmMzZhYjMzOTI3YzY4MGJhYjMwODMyMDYwIl0=' /> <input type='hidden' class='gform_hidden' name='gform_target_page_number_13' id='gform_target_page_number_13' value='0' /> <input type='hidden' class='gform_hidden' name='gform_source_page_number_13' id='gform_source_page_number_13' value='1' /> <input type='hidden' name='gform_field_values' value='' /> </div> </form> </div><script type='text/javascript'> jQuery(document).bind('gform_post_render', function(event, formId, currentPage){if(formId == 13) {gf_global["number_formats"][13] = {"1":{"price":false,"value":false},"2":{"price":false,"value":false},"3":{"price":false,"value":false}};if(window['jQuery']){if(!window['gf_form_conditional_logic'])window['gf_form_conditional_logic'] = new Array();window['gf_form_conditional_logic'][13] = { logic: { 0: {"field":{"actionType":"hide","logicType":"all","rules":[{"fieldId":"2","operator":"contains","value":".ru"}]},"section":null} }, dependents: { 0: [0] }, animation: 0, defaults: {"1":{"1.2":"","1.3":"","1.4":"","1.6":"","1.8":""},"3":"https:\/\/www.him.nl\/en\/him-products-contributes-to-the-opening-of-de-maastunnel\/"}, fields: {"1":[0],"2":[0],"3":[0]} }; if(!window['gf_number_format'])window['gf_number_format'] = 'decimal_dot';jQuery(document).ready(function(){gf_apply_rules(13, [0], true);jQuery('#gform_wrapper_13').show();jQuery(document).trigger('gform_post_conditional_logic', [13, null, true]);} );} if(typeof Placeholders != 'undefined'){ Placeholders.enable(); }} } );jQuery(document).bind('gform_post_conditional_logic', function(event, formId, fields, isInit){} );</script><script type='text/javascript'> jQuery(document).ready(function(){jQuery(document).trigger('gform_post_render', [13, 1]) } ); </script>
[gravityform id="16" title="false" description="false"]
<div class='gf_browser_unknown gform_wrapper vinduwvloer_wrapper' id='gform_wrapper_16' style='display:none'><form method='post' enctype='multipart/form-data' id='gform_16' class='vinduwvloer' action='/en/him-products-contributes-to-the-opening-of-de-maastunnel/'> <div class='gform_body'><ul id='gform_fields_16' class='gform_fields top_label form_sublabel_below description_below'><li id='field_16_1' class='gfield optin gfield_contains_required field_sublabel_hidden_label field_description_below hidden_label gfield_visibility_visible' ><label class='gfield_label gfield_label_before_complex' >Name<span class='gfield_required'>*</span></label><div class='ginput_complex ginput_container no_prefix has_first_name no_middle_name no_last_name no_suffix gf_name_has_1 ginput_container_name' id='input_16_1'> <span id='input_16_1_3_container' class='name_first' > <input type='text' name='input_1.3' id='input_16_1_3' value='' aria-label='First name' aria-required="true" aria-invalid="false" placeholder='First name'/> <label for='input_16_1_3' class='hidden_sub_label screen-reader-text'>First name</label> </span> </div></li><li id='field_16_2' class='gfield optin gfield_contains_required field_sublabel_below field_description_below hidden_label gfield_visibility_visible' ><label class='gfield_label' for='input_16_2' >E-mail address<span class='gfield_required'>*</span></label><div class='ginput_container ginput_container_email'> <input name='input_2' id='input_16_2' type='text' value='' class='medium' placeholder='E-mail address' aria-required="true" aria-invalid="false" /> </div></li><li id='field_16_3' class='gfield gform_hidden field_sublabel_below field_description_below gfield_visibility_visible' ><input name='input_3' id='input_16_3' type='hidden' class='gform_hidden' aria-invalid="false" value='https://www.him.nl/en/him-products-contributes-to-the-opening-of-de-maastunnel/' /></li><li id='field_16_4' class='gfield gform_validation_container field_sublabel_below field_description_below gfield_visibility_visible' ><label class='gfield_label' for='input_16_4' >Phone</label><div class='ginput_container'><input name='input_4' id='input_16_4' type='text' value='' /></div><div class='gfield_description' id='gfield_description_16_4'>This field is for validation purposes and should be left unchanged.</div></li> </ul></div> <div class='gform_footer top_label'> <input type="submit" id="gform_submit_button_16" class="gform_button button btn btn-primary" value="DOWNLOAD DIRECT" onclick='if(window["gf_submitting_16"]){return false;} window["gf_submitting_16"]=true; ' onkeypress='if( event.keyCode == 13 ){ if(window["gf_submitting_16"]){return false;} window["gf_submitting_16"]=true; jQuery("#gform_16").trigger("submit",[true]); }'> <input type='hidden' class='gform_hidden' name='is_submit_16' value='1' /> <input type='hidden' class='gform_hidden' name='gform_submit' value='16' /> <input type='hidden' class='gform_hidden' name='gform_unique_id' value='' /> <input type='hidden' class='gform_hidden' name='state_16' value='WyJbXSIsImQ0NzI3YjdmMzZhYjMzOTI3YzY4MGJhYjMwODMyMDYwIl0=' /> <input type='hidden' class='gform_hidden' name='gform_target_page_number_16' id='gform_target_page_number_16' value='0' /> <input type='hidden' class='gform_hidden' name='gform_source_page_number_16' id='gform_source_page_number_16' value='1' /> <input type='hidden' name='gform_field_values' value='' /> </div> </form> </div><script type='text/javascript'> jQuery(document).bind('gform_post_render', function(event, formId, currentPage){if(formId == 16) {gf_global["number_formats"][16] = {"1":{"price":false,"value":false},"2":{"price":false,"value":false},"3":{"price":false,"value":false},"4":{"price":false,"value":false}};if(window['jQuery']){if(!window['gf_form_conditional_logic'])window['gf_form_conditional_logic'] = new Array();window['gf_form_conditional_logic'][16] = { logic: { 0: {"field":{"actionType":"hide","logicType":"all","rules":[{"fieldId":"2","operator":"contains","value":".ru"}]},"section":null} }, dependents: { 0: [0] }, animation: 0, defaults: {"1":{"1.2":"","1.3":"","1.4":"","1.6":"","1.8":""},"3":"https:\/\/www.him.nl\/en\/him-products-contributes-to-the-opening-of-de-maastunnel\/"}, fields: {"1":[0],"2":[0],"3":[0],"4":[0]} }; if(!window['gf_number_format'])window['gf_number_format'] = 'decimal_dot';jQuery(document).ready(function(){gf_apply_rules(16, [0], true);jQuery('#gform_wrapper_16').show();jQuery(document).trigger('gform_post_conditional_logic', [16, null, true]);} );} if(typeof Placeholders != 'undefined'){ Placeholders.enable(); }} } );jQuery(document).bind('gform_post_conditional_logic', function(event, formId, fields, isInit){} );</script><script type='text/javascript'> jQuery(document).ready(function(){jQuery(document).trigger('gform_post_render', [16, 1]) } ); </script>
[gravityform id="13" title="false" description="false"]
<div class='gf_browser_unknown gform_wrapper vinduwvloer_wrapper' id='gform_wrapper_13' style='display:none'><form method='post' enctype='multipart/form-data' id='gform_13' class='vinduwvloer' action='/en/him-products-contributes-to-the-opening-of-de-maastunnel/'> <div class='gform_body'><ul id='gform_fields_13' class='gform_fields top_label form_sublabel_below description_below'><li id='field_13_1' class='gfield optin gfield_contains_required field_sublabel_hidden_label field_description_below hidden_label gfield_visibility_visible' ><label class='gfield_label gfield_label_before_complex' >Naam<span class='gfield_required'>*</span></label><div class='ginput_complex ginput_container no_prefix has_first_name no_middle_name no_last_name no_suffix gf_name_has_1 ginput_container_name' id='input_13_1'> <span id='input_13_1_3_container' class='name_first' > <input type='text' name='input_1.3' id='input_13_1_3' value='' aria-label='First name' aria-required="true" aria-invalid="false" placeholder='Voornaam'/> <label for='input_13_1_3' class='hidden_sub_label screen-reader-text'>First</label> </span> </div></li><li id='field_13_2' class='gfield optin gfield_contains_required field_sublabel_below field_description_below hidden_label gfield_visibility_visible' ><label class='gfield_label' for='input_13_2' >E-mailadres<span class='gfield_required'>*</span></label><div class='ginput_container ginput_container_email'> <input name='input_2' id='input_13_2' type='text' value='' class='medium' placeholder='E-mailadres' aria-required="true" aria-invalid="false" /> </div></li><li id='field_13_3' class='gfield gform_hidden field_sublabel_below field_description_below gfield_visibility_visible' ><input name='input_3' id='input_13_3' type='hidden' class='gform_hidden' aria-invalid="false" value='https://www.him.nl/en/him-products-contributes-to-the-opening-of-de-maastunnel/' /></li> </ul></div> <div class='gform_footer top_label'> <input type="submit" id="gform_submit_button_13" class="gform_button button btn btn-primary" value="DOWNLOAD DIRECT" onclick='if(window["gf_submitting_13"]){return false;} window["gf_submitting_13"]=true; ' onkeypress='if( event.keyCode == 13 ){ if(window["gf_submitting_13"]){return false;} window["gf_submitting_13"]=true; jQuery("#gform_13").trigger("submit",[true]); }'> <input type='hidden' class='gform_hidden' name='is_submit_13' value='1' /> <input type='hidden' class='gform_hidden' name='gform_submit' value='13' /> <input type='hidden' class='gform_hidden' name='gform_unique_id' value='' /> <input type='hidden' class='gform_hidden' name='state_13' value='WyJbXSIsImQ0NzI3YjdmMzZhYjMzOTI3YzY4MGJhYjMwODMyMDYwIl0=' /> <input type='hidden' class='gform_hidden' name='gform_target_page_number_13' id='gform_target_page_number_13' value='0' /> <input type='hidden' class='gform_hidden' name='gform_source_page_number_13' id='gform_source_page_number_13' value='1' /> <input type='hidden' name='gform_field_values' value='' /> </div> </form> </div><script type='text/javascript'> jQuery(document).bind('gform_post_render', function(event, formId, currentPage){if(formId == 13) {gf_global["number_formats"][13] = {"1":{"price":false,"value":false},"2":{"price":false,"value":false},"3":{"price":false,"value":false}};if(window['jQuery']){if(!window['gf_form_conditional_logic'])window['gf_form_conditional_logic'] = new Array();window['gf_form_conditional_logic'][13] = { logic: { 0: {"field":{"actionType":"hide","logicType":"all","rules":[{"fieldId":"2","operator":"contains","value":".ru"}]},"section":null} }, dependents: { 0: [0] }, animation: 0, defaults: {"1":{"1.2":"","1.3":"","1.4":"","1.6":"","1.8":""},"3":"https:\/\/www.him.nl\/en\/him-products-contributes-to-the-opening-of-de-maastunnel\/"}, fields: {"1":[0],"2":[0],"3":[0]} }; if(!window['gf_number_format'])window['gf_number_format'] = 'decimal_dot';jQuery(document).ready(function(){gf_apply_rules(13, [0], true);jQuery('#gform_wrapper_13').show();jQuery(document).trigger('gform_post_conditional_logic', [13, null, true]);} );} if(typeof Placeholders != 'undefined'){ Placeholders.enable(); }} } );jQuery(document).bind('gform_post_conditional_logic', function(event, formId, fields, isInit){} );</script><script type='text/javascript'> jQuery(document).ready(function(){jQuery(document).trigger('gform_post_render', [13, 1]) } ); </script>
[gravityform id="16" title="false" description="false"]
<div class='gf_browser_unknown gform_wrapper vinduwvloer_wrapper' id='gform_wrapper_16' style='display:none'><form method='post' enctype='multipart/form-data' id='gform_16' class='vinduwvloer' action='/en/him-products-contributes-to-the-opening-of-de-maastunnel/'> <div class='gform_body'><ul id='gform_fields_16' class='gform_fields top_label form_sublabel_below description_below'><li id='field_16_1' class='gfield optin gfield_contains_required field_sublabel_hidden_label field_description_below hidden_label gfield_visibility_visible' ><label class='gfield_label gfield_label_before_complex' >Name<span class='gfield_required'>*</span></label><div class='ginput_complex ginput_container no_prefix has_first_name no_middle_name no_last_name no_suffix gf_name_has_1 ginput_container_name' id='input_16_1'> <span id='input_16_1_3_container' class='name_first' > <input type='text' name='input_1.3' id='input_16_1_3' value='' aria-label='First name' aria-required="true" aria-invalid="false" placeholder='First name'/> <label for='input_16_1_3' class='hidden_sub_label screen-reader-text'>First name</label> </span> </div></li><li id='field_16_2' class='gfield optin gfield_contains_required field_sublabel_below field_description_below hidden_label gfield_visibility_visible' ><label class='gfield_label' for='input_16_2' >E-mail address<span class='gfield_required'>*</span></label><div class='ginput_container ginput_container_email'> <input name='input_2' id='input_16_2' type='text' value='' class='medium' placeholder='E-mail address' aria-required="true" aria-invalid="false" /> </div></li><li id='field_16_3' class='gfield gform_hidden field_sublabel_below field_description_below gfield_visibility_visible' ><input name='input_3' id='input_16_3' type='hidden' class='gform_hidden' aria-invalid="false" value='https://www.him.nl/en/him-products-contributes-to-the-opening-of-de-maastunnel/' /></li><li id='field_16_4' class='gfield gform_validation_container field_sublabel_below field_description_below gfield_visibility_visible' ><label class='gfield_label' for='input_16_4' >Phone</label><div class='ginput_container'><input name='input_4' id='input_16_4' type='text' value='' /></div><div class='gfield_description' id='gfield_description_16_4'>This field is for validation purposes and should be left unchanged.</div></li> </ul></div> <div class='gform_footer top_label'> <input type="submit" id="gform_submit_button_16" class="gform_button button btn btn-primary" value="DOWNLOAD DIRECT" onclick='if(window["gf_submitting_16"]){return false;} window["gf_submitting_16"]=true; ' onkeypress='if( event.keyCode == 13 ){ if(window["gf_submitting_16"]){return false;} window["gf_submitting_16"]=true; jQuery("#gform_16").trigger("submit",[true]); }'> <input type='hidden' class='gform_hidden' name='is_submit_16' value='1' /> <input type='hidden' class='gform_hidden' name='gform_submit' value='16' /> <input type='hidden' class='gform_hidden' name='gform_unique_id' value='' /> <input type='hidden' class='gform_hidden' name='state_16' value='WyJbXSIsImQ0NzI3YjdmMzZhYjMzOTI3YzY4MGJhYjMwODMyMDYwIl0=' /> <input type='hidden' class='gform_hidden' name='gform_target_page_number_16' id='gform_target_page_number_16' value='0' /> <input type='hidden' class='gform_hidden' name='gform_source_page_number_16' id='gform_source_page_number_16' value='1' /> <input type='hidden' name='gform_field_values' value='' /> </div> </form> </div><script type='text/javascript'> jQuery(document).bind('gform_post_render', function(event, formId, currentPage){if(formId == 16) {gf_global["number_formats"][16] = {"1":{"price":false,"value":false},"2":{"price":false,"value":false},"3":{"price":false,"value":false},"4":{"price":false,"value":false}};if(window['jQuery']){if(!window['gf_form_conditional_logic'])window['gf_form_conditional_logic'] = new Array();window['gf_form_conditional_logic'][16] = { logic: { 0: {"field":{"actionType":"hide","logicType":"all","rules":[{"fieldId":"2","operator":"contains","value":".ru"}]},"section":null} }, dependents: { 0: [0] }, animation: 0, defaults: {"1":{"1.2":"","1.3":"","1.4":"","1.6":"","1.8":""},"3":"https:\/\/www.him.nl\/en\/him-products-contributes-to-the-opening-of-de-maastunnel\/"}, fields: {"1":[0],"2":[0],"3":[0],"4":[0]} }; if(!window['gf_number_format'])window['gf_number_format'] = 'decimal_dot';jQuery(document).ready(function(){gf_apply_rules(16, [0], true);jQuery('#gform_wrapper_16').show();jQuery(document).trigger('gform_post_conditional_logic', [16, null, true]);} );} if(typeof Placeholders != 'undefined'){ Placeholders.enable(); }} } );jQuery(document).bind('gform_post_conditional_logic', function(event, formId, fields, isInit){} );</script><script type='text/javascript'> jQuery(document).ready(function(){jQuery(document).trigger('gform_post_render', [16, 1]) } ); </script>
[gravityform id="13" title="false" description="false"]
<div class='gf_browser_unknown gform_wrapper vinduwvloer_wrapper' id='gform_wrapper_13' style='display:none'><form method='post' enctype='multipart/form-data' id='gform_13' class='vinduwvloer' action='/en/him-products-contributes-to-the-opening-of-de-maastunnel/'> <div class='gform_body'><ul id='gform_fields_13' class='gform_fields top_label form_sublabel_below description_below'><li id='field_13_1' class='gfield optin gfield_contains_required field_sublabel_hidden_label field_description_below hidden_label gfield_visibility_visible' ><label class='gfield_label gfield_label_before_complex' >Naam<span class='gfield_required'>*</span></label><div class='ginput_complex ginput_container no_prefix has_first_name no_middle_name no_last_name no_suffix gf_name_has_1 ginput_container_name' id='input_13_1'> <span id='input_13_1_3_container' class='name_first' > <input type='text' name='input_1.3' id='input_13_1_3' value='' aria-label='First name' aria-required="true" aria-invalid="false" placeholder='Voornaam'/> <label for='input_13_1_3' class='hidden_sub_label screen-reader-text'>First</label> </span> </div></li><li id='field_13_2' class='gfield optin gfield_contains_required field_sublabel_below field_description_below hidden_label gfield_visibility_visible' ><label class='gfield_label' for='input_13_2' >E-mailadres<span class='gfield_required'>*</span></label><div class='ginput_container ginput_container_email'> <input name='input_2' id='input_13_2' type='text' value='' class='medium' placeholder='E-mailadres' aria-required="true" aria-invalid="false" /> </div></li><li id='field_13_3' class='gfield gform_hidden field_sublabel_below field_description_below gfield_visibility_visible' ><input name='input_3' id='input_13_3' type='hidden' class='gform_hidden' aria-invalid="false" value='https://www.him.nl/en/him-products-contributes-to-the-opening-of-de-maastunnel/' /></li> </ul></div> <div class='gform_footer top_label'> <input type="submit" id="gform_submit_button_13" class="gform_button button btn btn-primary" value="DOWNLOAD DIRECT" onclick='if(window["gf_submitting_13"]){return false;} window["gf_submitting_13"]=true; ' onkeypress='if( event.keyCode == 13 ){ if(window["gf_submitting_13"]){return false;} window["gf_submitting_13"]=true; jQuery("#gform_13").trigger("submit",[true]); }'> <input type='hidden' class='gform_hidden' name='is_submit_13' value='1' /> <input type='hidden' class='gform_hidden' name='gform_submit' value='13' /> <input type='hidden' class='gform_hidden' name='gform_unique_id' value='' /> <input type='hidden' class='gform_hidden' name='state_13' value='WyJbXSIsImQ0NzI3YjdmMzZhYjMzOTI3YzY4MGJhYjMwODMyMDYwIl0=' /> <input type='hidden' class='gform_hidden' name='gform_target_page_number_13' id='gform_target_page_number_13' value='0' /> <input type='hidden' class='gform_hidden' name='gform_source_page_number_13' id='gform_source_page_number_13' value='1' /> <input type='hidden' name='gform_field_values' value='' /> </div> </form> </div><script type='text/javascript'> jQuery(document).bind('gform_post_render', function(event, formId, currentPage){if(formId == 13) {gf_global["number_formats"][13] = {"1":{"price":false,"value":false},"2":{"price":false,"value":false},"3":{"price":false,"value":false}};if(window['jQuery']){if(!window['gf_form_conditional_logic'])window['gf_form_conditional_logic'] = new Array();window['gf_form_conditional_logic'][13] = { logic: { 0: {"field":{"actionType":"hide","logicType":"all","rules":[{"fieldId":"2","operator":"contains","value":".ru"}]},"section":null} }, dependents: { 0: [0] }, animation: 0, defaults: {"1":{"1.2":"","1.3":"","1.4":"","1.6":"","1.8":""},"3":"https:\/\/www.him.nl\/en\/him-products-contributes-to-the-opening-of-de-maastunnel\/"}, fields: {"1":[0],"2":[0],"3":[0]} }; if(!window['gf_number_format'])window['gf_number_format'] = 'decimal_dot';jQuery(document).ready(function(){gf_apply_rules(13, [0], true);jQuery('#gform_wrapper_13').show();jQuery(document).trigger('gform_post_conditional_logic', [13, null, true]);} );} if(typeof Placeholders != 'undefined'){ Placeholders.enable(); }} } );jQuery(document).bind('gform_post_conditional_logic', function(event, formId, fields, isInit){} );</script><script type='text/javascript'> jQuery(document).ready(function(){jQuery(document).trigger('gform_post_render', [13, 1]) } ); </script>
[gravityform id="12" title="false" description="false"]
<div class='gf_browser_unknown gform_wrapper vinduwvloer_wrapper' id='gform_wrapper_12' ><form method='post' enctype='multipart/form-data' id='gform_12' class='vinduwvloer' action='/en/him-products-contributes-to-the-opening-of-de-maastunnel/'> <div class='gform_body'><ul id='gform_fields_12' class='gform_fields top_label form_sublabel_below description_below'><li id='field_12_1' class='gfield optin gfield_contains_required field_sublabel_hidden_label field_description_below hidden_label gfield_visibility_visible' ><label class='gfield_label gfield_label_before_complex' >Naam<span class='gfield_required'>*</span></label><div class='ginput_complex ginput_container no_prefix has_first_name no_middle_name no_last_name no_suffix gf_name_has_1 ginput_container_name' id='input_12_1'> <span id='input_12_1_3_container' class='name_first' > <input type='text' name='input_1.3' id='input_12_1_3' value='' aria-label='First name' aria-required="true" aria-invalid="false" placeholder='First name'/> <label for='input_12_1_3' class='hidden_sub_label screen-reader-text'>First</label> </span> </div></li><li id='field_12_2' class='gfield optin gfield_contains_required field_sublabel_below field_description_below hidden_label gfield_visibility_visible' ><label class='gfield_label' for='input_12_2' >E-mailadres<span class='gfield_required'>*</span></label><div class='ginput_container ginput_container_email'> <input name='input_2' id='input_12_2' type='text' value='' class='medium' placeholder='Email address' aria-required="true" aria-invalid="false" /> </div></li><li id='field_12_3' class='gfield gform_hidden field_sublabel_below field_description_below gfield_visibility_visible' ><input name='input_3' id='input_12_3' type='hidden' class='gform_hidden' aria-invalid="false" value='https://www.him.nl/en/him-products-contributes-to-the-opening-of-de-maastunnel/' /></li> </ul></div> <div class='gform_footer top_label'> <input type="submit" id="gform_submit_button_12" class="gform_button button btn btn-primary" value="DOWNLOAD DIRECT" onclick='if(window["gf_submitting_12"]){return false;} window["gf_submitting_12"]=true; ' onkeypress='if( event.keyCode == 13 ){ if(window["gf_submitting_12"]){return false;} window["gf_submitting_12"]=true; jQuery("#gform_12").trigger("submit",[true]); }'> <input type='hidden' class='gform_hidden' name='is_submit_12' value='1' /> <input type='hidden' class='gform_hidden' name='gform_submit' value='12' /> <input type='hidden' class='gform_hidden' name='gform_unique_id' value='' /> <input type='hidden' class='gform_hidden' name='state_12' value='WyJbXSIsImQ0NzI3YjdmMzZhYjMzOTI3YzY4MGJhYjMwODMyMDYwIl0=' /> <input type='hidden' class='gform_hidden' name='gform_target_page_number_12' id='gform_target_page_number_12' value='0' /> <input type='hidden' class='gform_hidden' name='gform_source_page_number_12' id='gform_source_page_number_12' value='1' /> <input type='hidden' name='gform_field_values' value='' /> </div> </form> </div><script type='text/javascript'> jQuery(document).bind('gform_post_render', function(event, formId, currentPage){if(formId == 12) {if(typeof Placeholders != 'undefined'){ Placeholders.enable(); }} } );jQuery(document).bind('gform_post_conditional_logic', function(event, formId, fields, isInit){} );</script><script type='text/javascript'> jQuery(document).ready(function(){jQuery(document).trigger('gform_post_render', [12, 1]) } ); </script>
[gravityform id="10" title="false" description="false"]
<div class='gf_browser_unknown gform_wrapper vinduwvloer_wrapper' id='gform_wrapper_10' ><form method='post' enctype='multipart/form-data' id='gform_10' class='vinduwvloer' action='/en/him-products-contributes-to-the-opening-of-de-maastunnel/'> <div class='gform_body'><ul id='gform_fields_10' class='gform_fields top_label form_sublabel_below description_below'><li id='field_10_1' class='gfield optin gfield_contains_required field_sublabel_hidden_label field_description_below hidden_label gfield_visibility_visible' ><label class='gfield_label gfield_label_before_complex' >Naam<span class='gfield_required'>*</span></label><div class='ginput_complex ginput_container no_prefix has_first_name no_middle_name no_last_name no_suffix gf_name_has_1 ginput_container_name' id='input_10_1'> <span id='input_10_1_3_container' class='name_first' > <input type='text' name='input_1.3' id='input_10_1_3' value='' aria-label='First name' aria-required="true" aria-invalid="false" placeholder='Voornaam'/> <label for='input_10_1_3' class='hidden_sub_label screen-reader-text'>First</label> </span> </div></li><li id='field_10_2' class='gfield optin gfield_contains_required field_sublabel_below field_description_below hidden_label gfield_visibility_visible' ><label class='gfield_label' for='input_10_2' >E-mailadres<span class='gfield_required'>*</span></label><div class='ginput_container ginput_container_email'> <input name='input_2' id='input_10_2' type='text' value='' class='medium' placeholder='E-mail adres' aria-required="true" aria-invalid="false" /> </div></li><li id='field_10_3' class='gfield gform_hidden field_sublabel_below field_description_below gfield_visibility_visible' ><input name='input_3' id='input_10_3' type='hidden' class='gform_hidden' aria-invalid="false" value='https://www.him.nl/en/him-products-contributes-to-the-opening-of-de-maastunnel/' /></li> </ul></div> <div class='gform_footer top_label'> <input type="submit" id="gform_submit_button_10" class="gform_button button btn btn-primary" value="DOWNLOAD DIRECT" onclick='if(window["gf_submitting_10"]){return false;} window["gf_submitting_10"]=true; ' onkeypress='if( event.keyCode == 13 ){ if(window["gf_submitting_10"]){return false;} window["gf_submitting_10"]=true; jQuery("#gform_10").trigger("submit",[true]); }'> <input type='hidden' class='gform_hidden' name='is_submit_10' value='1' /> <input type='hidden' class='gform_hidden' name='gform_submit' value='10' /> <input type='hidden' class='gform_hidden' name='gform_unique_id' value='' /> <input type='hidden' class='gform_hidden' name='state_10' value='WyJbXSIsImQ0NzI3YjdmMzZhYjMzOTI3YzY4MGJhYjMwODMyMDYwIl0=' /> <input type='hidden' class='gform_hidden' name='gform_target_page_number_10' id='gform_target_page_number_10' value='0' /> <input type='hidden' class='gform_hidden' name='gform_source_page_number_10' id='gform_source_page_number_10' value='1' /> <input type='hidden' name='gform_field_values' value='' /> </div> </form> </div><script type='text/javascript'> jQuery(document).bind('gform_post_render', function(event, formId, currentPage){if(formId == 10) {if(typeof Placeholders != 'undefined'){ Placeholders.enable(); }} } );jQuery(document).bind('gform_post_conditional_logic', function(event, formId, fields, isInit){} );</script><script type='text/javascript'> jQuery(document).ready(function(){jQuery(document).trigger('gform_post_render', [10, 1]) } ); </script>