Polyurethane floor
Many colors (combinations)
Extensively tested
Fast delivery
PU Floor
Layer thickness - 1-5 mm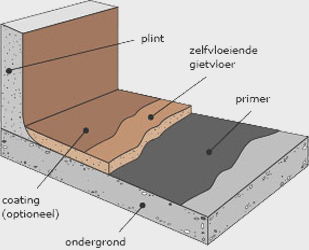 What is a polyurethane floor?
Looking for a floor that is both decorative and functional? HIM Polyurethane floors are practical and beautiful, therefore mainly used in private houses. In comparison to epoxy floors they are much better suited for underfloor heating, a common technique in modern houses and kitchens. In addition, this floor can be applied over most existing floors. These floors are many times firmer than wooden floors, laminate floors or tiles, but certainly offer a great walking convenience due to the higher elasticity. HIM polyurethane floors are available in many different, beautiful colors.
Contact us
Many colors (combinations)
Brighten up a room with vivid and decorative colors and color combinations, without sacrificing comfort and functionality.
Extensively tested
We know everything about polyurethane floors: how it is applied, what the advantages and disadvantages are and what it looks like once it has dried.
Fast delivery
HIM floors are almost always available within 48 hours. In case of emergency, even the same day is possible.
"
For over 10 years, I trust HIM. My employees are trained by them and we know everything about their products .
"
Geert-Jan Derks, Derks Schilders
"
We are looking for a wearing course that, up to a certain point, remains flexible, considering the movements of our bridges. Then your only solution is HIM.
"
Han Kastermans, Retro Bridge
Which floor is the best for your situation?
Not entirely sure whether this floor is ideal for your situation? Polyurethane floors are mainly used in situations where the following features are highly valuated:
Available in various colors
It is not a surprise that the appearance of a room is greatly influenced by the color of the floor. A dark floor gives a more robust and cozy impression and a lighter floor gives a more professional appearance, but can sometimes feel cold and clinical. We are happy to advise you and, thanks to more than 80 years of experience, we know everything about the effect of a floor on the intended space.
[gravityform id="13" title="false" description="false"]
<div class='gf_browser_unknown gform_wrapper gform_legacy_markup_wrapper gform-theme--no-framework vinduwvloer_wrapper' data-form-theme='legacy' data-form-index='0' id='gform_wrapper_13' style='display:none'><form method='post' enctype='multipart/form-data' id='gform_13' class='vinduwvloer' action='/en/floors/pu-floor/' data-formid='13' > <div class='gform-body gform_body'><ul id='gform_fields_13' class='gform_fields top_label form_sublabel_below description_below'><li id="field_13_1" class="gfield gfield--type-name optin gfield_contains_required field_sublabel_hidden_label gfield--no-description field_description_below hidden_label gfield_visibility_visible" data-js-reload="field_13_1"><label class='gfield_label gform-field-label gfield_label_before_complex' >Naam<span class="gfield_required"><span class="gfield_required gfield_required_asterisk">*</span></span></label><div class='ginput_complex ginput_container ginput_container--name no_prefix has_first_name no_middle_name no_last_name no_suffix gf_name_has_1 ginput_container_name gform-grid-row' id='input_13_1'> <span id='input_13_1_3_container' class='name_first gform-grid-col gform-grid-col--size-auto' > <input type='text' name='input_1.3' id='input_13_1_3' value='' aria-required='true' placeholder='Voornaam' /> <label for='input_13_1_3' class='gform-field-label gform-field-label--type-sub hidden_sub_label screen-reader-text'>First</label> </span> </div></li><li id="field_13_2" class="gfield gfield--type-email optin gfield_contains_required field_sublabel_below gfield--no-description field_description_below hidden_label gfield_visibility_visible" data-js-reload="field_13_2"><label class='gfield_label gform-field-label' for='input_13_2' >E-mailadres<span class="gfield_required"><span class="gfield_required gfield_required_asterisk">*</span></span></label><div class='ginput_container ginput_container_email'> <input name='input_2' id='input_13_2' type='text' value='' class='medium' placeholder='E-mailadres' aria-required="true" aria-invalid="false" /> </div></li><li id="field_13_3" class="gfield gfield--type-hidden gform_hidden field_sublabel_below gfield--no-description field_description_below gfield_visibility_visible" data-js-reload="field_13_3"><div class='ginput_container ginput_container_text'><input name='input_3' id='input_13_3' type='hidden' class='gform_hidden' aria-invalid="false" value='https://www.him.nl/en/floors/pu-floor/' /></div></li></ul></div> <div class='gform_footer top_label'> <input type="submit" id="gform_submit_button_13" class="gform_button button btn btn-primary" value="DOWNLOAD DIRECT" onclick='if(window["gf_submitting_13"]){return false;} window["gf_submitting_13"]=true; ' onkeypress='if( event.keyCode == 13 ){ if(window["gf_submitting_13"]){return false;} window["gf_submitting_13"]=true; jQuery("#gform_13").trigger("submit",[true]); }'> <input type='hidden' class='gform_hidden' name='is_submit_13' value='1' /> <input type='hidden' class='gform_hidden' name='gform_submit' value='13' /> <input type='hidden' class='gform_hidden' name='gform_unique_id' value='' /> <input type='hidden' class='gform_hidden' name='state_13' value='WyJbXSIsImQ0NzI3YjdmMzZhYjMzOTI3YzY4MGJhYjMwODMyMDYwIl0=' /> <input type='hidden' class='gform_hidden' name='gform_target_page_number_13' id='gform_target_page_number_13' value='0' /> <input type='hidden' class='gform_hidden' name='gform_source_page_number_13' id='gform_source_page_number_13' value='1' /> <input type='hidden' name='gform_field_values' value='' /> </div> <p style="display: none !important;"><label>&#916;<textarea name="ak_hp_textarea" cols="45" rows="8" maxlength="100"></textarea></label><input type="hidden" id="ak_js_2" name="ak_js" value="183"/><script>document.getElementById( "ak_js_2" ).setAttribute( "value", ( new Date() ).getTime() );</script></p></form> </div><script type="text/javascript"> gform.initializeOnLoaded( function() {gformInitSpinner( 13, 'https://www.him.nl/wp-content/plugins/gravityforms/images/spinner.svg', true );jQuery('#gform_ajax_frame_13').on('load',function(){var contents = jQuery(this).contents().find('*').html();var is_postback = contents.indexOf('GF_AJAX_POSTBACK') >= 0;if(!is_postback){return;}var form_content = jQuery(this).contents().find('#gform_wrapper_13');var is_confirmation = jQuery(this).contents().find('#gform_confirmation_wrapper_13').length > 0;var is_redirect = contents.indexOf('gformRedirect(){') >= 0;var is_form = form_content.length > 0 && ! is_redirect && ! is_confirmation;var mt = parseInt(jQuery('html').css('margin-top'), 10) + parseInt(jQuery('body').css('margin-top'), 10) + 100;if(is_form){jQuery('#gform_wrapper_13').html(form_content.html());if(form_content.hasClass('gform_validation_error')){jQuery('#gform_wrapper_13').addClass('gform_validation_error');} else {jQuery('#gform_wrapper_13').removeClass('gform_validation_error');}setTimeout( function() { /* delay the scroll by 50 milliseconds to fix a bug in chrome */ }, 50 );if(window['gformInitDatepicker']) {gformInitDatepicker();}if(window['gformInitPriceFields']) {gformInitPriceFields();}var current_page = jQuery('#gform_source_page_number_13').val();gformInitSpinner( 13, 'https://www.him.nl/wp-content/plugins/gravityforms/images/spinner.svg', true );jQuery(document).trigger('gform_page_loaded', [13, current_page]);window['gf_submitting_13'] = false;}else if(!is_redirect){var confirmation_content = jQuery(this).contents().find('.GF_AJAX_POSTBACK').html();if(!confirmation_content){confirmation_content = contents;}setTimeout(function(){jQuery('#gform_wrapper_13').replaceWith(confirmation_content);jQuery(document).trigger('gform_confirmation_loaded', [13]);window['gf_submitting_13'] = false;wp.a11y.speak(jQuery('#gform_confirmation_message_13').text());}, 50);}else{jQuery('#gform_13').append(contents);if(window['gformRedirect']) {gformRedirect();}}jQuery(document).trigger('gform_post_render', [13, current_page]);gform.utils.trigger({ event: 'gform/postRender', native: false, data: { formId: 13, currentPage: current_page } });} );} ); </script>
[gravityform id="22" title="false" description="false"]
<div class='gf_browser_unknown gform_wrapper gform_legacy_markup_wrapper gform-theme--no-framework vinduwvloer_wrapper' data-form-theme='legacy' data-form-index='0' id='gform_wrapper_22' ><form method='post' enctype='multipart/form-data' id='gform_22' class='vinduwvloer' action='/en/floors/pu-floor/' data-formid='22' > <div class='gform-body gform_body'><ul id='gform_fields_22' class='gform_fields top_label form_sublabel_below description_below'><li id="field_22_1" class="gfield gfield--type-name optin gfield_contains_required field_sublabel_hidden_label gfield--no-description field_description_below hidden_label gfield_visibility_visible" data-js-reload="field_22_1"><label class='gfield_label gform-field-label gfield_label_before_complex' >Naam<span class="gfield_required"><span class="gfield_required gfield_required_asterisk">*</span></span></label><div class='ginput_complex ginput_container ginput_container--name no_prefix has_first_name no_middle_name no_last_name no_suffix gf_name_has_1 ginput_container_name gform-grid-row' id='input_22_1'> <span id='input_22_1_3_container' class='name_first gform-grid-col gform-grid-col--size-auto' > <input type='text' name='input_1.3' id='input_22_1_3' value='' aria-required='true' placeholder='Voornaam' /> <label for='input_22_1_3' class='gform-field-label gform-field-label--type-sub hidden_sub_label screen-reader-text'>First</label> </span> </div></li><li id="field_22_2" class="gfield gfield--type-email optin gfield_contains_required field_sublabel_below gfield--no-description field_description_below hidden_label gfield_visibility_visible" data-js-reload="field_22_2"><label class='gfield_label gform-field-label' for='input_22_2' >E-mailadres<span class="gfield_required"><span class="gfield_required gfield_required_asterisk">*</span></span></label><div class='ginput_container ginput_container_email'> <input name='input_2' id='input_22_2' type='text' value='' class='medium' placeholder='E-mail adres' aria-required="true" aria-invalid="false" /> </div></li><li id="field_22_3" class="gfield gfield--type-hidden gform_hidden field_sublabel_below gfield--no-description field_description_below gfield_visibility_visible" data-js-reload="field_22_3"><div class='ginput_container ginput_container_text'><input name='input_3' id='input_22_3' type='hidden' class='gform_hidden' aria-invalid="false" value='https://www.him.nl/en/floors/pu-floor/' /></div></li></ul></div> <div class='gform_footer top_label'> <input type="submit" id="gform_submit_button_22" class="gform_button button btn btn-primary" value="DOWNLOAD DIRECT" onclick='if(window["gf_submitting_22"]){return false;} window["gf_submitting_22"]=true; ' onkeypress='if( event.keyCode == 13 ){ if(window["gf_submitting_22"]){return false;} window["gf_submitting_22"]=true; jQuery("#gform_22").trigger("submit",[true]); }'> <input type='hidden' class='gform_hidden' name='is_submit_22' value='1' /> <input type='hidden' class='gform_hidden' name='gform_submit' value='22' /> <input type='hidden' class='gform_hidden' name='gform_unique_id' value='' /> <input type='hidden' class='gform_hidden' name='state_22' value='WyJbXSIsImQ0NzI3YjdmMzZhYjMzOTI3YzY4MGJhYjMwODMyMDYwIl0=' /> <input type='hidden' class='gform_hidden' name='gform_target_page_number_22' id='gform_target_page_number_22' value='0' /> <input type='hidden' class='gform_hidden' name='gform_source_page_number_22' id='gform_source_page_number_22' value='1' /> <input type='hidden' name='gform_field_values' value='' /> </div> <p style="display: none !important;"><label>&#916;<textarea name="ak_hp_textarea" cols="45" rows="8" maxlength="100"></textarea></label><input type="hidden" id="ak_js_3" name="ak_js" value="212"/><script>document.getElementById( "ak_js_3" ).setAttribute( "value", ( new Date() ).getTime() );</script></p></form> </div><script type="text/javascript"> gform.initializeOnLoaded( function() {gformInitSpinner( 22, 'https://www.him.nl/wp-content/plugins/gravityforms/images/spinner.svg', true );jQuery('#gform_ajax_frame_22').on('load',function(){var contents = jQuery(this).contents().find('*').html();var is_postback = contents.indexOf('GF_AJAX_POSTBACK') >= 0;if(!is_postback){return;}var form_content = jQuery(this).contents().find('#gform_wrapper_22');var is_confirmation = jQuery(this).contents().find('#gform_confirmation_wrapper_22').length > 0;var is_redirect = contents.indexOf('gformRedirect(){') >= 0;var is_form = form_content.length > 0 && ! is_redirect && ! is_confirmation;var mt = parseInt(jQuery('html').css('margin-top'), 10) + parseInt(jQuery('body').css('margin-top'), 10) + 100;if(is_form){jQuery('#gform_wrapper_22').html(form_content.html());if(form_content.hasClass('gform_validation_error')){jQuery('#gform_wrapper_22').addClass('gform_validation_error');} else {jQuery('#gform_wrapper_22').removeClass('gform_validation_error');}setTimeout( function() { /* delay the scroll by 50 milliseconds to fix a bug in chrome */ }, 50 );if(window['gformInitDatepicker']) {gformInitDatepicker();}if(window['gformInitPriceFields']) {gformInitPriceFields();}var current_page = jQuery('#gform_source_page_number_22').val();gformInitSpinner( 22, 'https://www.him.nl/wp-content/plugins/gravityforms/images/spinner.svg', true );jQuery(document).trigger('gform_page_loaded', [22, current_page]);window['gf_submitting_22'] = false;}else if(!is_redirect){var confirmation_content = jQuery(this).contents().find('.GF_AJAX_POSTBACK').html();if(!confirmation_content){confirmation_content = contents;}setTimeout(function(){jQuery('#gform_wrapper_22').replaceWith(confirmation_content);jQuery(document).trigger('gform_confirmation_loaded', [22]);window['gf_submitting_22'] = false;wp.a11y.speak(jQuery('#gform_confirmation_message_22').text());}, 50);}else{jQuery('#gform_22').append(contents);if(window['gformRedirect']) {gformRedirect();}}jQuery(document).trigger('gform_post_render', [22, current_page]);gform.utils.trigger({ event: 'gform/postRender', native: false, data: { formId: 22, currentPage: current_page } });} );} ); </script>
[gravityform id="24" title="false" description="false"]
<div class='gf_browser_unknown gform_wrapper gform_legacy_markup_wrapper gform-theme--no-framework vinduwvloer_wrapper' data-form-theme='legacy' data-form-index='0' id='gform_wrapper_24' ><form method='post' enctype='multipart/form-data' id='gform_24' class='vinduwvloer' action='/en/floors/pu-floor/' data-formid='24' > <div class='gform-body gform_body'><ul id='gform_fields_24' class='gform_fields top_label form_sublabel_below description_below'><li id="field_24_1" class="gfield gfield--type-name optin gfield_contains_required field_sublabel_hidden_label gfield--no-description field_description_below hidden_label gfield_visibility_visible" data-js-reload="field_24_1"><label class='gfield_label gform-field-label gfield_label_before_complex' >First name<span class="gfield_required"><span class="gfield_required gfield_required_asterisk">*</span></span></label><div class='ginput_complex ginput_container ginput_container--name no_prefix has_first_name no_middle_name no_last_name no_suffix gf_name_has_1 ginput_container_name gform-grid-row' id='input_24_1'> <span id='input_24_1_3_container' class='name_first gform-grid-col gform-grid-col--size-auto' > <input type='text' name='input_1.3' id='input_24_1_3' value='' aria-required='true' placeholder='First name' /> <label for='input_24_1_3' class='gform-field-label gform-field-label--type-sub hidden_sub_label screen-reader-text'>First name</label> </span> </div></li><li id="field_24_2" class="gfield gfield--type-email optin gfield_contains_required field_sublabel_below gfield--no-description field_description_below hidden_label gfield_visibility_visible" data-js-reload="field_24_2"><label class='gfield_label gform-field-label' for='input_24_2' >E-mail address<span class="gfield_required"><span class="gfield_required gfield_required_asterisk">*</span></span></label><div class='ginput_container ginput_container_email'> <input name='input_2' id='input_24_2' type='text' value='' class='medium' placeholder='E-mail address' aria-required="true" aria-invalid="false" /> </div></li><li id="field_24_3" class="gfield gfield--type-hidden gform_hidden field_sublabel_below gfield--no-description field_description_below gfield_visibility_visible" data-js-reload="field_24_3"><div class='ginput_container ginput_container_text'><input name='input_3' id='input_24_3' type='hidden' class='gform_hidden' aria-invalid="false" value='https://www.him.nl/en/floors/pu-floor/' /></div></li></ul></div> <div class='gform_footer top_label'> <input type="submit" id="gform_submit_button_24" class="gform_button button btn btn-primary" value="DOWNLOAD DIRECT" onclick='if(window["gf_submitting_24"]){return false;} window["gf_submitting_24"]=true; ' onkeypress='if( event.keyCode == 13 ){ if(window["gf_submitting_24"]){return false;} window["gf_submitting_24"]=true; jQuery("#gform_24").trigger("submit",[true]); }'> <input type='hidden' class='gform_hidden' name='is_submit_24' value='1' /> <input type='hidden' class='gform_hidden' name='gform_submit' value='24' /> <input type='hidden' class='gform_hidden' name='gform_unique_id' value='' /> <input type='hidden' class='gform_hidden' name='state_24' value='WyJbXSIsImQ0NzI3YjdmMzZhYjMzOTI3YzY4MGJhYjMwODMyMDYwIl0=' /> <input type='hidden' class='gform_hidden' name='gform_target_page_number_24' id='gform_target_page_number_24' value='0' /> <input type='hidden' class='gform_hidden' name='gform_source_page_number_24' id='gform_source_page_number_24' value='1' /> <input type='hidden' name='gform_field_values' value='' /> </div> <p style="display: none !important;"><label>&#916;<textarea name="ak_hp_textarea" cols="45" rows="8" maxlength="100"></textarea></label><input type="hidden" id="ak_js_4" name="ak_js" value="217"/><script>document.getElementById( "ak_js_4" ).setAttribute( "value", ( new Date() ).getTime() );</script></p></form> </div><script type="text/javascript"> gform.initializeOnLoaded( function() {gformInitSpinner( 24, 'https://www.him.nl/wp-content/plugins/gravityforms/images/spinner.svg', true );jQuery('#gform_ajax_frame_24').on('load',function(){var contents = jQuery(this).contents().find('*').html();var is_postback = contents.indexOf('GF_AJAX_POSTBACK') >= 0;if(!is_postback){return;}var form_content = jQuery(this).contents().find('#gform_wrapper_24');var is_confirmation = jQuery(this).contents().find('#gform_confirmation_wrapper_24').length > 0;var is_redirect = contents.indexOf('gformRedirect(){') >= 0;var is_form = form_content.length > 0 && ! is_redirect && ! is_confirmation;var mt = parseInt(jQuery('html').css('margin-top'), 10) + parseInt(jQuery('body').css('margin-top'), 10) + 100;if(is_form){jQuery('#gform_wrapper_24').html(form_content.html());if(form_content.hasClass('gform_validation_error')){jQuery('#gform_wrapper_24').addClass('gform_validation_error');} else {jQuery('#gform_wrapper_24').removeClass('gform_validation_error');}setTimeout( function() { /* delay the scroll by 50 milliseconds to fix a bug in chrome */ }, 50 );if(window['gformInitDatepicker']) {gformInitDatepicker();}if(window['gformInitPriceFields']) {gformInitPriceFields();}var current_page = jQuery('#gform_source_page_number_24').val();gformInitSpinner( 24, 'https://www.him.nl/wp-content/plugins/gravityforms/images/spinner.svg', true );jQuery(document).trigger('gform_page_loaded', [24, current_page]);window['gf_submitting_24'] = false;}else if(!is_redirect){var confirmation_content = jQuery(this).contents().find('.GF_AJAX_POSTBACK').html();if(!confirmation_content){confirmation_content = contents;}setTimeout(function(){jQuery('#gform_wrapper_24').replaceWith(confirmation_content);jQuery(document).trigger('gform_confirmation_loaded', [24]);window['gf_submitting_24'] = false;wp.a11y.speak(jQuery('#gform_confirmation_message_24').text());}, 50);}else{jQuery('#gform_24').append(contents);if(window['gformRedirect']) {gformRedirect();}}jQuery(document).trigger('gform_post_render', [24, current_page]);gform.utils.trigger({ event: 'gform/postRender', native: false, data: { formId: 24, currentPage: current_page } });} );} ); </script>
[gravityform id="22" title="false" description="false"]
<div class='gf_browser_unknown gform_wrapper gform_legacy_markup_wrapper gform-theme--no-framework vinduwvloer_wrapper' data-form-theme='legacy' data-form-index='0' id='gform_wrapper_22' ><form method='post' enctype='multipart/form-data' id='gform_22' class='vinduwvloer' action='/en/floors/pu-floor/' data-formid='22' > <div class='gform-body gform_body'><ul id='gform_fields_22' class='gform_fields top_label form_sublabel_below description_below'><li id="field_22_1" class="gfield gfield--type-name optin gfield_contains_required field_sublabel_hidden_label gfield--no-description field_description_below hidden_label gfield_visibility_visible" data-js-reload="field_22_1"><label class='gfield_label gform-field-label gfield_label_before_complex' >Naam<span class="gfield_required"><span class="gfield_required gfield_required_asterisk">*</span></span></label><div class='ginput_complex ginput_container ginput_container--name no_prefix has_first_name no_middle_name no_last_name no_suffix gf_name_has_1 ginput_container_name gform-grid-row' id='input_22_1'> <span id='input_22_1_3_container' class='name_first gform-grid-col gform-grid-col--size-auto' > <input type='text' name='input_1.3' id='input_22_1_3' value='' aria-required='true' placeholder='Voornaam' /> <label for='input_22_1_3' class='gform-field-label gform-field-label--type-sub hidden_sub_label screen-reader-text'>First</label> </span> </div></li><li id="field_22_2" class="gfield gfield--type-email optin gfield_contains_required field_sublabel_below gfield--no-description field_description_below hidden_label gfield_visibility_visible" data-js-reload="field_22_2"><label class='gfield_label gform-field-label' for='input_22_2' >E-mailadres<span class="gfield_required"><span class="gfield_required gfield_required_asterisk">*</span></span></label><div class='ginput_container ginput_container_email'> <input name='input_2' id='input_22_2' type='text' value='' class='medium' placeholder='E-mail adres' aria-required="true" aria-invalid="false" /> </div></li><li id="field_22_3" class="gfield gfield--type-hidden gform_hidden field_sublabel_below gfield--no-description field_description_below gfield_visibility_visible" data-js-reload="field_22_3"><div class='ginput_container ginput_container_text'><input name='input_3' id='input_22_3' type='hidden' class='gform_hidden' aria-invalid="false" value='https://www.him.nl/en/floors/pu-floor/' /></div></li></ul></div> <div class='gform_footer top_label'> <input type="submit" id="gform_submit_button_22" class="gform_button button btn btn-primary" value="DOWNLOAD DIRECT" onclick='if(window["gf_submitting_22"]){return false;} window["gf_submitting_22"]=true; ' onkeypress='if( event.keyCode == 13 ){ if(window["gf_submitting_22"]){return false;} window["gf_submitting_22"]=true; jQuery("#gform_22").trigger("submit",[true]); }'> <input type='hidden' class='gform_hidden' name='is_submit_22' value='1' /> <input type='hidden' class='gform_hidden' name='gform_submit' value='22' /> <input type='hidden' class='gform_hidden' name='gform_unique_id' value='' /> <input type='hidden' class='gform_hidden' name='state_22' value='WyJbXSIsImQ0NzI3YjdmMzZhYjMzOTI3YzY4MGJhYjMwODMyMDYwIl0=' /> <input type='hidden' class='gform_hidden' name='gform_target_page_number_22' id='gform_target_page_number_22' value='0' /> <input type='hidden' class='gform_hidden' name='gform_source_page_number_22' id='gform_source_page_number_22' value='1' /> <input type='hidden' name='gform_field_values' value='' /> </div> <p style="display: none !important;"><label>&#916;<textarea name="ak_hp_textarea" cols="45" rows="8" maxlength="100"></textarea></label><input type="hidden" id="ak_js_5" name="ak_js" value="61"/><script>document.getElementById( "ak_js_5" ).setAttribute( "value", ( new Date() ).getTime() );</script></p></form> </div><script type="text/javascript"> gform.initializeOnLoaded( function() {gformInitSpinner( 22, 'https://www.him.nl/wp-content/plugins/gravityforms/images/spinner.svg', true );jQuery('#gform_ajax_frame_22').on('load',function(){var contents = jQuery(this).contents().find('*').html();var is_postback = contents.indexOf('GF_AJAX_POSTBACK') >= 0;if(!is_postback){return;}var form_content = jQuery(this).contents().find('#gform_wrapper_22');var is_confirmation = jQuery(this).contents().find('#gform_confirmation_wrapper_22').length > 0;var is_redirect = contents.indexOf('gformRedirect(){') >= 0;var is_form = form_content.length > 0 && ! is_redirect && ! is_confirmation;var mt = parseInt(jQuery('html').css('margin-top'), 10) + parseInt(jQuery('body').css('margin-top'), 10) + 100;if(is_form){jQuery('#gform_wrapper_22').html(form_content.html());if(form_content.hasClass('gform_validation_error')){jQuery('#gform_wrapper_22').addClass('gform_validation_error');} else {jQuery('#gform_wrapper_22').removeClass('gform_validation_error');}setTimeout( function() { /* delay the scroll by 50 milliseconds to fix a bug in chrome */ }, 50 );if(window['gformInitDatepicker']) {gformInitDatepicker();}if(window['gformInitPriceFields']) {gformInitPriceFields();}var current_page = jQuery('#gform_source_page_number_22').val();gformInitSpinner( 22, 'https://www.him.nl/wp-content/plugins/gravityforms/images/spinner.svg', true );jQuery(document).trigger('gform_page_loaded', [22, current_page]);window['gf_submitting_22'] = false;}else if(!is_redirect){var confirmation_content = jQuery(this).contents().find('.GF_AJAX_POSTBACK').html();if(!confirmation_content){confirmation_content = contents;}setTimeout(function(){jQuery('#gform_wrapper_22').replaceWith(confirmation_content);jQuery(document).trigger('gform_confirmation_loaded', [22]);window['gf_submitting_22'] = false;wp.a11y.speak(jQuery('#gform_confirmation_message_22').text());}, 50);}else{jQuery('#gform_22').append(contents);if(window['gformRedirect']) {gformRedirect();}}jQuery(document).trigger('gform_post_render', [22, current_page]);gform.utils.trigger({ event: 'gform/postRender', native: false, data: { formId: 22, currentPage: current_page } });} );} ); </script>
[gravityform id="16" title="false" description="false"]
<div class='gf_browser_unknown gform_wrapper gform_legacy_markup_wrapper gform-theme--no-framework vinduwvloer_wrapper' data-form-theme='legacy' data-form-index='0' id='gform_wrapper_16' style='display:none'><form method='post' enctype='multipart/form-data' id='gform_16' class='vinduwvloer' action='/en/floors/pu-floor/' data-formid='16' > <div class='gform-body gform_body'><ul id='gform_fields_16' class='gform_fields top_label form_sublabel_below description_below'><li id="field_16_1" class="gfield gfield--type-name optin gfield_contains_required field_sublabel_hidden_label gfield--no-description field_description_below hidden_label gfield_visibility_visible" data-js-reload="field_16_1"><label class='gfield_label gform-field-label gfield_label_before_complex' >Name<span class="gfield_required"><span class="gfield_required gfield_required_asterisk">*</span></span></label><div class='ginput_complex ginput_container ginput_container--name no_prefix has_first_name no_middle_name no_last_name no_suffix gf_name_has_1 ginput_container_name gform-grid-row' id='input_16_1'> <span id='input_16_1_3_container' class='name_first gform-grid-col gform-grid-col--size-auto' > <input type='text' name='input_1.3' id='input_16_1_3' value='' aria-required='true' placeholder='First name' /> <label for='input_16_1_3' class='gform-field-label gform-field-label--type-sub hidden_sub_label screen-reader-text'>First name</label> </span> </div></li><li id="field_16_2" class="gfield gfield--type-email optin gfield_contains_required field_sublabel_below gfield--no-description field_description_below hidden_label gfield_visibility_visible" data-js-reload="field_16_2"><label class='gfield_label gform-field-label' for='input_16_2' >E-mail address<span class="gfield_required"><span class="gfield_required gfield_required_asterisk">*</span></span></label><div class='ginput_container ginput_container_email'> <input name='input_2' id='input_16_2' type='text' value='' class='medium' placeholder='E-mail address' aria-required="true" aria-invalid="false" /> </div></li><li id="field_16_3" class="gfield gfield--type-hidden gform_hidden field_sublabel_below gfield--no-description field_description_below gfield_visibility_visible" data-js-reload="field_16_3"><div class='ginput_container ginput_container_text'><input name='input_3' id='input_16_3' type='hidden' class='gform_hidden' aria-invalid="false" value='https://www.him.nl/en/floors/pu-floor/' /></div></li><li id="field_16_4" class="gfield gfield--type-checkbox gfield--type-choice gfield--width-full gfield_contains_required field_sublabel_below gfield--has-description field_description_below gfield_visibility_visible" data-js-reload="field_16_4"><label class='gfield_label gform-field-label gfield_label_before_complex' >GDPR permission<span class="gfield_required"><span class="gfield_required gfield_required_asterisk">*</span></span></label><div class='ginput_container ginput_container_checkbox'><ul class='gfield_checkbox' id='input_16_4'><li class='gchoice gchoice_16_4_1'> <input class='gfield-choice-input' name='input_4.1' type='checkbox' value='I give permission for HIM to email me and to store my information.' id='choice_16_4_1' aria-describedby="gfield_description_16_4"/> <label for='choice_16_4_1' id='label_16_4_1' class='gform-field-label gform-field-label--type-inline'>I give permission for HIM to email me and to store my information.</label> </li></ul></div><div class='gfield_description' id='gfield_description_16_4'>HIM uses your information to administer your account. By agreeing to these terms you give HIM permission to store your data and provide you with the requested information. </div></li><li id="field_submit" class="gfield gfield--type-submit gfield--width-full field_sublabel_below gfield--no-description field_description_below gfield_visibility_visible" data-field-class="gform_editor_submit_container" data-field-position="inline" data-js-reload="true"><input type="submit" id="gform_submit_button_16" class="gform-button gform-button--white button btn btn-primary" value="DOWNLOAD DIRECT" onclick='if(window["gf_submitting_16"]){return false;} window["gf_submitting_16"]=true; ' onkeypress='if( event.keyCode == 13 ){ if(window["gf_submitting_16"]){return false;} window["gf_submitting_16"]=true; jQuery("#gform_16").trigger("submit",[true]); }'></li></ul></div> <div class='gform_footer top_label'> <input type='hidden' class='gform_hidden' name='is_submit_16' value='1' /> <input type='hidden' class='gform_hidden' name='gform_submit' value='16' /> <input type='hidden' class='gform_hidden' name='gform_unique_id' value='' /> <input type='hidden' class='gform_hidden' name='state_16' value='WyJbXSIsImQ0NzI3YjdmMzZhYjMzOTI3YzY4MGJhYjMwODMyMDYwIl0=' /> <input type='hidden' class='gform_hidden' name='gform_target_page_number_16' id='gform_target_page_number_16' value='0' /> <input type='hidden' class='gform_hidden' name='gform_source_page_number_16' id='gform_source_page_number_16' value='1' /> <input type='hidden' name='gform_field_values' value='' /> </div> <p style="display: none !important;"><label>&#916;<textarea name="ak_hp_textarea" cols="45" rows="8" maxlength="100"></textarea></label><input type="hidden" id="ak_js_6" name="ak_js" value="213"/><script>document.getElementById( "ak_js_6" ).setAttribute( "value", ( new Date() ).getTime() );</script></p></form> </div><script type="text/javascript"> gform.initializeOnLoaded( function() {gformInitSpinner( 16, 'https://www.him.nl/wp-content/plugins/gravityforms/images/spinner.svg', true );jQuery('#gform_ajax_frame_16').on('load',function(){var contents = jQuery(this).contents().find('*').html();var is_postback = contents.indexOf('GF_AJAX_POSTBACK') >= 0;if(!is_postback){return;}var form_content = jQuery(this).contents().find('#gform_wrapper_16');var is_confirmation = jQuery(this).contents().find('#gform_confirmation_wrapper_16').length > 0;var is_redirect = contents.indexOf('gformRedirect(){') >= 0;var is_form = form_content.length > 0 && ! is_redirect && ! is_confirmation;var mt = parseInt(jQuery('html').css('margin-top'), 10) + parseInt(jQuery('body').css('margin-top'), 10) + 100;if(is_form){jQuery('#gform_wrapper_16').html(form_content.html());if(form_content.hasClass('gform_validation_error')){jQuery('#gform_wrapper_16').addClass('gform_validation_error');} else {jQuery('#gform_wrapper_16').removeClass('gform_validation_error');}setTimeout( function() { /* delay the scroll by 50 milliseconds to fix a bug in chrome */ }, 50 );if(window['gformInitDatepicker']) {gformInitDatepicker();}if(window['gformInitPriceFields']) {gformInitPriceFields();}var current_page = jQuery('#gform_source_page_number_16').val();gformInitSpinner( 16, 'https://www.him.nl/wp-content/plugins/gravityforms/images/spinner.svg', true );jQuery(document).trigger('gform_page_loaded', [16, current_page]);window['gf_submitting_16'] = false;}else if(!is_redirect){var confirmation_content = jQuery(this).contents().find('.GF_AJAX_POSTBACK').html();if(!confirmation_content){confirmation_content = contents;}setTimeout(function(){jQuery('#gform_wrapper_16').replaceWith(confirmation_content);jQuery(document).trigger('gform_confirmation_loaded', [16]);window['gf_submitting_16'] = false;wp.a11y.speak(jQuery('#gform_confirmation_message_16').text());}, 50);}else{jQuery('#gform_16').append(contents);if(window['gformRedirect']) {gformRedirect();}}jQuery(document).trigger('gform_post_render', [16, current_page]);gform.utils.trigger({ event: 'gform/postRender', native: false, data: { formId: 16, currentPage: current_page } });} );} ); </script>
[gravityform id="13" title="false" description="false"]
<div class='gf_browser_unknown gform_wrapper gform_legacy_markup_wrapper gform-theme--no-framework vinduwvloer_wrapper' data-form-theme='legacy' data-form-index='0' id='gform_wrapper_13' style='display:none'><form method='post' enctype='multipart/form-data' id='gform_13' class='vinduwvloer' action='/en/floors/pu-floor/' data-formid='13' > <div class='gform-body gform_body'><ul id='gform_fields_13' class='gform_fields top_label form_sublabel_below description_below'><li id="field_13_1" class="gfield gfield--type-name optin gfield_contains_required field_sublabel_hidden_label gfield--no-description field_description_below hidden_label gfield_visibility_visible" data-js-reload="field_13_1"><label class='gfield_label gform-field-label gfield_label_before_complex' >Naam<span class="gfield_required"><span class="gfield_required gfield_required_asterisk">*</span></span></label><div class='ginput_complex ginput_container ginput_container--name no_prefix has_first_name no_middle_name no_last_name no_suffix gf_name_has_1 ginput_container_name gform-grid-row' id='input_13_1'> <span id='input_13_1_3_container' class='name_first gform-grid-col gform-grid-col--size-auto' > <input type='text' name='input_1.3' id='input_13_1_3' value='' aria-required='true' placeholder='Voornaam' /> <label for='input_13_1_3' class='gform-field-label gform-field-label--type-sub hidden_sub_label screen-reader-text'>First</label> </span> </div></li><li id="field_13_2" class="gfield gfield--type-email optin gfield_contains_required field_sublabel_below gfield--no-description field_description_below hidden_label gfield_visibility_visible" data-js-reload="field_13_2"><label class='gfield_label gform-field-label' for='input_13_2' >E-mailadres<span class="gfield_required"><span class="gfield_required gfield_required_asterisk">*</span></span></label><div class='ginput_container ginput_container_email'> <input name='input_2' id='input_13_2' type='text' value='' class='medium' placeholder='E-mailadres' aria-required="true" aria-invalid="false" /> </div></li><li id="field_13_3" class="gfield gfield--type-hidden gform_hidden field_sublabel_below gfield--no-description field_description_below gfield_visibility_visible" data-js-reload="field_13_3"><div class='ginput_container ginput_container_text'><input name='input_3' id='input_13_3' type='hidden' class='gform_hidden' aria-invalid="false" value='https://www.him.nl/en/floors/pu-floor/' /></div></li></ul></div> <div class='gform_footer top_label'> <input type="submit" id="gform_submit_button_13" class="gform_button button btn btn-primary" value="DOWNLOAD DIRECT" onclick='if(window["gf_submitting_13"]){return false;} window["gf_submitting_13"]=true; ' onkeypress='if( event.keyCode == 13 ){ if(window["gf_submitting_13"]){return false;} window["gf_submitting_13"]=true; jQuery("#gform_13").trigger("submit",[true]); }'> <input type='hidden' class='gform_hidden' name='is_submit_13' value='1' /> <input type='hidden' class='gform_hidden' name='gform_submit' value='13' /> <input type='hidden' class='gform_hidden' name='gform_unique_id' value='' /> <input type='hidden' class='gform_hidden' name='state_13' value='WyJbXSIsImQ0NzI3YjdmMzZhYjMzOTI3YzY4MGJhYjMwODMyMDYwIl0=' /> <input type='hidden' class='gform_hidden' name='gform_target_page_number_13' id='gform_target_page_number_13' value='0' /> <input type='hidden' class='gform_hidden' name='gform_source_page_number_13' id='gform_source_page_number_13' value='1' /> <input type='hidden' name='gform_field_values' value='' /> </div> <p style="display: none !important;"><label>&#916;<textarea name="ak_hp_textarea" cols="45" rows="8" maxlength="100"></textarea></label><input type="hidden" id="ak_js_7" name="ak_js" value="97"/><script>document.getElementById( "ak_js_7" ).setAttribute( "value", ( new Date() ).getTime() );</script></p></form> </div><script type="text/javascript"> gform.initializeOnLoaded( function() {gformInitSpinner( 13, 'https://www.him.nl/wp-content/plugins/gravityforms/images/spinner.svg', true );jQuery('#gform_ajax_frame_13').on('load',function(){var contents = jQuery(this).contents().find('*').html();var is_postback = contents.indexOf('GF_AJAX_POSTBACK') >= 0;if(!is_postback){return;}var form_content = jQuery(this).contents().find('#gform_wrapper_13');var is_confirmation = jQuery(this).contents().find('#gform_confirmation_wrapper_13').length > 0;var is_redirect = contents.indexOf('gformRedirect(){') >= 0;var is_form = form_content.length > 0 && ! is_redirect && ! is_confirmation;var mt = parseInt(jQuery('html').css('margin-top'), 10) + parseInt(jQuery('body').css('margin-top'), 10) + 100;if(is_form){jQuery('#gform_wrapper_13').html(form_content.html());if(form_content.hasClass('gform_validation_error')){jQuery('#gform_wrapper_13').addClass('gform_validation_error');} else {jQuery('#gform_wrapper_13').removeClass('gform_validation_error');}setTimeout( function() { /* delay the scroll by 50 milliseconds to fix a bug in chrome */ }, 50 );if(window['gformInitDatepicker']) {gformInitDatepicker();}if(window['gformInitPriceFields']) {gformInitPriceFields();}var current_page = jQuery('#gform_source_page_number_13').val();gformInitSpinner( 13, 'https://www.him.nl/wp-content/plugins/gravityforms/images/spinner.svg', true );jQuery(document).trigger('gform_page_loaded', [13, current_page]);window['gf_submitting_13'] = false;}else if(!is_redirect){var confirmation_content = jQuery(this).contents().find('.GF_AJAX_POSTBACK').html();if(!confirmation_content){confirmation_content = contents;}setTimeout(function(){jQuery('#gform_wrapper_13').replaceWith(confirmation_content);jQuery(document).trigger('gform_confirmation_loaded', [13]);window['gf_submitting_13'] = false;wp.a11y.speak(jQuery('#gform_confirmation_message_13').text());}, 50);}else{jQuery('#gform_13').append(contents);if(window['gformRedirect']) {gformRedirect();}}jQuery(document).trigger('gform_post_render', [13, current_page]);gform.utils.trigger({ event: 'gform/postRender', native: false, data: { formId: 13, currentPage: current_page } });} );} ); </script>
[gravityform id="24" title="false" description="false"]
<div class='gf_browser_unknown gform_wrapper gform_legacy_markup_wrapper gform-theme--no-framework vinduwvloer_wrapper' data-form-theme='legacy' data-form-index='0' id='gform_wrapper_24' ><form method='post' enctype='multipart/form-data' id='gform_24' class='vinduwvloer' action='/en/floors/pu-floor/' data-formid='24' > <div class='gform-body gform_body'><ul id='gform_fields_24' class='gform_fields top_label form_sublabel_below description_below'><li id="field_24_1" class="gfield gfield--type-name optin gfield_contains_required field_sublabel_hidden_label gfield--no-description field_description_below hidden_label gfield_visibility_visible" data-js-reload="field_24_1"><label class='gfield_label gform-field-label gfield_label_before_complex' >First name<span class="gfield_required"><span class="gfield_required gfield_required_asterisk">*</span></span></label><div class='ginput_complex ginput_container ginput_container--name no_prefix has_first_name no_middle_name no_last_name no_suffix gf_name_has_1 ginput_container_name gform-grid-row' id='input_24_1'> <span id='input_24_1_3_container' class='name_first gform-grid-col gform-grid-col--size-auto' > <input type='text' name='input_1.3' id='input_24_1_3' value='' aria-required='true' placeholder='First name' /> <label for='input_24_1_3' class='gform-field-label gform-field-label--type-sub hidden_sub_label screen-reader-text'>First name</label> </span> </div></li><li id="field_24_2" class="gfield gfield--type-email optin gfield_contains_required field_sublabel_below gfield--no-description field_description_below hidden_label gfield_visibility_visible" data-js-reload="field_24_2"><label class='gfield_label gform-field-label' for='input_24_2' >E-mail address<span class="gfield_required"><span class="gfield_required gfield_required_asterisk">*</span></span></label><div class='ginput_container ginput_container_email'> <input name='input_2' id='input_24_2' type='text' value='' class='medium' placeholder='E-mail address' aria-required="true" aria-invalid="false" /> </div></li><li id="field_24_3" class="gfield gfield--type-hidden gform_hidden field_sublabel_below gfield--no-description field_description_below gfield_visibility_visible" data-js-reload="field_24_3"><div class='ginput_container ginput_container_text'><input name='input_3' id='input_24_3' type='hidden' class='gform_hidden' aria-invalid="false" value='https://www.him.nl/en/floors/pu-floor/' /></div></li></ul></div> <div class='gform_footer top_label'> <input type="submit" id="gform_submit_button_24" class="gform_button button btn btn-primary" value="DOWNLOAD DIRECT" onclick='if(window["gf_submitting_24"]){return false;} window["gf_submitting_24"]=true; ' onkeypress='if( event.keyCode == 13 ){ if(window["gf_submitting_24"]){return false;} window["gf_submitting_24"]=true; jQuery("#gform_24").trigger("submit",[true]); }'> <input type='hidden' class='gform_hidden' name='is_submit_24' value='1' /> <input type='hidden' class='gform_hidden' name='gform_submit' value='24' /> <input type='hidden' class='gform_hidden' name='gform_unique_id' value='' /> <input type='hidden' class='gform_hidden' name='state_24' value='WyJbXSIsImQ0NzI3YjdmMzZhYjMzOTI3YzY4MGJhYjMwODMyMDYwIl0=' /> <input type='hidden' class='gform_hidden' name='gform_target_page_number_24' id='gform_target_page_number_24' value='0' /> <input type='hidden' class='gform_hidden' name='gform_source_page_number_24' id='gform_source_page_number_24' value='1' /> <input type='hidden' name='gform_field_values' value='' /> </div> <p style="display: none !important;"><label>&#916;<textarea name="ak_hp_textarea" cols="45" rows="8" maxlength="100"></textarea></label><input type="hidden" id="ak_js_8" name="ak_js" value="36"/><script>document.getElementById( "ak_js_8" ).setAttribute( "value", ( new Date() ).getTime() );</script></p></form> </div><script type="text/javascript"> gform.initializeOnLoaded( function() {gformInitSpinner( 24, 'https://www.him.nl/wp-content/plugins/gravityforms/images/spinner.svg', true );jQuery('#gform_ajax_frame_24').on('load',function(){var contents = jQuery(this).contents().find('*').html();var is_postback = contents.indexOf('GF_AJAX_POSTBACK') >= 0;if(!is_postback){return;}var form_content = jQuery(this).contents().find('#gform_wrapper_24');var is_confirmation = jQuery(this).contents().find('#gform_confirmation_wrapper_24').length > 0;var is_redirect = contents.indexOf('gformRedirect(){') >= 0;var is_form = form_content.length > 0 && ! is_redirect && ! is_confirmation;var mt = parseInt(jQuery('html').css('margin-top'), 10) + parseInt(jQuery('body').css('margin-top'), 10) + 100;if(is_form){jQuery('#gform_wrapper_24').html(form_content.html());if(form_content.hasClass('gform_validation_error')){jQuery('#gform_wrapper_24').addClass('gform_validation_error');} else {jQuery('#gform_wrapper_24').removeClass('gform_validation_error');}setTimeout( function() { /* delay the scroll by 50 milliseconds to fix a bug in chrome */ }, 50 );if(window['gformInitDatepicker']) {gformInitDatepicker();}if(window['gformInitPriceFields']) {gformInitPriceFields();}var current_page = jQuery('#gform_source_page_number_24').val();gformInitSpinner( 24, 'https://www.him.nl/wp-content/plugins/gravityforms/images/spinner.svg', true );jQuery(document).trigger('gform_page_loaded', [24, current_page]);window['gf_submitting_24'] = false;}else if(!is_redirect){var confirmation_content = jQuery(this).contents().find('.GF_AJAX_POSTBACK').html();if(!confirmation_content){confirmation_content = contents;}setTimeout(function(){jQuery('#gform_wrapper_24').replaceWith(confirmation_content);jQuery(document).trigger('gform_confirmation_loaded', [24]);window['gf_submitting_24'] = false;wp.a11y.speak(jQuery('#gform_confirmation_message_24').text());}, 50);}else{jQuery('#gform_24').append(contents);if(window['gformRedirect']) {gformRedirect();}}jQuery(document).trigger('gform_post_render', [24, current_page]);gform.utils.trigger({ event: 'gform/postRender', native: false, data: { formId: 24, currentPage: current_page } });} );} ); </script>
[gravityform id="22" title="false" description="false"]
<div class='gf_browser_unknown gform_wrapper gform_legacy_markup_wrapper gform-theme--no-framework vinduwvloer_wrapper' data-form-theme='legacy' data-form-index='0' id='gform_wrapper_22' ><form method='post' enctype='multipart/form-data' id='gform_22' class='vinduwvloer' action='/en/floors/pu-floor/' data-formid='22' > <div class='gform-body gform_body'><ul id='gform_fields_22' class='gform_fields top_label form_sublabel_below description_below'><li id="field_22_1" class="gfield gfield--type-name optin gfield_contains_required field_sublabel_hidden_label gfield--no-description field_description_below hidden_label gfield_visibility_visible" data-js-reload="field_22_1"><label class='gfield_label gform-field-label gfield_label_before_complex' >Naam<span class="gfield_required"><span class="gfield_required gfield_required_asterisk">*</span></span></label><div class='ginput_complex ginput_container ginput_container--name no_prefix has_first_name no_middle_name no_last_name no_suffix gf_name_has_1 ginput_container_name gform-grid-row' id='input_22_1'> <span id='input_22_1_3_container' class='name_first gform-grid-col gform-grid-col--size-auto' > <input type='text' name='input_1.3' id='input_22_1_3' value='' aria-required='true' placeholder='Voornaam' /> <label for='input_22_1_3' class='gform-field-label gform-field-label--type-sub hidden_sub_label screen-reader-text'>First</label> </span> </div></li><li id="field_22_2" class="gfield gfield--type-email optin gfield_contains_required field_sublabel_below gfield--no-description field_description_below hidden_label gfield_visibility_visible" data-js-reload="field_22_2"><label class='gfield_label gform-field-label' for='input_22_2' >E-mailadres<span class="gfield_required"><span class="gfield_required gfield_required_asterisk">*</span></span></label><div class='ginput_container ginput_container_email'> <input name='input_2' id='input_22_2' type='text' value='' class='medium' placeholder='E-mail adres' aria-required="true" aria-invalid="false" /> </div></li><li id="field_22_3" class="gfield gfield--type-hidden gform_hidden field_sublabel_below gfield--no-description field_description_below gfield_visibility_visible" data-js-reload="field_22_3"><div class='ginput_container ginput_container_text'><input name='input_3' id='input_22_3' type='hidden' class='gform_hidden' aria-invalid="false" value='https://www.him.nl/en/floors/pu-floor/' /></div></li></ul></div> <div class='gform_footer top_label'> <input type="submit" id="gform_submit_button_22" class="gform_button button btn btn-primary" value="DOWNLOAD DIRECT" onclick='if(window["gf_submitting_22"]){return false;} window["gf_submitting_22"]=true; ' onkeypress='if( event.keyCode == 13 ){ if(window["gf_submitting_22"]){return false;} window["gf_submitting_22"]=true; jQuery("#gform_22").trigger("submit",[true]); }'> <input type='hidden' class='gform_hidden' name='is_submit_22' value='1' /> <input type='hidden' class='gform_hidden' name='gform_submit' value='22' /> <input type='hidden' class='gform_hidden' name='gform_unique_id' value='' /> <input type='hidden' class='gform_hidden' name='state_22' value='WyJbXSIsImQ0NzI3YjdmMzZhYjMzOTI3YzY4MGJhYjMwODMyMDYwIl0=' /> <input type='hidden' class='gform_hidden' name='gform_target_page_number_22' id='gform_target_page_number_22' value='0' /> <input type='hidden' class='gform_hidden' name='gform_source_page_number_22' id='gform_source_page_number_22' value='1' /> <input type='hidden' name='gform_field_values' value='' /> </div> <p style="display: none !important;"><label>&#916;<textarea name="ak_hp_textarea" cols="45" rows="8" maxlength="100"></textarea></label><input type="hidden" id="ak_js_9" name="ak_js" value="79"/><script>document.getElementById( "ak_js_9" ).setAttribute( "value", ( new Date() ).getTime() );</script></p></form> </div><script type="text/javascript"> gform.initializeOnLoaded( function() {gformInitSpinner( 22, 'https://www.him.nl/wp-content/plugins/gravityforms/images/spinner.svg', true );jQuery('#gform_ajax_frame_22').on('load',function(){var contents = jQuery(this).contents().find('*').html();var is_postback = contents.indexOf('GF_AJAX_POSTBACK') >= 0;if(!is_postback){return;}var form_content = jQuery(this).contents().find('#gform_wrapper_22');var is_confirmation = jQuery(this).contents().find('#gform_confirmation_wrapper_22').length > 0;var is_redirect = contents.indexOf('gformRedirect(){') >= 0;var is_form = form_content.length > 0 && ! is_redirect && ! is_confirmation;var mt = parseInt(jQuery('html').css('margin-top'), 10) + parseInt(jQuery('body').css('margin-top'), 10) + 100;if(is_form){jQuery('#gform_wrapper_22').html(form_content.html());if(form_content.hasClass('gform_validation_error')){jQuery('#gform_wrapper_22').addClass('gform_validation_error');} else {jQuery('#gform_wrapper_22').removeClass('gform_validation_error');}setTimeout( function() { /* delay the scroll by 50 milliseconds to fix a bug in chrome */ }, 50 );if(window['gformInitDatepicker']) {gformInitDatepicker();}if(window['gformInitPriceFields']) {gformInitPriceFields();}var current_page = jQuery('#gform_source_page_number_22').val();gformInitSpinner( 22, 'https://www.him.nl/wp-content/plugins/gravityforms/images/spinner.svg', true );jQuery(document).trigger('gform_page_loaded', [22, current_page]);window['gf_submitting_22'] = false;}else if(!is_redirect){var confirmation_content = jQuery(this).contents().find('.GF_AJAX_POSTBACK').html();if(!confirmation_content){confirmation_content = contents;}setTimeout(function(){jQuery('#gform_wrapper_22').replaceWith(confirmation_content);jQuery(document).trigger('gform_confirmation_loaded', [22]);window['gf_submitting_22'] = false;wp.a11y.speak(jQuery('#gform_confirmation_message_22').text());}, 50);}else{jQuery('#gform_22').append(contents);if(window['gformRedirect']) {gformRedirect();}}jQuery(document).trigger('gform_post_render', [22, current_page]);gform.utils.trigger({ event: 'gform/postRender', native: false, data: { formId: 22, currentPage: current_page } });} );} ); </script>
[gravityform id="24" title="false" description="false"]
<div class='gf_browser_unknown gform_wrapper gform_legacy_markup_wrapper gform-theme--no-framework vinduwvloer_wrapper' data-form-theme='legacy' data-form-index='0' id='gform_wrapper_24' ><form method='post' enctype='multipart/form-data' id='gform_24' class='vinduwvloer' action='/en/floors/pu-floor/' data-formid='24' > <div class='gform-body gform_body'><ul id='gform_fields_24' class='gform_fields top_label form_sublabel_below description_below'><li id="field_24_1" class="gfield gfield--type-name optin gfield_contains_required field_sublabel_hidden_label gfield--no-description field_description_below hidden_label gfield_visibility_visible" data-js-reload="field_24_1"><label class='gfield_label gform-field-label gfield_label_before_complex' >First name<span class="gfield_required"><span class="gfield_required gfield_required_asterisk">*</span></span></label><div class='ginput_complex ginput_container ginput_container--name no_prefix has_first_name no_middle_name no_last_name no_suffix gf_name_has_1 ginput_container_name gform-grid-row' id='input_24_1'> <span id='input_24_1_3_container' class='name_first gform-grid-col gform-grid-col--size-auto' > <input type='text' name='input_1.3' id='input_24_1_3' value='' aria-required='true' placeholder='First name' /> <label for='input_24_1_3' class='gform-field-label gform-field-label--type-sub hidden_sub_label screen-reader-text'>First name</label> </span> </div></li><li id="field_24_2" class="gfield gfield--type-email optin gfield_contains_required field_sublabel_below gfield--no-description field_description_below hidden_label gfield_visibility_visible" data-js-reload="field_24_2"><label class='gfield_label gform-field-label' for='input_24_2' >E-mail address<span class="gfield_required"><span class="gfield_required gfield_required_asterisk">*</span></span></label><div class='ginput_container ginput_container_email'> <input name='input_2' id='input_24_2' type='text' value='' class='medium' placeholder='E-mail address' aria-required="true" aria-invalid="false" /> </div></li><li id="field_24_3" class="gfield gfield--type-hidden gform_hidden field_sublabel_below gfield--no-description field_description_below gfield_visibility_visible" data-js-reload="field_24_3"><div class='ginput_container ginput_container_text'><input name='input_3' id='input_24_3' type='hidden' class='gform_hidden' aria-invalid="false" value='https://www.him.nl/en/floors/pu-floor/' /></div></li></ul></div> <div class='gform_footer top_label'> <input type="submit" id="gform_submit_button_24" class="gform_button button btn btn-primary" value="DOWNLOAD DIRECT" onclick='if(window["gf_submitting_24"]){return false;} window["gf_submitting_24"]=true; ' onkeypress='if( event.keyCode == 13 ){ if(window["gf_submitting_24"]){return false;} window["gf_submitting_24"]=true; jQuery("#gform_24").trigger("submit",[true]); }'> <input type='hidden' class='gform_hidden' name='is_submit_24' value='1' /> <input type='hidden' class='gform_hidden' name='gform_submit' value='24' /> <input type='hidden' class='gform_hidden' name='gform_unique_id' value='' /> <input type='hidden' class='gform_hidden' name='state_24' value='WyJbXSIsImQ0NzI3YjdmMzZhYjMzOTI3YzY4MGJhYjMwODMyMDYwIl0=' /> <input type='hidden' class='gform_hidden' name='gform_target_page_number_24' id='gform_target_page_number_24' value='0' /> <input type='hidden' class='gform_hidden' name='gform_source_page_number_24' id='gform_source_page_number_24' value='1' /> <input type='hidden' name='gform_field_values' value='' /> </div> <p style="display: none !important;"><label>&#916;<textarea name="ak_hp_textarea" cols="45" rows="8" maxlength="100"></textarea></label><input type="hidden" id="ak_js_10" name="ak_js" value="56"/><script>document.getElementById( "ak_js_10" ).setAttribute( "value", ( new Date() ).getTime() );</script></p></form> </div><script type="text/javascript"> gform.initializeOnLoaded( function() {gformInitSpinner( 24, 'https://www.him.nl/wp-content/plugins/gravityforms/images/spinner.svg', true );jQuery('#gform_ajax_frame_24').on('load',function(){var contents = jQuery(this).contents().find('*').html();var is_postback = contents.indexOf('GF_AJAX_POSTBACK') >= 0;if(!is_postback){return;}var form_content = jQuery(this).contents().find('#gform_wrapper_24');var is_confirmation = jQuery(this).contents().find('#gform_confirmation_wrapper_24').length > 0;var is_redirect = contents.indexOf('gformRedirect(){') >= 0;var is_form = form_content.length > 0 && ! is_redirect && ! is_confirmation;var mt = parseInt(jQuery('html').css('margin-top'), 10) + parseInt(jQuery('body').css('margin-top'), 10) + 100;if(is_form){jQuery('#gform_wrapper_24').html(form_content.html());if(form_content.hasClass('gform_validation_error')){jQuery('#gform_wrapper_24').addClass('gform_validation_error');} else {jQuery('#gform_wrapper_24').removeClass('gform_validation_error');}setTimeout( function() { /* delay the scroll by 50 milliseconds to fix a bug in chrome */ }, 50 );if(window['gformInitDatepicker']) {gformInitDatepicker();}if(window['gformInitPriceFields']) {gformInitPriceFields();}var current_page = jQuery('#gform_source_page_number_24').val();gformInitSpinner( 24, 'https://www.him.nl/wp-content/plugins/gravityforms/images/spinner.svg', true );jQuery(document).trigger('gform_page_loaded', [24, current_page]);window['gf_submitting_24'] = false;}else if(!is_redirect){var confirmation_content = jQuery(this).contents().find('.GF_AJAX_POSTBACK').html();if(!confirmation_content){confirmation_content = contents;}setTimeout(function(){jQuery('#gform_wrapper_24').replaceWith(confirmation_content);jQuery(document).trigger('gform_confirmation_loaded', [24]);window['gf_submitting_24'] = false;wp.a11y.speak(jQuery('#gform_confirmation_message_24').text());}, 50);}else{jQuery('#gform_24').append(contents);if(window['gformRedirect']) {gformRedirect();}}jQuery(document).trigger('gform_post_render', [24, current_page]);gform.utils.trigger({ event: 'gform/postRender', native: false, data: { formId: 24, currentPage: current_page } });} );} ); </script>
[gravityform id="22" title="false" description="false"]
<div class='gf_browser_unknown gform_wrapper gform_legacy_markup_wrapper gform-theme--no-framework vinduwvloer_wrapper' data-form-theme='legacy' data-form-index='0' id='gform_wrapper_22' ><form method='post' enctype='multipart/form-data' id='gform_22' class='vinduwvloer' action='/en/floors/pu-floor/' data-formid='22' > <div class='gform-body gform_body'><ul id='gform_fields_22' class='gform_fields top_label form_sublabel_below description_below'><li id="field_22_1" class="gfield gfield--type-name optin gfield_contains_required field_sublabel_hidden_label gfield--no-description field_description_below hidden_label gfield_visibility_visible" data-js-reload="field_22_1"><label class='gfield_label gform-field-label gfield_label_before_complex' >Naam<span class="gfield_required"><span class="gfield_required gfield_required_asterisk">*</span></span></label><div class='ginput_complex ginput_container ginput_container--name no_prefix has_first_name no_middle_name no_last_name no_suffix gf_name_has_1 ginput_container_name gform-grid-row' id='input_22_1'> <span id='input_22_1_3_container' class='name_first gform-grid-col gform-grid-col--size-auto' > <input type='text' name='input_1.3' id='input_22_1_3' value='' aria-required='true' placeholder='Voornaam' /> <label for='input_22_1_3' class='gform-field-label gform-field-label--type-sub hidden_sub_label screen-reader-text'>First</label> </span> </div></li><li id="field_22_2" class="gfield gfield--type-email optin gfield_contains_required field_sublabel_below gfield--no-description field_description_below hidden_label gfield_visibility_visible" data-js-reload="field_22_2"><label class='gfield_label gform-field-label' for='input_22_2' >E-mailadres<span class="gfield_required"><span class="gfield_required gfield_required_asterisk">*</span></span></label><div class='ginput_container ginput_container_email'> <input name='input_2' id='input_22_2' type='text' value='' class='medium' placeholder='E-mail adres' aria-required="true" aria-invalid="false" /> </div></li><li id="field_22_3" class="gfield gfield--type-hidden gform_hidden field_sublabel_below gfield--no-description field_description_below gfield_visibility_visible" data-js-reload="field_22_3"><div class='ginput_container ginput_container_text'><input name='input_3' id='input_22_3' type='hidden' class='gform_hidden' aria-invalid="false" value='https://www.him.nl/en/floors/pu-floor/' /></div></li></ul></div> <div class='gform_footer top_label'> <input type="submit" id="gform_submit_button_22" class="gform_button button btn btn-primary" value="DOWNLOAD DIRECT" onclick='if(window["gf_submitting_22"]){return false;} window["gf_submitting_22"]=true; ' onkeypress='if( event.keyCode == 13 ){ if(window["gf_submitting_22"]){return false;} window["gf_submitting_22"]=true; jQuery("#gform_22").trigger("submit",[true]); }'> <input type='hidden' class='gform_hidden' name='is_submit_22' value='1' /> <input type='hidden' class='gform_hidden' name='gform_submit' value='22' /> <input type='hidden' class='gform_hidden' name='gform_unique_id' value='' /> <input type='hidden' class='gform_hidden' name='state_22' value='WyJbXSIsImQ0NzI3YjdmMzZhYjMzOTI3YzY4MGJhYjMwODMyMDYwIl0=' /> <input type='hidden' class='gform_hidden' name='gform_target_page_number_22' id='gform_target_page_number_22' value='0' /> <input type='hidden' class='gform_hidden' name='gform_source_page_number_22' id='gform_source_page_number_22' value='1' /> <input type='hidden' name='gform_field_values' value='' /> </div> <p style="display: none !important;"><label>&#916;<textarea name="ak_hp_textarea" cols="45" rows="8" maxlength="100"></textarea></label><input type="hidden" id="ak_js_11" name="ak_js" value="108"/><script>document.getElementById( "ak_js_11" ).setAttribute( "value", ( new Date() ).getTime() );</script></p></form> </div><script type="text/javascript"> gform.initializeOnLoaded( function() {gformInitSpinner( 22, 'https://www.him.nl/wp-content/plugins/gravityforms/images/spinner.svg', true );jQuery('#gform_ajax_frame_22').on('load',function(){var contents = jQuery(this).contents().find('*').html();var is_postback = contents.indexOf('GF_AJAX_POSTBACK') >= 0;if(!is_postback){return;}var form_content = jQuery(this).contents().find('#gform_wrapper_22');var is_confirmation = jQuery(this).contents().find('#gform_confirmation_wrapper_22').length > 0;var is_redirect = contents.indexOf('gformRedirect(){') >= 0;var is_form = form_content.length > 0 && ! is_redirect && ! is_confirmation;var mt = parseInt(jQuery('html').css('margin-top'), 10) + parseInt(jQuery('body').css('margin-top'), 10) + 100;if(is_form){jQuery('#gform_wrapper_22').html(form_content.html());if(form_content.hasClass('gform_validation_error')){jQuery('#gform_wrapper_22').addClass('gform_validation_error');} else {jQuery('#gform_wrapper_22').removeClass('gform_validation_error');}setTimeout( function() { /* delay the scroll by 50 milliseconds to fix a bug in chrome */ }, 50 );if(window['gformInitDatepicker']) {gformInitDatepicker();}if(window['gformInitPriceFields']) {gformInitPriceFields();}var current_page = jQuery('#gform_source_page_number_22').val();gformInitSpinner( 22, 'https://www.him.nl/wp-content/plugins/gravityforms/images/spinner.svg', true );jQuery(document).trigger('gform_page_loaded', [22, current_page]);window['gf_submitting_22'] = false;}else if(!is_redirect){var confirmation_content = jQuery(this).contents().find('.GF_AJAX_POSTBACK').html();if(!confirmation_content){confirmation_content = contents;}setTimeout(function(){jQuery('#gform_wrapper_22').replaceWith(confirmation_content);jQuery(document).trigger('gform_confirmation_loaded', [22]);window['gf_submitting_22'] = false;wp.a11y.speak(jQuery('#gform_confirmation_message_22').text());}, 50);}else{jQuery('#gform_22').append(contents);if(window['gformRedirect']) {gformRedirect();}}jQuery(document).trigger('gform_post_render', [22, current_page]);gform.utils.trigger({ event: 'gform/postRender', native: false, data: { formId: 22, currentPage: current_page } });} );} ); </script>
[gravityform id="12" title="false" description="false"]
<div class='gf_browser_unknown gform_wrapper gform_legacy_markup_wrapper gform-theme--no-framework vinduwvloer_wrapper' data-form-theme='legacy' data-form-index='0' id='gform_wrapper_12' ><form method='post' enctype='multipart/form-data' id='gform_12' class='vinduwvloer' action='/en/floors/pu-floor/' data-formid='12' > <div class='gform-body gform_body'><ul id='gform_fields_12' class='gform_fields top_label form_sublabel_below description_below'><li id="field_12_1" class="gfield gfield--type-name optin gfield_contains_required field_sublabel_hidden_label gfield--no-description field_description_below hidden_label gfield_visibility_visible" data-js-reload="field_12_1"><label class='gfield_label gform-field-label gfield_label_before_complex' >Naam<span class="gfield_required"><span class="gfield_required gfield_required_asterisk">*</span></span></label><div class='ginput_complex ginput_container ginput_container--name no_prefix has_first_name no_middle_name no_last_name no_suffix gf_name_has_1 ginput_container_name gform-grid-row' id='input_12_1'> <span id='input_12_1_3_container' class='name_first gform-grid-col gform-grid-col--size-auto' > <input type='text' name='input_1.3' id='input_12_1_3' value='' aria-required='true' placeholder='First name' /> <label for='input_12_1_3' class='gform-field-label gform-field-label--type-sub hidden_sub_label screen-reader-text'>First</label> </span> </div></li><li id="field_12_2" class="gfield gfield--type-email optin gfield_contains_required field_sublabel_below gfield--no-description field_description_below hidden_label gfield_visibility_visible" data-js-reload="field_12_2"><label class='gfield_label gform-field-label' for='input_12_2' >E-mailadres<span class="gfield_required"><span class="gfield_required gfield_required_asterisk">*</span></span></label><div class='ginput_container ginput_container_email'> <input name='input_2' id='input_12_2' type='text' value='' class='medium' placeholder='Email address' aria-required="true" aria-invalid="false" /> </div></li><li id="field_12_3" class="gfield gfield--type-hidden gform_hidden field_sublabel_below gfield--no-description field_description_below gfield_visibility_visible" data-js-reload="field_12_3"><div class='ginput_container ginput_container_text'><input name='input_3' id='input_12_3' type='hidden' class='gform_hidden' aria-invalid="false" value='https://www.him.nl/en/floors/pu-floor/' /></div></li></ul></div> <div class='gform_footer top_label'> <input type="submit" id="gform_submit_button_12" class="gform_button button btn btn-primary" value="DOWNLOAD DIRECT" onclick='if(window["gf_submitting_12"]){return false;} window["gf_submitting_12"]=true; ' onkeypress='if( event.keyCode == 13 ){ if(window["gf_submitting_12"]){return false;} window["gf_submitting_12"]=true; jQuery("#gform_12").trigger("submit",[true]); }'> <input type='hidden' class='gform_hidden' name='is_submit_12' value='1' /> <input type='hidden' class='gform_hidden' name='gform_submit' value='12' /> <input type='hidden' class='gform_hidden' name='gform_unique_id' value='' /> <input type='hidden' class='gform_hidden' name='state_12' value='WyJbXSIsImQ0NzI3YjdmMzZhYjMzOTI3YzY4MGJhYjMwODMyMDYwIl0=' /> <input type='hidden' class='gform_hidden' name='gform_target_page_number_12' id='gform_target_page_number_12' value='0' /> <input type='hidden' class='gform_hidden' name='gform_source_page_number_12' id='gform_source_page_number_12' value='1' /> <input type='hidden' name='gform_field_values' value='' /> </div> <p style="display: none !important;"><label>&#916;<textarea name="ak_hp_textarea" cols="45" rows="8" maxlength="100"></textarea></label><input type="hidden" id="ak_js_12" name="ak_js" value="102"/><script>document.getElementById( "ak_js_12" ).setAttribute( "value", ( new Date() ).getTime() );</script></p></form> </div><script type="text/javascript"> gform.initializeOnLoaded( function() {gformInitSpinner( 12, 'https://www.him.nl/wp-content/plugins/gravityforms/images/spinner.svg', true );jQuery('#gform_ajax_frame_12').on('load',function(){var contents = jQuery(this).contents().find('*').html();var is_postback = contents.indexOf('GF_AJAX_POSTBACK') >= 0;if(!is_postback){return;}var form_content = jQuery(this).contents().find('#gform_wrapper_12');var is_confirmation = jQuery(this).contents().find('#gform_confirmation_wrapper_12').length > 0;var is_redirect = contents.indexOf('gformRedirect(){') >= 0;var is_form = form_content.length > 0 && ! is_redirect && ! is_confirmation;var mt = parseInt(jQuery('html').css('margin-top'), 10) + parseInt(jQuery('body').css('margin-top'), 10) + 100;if(is_form){jQuery('#gform_wrapper_12').html(form_content.html());if(form_content.hasClass('gform_validation_error')){jQuery('#gform_wrapper_12').addClass('gform_validation_error');} else {jQuery('#gform_wrapper_12').removeClass('gform_validation_error');}setTimeout( function() { /* delay the scroll by 50 milliseconds to fix a bug in chrome */ }, 50 );if(window['gformInitDatepicker']) {gformInitDatepicker();}if(window['gformInitPriceFields']) {gformInitPriceFields();}var current_page = jQuery('#gform_source_page_number_12').val();gformInitSpinner( 12, 'https://www.him.nl/wp-content/plugins/gravityforms/images/spinner.svg', true );jQuery(document).trigger('gform_page_loaded', [12, current_page]);window['gf_submitting_12'] = false;}else if(!is_redirect){var confirmation_content = jQuery(this).contents().find('.GF_AJAX_POSTBACK').html();if(!confirmation_content){confirmation_content = contents;}setTimeout(function(){jQuery('#gform_wrapper_12').replaceWith(confirmation_content);jQuery(document).trigger('gform_confirmation_loaded', [12]);window['gf_submitting_12'] = false;wp.a11y.speak(jQuery('#gform_confirmation_message_12').text());}, 50);}else{jQuery('#gform_12').append(contents);if(window['gformRedirect']) {gformRedirect();}}jQuery(document).trigger('gform_post_render', [12, current_page]);gform.utils.trigger({ event: 'gform/postRender', native: false, data: { formId: 12, currentPage: current_page } });} );} ); </script>
[gravityform id="10" title="false" description="false"]
<div class='gf_browser_unknown gform_wrapper gform_legacy_markup_wrapper gform-theme--no-framework vinduwvloer_wrapper' data-form-theme='legacy' data-form-index='0' id='gform_wrapper_10' ><form method='post' enctype='multipart/form-data' id='gform_10' class='vinduwvloer' action='/en/floors/pu-floor/' data-formid='10' > <div class='gform-body gform_body'><ul id='gform_fields_10' class='gform_fields top_label form_sublabel_below description_below'><li id="field_10_1" class="gfield gfield--type-name optin gfield_contains_required field_sublabel_hidden_label gfield--no-description field_description_below hidden_label gfield_visibility_visible" data-js-reload="field_10_1"><label class='gfield_label gform-field-label gfield_label_before_complex' >Naam<span class="gfield_required"><span class="gfield_required gfield_required_asterisk">*</span></span></label><div class='ginput_complex ginput_container ginput_container--name no_prefix has_first_name no_middle_name no_last_name no_suffix gf_name_has_1 ginput_container_name gform-grid-row' id='input_10_1'> <span id='input_10_1_3_container' class='name_first gform-grid-col gform-grid-col--size-auto' > <input type='text' name='input_1.3' id='input_10_1_3' value='' aria-required='true' placeholder='Voornaam' /> <label for='input_10_1_3' class='gform-field-label gform-field-label--type-sub hidden_sub_label screen-reader-text'>First</label> </span> </div></li><li id="field_10_2" class="gfield gfield--type-email optin gfield_contains_required field_sublabel_below gfield--no-description field_description_below hidden_label gfield_visibility_visible" data-js-reload="field_10_2"><label class='gfield_label gform-field-label' for='input_10_2' >E-mailadres<span class="gfield_required"><span class="gfield_required gfield_required_asterisk">*</span></span></label><div class='ginput_container ginput_container_email'> <input name='input_2' id='input_10_2' type='text' value='' class='medium' placeholder='E-mail adres' aria-required="true" aria-invalid="false" /> </div></li><li id="field_10_5" class="gfield gfield--type-checkbox gfield--type-choice gfield--width-full gfield_description gfield_contains_required field_sublabel_below gfield--no-description field_description_below hidden_label gfield_visibility_visible" data-js-reload="field_10_5"><label class='gfield_label gform-field-label gfield_label_before_complex' >Toestemming<span class="gfield_required"><span class="gfield_required gfield_required_asterisk">*</span></span></label><div class='ginput_container ginput_container_checkbox'><ul class='gfield_checkbox' id='input_10_5'><li class='gchoice gchoice_10_5_1'> <input class='gfield-choice-input' name='input_5.1' type='checkbox' value='Ik ga ermee akkoord dat HIM mijn gegevens verwerkt en mij mailt' id='choice_10_5_1' /> <label for='choice_10_5_1' id='label_10_5_1' class='gform-field-label gform-field-label--type-inline'>Ik ga ermee akkoord dat HIM mijn gegevens verwerkt en mij mailt</label> </li></ul></div></li><li id="field_10_6" class="gfield gfield--type-html gfield--width-full gfield_html gfield_html_formatted gfield_no_follows_desc field_sublabel_below gfield--no-description field_description_below gfield_visibility_visible" data-js-reload="field_10_6"><p><br/></p></li><li id="field_10_3" class="gfield gfield--type-hidden gform_hidden field_sublabel_below gfield--no-description field_description_below gfield_visibility_visible" data-js-reload="field_10_3"><div class='ginput_container ginput_container_text'><input name='input_3' id='input_10_3' type='hidden' class='gform_hidden' aria-invalid="false" value='https://www.him.nl/en/floors/pu-floor/' /></div></li></ul></div> <div class='gform_footer top_label'> <input type="submit" id="gform_submit_button_10" class="gform_button button btn btn-primary" value="DOWNLOAD DIRECT" onclick='if(window["gf_submitting_10"]){return false;} window["gf_submitting_10"]=true; ' onkeypress='if( event.keyCode == 13 ){ if(window["gf_submitting_10"]){return false;} window["gf_submitting_10"]=true; jQuery("#gform_10").trigger("submit",[true]); }'> <input type='hidden' class='gform_hidden' name='is_submit_10' value='1' /> <input type='hidden' class='gform_hidden' name='gform_submit' value='10' /> <input type='hidden' class='gform_hidden' name='gform_unique_id' value='' /> <input type='hidden' class='gform_hidden' name='state_10' value='WyJbXSIsImQ0NzI3YjdmMzZhYjMzOTI3YzY4MGJhYjMwODMyMDYwIl0=' /> <input type='hidden' class='gform_hidden' name='gform_target_page_number_10' id='gform_target_page_number_10' value='0' /> <input type='hidden' class='gform_hidden' name='gform_source_page_number_10' id='gform_source_page_number_10' value='1' /> <input type='hidden' name='gform_field_values' value='' /> </div> <p style="display: none !important;"><label>&#916;<textarea name="ak_hp_textarea" cols="45" rows="8" maxlength="100"></textarea></label><input type="hidden" id="ak_js_13" name="ak_js" value="108"/><script>document.getElementById( "ak_js_13" ).setAttribute( "value", ( new Date() ).getTime() );</script></p></form> </div><script type="text/javascript"> gform.initializeOnLoaded( function() {gformInitSpinner( 10, 'https://www.him.nl/wp-content/plugins/gravityforms/images/spinner.svg', true );jQuery('#gform_ajax_frame_10').on('load',function(){var contents = jQuery(this).contents().find('*').html();var is_postback = contents.indexOf('GF_AJAX_POSTBACK') >= 0;if(!is_postback){return;}var form_content = jQuery(this).contents().find('#gform_wrapper_10');var is_confirmation = jQuery(this).contents().find('#gform_confirmation_wrapper_10').length > 0;var is_redirect = contents.indexOf('gformRedirect(){') >= 0;var is_form = form_content.length > 0 && ! is_redirect && ! is_confirmation;var mt = parseInt(jQuery('html').css('margin-top'), 10) + parseInt(jQuery('body').css('margin-top'), 10) + 100;if(is_form){jQuery('#gform_wrapper_10').html(form_content.html());if(form_content.hasClass('gform_validation_error')){jQuery('#gform_wrapper_10').addClass('gform_validation_error');} else {jQuery('#gform_wrapper_10').removeClass('gform_validation_error');}setTimeout( function() { /* delay the scroll by 50 milliseconds to fix a bug in chrome */ }, 50 );if(window['gformInitDatepicker']) {gformInitDatepicker();}if(window['gformInitPriceFields']) {gformInitPriceFields();}var current_page = jQuery('#gform_source_page_number_10').val();gformInitSpinner( 10, 'https://www.him.nl/wp-content/plugins/gravityforms/images/spinner.svg', true );jQuery(document).trigger('gform_page_loaded', [10, current_page]);window['gf_submitting_10'] = false;}else if(!is_redirect){var confirmation_content = jQuery(this).contents().find('.GF_AJAX_POSTBACK').html();if(!confirmation_content){confirmation_content = contents;}setTimeout(function(){jQuery('#gform_wrapper_10').replaceWith(confirmation_content);jQuery(document).trigger('gform_confirmation_loaded', [10]);window['gf_submitting_10'] = false;wp.a11y.speak(jQuery('#gform_confirmation_message_10').text());}, 50);}else{jQuery('#gform_10').append(contents);if(window['gformRedirect']) {gformRedirect();}}jQuery(document).trigger('gform_post_render', [10, current_page]);gform.utils.trigger({ event: 'gform/postRender', native: false, data: { formId: 10, currentPage: current_page } });} );} ); </script>