Epoxy floors: what are the advantages and disadvantages?
An epoxy floor has its advantages and disadvantages. In this article we explain what's most important for you. So you immediately know where you stand with epoxy floors.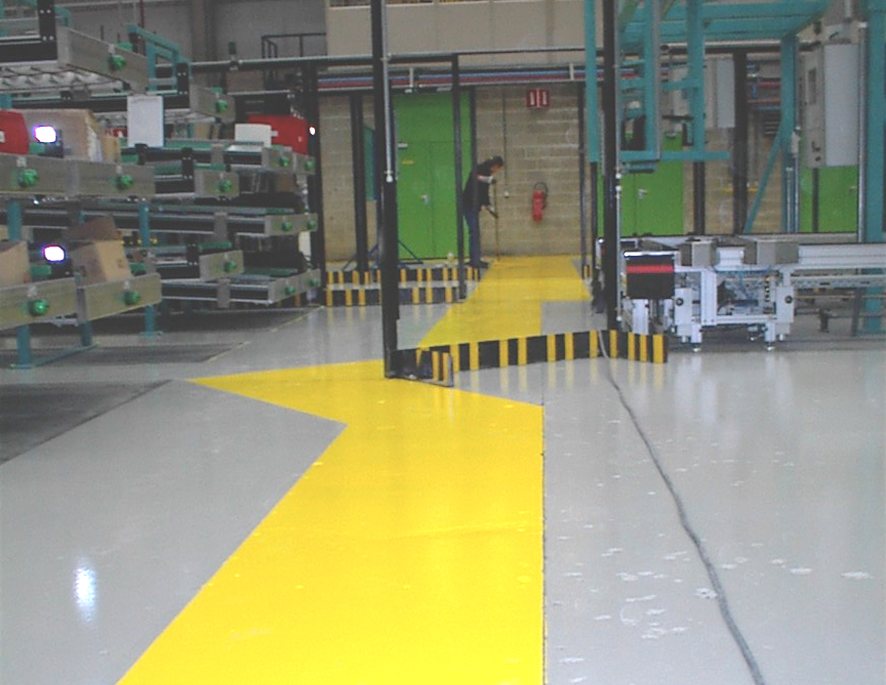 Advantages epoxy floor
Epoxy floors are resistant to a large number of chemicals such as solvents and acids;
The floors are decorative. Epoxy floors are available in many different colors and designs. It is possible to create a concrete look or to sprinkle the floor with flakes;
Because of the fast application there is only a minimal work interruption;
Epoxy floors are very easy to maintain. After all, the floors are seamless and liquid-tight and therefore easy to clean, benefiting hygiene;
Epoxy floors combine well with underfloor heating. Very sustainable. In combination with underfloor heating you save energy and you no longer have radiators in sight, saving space. The floor has no seams or edges, it completely blends into the space.
Robust. This makes epoxy floors suitable for heavy use and mechanical loads, such as forklift traffic in warehouses, workshops and production areas.
Disadvantages epoxy floor
Epoxy floors are hard and therefore there is contact noise during walking. For that reason, flexible polyurethane floors are usually used in office spaces and homes.
Without underfloor heating an epoxy floor feels somewhat cold, similar to tiled floors.
If there are unevennesses or cracks in the substrate, ripples can become visible in the floor. This only happens if the epoxy floor can no longer bridge existing cracks. The floor adheres to the substrate. It is therefore important to apply epoxy floors only on a smooth surface. If the surface is not even, you must first repair it. HIM has a thixotropic paste based on epoxy resin and lightweight fillers, with which you can remedy unevenness in concrete surfaces.
Without a finish the floor is sensitive to UV radiation. Fortunately, the UV resistance with 1 or 2 coats of a HIM finish coat can easily be improved.
Want to know more about epoxy floors?
Do you want to know more about our epoxy floors? Then contact us for the possibilities without obligation. You can reach us via +31 (0)251-276300.
---
Publicatiedatum: 2019-04-14
Categorie: News
[gravityform id="13" title="false" description="false"]
<div class='gf_browser_unknown gform_wrapper vinduwvloer_wrapper gform_legacy_markup_wrapper' id='gform_wrapper_13' style='display:none'><form method='post' enctype='multipart/form-data' id='gform_13' class='vinduwvloer gform_legacy_markup' action='/en/epoxy-floors-what-are-the-advantages-and-disadvantages/' > <div class='gform_body gform-body'><ul id='gform_fields_13' class='gform_fields top_label form_sublabel_below description_below'><li id="field_13_1" class="gfield optin gfield_contains_required field_sublabel_hidden_label field_description_below hidden_label gfield_visibility_visible" data-js-reload="field_13_1"><label class='gfield_label gfield_label_before_complex' >Naam<span class="gfield_required"><span class="gfield_required gfield_required_asterisk">*</span></span></label><div class='ginput_complex ginput_container no_prefix has_first_name no_middle_name no_last_name no_suffix gf_name_has_1 ginput_container_name' id='input_13_1'> <span id='input_13_1_3_container' class='name_first' > <input type='text' name='input_1.3' id='input_13_1_3' value='' aria-required='true' placeholder='Voornaam' /> <label for='input_13_1_3' class='hidden_sub_label screen-reader-text'>First</label> </span> </div></li><li id="field_13_2" class="gfield optin gfield_contains_required field_sublabel_below field_description_below hidden_label gfield_visibility_visible" data-js-reload="field_13_2"><label class='gfield_label' for='input_13_2' >E-mailadres<span class="gfield_required"><span class="gfield_required gfield_required_asterisk">*</span></span></label><div class='ginput_container ginput_container_email'> <input name='input_2' id='input_13_2' type='text' value='' class='medium' placeholder='E-mailadres' aria-required="true" aria-invalid="false" /> </div></li><li id="field_13_3" class="gfield gform_hidden field_sublabel_below field_description_below gfield_visibility_visible" data-js-reload="field_13_3"><div class='ginput_container ginput_container_text'><input name='input_3' id='input_13_3' type='hidden' class='gform_hidden' aria-invalid="false" value='https://www.him.nl/en/epoxy-floors-what-are-the-advantages-and-disadvantages/' /></div></li></ul></div> <div class='gform_footer top_label'> <input type="submit" id="gform_submit_button_13" class="gform_button button btn btn-primary" value="DOWNLOAD DIRECT" onclick='if(window["gf_submitting_13"]){return false;} window["gf_submitting_13"]=true; ' onkeypress='if( event.keyCode == 13 ){ if(window["gf_submitting_13"]){return false;} window["gf_submitting_13"]=true; jQuery("#gform_13").trigger("submit",[true]); }'> <input type='hidden' class='gform_hidden' name='is_submit_13' value='1' /> <input type='hidden' class='gform_hidden' name='gform_submit' value='13' /> <input type='hidden' class='gform_hidden' name='gform_unique_id' value='' /> <input type='hidden' class='gform_hidden' name='state_13' value='WyJbXSIsImQ0NzI3YjdmMzZhYjMzOTI3YzY4MGJhYjMwODMyMDYwIl0=' /> <input type='hidden' class='gform_hidden' name='gform_target_page_number_13' id='gform_target_page_number_13' value='0' /> <input type='hidden' class='gform_hidden' name='gform_source_page_number_13' id='gform_source_page_number_13' value='1' /> <input type='hidden' name='gform_field_values' value='' /> </div> <p style="display: none !important;"><label>&#916;<textarea name="ak_hp_textarea" cols="45" rows="8" maxlength="100"></textarea></label><input type="hidden" id="ak_js_2" name="ak_js" value="80"/><script>document.getElementById( "ak_js_2" ).setAttribute( "value", ( new Date() ).getTime() );</script></p></form> </div>
[gravityform id="22" title="false" description="false"]
<div class='gf_browser_unknown gform_wrapper vinduwvloer_wrapper gform_legacy_markup_wrapper' id='gform_wrapper_22' ><form method='post' enctype='multipart/form-data' id='gform_22' class='vinduwvloer gform_legacy_markup' action='/en/epoxy-floors-what-are-the-advantages-and-disadvantages/' > <div class='gform_body gform-body'><ul id='gform_fields_22' class='gform_fields top_label form_sublabel_below description_below'><li id="field_22_1" class="gfield optin gfield_contains_required field_sublabel_hidden_label field_description_below hidden_label gfield_visibility_visible" data-js-reload="field_22_1"><label class='gfield_label gfield_label_before_complex' >Naam<span class="gfield_required"><span class="gfield_required gfield_required_asterisk">*</span></span></label><div class='ginput_complex ginput_container no_prefix has_first_name no_middle_name no_last_name no_suffix gf_name_has_1 ginput_container_name' id='input_22_1'> <span id='input_22_1_3_container' class='name_first' > <input type='text' name='input_1.3' id='input_22_1_3' value='' aria-required='true' placeholder='Voornaam' /> <label for='input_22_1_3' class='hidden_sub_label screen-reader-text'>First</label> </span> </div></li><li id="field_22_2" class="gfield optin gfield_contains_required field_sublabel_below field_description_below hidden_label gfield_visibility_visible" data-js-reload="field_22_2"><label class='gfield_label' for='input_22_2' >E-mailadres<span class="gfield_required"><span class="gfield_required gfield_required_asterisk">*</span></span></label><div class='ginput_container ginput_container_email'> <input name='input_2' id='input_22_2' type='text' value='' class='medium' placeholder='E-mail adres' aria-required="true" aria-invalid="false" /> </div></li><li id="field_22_3" class="gfield gform_hidden field_sublabel_below field_description_below gfield_visibility_visible" data-js-reload="field_22_3"><div class='ginput_container ginput_container_text'><input name='input_3' id='input_22_3' type='hidden' class='gform_hidden' aria-invalid="false" value='https://www.him.nl/en/epoxy-floors-what-are-the-advantages-and-disadvantages/' /></div></li></ul></div> <div class='gform_footer top_label'> <input type="submit" id="gform_submit_button_22" class="gform_button button btn btn-primary" value="DOWNLOAD DIRECT" onclick='if(window["gf_submitting_22"]){return false;} window["gf_submitting_22"]=true; ' onkeypress='if( event.keyCode == 13 ){ if(window["gf_submitting_22"]){return false;} window["gf_submitting_22"]=true; jQuery("#gform_22").trigger("submit",[true]); }'> <input type='hidden' class='gform_hidden' name='is_submit_22' value='1' /> <input type='hidden' class='gform_hidden' name='gform_submit' value='22' /> <input type='hidden' class='gform_hidden' name='gform_unique_id' value='' /> <input type='hidden' class='gform_hidden' name='state_22' value='WyJbXSIsImQ0NzI3YjdmMzZhYjMzOTI3YzY4MGJhYjMwODMyMDYwIl0=' /> <input type='hidden' class='gform_hidden' name='gform_target_page_number_22' id='gform_target_page_number_22' value='0' /> <input type='hidden' class='gform_hidden' name='gform_source_page_number_22' id='gform_source_page_number_22' value='1' /> <input type='hidden' name='gform_field_values' value='' /> </div> <p style="display: none !important;"><label>&#916;<textarea name="ak_hp_textarea" cols="45" rows="8" maxlength="100"></textarea></label><input type="hidden" id="ak_js_3" name="ak_js" value="232"/><script>document.getElementById( "ak_js_3" ).setAttribute( "value", ( new Date() ).getTime() );</script></p></form> </div>
[gravityform id="24" title="false" description="false"]
<div class='gf_browser_unknown gform_wrapper vinduwvloer_wrapper gform_legacy_markup_wrapper' id='gform_wrapper_24' ><form method='post' enctype='multipart/form-data' id='gform_24' class='vinduwvloer gform_legacy_markup' action='/en/epoxy-floors-what-are-the-advantages-and-disadvantages/' > <div class='gform_body gform-body'><ul id='gform_fields_24' class='gform_fields top_label form_sublabel_below description_below'><li id="field_24_1" class="gfield optin gfield_contains_required field_sublabel_hidden_label field_description_below hidden_label gfield_visibility_visible" data-js-reload="field_24_1"><label class='gfield_label gfield_label_before_complex' >First name<span class="gfield_required"><span class="gfield_required gfield_required_asterisk">*</span></span></label><div class='ginput_complex ginput_container no_prefix has_first_name no_middle_name no_last_name no_suffix gf_name_has_1 ginput_container_name' id='input_24_1'> <span id='input_24_1_3_container' class='name_first' > <input type='text' name='input_1.3' id='input_24_1_3' value='' aria-required='true' placeholder='First name' /> <label for='input_24_1_3' class='hidden_sub_label screen-reader-text'>First name</label> </span> </div></li><li id="field_24_2" class="gfield optin gfield_contains_required field_sublabel_below field_description_below hidden_label gfield_visibility_visible" data-js-reload="field_24_2"><label class='gfield_label' for='input_24_2' >E-mail address<span class="gfield_required"><span class="gfield_required gfield_required_asterisk">*</span></span></label><div class='ginput_container ginput_container_email'> <input name='input_2' id='input_24_2' type='text' value='' class='medium' placeholder='E-mail address' aria-required="true" aria-invalid="false" /> </div></li><li id="field_24_3" class="gfield gform_hidden field_sublabel_below field_description_below gfield_visibility_visible" data-js-reload="field_24_3"><div class='ginput_container ginput_container_text'><input name='input_3' id='input_24_3' type='hidden' class='gform_hidden' aria-invalid="false" value='https://www.him.nl/en/epoxy-floors-what-are-the-advantages-and-disadvantages/' /></div></li></ul></div> <div class='gform_footer top_label'> <input type="submit" id="gform_submit_button_24" class="gform_button button btn btn-primary" value="DOWNLOAD DIRECT" onclick='if(window["gf_submitting_24"]){return false;} window["gf_submitting_24"]=true; ' onkeypress='if( event.keyCode == 13 ){ if(window["gf_submitting_24"]){return false;} window["gf_submitting_24"]=true; jQuery("#gform_24").trigger("submit",[true]); }'> <input type='hidden' class='gform_hidden' name='is_submit_24' value='1' /> <input type='hidden' class='gform_hidden' name='gform_submit' value='24' /> <input type='hidden' class='gform_hidden' name='gform_unique_id' value='' /> <input type='hidden' class='gform_hidden' name='state_24' value='WyJbXSIsImQ0NzI3YjdmMzZhYjMzOTI3YzY4MGJhYjMwODMyMDYwIl0=' /> <input type='hidden' class='gform_hidden' name='gform_target_page_number_24' id='gform_target_page_number_24' value='0' /> <input type='hidden' class='gform_hidden' name='gform_source_page_number_24' id='gform_source_page_number_24' value='1' /> <input type='hidden' name='gform_field_values' value='' /> </div> <p style="display: none !important;"><label>&#916;<textarea name="ak_hp_textarea" cols="45" rows="8" maxlength="100"></textarea></label><input type="hidden" id="ak_js_4" name="ak_js" value="221"/><script>document.getElementById( "ak_js_4" ).setAttribute( "value", ( new Date() ).getTime() );</script></p></form> </div>
[gravityform id="22" title="false" description="false"]
<div class='gf_browser_unknown gform_wrapper vinduwvloer_wrapper gform_legacy_markup_wrapper' id='gform_wrapper_22' ><form method='post' enctype='multipart/form-data' id='gform_22' class='vinduwvloer gform_legacy_markup' action='/en/epoxy-floors-what-are-the-advantages-and-disadvantages/' > <div class='gform_body gform-body'><ul id='gform_fields_22' class='gform_fields top_label form_sublabel_below description_below'><li id="field_22_1" class="gfield optin gfield_contains_required field_sublabel_hidden_label field_description_below hidden_label gfield_visibility_visible" data-js-reload="field_22_1"><label class='gfield_label gfield_label_before_complex' >Naam<span class="gfield_required"><span class="gfield_required gfield_required_asterisk">*</span></span></label><div class='ginput_complex ginput_container no_prefix has_first_name no_middle_name no_last_name no_suffix gf_name_has_1 ginput_container_name' id='input_22_1'> <span id='input_22_1_3_container' class='name_first' > <input type='text' name='input_1.3' id='input_22_1_3' value='' aria-required='true' placeholder='Voornaam' /> <label for='input_22_1_3' class='hidden_sub_label screen-reader-text'>First</label> </span> </div></li><li id="field_22_2" class="gfield optin gfield_contains_required field_sublabel_below field_description_below hidden_label gfield_visibility_visible" data-js-reload="field_22_2"><label class='gfield_label' for='input_22_2' >E-mailadres<span class="gfield_required"><span class="gfield_required gfield_required_asterisk">*</span></span></label><div class='ginput_container ginput_container_email'> <input name='input_2' id='input_22_2' type='text' value='' class='medium' placeholder='E-mail adres' aria-required="true" aria-invalid="false" /> </div></li><li id="field_22_3" class="gfield gform_hidden field_sublabel_below field_description_below gfield_visibility_visible" data-js-reload="field_22_3"><div class='ginput_container ginput_container_text'><input name='input_3' id='input_22_3' type='hidden' class='gform_hidden' aria-invalid="false" value='https://www.him.nl/en/epoxy-floors-what-are-the-advantages-and-disadvantages/' /></div></li></ul></div> <div class='gform_footer top_label'> <input type="submit" id="gform_submit_button_22" class="gform_button button btn btn-primary" value="DOWNLOAD DIRECT" onclick='if(window["gf_submitting_22"]){return false;} window["gf_submitting_22"]=true; ' onkeypress='if( event.keyCode == 13 ){ if(window["gf_submitting_22"]){return false;} window["gf_submitting_22"]=true; jQuery("#gform_22").trigger("submit",[true]); }'> <input type='hidden' class='gform_hidden' name='is_submit_22' value='1' /> <input type='hidden' class='gform_hidden' name='gform_submit' value='22' /> <input type='hidden' class='gform_hidden' name='gform_unique_id' value='' /> <input type='hidden' class='gform_hidden' name='state_22' value='WyJbXSIsImQ0NzI3YjdmMzZhYjMzOTI3YzY4MGJhYjMwODMyMDYwIl0=' /> <input type='hidden' class='gform_hidden' name='gform_target_page_number_22' id='gform_target_page_number_22' value='0' /> <input type='hidden' class='gform_hidden' name='gform_source_page_number_22' id='gform_source_page_number_22' value='1' /> <input type='hidden' name='gform_field_values' value='' /> </div> <p style="display: none !important;"><label>&#916;<textarea name="ak_hp_textarea" cols="45" rows="8" maxlength="100"></textarea></label><input type="hidden" id="ak_js_5" name="ak_js" value="178"/><script>document.getElementById( "ak_js_5" ).setAttribute( "value", ( new Date() ).getTime() );</script></p></form> </div>
[gravityform id="16" title="false" description="false"]
<div class='gf_browser_unknown gform_wrapper vinduwvloer_wrapper gform_legacy_markup_wrapper' id='gform_wrapper_16' style='display:none'><form method='post' enctype='multipart/form-data' id='gform_16' class='vinduwvloer gform_legacy_markup' action='/en/epoxy-floors-what-are-the-advantages-and-disadvantages/' > <div class='gform_body gform-body'><ul id='gform_fields_16' class='gform_fields top_label form_sublabel_below description_below'><li id="field_16_1" class="gfield optin gfield_contains_required field_sublabel_hidden_label field_description_below hidden_label gfield_visibility_visible" data-js-reload="field_16_1"><label class='gfield_label gfield_label_before_complex' >Name<span class="gfield_required"><span class="gfield_required gfield_required_asterisk">*</span></span></label><div class='ginput_complex ginput_container no_prefix has_first_name no_middle_name no_last_name no_suffix gf_name_has_1 ginput_container_name' id='input_16_1'> <span id='input_16_1_3_container' class='name_first' > <input type='text' name='input_1.3' id='input_16_1_3' value='' aria-required='true' placeholder='First name' /> <label for='input_16_1_3' class='hidden_sub_label screen-reader-text'>First name</label> </span> </div></li><li id="field_16_2" class="gfield optin gfield_contains_required field_sublabel_below field_description_below hidden_label gfield_visibility_visible" data-js-reload="field_16_2"><label class='gfield_label' for='input_16_2' >E-mail address<span class="gfield_required"><span class="gfield_required gfield_required_asterisk">*</span></span></label><div class='ginput_container ginput_container_email'> <input name='input_2' id='input_16_2' type='text' value='' class='medium' placeholder='E-mail address' aria-required="true" aria-invalid="false" /> </div></li><li id="field_16_3" class="gfield gform_hidden field_sublabel_below field_description_below gfield_visibility_visible" data-js-reload="field_16_3"><div class='ginput_container ginput_container_text'><input name='input_3' id='input_16_3' type='hidden' class='gform_hidden' aria-invalid="false" value='https://www.him.nl/en/epoxy-floors-what-are-the-advantages-and-disadvantages/' /></div></li><li id="field_16_4" class="gfield gfield--width-full gfield_contains_required field_sublabel_below field_description_below gfield_visibility_visible" data-js-reload="field_16_4"><label class='gfield_label gfield_label_before_complex' >GDPR permission<span class="gfield_required"><span class="gfield_required gfield_required_asterisk">*</span></span></label><div class='ginput_container ginput_container_checkbox'><ul class='gfield_checkbox' id='input_16_4'><li class='gchoice gchoice_16_4_1'> <input class='gfield-choice-input' name='input_4.1' type='checkbox' value='I give permission for HIM to email me and to store my information.' id='choice_16_4_1' aria-describedby="gfield_description_16_4"/> <label for='choice_16_4_1' id='label_16_4_1'>I give permission for HIM to email me and to store my information.</label> </li></ul></div><div class='gfield_description' id='gfield_description_16_4'>HIM uses your information to administer your account. By agreeing to these terms you give HIM permission to store your data and provide you with the requested information. </div></li><li id="field_submit" class="gfield gfield--width-full field_sublabel_below field_description_below gfield_visibility_visible" data-field-class="gform_editor_submit_container" data-field-position="inline" data-js-reload="true"><input type="submit" id="gform_submit_button_16" class="gform-button gform-button--white button btn btn-primary" value="DOWNLOAD DIRECT" onclick='if(window["gf_submitting_16"]){return false;} window["gf_submitting_16"]=true; ' onkeypress='if( event.keyCode == 13 ){ if(window["gf_submitting_16"]){return false;} window["gf_submitting_16"]=true; jQuery("#gform_16").trigger("submit",[true]); }'></li></ul></div> <div class='gform_footer top_label'> <input type='hidden' class='gform_hidden' name='is_submit_16' value='1' /> <input type='hidden' class='gform_hidden' name='gform_submit' value='16' /> <input type='hidden' class='gform_hidden' name='gform_unique_id' value='' /> <input type='hidden' class='gform_hidden' name='state_16' value='WyJbXSIsImQ0NzI3YjdmMzZhYjMzOTI3YzY4MGJhYjMwODMyMDYwIl0=' /> <input type='hidden' class='gform_hidden' name='gform_target_page_number_16' id='gform_target_page_number_16' value='0' /> <input type='hidden' class='gform_hidden' name='gform_source_page_number_16' id='gform_source_page_number_16' value='1' /> <input type='hidden' name='gform_field_values' value='' /> </div> <p style="display: none !important;"><label>&#916;<textarea name="ak_hp_textarea" cols="45" rows="8" maxlength="100"></textarea></label><input type="hidden" id="ak_js_6" name="ak_js" value="203"/><script>document.getElementById( "ak_js_6" ).setAttribute( "value", ( new Date() ).getTime() );</script></p></form> </div>
[gravityform id="13" title="false" description="false"]
<div class='gf_browser_unknown gform_wrapper vinduwvloer_wrapper gform_legacy_markup_wrapper' id='gform_wrapper_13' style='display:none'><form method='post' enctype='multipart/form-data' id='gform_13' class='vinduwvloer gform_legacy_markup' action='/en/epoxy-floors-what-are-the-advantages-and-disadvantages/' > <div class='gform_body gform-body'><ul id='gform_fields_13' class='gform_fields top_label form_sublabel_below description_below'><li id="field_13_1" class="gfield optin gfield_contains_required field_sublabel_hidden_label field_description_below hidden_label gfield_visibility_visible" data-js-reload="field_13_1"><label class='gfield_label gfield_label_before_complex' >Naam<span class="gfield_required"><span class="gfield_required gfield_required_asterisk">*</span></span></label><div class='ginput_complex ginput_container no_prefix has_first_name no_middle_name no_last_name no_suffix gf_name_has_1 ginput_container_name' id='input_13_1'> <span id='input_13_1_3_container' class='name_first' > <input type='text' name='input_1.3' id='input_13_1_3' value='' aria-required='true' placeholder='Voornaam' /> <label for='input_13_1_3' class='hidden_sub_label screen-reader-text'>First</label> </span> </div></li><li id="field_13_2" class="gfield optin gfield_contains_required field_sublabel_below field_description_below hidden_label gfield_visibility_visible" data-js-reload="field_13_2"><label class='gfield_label' for='input_13_2' >E-mailadres<span class="gfield_required"><span class="gfield_required gfield_required_asterisk">*</span></span></label><div class='ginput_container ginput_container_email'> <input name='input_2' id='input_13_2' type='text' value='' class='medium' placeholder='E-mailadres' aria-required="true" aria-invalid="false" /> </div></li><li id="field_13_3" class="gfield gform_hidden field_sublabel_below field_description_below gfield_visibility_visible" data-js-reload="field_13_3"><div class='ginput_container ginput_container_text'><input name='input_3' id='input_13_3' type='hidden' class='gform_hidden' aria-invalid="false" value='https://www.him.nl/en/epoxy-floors-what-are-the-advantages-and-disadvantages/' /></div></li></ul></div> <div class='gform_footer top_label'> <input type="submit" id="gform_submit_button_13" class="gform_button button btn btn-primary" value="DOWNLOAD DIRECT" onclick='if(window["gf_submitting_13"]){return false;} window["gf_submitting_13"]=true; ' onkeypress='if( event.keyCode == 13 ){ if(window["gf_submitting_13"]){return false;} window["gf_submitting_13"]=true; jQuery("#gform_13").trigger("submit",[true]); }'> <input type='hidden' class='gform_hidden' name='is_submit_13' value='1' /> <input type='hidden' class='gform_hidden' name='gform_submit' value='13' /> <input type='hidden' class='gform_hidden' name='gform_unique_id' value='' /> <input type='hidden' class='gform_hidden' name='state_13' value='WyJbXSIsImQ0NzI3YjdmMzZhYjMzOTI3YzY4MGJhYjMwODMyMDYwIl0=' /> <input type='hidden' class='gform_hidden' name='gform_target_page_number_13' id='gform_target_page_number_13' value='0' /> <input type='hidden' class='gform_hidden' name='gform_source_page_number_13' id='gform_source_page_number_13' value='1' /> <input type='hidden' name='gform_field_values' value='' /> </div> <p style="display: none !important;"><label>&#916;<textarea name="ak_hp_textarea" cols="45" rows="8" maxlength="100"></textarea></label><input type="hidden" id="ak_js_7" name="ak_js" value="48"/><script>document.getElementById( "ak_js_7" ).setAttribute( "value", ( new Date() ).getTime() );</script></p></form> </div>
[gravityform id="24" title="false" description="false"]
<div class='gf_browser_unknown gform_wrapper vinduwvloer_wrapper gform_legacy_markup_wrapper' id='gform_wrapper_24' ><form method='post' enctype='multipart/form-data' id='gform_24' class='vinduwvloer gform_legacy_markup' action='/en/epoxy-floors-what-are-the-advantages-and-disadvantages/' > <div class='gform_body gform-body'><ul id='gform_fields_24' class='gform_fields top_label form_sublabel_below description_below'><li id="field_24_1" class="gfield optin gfield_contains_required field_sublabel_hidden_label field_description_below hidden_label gfield_visibility_visible" data-js-reload="field_24_1"><label class='gfield_label gfield_label_before_complex' >First name<span class="gfield_required"><span class="gfield_required gfield_required_asterisk">*</span></span></label><div class='ginput_complex ginput_container no_prefix has_first_name no_middle_name no_last_name no_suffix gf_name_has_1 ginput_container_name' id='input_24_1'> <span id='input_24_1_3_container' class='name_first' > <input type='text' name='input_1.3' id='input_24_1_3' value='' aria-required='true' placeholder='First name' /> <label for='input_24_1_3' class='hidden_sub_label screen-reader-text'>First name</label> </span> </div></li><li id="field_24_2" class="gfield optin gfield_contains_required field_sublabel_below field_description_below hidden_label gfield_visibility_visible" data-js-reload="field_24_2"><label class='gfield_label' for='input_24_2' >E-mail address<span class="gfield_required"><span class="gfield_required gfield_required_asterisk">*</span></span></label><div class='ginput_container ginput_container_email'> <input name='input_2' id='input_24_2' type='text' value='' class='medium' placeholder='E-mail address' aria-required="true" aria-invalid="false" /> </div></li><li id="field_24_3" class="gfield gform_hidden field_sublabel_below field_description_below gfield_visibility_visible" data-js-reload="field_24_3"><div class='ginput_container ginput_container_text'><input name='input_3' id='input_24_3' type='hidden' class='gform_hidden' aria-invalid="false" value='https://www.him.nl/en/epoxy-floors-what-are-the-advantages-and-disadvantages/' /></div></li></ul></div> <div class='gform_footer top_label'> <input type="submit" id="gform_submit_button_24" class="gform_button button btn btn-primary" value="DOWNLOAD DIRECT" onclick='if(window["gf_submitting_24"]){return false;} window["gf_submitting_24"]=true; ' onkeypress='if( event.keyCode == 13 ){ if(window["gf_submitting_24"]){return false;} window["gf_submitting_24"]=true; jQuery("#gform_24").trigger("submit",[true]); }'> <input type='hidden' class='gform_hidden' name='is_submit_24' value='1' /> <input type='hidden' class='gform_hidden' name='gform_submit' value='24' /> <input type='hidden' class='gform_hidden' name='gform_unique_id' value='' /> <input type='hidden' class='gform_hidden' name='state_24' value='WyJbXSIsImQ0NzI3YjdmMzZhYjMzOTI3YzY4MGJhYjMwODMyMDYwIl0=' /> <input type='hidden' class='gform_hidden' name='gform_target_page_number_24' id='gform_target_page_number_24' value='0' /> <input type='hidden' class='gform_hidden' name='gform_source_page_number_24' id='gform_source_page_number_24' value='1' /> <input type='hidden' name='gform_field_values' value='' /> </div> <p style="display: none !important;"><label>&#916;<textarea name="ak_hp_textarea" cols="45" rows="8" maxlength="100"></textarea></label><input type="hidden" id="ak_js_8" name="ak_js" value="41"/><script>document.getElementById( "ak_js_8" ).setAttribute( "value", ( new Date() ).getTime() );</script></p></form> </div>
[gravityform id="22" title="false" description="false"]
<div class='gf_browser_unknown gform_wrapper vinduwvloer_wrapper gform_legacy_markup_wrapper' id='gform_wrapper_22' ><form method='post' enctype='multipart/form-data' id='gform_22' class='vinduwvloer gform_legacy_markup' action='/en/epoxy-floors-what-are-the-advantages-and-disadvantages/' > <div class='gform_body gform-body'><ul id='gform_fields_22' class='gform_fields top_label form_sublabel_below description_below'><li id="field_22_1" class="gfield optin gfield_contains_required field_sublabel_hidden_label field_description_below hidden_label gfield_visibility_visible" data-js-reload="field_22_1"><label class='gfield_label gfield_label_before_complex' >Naam<span class="gfield_required"><span class="gfield_required gfield_required_asterisk">*</span></span></label><div class='ginput_complex ginput_container no_prefix has_first_name no_middle_name no_last_name no_suffix gf_name_has_1 ginput_container_name' id='input_22_1'> <span id='input_22_1_3_container' class='name_first' > <input type='text' name='input_1.3' id='input_22_1_3' value='' aria-required='true' placeholder='Voornaam' /> <label for='input_22_1_3' class='hidden_sub_label screen-reader-text'>First</label> </span> </div></li><li id="field_22_2" class="gfield optin gfield_contains_required field_sublabel_below field_description_below hidden_label gfield_visibility_visible" data-js-reload="field_22_2"><label class='gfield_label' for='input_22_2' >E-mailadres<span class="gfield_required"><span class="gfield_required gfield_required_asterisk">*</span></span></label><div class='ginput_container ginput_container_email'> <input name='input_2' id='input_22_2' type='text' value='' class='medium' placeholder='E-mail adres' aria-required="true" aria-invalid="false" /> </div></li><li id="field_22_3" class="gfield gform_hidden field_sublabel_below field_description_below gfield_visibility_visible" data-js-reload="field_22_3"><div class='ginput_container ginput_container_text'><input name='input_3' id='input_22_3' type='hidden' class='gform_hidden' aria-invalid="false" value='https://www.him.nl/en/epoxy-floors-what-are-the-advantages-and-disadvantages/' /></div></li></ul></div> <div class='gform_footer top_label'> <input type="submit" id="gform_submit_button_22" class="gform_button button btn btn-primary" value="DOWNLOAD DIRECT" onclick='if(window["gf_submitting_22"]){return false;} window["gf_submitting_22"]=true; ' onkeypress='if( event.keyCode == 13 ){ if(window["gf_submitting_22"]){return false;} window["gf_submitting_22"]=true; jQuery("#gform_22").trigger("submit",[true]); }'> <input type='hidden' class='gform_hidden' name='is_submit_22' value='1' /> <input type='hidden' class='gform_hidden' name='gform_submit' value='22' /> <input type='hidden' class='gform_hidden' name='gform_unique_id' value='' /> <input type='hidden' class='gform_hidden' name='state_22' value='WyJbXSIsImQ0NzI3YjdmMzZhYjMzOTI3YzY4MGJhYjMwODMyMDYwIl0=' /> <input type='hidden' class='gform_hidden' name='gform_target_page_number_22' id='gform_target_page_number_22' value='0' /> <input type='hidden' class='gform_hidden' name='gform_source_page_number_22' id='gform_source_page_number_22' value='1' /> <input type='hidden' name='gform_field_values' value='' /> </div> <p style="display: none !important;"><label>&#916;<textarea name="ak_hp_textarea" cols="45" rows="8" maxlength="100"></textarea></label><input type="hidden" id="ak_js_9" name="ak_js" value="67"/><script>document.getElementById( "ak_js_9" ).setAttribute( "value", ( new Date() ).getTime() );</script></p></form> </div>
[gravityform id="24" title="false" description="false"]
<div class='gf_browser_unknown gform_wrapper vinduwvloer_wrapper gform_legacy_markup_wrapper' id='gform_wrapper_24' ><form method='post' enctype='multipart/form-data' id='gform_24' class='vinduwvloer gform_legacy_markup' action='/en/epoxy-floors-what-are-the-advantages-and-disadvantages/' > <div class='gform_body gform-body'><ul id='gform_fields_24' class='gform_fields top_label form_sublabel_below description_below'><li id="field_24_1" class="gfield optin gfield_contains_required field_sublabel_hidden_label field_description_below hidden_label gfield_visibility_visible" data-js-reload="field_24_1"><label class='gfield_label gfield_label_before_complex' >First name<span class="gfield_required"><span class="gfield_required gfield_required_asterisk">*</span></span></label><div class='ginput_complex ginput_container no_prefix has_first_name no_middle_name no_last_name no_suffix gf_name_has_1 ginput_container_name' id='input_24_1'> <span id='input_24_1_3_container' class='name_first' > <input type='text' name='input_1.3' id='input_24_1_3' value='' aria-required='true' placeholder='First name' /> <label for='input_24_1_3' class='hidden_sub_label screen-reader-text'>First name</label> </span> </div></li><li id="field_24_2" class="gfield optin gfield_contains_required field_sublabel_below field_description_below hidden_label gfield_visibility_visible" data-js-reload="field_24_2"><label class='gfield_label' for='input_24_2' >E-mail address<span class="gfield_required"><span class="gfield_required gfield_required_asterisk">*</span></span></label><div class='ginput_container ginput_container_email'> <input name='input_2' id='input_24_2' type='text' value='' class='medium' placeholder='E-mail address' aria-required="true" aria-invalid="false" /> </div></li><li id="field_24_3" class="gfield gform_hidden field_sublabel_below field_description_below gfield_visibility_visible" data-js-reload="field_24_3"><div class='ginput_container ginput_container_text'><input name='input_3' id='input_24_3' type='hidden' class='gform_hidden' aria-invalid="false" value='https://www.him.nl/en/epoxy-floors-what-are-the-advantages-and-disadvantages/' /></div></li></ul></div> <div class='gform_footer top_label'> <input type="submit" id="gform_submit_button_24" class="gform_button button btn btn-primary" value="DOWNLOAD DIRECT" onclick='if(window["gf_submitting_24"]){return false;} window["gf_submitting_24"]=true; ' onkeypress='if( event.keyCode == 13 ){ if(window["gf_submitting_24"]){return false;} window["gf_submitting_24"]=true; jQuery("#gform_24").trigger("submit",[true]); }'> <input type='hidden' class='gform_hidden' name='is_submit_24' value='1' /> <input type='hidden' class='gform_hidden' name='gform_submit' value='24' /> <input type='hidden' class='gform_hidden' name='gform_unique_id' value='' /> <input type='hidden' class='gform_hidden' name='state_24' value='WyJbXSIsImQ0NzI3YjdmMzZhYjMzOTI3YzY4MGJhYjMwODMyMDYwIl0=' /> <input type='hidden' class='gform_hidden' name='gform_target_page_number_24' id='gform_target_page_number_24' value='0' /> <input type='hidden' class='gform_hidden' name='gform_source_page_number_24' id='gform_source_page_number_24' value='1' /> <input type='hidden' name='gform_field_values' value='' /> </div> <p style="display: none !important;"><label>&#916;<textarea name="ak_hp_textarea" cols="45" rows="8" maxlength="100"></textarea></label><input type="hidden" id="ak_js_10" name="ak_js" value="77"/><script>document.getElementById( "ak_js_10" ).setAttribute( "value", ( new Date() ).getTime() );</script></p></form> </div>
[gravityform id="22" title="false" description="false"]
<div class='gf_browser_unknown gform_wrapper vinduwvloer_wrapper gform_legacy_markup_wrapper' id='gform_wrapper_22' ><form method='post' enctype='multipart/form-data' id='gform_22' class='vinduwvloer gform_legacy_markup' action='/en/epoxy-floors-what-are-the-advantages-and-disadvantages/' > <div class='gform_body gform-body'><ul id='gform_fields_22' class='gform_fields top_label form_sublabel_below description_below'><li id="field_22_1" class="gfield optin gfield_contains_required field_sublabel_hidden_label field_description_below hidden_label gfield_visibility_visible" data-js-reload="field_22_1"><label class='gfield_label gfield_label_before_complex' >Naam<span class="gfield_required"><span class="gfield_required gfield_required_asterisk">*</span></span></label><div class='ginput_complex ginput_container no_prefix has_first_name no_middle_name no_last_name no_suffix gf_name_has_1 ginput_container_name' id='input_22_1'> <span id='input_22_1_3_container' class='name_first' > <input type='text' name='input_1.3' id='input_22_1_3' value='' aria-required='true' placeholder='Voornaam' /> <label for='input_22_1_3' class='hidden_sub_label screen-reader-text'>First</label> </span> </div></li><li id="field_22_2" class="gfield optin gfield_contains_required field_sublabel_below field_description_below hidden_label gfield_visibility_visible" data-js-reload="field_22_2"><label class='gfield_label' for='input_22_2' >E-mailadres<span class="gfield_required"><span class="gfield_required gfield_required_asterisk">*</span></span></label><div class='ginput_container ginput_container_email'> <input name='input_2' id='input_22_2' type='text' value='' class='medium' placeholder='E-mail adres' aria-required="true" aria-invalid="false" /> </div></li><li id="field_22_3" class="gfield gform_hidden field_sublabel_below field_description_below gfield_visibility_visible" data-js-reload="field_22_3"><div class='ginput_container ginput_container_text'><input name='input_3' id='input_22_3' type='hidden' class='gform_hidden' aria-invalid="false" value='https://www.him.nl/en/epoxy-floors-what-are-the-advantages-and-disadvantages/' /></div></li></ul></div> <div class='gform_footer top_label'> <input type="submit" id="gform_submit_button_22" class="gform_button button btn btn-primary" value="DOWNLOAD DIRECT" onclick='if(window["gf_submitting_22"]){return false;} window["gf_submitting_22"]=true; ' onkeypress='if( event.keyCode == 13 ){ if(window["gf_submitting_22"]){return false;} window["gf_submitting_22"]=true; jQuery("#gform_22").trigger("submit",[true]); }'> <input type='hidden' class='gform_hidden' name='is_submit_22' value='1' /> <input type='hidden' class='gform_hidden' name='gform_submit' value='22' /> <input type='hidden' class='gform_hidden' name='gform_unique_id' value='' /> <input type='hidden' class='gform_hidden' name='state_22' value='WyJbXSIsImQ0NzI3YjdmMzZhYjMzOTI3YzY4MGJhYjMwODMyMDYwIl0=' /> <input type='hidden' class='gform_hidden' name='gform_target_page_number_22' id='gform_target_page_number_22' value='0' /> <input type='hidden' class='gform_hidden' name='gform_source_page_number_22' id='gform_source_page_number_22' value='1' /> <input type='hidden' name='gform_field_values' value='' /> </div> <p style="display: none !important;"><label>&#916;<textarea name="ak_hp_textarea" cols="45" rows="8" maxlength="100"></textarea></label><input type="hidden" id="ak_js_11" name="ak_js" value="249"/><script>document.getElementById( "ak_js_11" ).setAttribute( "value", ( new Date() ).getTime() );</script></p></form> </div>
[gravityform id="12" title="false" description="false"]
<div class='gf_browser_unknown gform_wrapper vinduwvloer_wrapper gform_legacy_markup_wrapper' id='gform_wrapper_12' ><form method='post' enctype='multipart/form-data' id='gform_12' class='vinduwvloer gform_legacy_markup' action='/en/epoxy-floors-what-are-the-advantages-and-disadvantages/' > <div class='gform_body gform-body'><ul id='gform_fields_12' class='gform_fields top_label form_sublabel_below description_below'><li id="field_12_1" class="gfield optin gfield_contains_required field_sublabel_hidden_label field_description_below hidden_label gfield_visibility_visible" data-js-reload="field_12_1"><label class='gfield_label gfield_label_before_complex' >Naam<span class="gfield_required"><span class="gfield_required gfield_required_asterisk">*</span></span></label><div class='ginput_complex ginput_container no_prefix has_first_name no_middle_name no_last_name no_suffix gf_name_has_1 ginput_container_name' id='input_12_1'> <span id='input_12_1_3_container' class='name_first' > <input type='text' name='input_1.3' id='input_12_1_3' value='' aria-required='true' placeholder='First name' /> <label for='input_12_1_3' class='hidden_sub_label screen-reader-text'>First</label> </span> </div></li><li id="field_12_2" class="gfield optin gfield_contains_required field_sublabel_below field_description_below hidden_label gfield_visibility_visible" data-js-reload="field_12_2"><label class='gfield_label' for='input_12_2' >E-mailadres<span class="gfield_required"><span class="gfield_required gfield_required_asterisk">*</span></span></label><div class='ginput_container ginput_container_email'> <input name='input_2' id='input_12_2' type='text' value='' class='medium' placeholder='Email address' aria-required="true" aria-invalid="false" /> </div></li><li id="field_12_3" class="gfield gform_hidden field_sublabel_below field_description_below gfield_visibility_visible" data-js-reload="field_12_3"><div class='ginput_container ginput_container_text'><input name='input_3' id='input_12_3' type='hidden' class='gform_hidden' aria-invalid="false" value='https://www.him.nl/en/epoxy-floors-what-are-the-advantages-and-disadvantages/' /></div></li></ul></div> <div class='gform_footer top_label'> <input type="submit" id="gform_submit_button_12" class="gform_button button btn btn-primary" value="DOWNLOAD DIRECT" onclick='if(window["gf_submitting_12"]){return false;} window["gf_submitting_12"]=true; ' onkeypress='if( event.keyCode == 13 ){ if(window["gf_submitting_12"]){return false;} window["gf_submitting_12"]=true; jQuery("#gform_12").trigger("submit",[true]); }'> <input type='hidden' class='gform_hidden' name='is_submit_12' value='1' /> <input type='hidden' class='gform_hidden' name='gform_submit' value='12' /> <input type='hidden' class='gform_hidden' name='gform_unique_id' value='' /> <input type='hidden' class='gform_hidden' name='state_12' value='WyJbXSIsImQ0NzI3YjdmMzZhYjMzOTI3YzY4MGJhYjMwODMyMDYwIl0=' /> <input type='hidden' class='gform_hidden' name='gform_target_page_number_12' id='gform_target_page_number_12' value='0' /> <input type='hidden' class='gform_hidden' name='gform_source_page_number_12' id='gform_source_page_number_12' value='1' /> <input type='hidden' name='gform_field_values' value='' /> </div> <p style="display: none !important;"><label>&#916;<textarea name="ak_hp_textarea" cols="45" rows="8" maxlength="100"></textarea></label><input type="hidden" id="ak_js_12" name="ak_js" value="1"/><script>document.getElementById( "ak_js_12" ).setAttribute( "value", ( new Date() ).getTime() );</script></p></form> </div>
[gravityform id="10" title="false" description="false"]
<div class='gf_browser_unknown gform_wrapper vinduwvloer_wrapper gform_legacy_markup_wrapper' id='gform_wrapper_10' ><form method='post' enctype='multipart/form-data' id='gform_10' class='vinduwvloer gform_legacy_markup' action='/en/epoxy-floors-what-are-the-advantages-and-disadvantages/' > <div class='gform_body gform-body'><ul id='gform_fields_10' class='gform_fields top_label form_sublabel_below description_below'><li id="field_10_1" class="gfield optin gfield_contains_required field_sublabel_hidden_label field_description_below hidden_label gfield_visibility_visible" data-js-reload="field_10_1"><label class='gfield_label gfield_label_before_complex' >Naam<span class="gfield_required"><span class="gfield_required gfield_required_asterisk">*</span></span></label><div class='ginput_complex ginput_container no_prefix has_first_name no_middle_name no_last_name no_suffix gf_name_has_1 ginput_container_name' id='input_10_1'> <span id='input_10_1_3_container' class='name_first' > <input type='text' name='input_1.3' id='input_10_1_3' value='' aria-required='true' placeholder='Voornaam' /> <label for='input_10_1_3' class='hidden_sub_label screen-reader-text'>First</label> </span> </div></li><li id="field_10_2" class="gfield optin gfield_contains_required field_sublabel_below field_description_below hidden_label gfield_visibility_visible" data-js-reload="field_10_2"><label class='gfield_label' for='input_10_2' >E-mailadres<span class="gfield_required"><span class="gfield_required gfield_required_asterisk">*</span></span></label><div class='ginput_container ginput_container_email'> <input name='input_2' id='input_10_2' type='text' value='' class='medium' placeholder='E-mail adres' aria-required="true" aria-invalid="false" /> </div></li><li id="field_10_5" class="gfield gfield--width-full gfield_description gfield_contains_required field_sublabel_below field_description_below hidden_label gfield_visibility_visible" data-js-reload="field_10_5"><label class='gfield_label gfield_label_before_complex' >Toestemming<span class="gfield_required"><span class="gfield_required gfield_required_asterisk">*</span></span></label><div class='ginput_container ginput_container_checkbox'><ul class='gfield_checkbox' id='input_10_5'><li class='gchoice gchoice_10_5_1'> <input class='gfield-choice-input' name='input_5.1' type='checkbox' value='Ik ga ermee akkoord dat HIM mijn gegevens verwerkt en mij mailt' id='choice_10_5_1' /> <label for='choice_10_5_1' id='label_10_5_1'>Ik ga ermee akkoord dat HIM mijn gegevens verwerkt en mij mailt</label> </li></ul></div></li><li id="field_10_6" class="gfield gfield--width-full gfield_html gfield_html_formatted gfield_no_follows_desc field_sublabel_below field_description_below gfield_visibility_visible" data-js-reload="field_10_6"><p><br/></p></li><li id="field_10_3" class="gfield gform_hidden field_sublabel_below field_description_below gfield_visibility_visible" data-js-reload="field_10_3"><div class='ginput_container ginput_container_text'><input name='input_3' id='input_10_3' type='hidden' class='gform_hidden' aria-invalid="false" value='https://www.him.nl/en/epoxy-floors-what-are-the-advantages-and-disadvantages/' /></div></li></ul></div> <div class='gform_footer top_label'> <input type="submit" id="gform_submit_button_10" class="gform_button button btn btn-primary" value="DOWNLOAD DIRECT" onclick='if(window["gf_submitting_10"]){return false;} window["gf_submitting_10"]=true; ' onkeypress='if( event.keyCode == 13 ){ if(window["gf_submitting_10"]){return false;} window["gf_submitting_10"]=true; jQuery("#gform_10").trigger("submit",[true]); }'> <input type='hidden' class='gform_hidden' name='is_submit_10' value='1' /> <input type='hidden' class='gform_hidden' name='gform_submit' value='10' /> <input type='hidden' class='gform_hidden' name='gform_unique_id' value='' /> <input type='hidden' class='gform_hidden' name='state_10' value='WyJbXSIsImQ0NzI3YjdmMzZhYjMzOTI3YzY4MGJhYjMwODMyMDYwIl0=' /> <input type='hidden' class='gform_hidden' name='gform_target_page_number_10' id='gform_target_page_number_10' value='0' /> <input type='hidden' class='gform_hidden' name='gform_source_page_number_10' id='gform_source_page_number_10' value='1' /> <input type='hidden' name='gform_field_values' value='' /> </div> <p style="display: none !important;"><label>&#916;<textarea name="ak_hp_textarea" cols="45" rows="8" maxlength="100"></textarea></label><input type="hidden" id="ak_js_13" name="ak_js" value="78"/><script>document.getElementById( "ak_js_13" ).setAttribute( "value", ( new Date() ).getTime() );</script></p></form> </div>