Belijningen en markeringen zijn onmisbaar binnen magazijnen, parkeergarages en industriële werkplaatsen. Waar mens en machine samenkomen, is veiligheid van het grootste belang. De signalerende werking die uitgaat van onze duurzame binnenbelijning en markeringstoepassingen, verhoogt de veiligheid en overzichtelijkheid binnen de ruimte aanzienlijk. Hiermee stroomlijnt u de gang van zaken op de (werk)vloer en worden grote efficiëntieverbeteringen mogelijk.
In dit artikel geven we meer inzicht in de verschillende mogelijkheden om de veiligheid en efficiëntie binnen uw gebruiksruimte te bevorderen door middel van belijningen en markeringen.
Meer veiligheid door afbakenen gevarenzones
Niemand brengt zijn medewerkers of gebruikers moedwillig in gevaar. Toch is vaak enige nonchalance in het spel, blijkt uit cijfers van het RIVM. Aanrijdingen tussen voertuigen of tussen personen en voertuigen, letselschade door machinerie; dergelijke onfortuinlijke voorvallen kunnen met de nodige voorzorgsmaatregelen – lees: belijningen en markeringen – eenvoudig worden voorkomen.
"Veel ongevallen vinden plaats omdat medewerkers of gebruikers zich niet bewust zijn van het feit zich binnen een gevarenzone te bevinden."
Belijningen en markeringen in alle soorten en maten
Belijningen en markeringen dienen verschillende doelen en zijn verkrijgbaar in alle soorten en maten. Hier volgen de meest gebruikte toepassingen:
Oversteekplaatsen en wachtstroken. Ter bevordering van een veilige doorstroming, door het aanbrengen van duidelijke voorrangsregels. Denk aan inpandige zebrapaden;
Symbolen en pictogrammen. Voor het afgeven van een waarschuwingssignaal. Met dergelijke tekens ziet de gebruiker in één oogopslag met welke potentiële gevaren hij of zij van doen heeft;
Locatienummering en vakken. Voor een efficiënt gebruik van de beschikbare ruimte door middel van betere ordering. Denk aan opslagplaatsen voor pallets of laad- en losruimtes.
Loop- en vluchtroutes. Belijningen dienen ook als bewegwijzering om looppaden en aan- en afvoerroutes van bijvoorbeeld heftrucks te markeren. In combinatie met luminiserende toepassingen maakt u op gevaarlijke plaatsen goed zichtbaar waar de vluchtroutes zich bevinden, zelfs wanneer het licht onverhoopt uitvalt bij calamiteiten.
Uiteenlopende toepassingsgebieden van belijningen en markeringen
De meest voorkomende toepassingsgebieden van belijningen en markeringen zijn: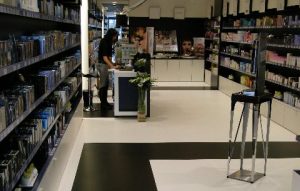 Opslagfaciliteiten. Magazijnvloeren en vloeren in soortgelijke opslagruimtes hebben baat bij een ordentelijk ingerichte structuur. Opstelvakken en looproutes zorgen voor duidelijke scheidslijnen zodat de werkstroom prettig en efficiënt kan verlopen. Medewerkers zien immers direct waar materiaal opgeslagen kan worden.
Industriële toepassingen. Procesondersteunende belijning is zeer praktisch voor productievloeren en verwerkingsomgevingen. Belijningen en markeringen geven op concrete wijze invulling aan de algemeen geldende wettelijke veiligheidseisen zoals vastgelegd in de Arbo en het bouwbesluit. Bedrijfsprocessen kunnen zo veilig en wel ongestoord door blijven lopen.
Parkeergarages. Bij parkeergaragevloeren dragen belijningen eraan bij dat een hogere bezetting(sgraad) gerealiseerd kan worden.
Gestroomlijnd te werk gaan met HIM LMP
Met HIM LMP (Lining and Marking Paint)brengt u eenvoudig fraaie belijningen en markeringen aan. Onze hoogdekkende, watergedispergeerde tweecomponenten epoxycoating kan worden aangebracht op de volgende ondergronden:
Beton, mits de ondergrond schoon en goed samenhangend is;
Asfaltvloeren van 6 maanden en ouder;
Kunststof vloer- en wandafwerkingen
De applicatie van HIM LMP op vloeren van opslagruimtes, parkeergarages en industriële ruimtes leidt onmiskenbaar tot veiligere situaties en een hogere productiecapaciteit. Zo komen de gebruiksdoelen van de ruimte veel beter tot hun recht.
Ontdek de mogelijkheden van onze belijningen en markeringen
Benieuwd naar alle mogelijkheden van HIM LMP? Neem dan vrijblijvend contact met ons op. Of download hieronder de productinformatie met applicatievoorschriften.
---
Publicatiedatum: 2019-11-11
Categorie: Nieuws