Polyurethaan coating – mogelijkheden alom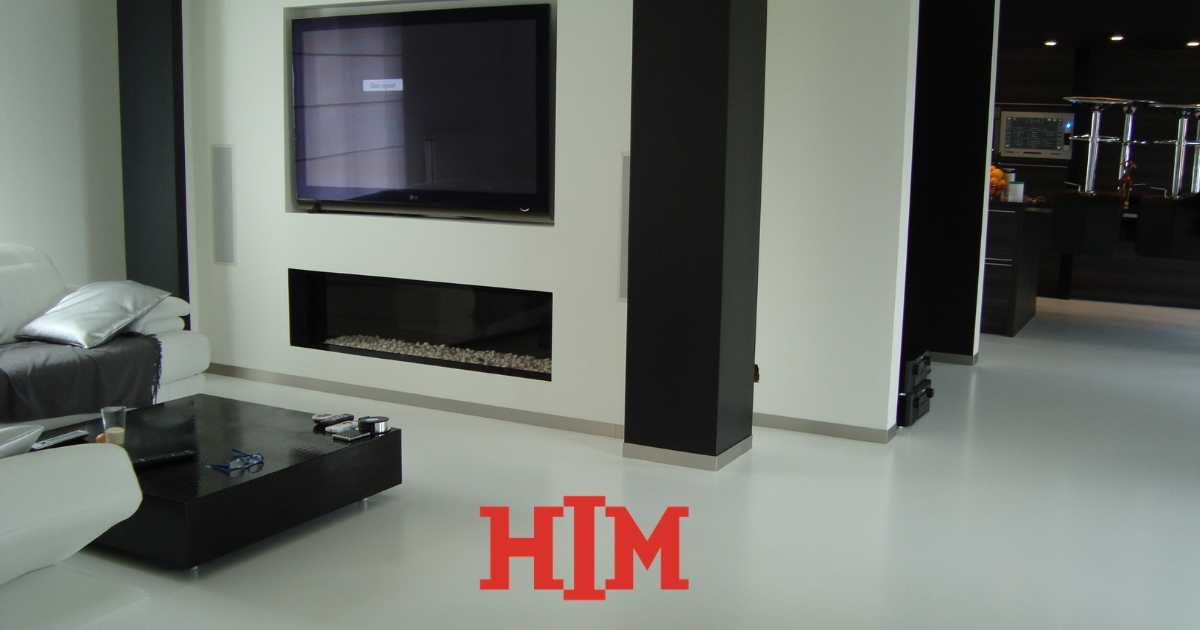 Een polyurethaan coating is een multifunctionele coating. De coating maakt vloeren vloeistofdicht, naadloos, slijtvast en vuilafstotend. Omwille van deze eigenschappen kent dit type coating legio toepassingen in onder meer openbare gebouwen, werkplaatsen, showrooms en winkels, kantoren en woningen. In dit artikel leest u meer over de vele mogelijkheden van polyurethaan coatings.
Polyurethaan coating biedt legio mogelijkheden
Polyurethaan coatings worden – hoewel niet ongebruikelijk – niet uitsluitend als finish toegepast op gietvloeren op basis van hetzelfde polymeer. Polyurethaan coatings worden regelmatig op epoxy gebonden vloersystemen aangebracht, zoals op gemodificeerde epoxy vloeren en troffelvloeren. (In het laatste geval wordt daartussen eerst nog een sealer aangebracht om de natuurlijk porositeit van de troffelvloer op te heffen.)
Andersom, het aanbrengen van een epoxy coating op een uit polyurethaan opgebouwde gietvloer, is daarentegen hoogst ongebruikelijk. (Een positieve uitzondering hierop vormt HIM LMP, een watergedispergeerde, tweecomponenten epoxycoating waarmee markeringen en bewegwijzering kan worden aangebracht.)
Applicatieproces polyurethaan coating
Wanneer de coating wordt aangebracht op een bestaande (verouderde) epoxy of polyurethaan vloerafwerking, dient deze goed droog, schoon en egaal te zijn.
Ter bevordering van de hechting adviseren we met stip de vloer vooraf zeer goed te ontvetten, licht op te schuren met een schuurschijf met kleine korrel en achtereenvolgens goed stofvrij te maken.
Polyurethaan vloercoatings kunnen met een roller of kwast worden aangebracht. Het is niet nodig om vooraf een primer aan te brengen.
Vorm en functionaliteit naar wens
Polyurethaan coatings kunnen worden samengesteld volgens uiteenlopende gebruikswensen:
PU coatings zijn verkrijgbaar in vrijwel alle RAL- en NCS-kleuren en als transparant-matte en transparant-satijnen uitvoeringen;
PU coatings kunnen ook in stroevere vorm worden geappliceerd. De coating krijgt een anti-slipwerking door aan de laatste laag speciaal antislippoeder met een korrelgrootte van 0,1 mm toe te voegen;
Wanneer u kiest voor een dikkere PU gietvloer, dan kunt u ook kleine hoogteverschillen overbruggen en verkrijgt de vloer door zijn licht-elastische karakter enigszins (geluid)dempende eigenschappen;
Wanneer vloeistofdichtheid volstaat, dan kunt u goed uit de voeten met een watergedragen polyurethaan vloercoating. Wanneer chemische resistentie van doorslaggevend belang is bij de keuze voor een polyurethaan coating, dan adviseren we gebruik te maken een oplosmiddelhoudende variant.
Hoogwaardige coatings bij HIM
HIM beschikt over hoogwaardige en esthetische polyurethaan coatings in verschillende uitvoeringen. Meer weten? Onze adviseurs informeren u graag over de mogelijkheden. Bel voor meer informatie naar +31 (0)251-276300 of stuur een bericht via onze contactpagina.
---
Publicatiedatum: 2019-06-14
Categorie: Nieuws
[gravityform id="13" title="false" description="false"]
<div class='gf_browser_unknown gform_wrapper gform_legacy_markup_wrapper gform-theme--no-framework vinduwvloer_wrapper' data-form-theme='legacy' data-form-index='0' id='gform_wrapper_13' style='display:none'><form method='post' enctype='multipart/form-data' id='gform_13' class='vinduwvloer' action='/polyurethaan-coating-mogelijkheden-alom/' data-formid='13' > <div class='gform-body gform_body'><ul id='gform_fields_13' class='gform_fields top_label form_sublabel_below description_below'><li id="field_13_1" class="gfield gfield--type-name optin gfield_contains_required field_sublabel_hidden_label gfield--no-description field_description_below hidden_label gfield_visibility_visible" data-js-reload="field_13_1"><label class='gfield_label gform-field-label gfield_label_before_complex' >Naam<span class="gfield_required"><span class="gfield_required gfield_required_asterisk">*</span></span></label><div class='ginput_complex ginput_container ginput_container--name no_prefix has_first_name no_middle_name no_last_name no_suffix gf_name_has_1 ginput_container_name gform-grid-row' id='input_13_1'> <span id='input_13_1_3_container' class='name_first gform-grid-col gform-grid-col--size-auto' > <input type='text' name='input_1.3' id='input_13_1_3' value='' aria-required='true' placeholder='Voornaam' /> <label for='input_13_1_3' class='gform-field-label gform-field-label--type-sub hidden_sub_label screen-reader-text'>Voornaam</label> </span> </div></li><li id="field_13_2" class="gfield gfield--type-email optin gfield_contains_required field_sublabel_below gfield--no-description field_description_below hidden_label gfield_visibility_visible" data-js-reload="field_13_2"><label class='gfield_label gform-field-label' for='input_13_2' >E-mailadres<span class="gfield_required"><span class="gfield_required gfield_required_asterisk">*</span></span></label><div class='ginput_container ginput_container_email'> <input name='input_2' id='input_13_2' type='text' value='' class='medium' placeholder='E-mailadres' aria-required="true" aria-invalid="false" /> </div></li><li id="field_13_3" class="gfield gfield--type-hidden gform_hidden field_sublabel_below gfield--no-description field_description_below gfield_visibility_visible" data-js-reload="field_13_3"><div class='ginput_container ginput_container_text'><input name='input_3' id='input_13_3' type='hidden' class='gform_hidden' aria-invalid="false" value='https://www.him.nl/polyurethaan-coating-mogelijkheden-alom/' /></div></li></ul></div> <div class='gform_footer top_label'> <input type="submit" id="gform_submit_button_13" class="gform_button button btn btn-primary" value="DOWNLOAD DIRECT" onclick='if(window["gf_submitting_13"]){return false;} window["gf_submitting_13"]=true; ' onkeypress='if( event.keyCode == 13 ){ if(window["gf_submitting_13"]){return false;} window["gf_submitting_13"]=true; jQuery("#gform_13").trigger("submit",[true]); }'> <input type='hidden' class='gform_hidden' name='is_submit_13' value='1' /> <input type='hidden' class='gform_hidden' name='gform_submit' value='13' /> <input type='hidden' class='gform_hidden' name='gform_unique_id' value='' /> <input type='hidden' class='gform_hidden' name='state_13' value='WyJbXSIsImQ0NzI3YjdmMzZhYjMzOTI3YzY4MGJhYjMwODMyMDYwIl0=' /> <input type='hidden' class='gform_hidden' name='gform_target_page_number_13' id='gform_target_page_number_13' value='0' /> <input type='hidden' class='gform_hidden' name='gform_source_page_number_13' id='gform_source_page_number_13' value='1' /> <input type='hidden' name='gform_field_values' value='' /> </div> <p style="display: none !important;"><label>&#916;<textarea name="ak_hp_textarea" cols="45" rows="8" maxlength="100"></textarea></label><input type="hidden" id="ak_js_2" name="ak_js" value="200"/><script>document.getElementById( "ak_js_2" ).setAttribute( "value", ( new Date() ).getTime() );</script></p></form> </div><script type="text/javascript"> gform.initializeOnLoaded( function() {gformInitSpinner( 13, 'https://www.him.nl/wp-content/plugins/gravityforms/images/spinner.svg', true );jQuery('#gform_ajax_frame_13').on('load',function(){var contents = jQuery(this).contents().find('*').html();var is_postback = contents.indexOf('GF_AJAX_POSTBACK') >= 0;if(!is_postback){return;}var form_content = jQuery(this).contents().find('#gform_wrapper_13');var is_confirmation = jQuery(this).contents().find('#gform_confirmation_wrapper_13').length > 0;var is_redirect = contents.indexOf('gformRedirect(){') >= 0;var is_form = form_content.length > 0 && ! is_redirect && ! is_confirmation;var mt = parseInt(jQuery('html').css('margin-top'), 10) + parseInt(jQuery('body').css('margin-top'), 10) + 100;if(is_form){jQuery('#gform_wrapper_13').html(form_content.html());if(form_content.hasClass('gform_validation_error')){jQuery('#gform_wrapper_13').addClass('gform_validation_error');} else {jQuery('#gform_wrapper_13').removeClass('gform_validation_error');}setTimeout( function() { /* delay the scroll by 50 milliseconds to fix a bug in chrome */ }, 50 );if(window['gformInitDatepicker']) {gformInitDatepicker();}if(window['gformInitPriceFields']) {gformInitPriceFields();}var current_page = jQuery('#gform_source_page_number_13').val();gformInitSpinner( 13, 'https://www.him.nl/wp-content/plugins/gravityforms/images/spinner.svg', true );jQuery(document).trigger('gform_page_loaded', [13, current_page]);window['gf_submitting_13'] = false;}else if(!is_redirect){var confirmation_content = jQuery(this).contents().find('.GF_AJAX_POSTBACK').html();if(!confirmation_content){confirmation_content = contents;}setTimeout(function(){jQuery('#gform_wrapper_13').replaceWith(confirmation_content);jQuery(document).trigger('gform_confirmation_loaded', [13]);window['gf_submitting_13'] = false;wp.a11y.speak(jQuery('#gform_confirmation_message_13').text());}, 50);}else{jQuery('#gform_13').append(contents);if(window['gformRedirect']) {gformRedirect();}}jQuery(document).trigger('gform_post_render', [13, current_page]);gform.utils.trigger({ event: 'gform/postRender', native: false, data: { formId: 13, currentPage: current_page } });} );} ); </script>
[gravityform id="22" title="false" description="false"]
<div class='gf_browser_unknown gform_wrapper gform_legacy_markup_wrapper gform-theme--no-framework vinduwvloer_wrapper' data-form-theme='legacy' data-form-index='0' id='gform_wrapper_22' ><form method='post' enctype='multipart/form-data' id='gform_22' class='vinduwvloer' action='/polyurethaan-coating-mogelijkheden-alom/' data-formid='22' > <div class='gform-body gform_body'><ul id='gform_fields_22' class='gform_fields top_label form_sublabel_below description_below'><li id="field_22_1" class="gfield gfield--type-name optin gfield_contains_required field_sublabel_hidden_label gfield--no-description field_description_below hidden_label gfield_visibility_visible" data-js-reload="field_22_1"><label class='gfield_label gform-field-label gfield_label_before_complex' >Naam<span class="gfield_required"><span class="gfield_required gfield_required_asterisk">*</span></span></label><div class='ginput_complex ginput_container ginput_container--name no_prefix has_first_name no_middle_name no_last_name no_suffix gf_name_has_1 ginput_container_name gform-grid-row' id='input_22_1'> <span id='input_22_1_3_container' class='name_first gform-grid-col gform-grid-col--size-auto' > <input type='text' name='input_1.3' id='input_22_1_3' value='' aria-required='true' placeholder='Voornaam' /> <label for='input_22_1_3' class='gform-field-label gform-field-label--type-sub hidden_sub_label screen-reader-text'>Voornaam</label> </span> </div></li><li id="field_22_2" class="gfield gfield--type-email optin gfield_contains_required field_sublabel_below gfield--no-description field_description_below hidden_label gfield_visibility_visible" data-js-reload="field_22_2"><label class='gfield_label gform-field-label' for='input_22_2' >E-mailadres<span class="gfield_required"><span class="gfield_required gfield_required_asterisk">*</span></span></label><div class='ginput_container ginput_container_email'> <input name='input_2' id='input_22_2' type='text' value='' class='medium' placeholder='E-mail adres' aria-required="true" aria-invalid="false" /> </div></li><li id="field_22_3" class="gfield gfield--type-hidden gform_hidden field_sublabel_below gfield--no-description field_description_below gfield_visibility_visible" data-js-reload="field_22_3"><div class='ginput_container ginput_container_text'><input name='input_3' id='input_22_3' type='hidden' class='gform_hidden' aria-invalid="false" value='https://www.him.nl/polyurethaan-coating-mogelijkheden-alom/' /></div></li></ul></div> <div class='gform_footer top_label'> <input type="submit" id="gform_submit_button_22" class="gform_button button btn btn-primary" value="DOWNLOAD DIRECT" onclick='if(window["gf_submitting_22"]){return false;} window["gf_submitting_22"]=true; ' onkeypress='if( event.keyCode == 13 ){ if(window["gf_submitting_22"]){return false;} window["gf_submitting_22"]=true; jQuery("#gform_22").trigger("submit",[true]); }'> <input type='hidden' class='gform_hidden' name='is_submit_22' value='1' /> <input type='hidden' class='gform_hidden' name='gform_submit' value='22' /> <input type='hidden' class='gform_hidden' name='gform_unique_id' value='' /> <input type='hidden' class='gform_hidden' name='state_22' value='WyJbXSIsImQ0NzI3YjdmMzZhYjMzOTI3YzY4MGJhYjMwODMyMDYwIl0=' /> <input type='hidden' class='gform_hidden' name='gform_target_page_number_22' id='gform_target_page_number_22' value='0' /> <input type='hidden' class='gform_hidden' name='gform_source_page_number_22' id='gform_source_page_number_22' value='1' /> <input type='hidden' name='gform_field_values' value='' /> </div> <p style="display: none !important;"><label>&#916;<textarea name="ak_hp_textarea" cols="45" rows="8" maxlength="100"></textarea></label><input type="hidden" id="ak_js_3" name="ak_js" value="161"/><script>document.getElementById( "ak_js_3" ).setAttribute( "value", ( new Date() ).getTime() );</script></p></form> </div><script type="text/javascript"> gform.initializeOnLoaded( function() {gformInitSpinner( 22, 'https://www.him.nl/wp-content/plugins/gravityforms/images/spinner.svg', true );jQuery('#gform_ajax_frame_22').on('load',function(){var contents = jQuery(this).contents().find('*').html();var is_postback = contents.indexOf('GF_AJAX_POSTBACK') >= 0;if(!is_postback){return;}var form_content = jQuery(this).contents().find('#gform_wrapper_22');var is_confirmation = jQuery(this).contents().find('#gform_confirmation_wrapper_22').length > 0;var is_redirect = contents.indexOf('gformRedirect(){') >= 0;var is_form = form_content.length > 0 && ! is_redirect && ! is_confirmation;var mt = parseInt(jQuery('html').css('margin-top'), 10) + parseInt(jQuery('body').css('margin-top'), 10) + 100;if(is_form){jQuery('#gform_wrapper_22').html(form_content.html());if(form_content.hasClass('gform_validation_error')){jQuery('#gform_wrapper_22').addClass('gform_validation_error');} else {jQuery('#gform_wrapper_22').removeClass('gform_validation_error');}setTimeout( function() { /* delay the scroll by 50 milliseconds to fix a bug in chrome */ }, 50 );if(window['gformInitDatepicker']) {gformInitDatepicker();}if(window['gformInitPriceFields']) {gformInitPriceFields();}var current_page = jQuery('#gform_source_page_number_22').val();gformInitSpinner( 22, 'https://www.him.nl/wp-content/plugins/gravityforms/images/spinner.svg', true );jQuery(document).trigger('gform_page_loaded', [22, current_page]);window['gf_submitting_22'] = false;}else if(!is_redirect){var confirmation_content = jQuery(this).contents().find('.GF_AJAX_POSTBACK').html();if(!confirmation_content){confirmation_content = contents;}setTimeout(function(){jQuery('#gform_wrapper_22').replaceWith(confirmation_content);jQuery(document).trigger('gform_confirmation_loaded', [22]);window['gf_submitting_22'] = false;wp.a11y.speak(jQuery('#gform_confirmation_message_22').text());}, 50);}else{jQuery('#gform_22').append(contents);if(window['gformRedirect']) {gformRedirect();}}jQuery(document).trigger('gform_post_render', [22, current_page]);gform.utils.trigger({ event: 'gform/postRender', native: false, data: { formId: 22, currentPage: current_page } });} );} ); </script>
[gravityform id="24" title="false" description="false"]
<div class='gf_browser_unknown gform_wrapper gform_legacy_markup_wrapper gform-theme--no-framework vinduwvloer_wrapper' data-form-theme='legacy' data-form-index='0' id='gform_wrapper_24' ><form method='post' enctype='multipart/form-data' id='gform_24' class='vinduwvloer' action='/polyurethaan-coating-mogelijkheden-alom/' data-formid='24' > <div class='gform-body gform_body'><ul id='gform_fields_24' class='gform_fields top_label form_sublabel_below description_below'><li id="field_24_1" class="gfield gfield--type-name optin gfield_contains_required field_sublabel_hidden_label gfield--no-description field_description_below hidden_label gfield_visibility_visible" data-js-reload="field_24_1"><label class='gfield_label gform-field-label gfield_label_before_complex' >First name<span class="gfield_required"><span class="gfield_required gfield_required_asterisk">*</span></span></label><div class='ginput_complex ginput_container ginput_container--name no_prefix has_first_name no_middle_name no_last_name no_suffix gf_name_has_1 ginput_container_name gform-grid-row' id='input_24_1'> <span id='input_24_1_3_container' class='name_first gform-grid-col gform-grid-col--size-auto' > <input type='text' name='input_1.3' id='input_24_1_3' value='' aria-required='true' placeholder='First name' /> <label for='input_24_1_3' class='gform-field-label gform-field-label--type-sub hidden_sub_label screen-reader-text'>First name</label> </span> </div></li><li id="field_24_2" class="gfield gfield--type-email optin gfield_contains_required field_sublabel_below gfield--no-description field_description_below hidden_label gfield_visibility_visible" data-js-reload="field_24_2"><label class='gfield_label gform-field-label' for='input_24_2' >E-mail address<span class="gfield_required"><span class="gfield_required gfield_required_asterisk">*</span></span></label><div class='ginput_container ginput_container_email'> <input name='input_2' id='input_24_2' type='text' value='' class='medium' placeholder='E-mail address' aria-required="true" aria-invalid="false" /> </div></li><li id="field_24_3" class="gfield gfield--type-hidden gform_hidden field_sublabel_below gfield--no-description field_description_below gfield_visibility_visible" data-js-reload="field_24_3"><div class='ginput_container ginput_container_text'><input name='input_3' id='input_24_3' type='hidden' class='gform_hidden' aria-invalid="false" value='https://www.him.nl/polyurethaan-coating-mogelijkheden-alom/' /></div></li></ul></div> <div class='gform_footer top_label'> <input type="submit" id="gform_submit_button_24" class="gform_button button btn btn-primary" value="DOWNLOAD DIRECT" onclick='if(window["gf_submitting_24"]){return false;} window["gf_submitting_24"]=true; ' onkeypress='if( event.keyCode == 13 ){ if(window["gf_submitting_24"]){return false;} window["gf_submitting_24"]=true; jQuery("#gform_24").trigger("submit",[true]); }'> <input type='hidden' class='gform_hidden' name='is_submit_24' value='1' /> <input type='hidden' class='gform_hidden' name='gform_submit' value='24' /> <input type='hidden' class='gform_hidden' name='gform_unique_id' value='' /> <input type='hidden' class='gform_hidden' name='state_24' value='WyJbXSIsImQ0NzI3YjdmMzZhYjMzOTI3YzY4MGJhYjMwODMyMDYwIl0=' /> <input type='hidden' class='gform_hidden' name='gform_target_page_number_24' id='gform_target_page_number_24' value='0' /> <input type='hidden' class='gform_hidden' name='gform_source_page_number_24' id='gform_source_page_number_24' value='1' /> <input type='hidden' name='gform_field_values' value='' /> </div> <p style="display: none !important;"><label>&#916;<textarea name="ak_hp_textarea" cols="45" rows="8" maxlength="100"></textarea></label><input type="hidden" id="ak_js_4" name="ak_js" value="3"/><script>document.getElementById( "ak_js_4" ).setAttribute( "value", ( new Date() ).getTime() );</script></p></form> </div><script type="text/javascript"> gform.initializeOnLoaded( function() {gformInitSpinner( 24, 'https://www.him.nl/wp-content/plugins/gravityforms/images/spinner.svg', true );jQuery('#gform_ajax_frame_24').on('load',function(){var contents = jQuery(this).contents().find('*').html();var is_postback = contents.indexOf('GF_AJAX_POSTBACK') >= 0;if(!is_postback){return;}var form_content = jQuery(this).contents().find('#gform_wrapper_24');var is_confirmation = jQuery(this).contents().find('#gform_confirmation_wrapper_24').length > 0;var is_redirect = contents.indexOf('gformRedirect(){') >= 0;var is_form = form_content.length > 0 && ! is_redirect && ! is_confirmation;var mt = parseInt(jQuery('html').css('margin-top'), 10) + parseInt(jQuery('body').css('margin-top'), 10) + 100;if(is_form){jQuery('#gform_wrapper_24').html(form_content.html());if(form_content.hasClass('gform_validation_error')){jQuery('#gform_wrapper_24').addClass('gform_validation_error');} else {jQuery('#gform_wrapper_24').removeClass('gform_validation_error');}setTimeout( function() { /* delay the scroll by 50 milliseconds to fix a bug in chrome */ }, 50 );if(window['gformInitDatepicker']) {gformInitDatepicker();}if(window['gformInitPriceFields']) {gformInitPriceFields();}var current_page = jQuery('#gform_source_page_number_24').val();gformInitSpinner( 24, 'https://www.him.nl/wp-content/plugins/gravityforms/images/spinner.svg', true );jQuery(document).trigger('gform_page_loaded', [24, current_page]);window['gf_submitting_24'] = false;}else if(!is_redirect){var confirmation_content = jQuery(this).contents().find('.GF_AJAX_POSTBACK').html();if(!confirmation_content){confirmation_content = contents;}setTimeout(function(){jQuery('#gform_wrapper_24').replaceWith(confirmation_content);jQuery(document).trigger('gform_confirmation_loaded', [24]);window['gf_submitting_24'] = false;wp.a11y.speak(jQuery('#gform_confirmation_message_24').text());}, 50);}else{jQuery('#gform_24').append(contents);if(window['gformRedirect']) {gformRedirect();}}jQuery(document).trigger('gform_post_render', [24, current_page]);gform.utils.trigger({ event: 'gform/postRender', native: false, data: { formId: 24, currentPage: current_page } });} );} ); </script>
[gravityform id="22" title="false" description="false"]
<div class='gf_browser_unknown gform_wrapper gform_legacy_markup_wrapper gform-theme--no-framework vinduwvloer_wrapper' data-form-theme='legacy' data-form-index='0' id='gform_wrapper_22' ><form method='post' enctype='multipart/form-data' id='gform_22' class='vinduwvloer' action='/polyurethaan-coating-mogelijkheden-alom/' data-formid='22' > <div class='gform-body gform_body'><ul id='gform_fields_22' class='gform_fields top_label form_sublabel_below description_below'><li id="field_22_1" class="gfield gfield--type-name optin gfield_contains_required field_sublabel_hidden_label gfield--no-description field_description_below hidden_label gfield_visibility_visible" data-js-reload="field_22_1"><label class='gfield_label gform-field-label gfield_label_before_complex' >Naam<span class="gfield_required"><span class="gfield_required gfield_required_asterisk">*</span></span></label><div class='ginput_complex ginput_container ginput_container--name no_prefix has_first_name no_middle_name no_last_name no_suffix gf_name_has_1 ginput_container_name gform-grid-row' id='input_22_1'> <span id='input_22_1_3_container' class='name_first gform-grid-col gform-grid-col--size-auto' > <input type='text' name='input_1.3' id='input_22_1_3' value='' aria-required='true' placeholder='Voornaam' /> <label for='input_22_1_3' class='gform-field-label gform-field-label--type-sub hidden_sub_label screen-reader-text'>Voornaam</label> </span> </div></li><li id="field_22_2" class="gfield gfield--type-email optin gfield_contains_required field_sublabel_below gfield--no-description field_description_below hidden_label gfield_visibility_visible" data-js-reload="field_22_2"><label class='gfield_label gform-field-label' for='input_22_2' >E-mailadres<span class="gfield_required"><span class="gfield_required gfield_required_asterisk">*</span></span></label><div class='ginput_container ginput_container_email'> <input name='input_2' id='input_22_2' type='text' value='' class='medium' placeholder='E-mail adres' aria-required="true" aria-invalid="false" /> </div></li><li id="field_22_3" class="gfield gfield--type-hidden gform_hidden field_sublabel_below gfield--no-description field_description_below gfield_visibility_visible" data-js-reload="field_22_3"><div class='ginput_container ginput_container_text'><input name='input_3' id='input_22_3' type='hidden' class='gform_hidden' aria-invalid="false" value='https://www.him.nl/polyurethaan-coating-mogelijkheden-alom/' /></div></li></ul></div> <div class='gform_footer top_label'> <input type="submit" id="gform_submit_button_22" class="gform_button button btn btn-primary" value="DOWNLOAD DIRECT" onclick='if(window["gf_submitting_22"]){return false;} window["gf_submitting_22"]=true; ' onkeypress='if( event.keyCode == 13 ){ if(window["gf_submitting_22"]){return false;} window["gf_submitting_22"]=true; jQuery("#gform_22").trigger("submit",[true]); }'> <input type='hidden' class='gform_hidden' name='is_submit_22' value='1' /> <input type='hidden' class='gform_hidden' name='gform_submit' value='22' /> <input type='hidden' class='gform_hidden' name='gform_unique_id' value='' /> <input type='hidden' class='gform_hidden' name='state_22' value='WyJbXSIsImQ0NzI3YjdmMzZhYjMzOTI3YzY4MGJhYjMwODMyMDYwIl0=' /> <input type='hidden' class='gform_hidden' name='gform_target_page_number_22' id='gform_target_page_number_22' value='0' /> <input type='hidden' class='gform_hidden' name='gform_source_page_number_22' id='gform_source_page_number_22' value='1' /> <input type='hidden' name='gform_field_values' value='' /> </div> <p style="display: none !important;"><label>&#916;<textarea name="ak_hp_textarea" cols="45" rows="8" maxlength="100"></textarea></label><input type="hidden" id="ak_js_5" name="ak_js" value="31"/><script>document.getElementById( "ak_js_5" ).setAttribute( "value", ( new Date() ).getTime() );</script></p></form> </div><script type="text/javascript"> gform.initializeOnLoaded( function() {gformInitSpinner( 22, 'https://www.him.nl/wp-content/plugins/gravityforms/images/spinner.svg', true );jQuery('#gform_ajax_frame_22').on('load',function(){var contents = jQuery(this).contents().find('*').html();var is_postback = contents.indexOf('GF_AJAX_POSTBACK') >= 0;if(!is_postback){return;}var form_content = jQuery(this).contents().find('#gform_wrapper_22');var is_confirmation = jQuery(this).contents().find('#gform_confirmation_wrapper_22').length > 0;var is_redirect = contents.indexOf('gformRedirect(){') >= 0;var is_form = form_content.length > 0 && ! is_redirect && ! is_confirmation;var mt = parseInt(jQuery('html').css('margin-top'), 10) + parseInt(jQuery('body').css('margin-top'), 10) + 100;if(is_form){jQuery('#gform_wrapper_22').html(form_content.html());if(form_content.hasClass('gform_validation_error')){jQuery('#gform_wrapper_22').addClass('gform_validation_error');} else {jQuery('#gform_wrapper_22').removeClass('gform_validation_error');}setTimeout( function() { /* delay the scroll by 50 milliseconds to fix a bug in chrome */ }, 50 );if(window['gformInitDatepicker']) {gformInitDatepicker();}if(window['gformInitPriceFields']) {gformInitPriceFields();}var current_page = jQuery('#gform_source_page_number_22').val();gformInitSpinner( 22, 'https://www.him.nl/wp-content/plugins/gravityforms/images/spinner.svg', true );jQuery(document).trigger('gform_page_loaded', [22, current_page]);window['gf_submitting_22'] = false;}else if(!is_redirect){var confirmation_content = jQuery(this).contents().find('.GF_AJAX_POSTBACK').html();if(!confirmation_content){confirmation_content = contents;}setTimeout(function(){jQuery('#gform_wrapper_22').replaceWith(confirmation_content);jQuery(document).trigger('gform_confirmation_loaded', [22]);window['gf_submitting_22'] = false;wp.a11y.speak(jQuery('#gform_confirmation_message_22').text());}, 50);}else{jQuery('#gform_22').append(contents);if(window['gformRedirect']) {gformRedirect();}}jQuery(document).trigger('gform_post_render', [22, current_page]);gform.utils.trigger({ event: 'gform/postRender', native: false, data: { formId: 22, currentPage: current_page } });} );} ); </script>
[gravityform id="16" title="false" description="false"]
<div class='gf_browser_unknown gform_wrapper gform_legacy_markup_wrapper gform-theme--no-framework vinduwvloer_wrapper' data-form-theme='legacy' data-form-index='0' id='gform_wrapper_16' style='display:none'><form method='post' enctype='multipart/form-data' id='gform_16' class='vinduwvloer' action='/polyurethaan-coating-mogelijkheden-alom/' data-formid='16' > <div class='gform-body gform_body'><ul id='gform_fields_16' class='gform_fields top_label form_sublabel_below description_below'><li id="field_16_1" class="gfield gfield--type-name optin gfield_contains_required field_sublabel_hidden_label gfield--no-description field_description_below hidden_label gfield_visibility_visible" data-js-reload="field_16_1"><label class='gfield_label gform-field-label gfield_label_before_complex' >Name<span class="gfield_required"><span class="gfield_required gfield_required_asterisk">*</span></span></label><div class='ginput_complex ginput_container ginput_container--name no_prefix has_first_name no_middle_name no_last_name no_suffix gf_name_has_1 ginput_container_name gform-grid-row' id='input_16_1'> <span id='input_16_1_3_container' class='name_first gform-grid-col gform-grid-col--size-auto' > <input type='text' name='input_1.3' id='input_16_1_3' value='' aria-required='true' placeholder='First name' /> <label for='input_16_1_3' class='gform-field-label gform-field-label--type-sub hidden_sub_label screen-reader-text'>First name</label> </span> </div></li><li id="field_16_2" class="gfield gfield--type-email optin gfield_contains_required field_sublabel_below gfield--no-description field_description_below hidden_label gfield_visibility_visible" data-js-reload="field_16_2"><label class='gfield_label gform-field-label' for='input_16_2' >E-mail address<span class="gfield_required"><span class="gfield_required gfield_required_asterisk">*</span></span></label><div class='ginput_container ginput_container_email'> <input name='input_2' id='input_16_2' type='text' value='' class='medium' placeholder='E-mail address' aria-required="true" aria-invalid="false" /> </div></li><li id="field_16_3" class="gfield gfield--type-hidden gform_hidden field_sublabel_below gfield--no-description field_description_below gfield_visibility_visible" data-js-reload="field_16_3"><div class='ginput_container ginput_container_text'><input name='input_3' id='input_16_3' type='hidden' class='gform_hidden' aria-invalid="false" value='https://www.him.nl/polyurethaan-coating-mogelijkheden-alom/' /></div></li><li id="field_16_4" class="gfield gfield--type-checkbox gfield--type-choice gfield--width-full gfield_contains_required field_sublabel_below gfield--has-description field_description_below gfield_visibility_visible" data-js-reload="field_16_4"><label class='gfield_label gform-field-label gfield_label_before_complex' >GDPR permission<span class="gfield_required"><span class="gfield_required gfield_required_asterisk">*</span></span></label><div class='ginput_container ginput_container_checkbox'><ul class='gfield_checkbox' id='input_16_4'><li class='gchoice gchoice_16_4_1'> <input class='gfield-choice-input' name='input_4.1' type='checkbox' value='I give permission for HIM to email me and to store my information.' id='choice_16_4_1' aria-describedby="gfield_description_16_4"/> <label for='choice_16_4_1' id='label_16_4_1' class='gform-field-label gform-field-label--type-inline'>I give permission for HIM to email me and to store my information.</label> </li></ul></div><div class='gfield_description' id='gfield_description_16_4'>HIM uses your information to administer your account. By agreeing to these terms you give HIM permission to store your data and provide you with the requested information. </div></li><li id="field_submit" class="gfield gfield--type-submit gfield--width-full field_sublabel_below gfield--no-description field_description_below gfield_visibility_visible" data-field-class="gform_editor_submit_container" data-field-position="inline" data-js-reload="true"><input type="submit" id="gform_submit_button_16" class="gform-button gform-button--white button btn btn-primary" value="DOWNLOAD DIRECT" onclick='if(window["gf_submitting_16"]){return false;} window["gf_submitting_16"]=true; ' onkeypress='if( event.keyCode == 13 ){ if(window["gf_submitting_16"]){return false;} window["gf_submitting_16"]=true; jQuery("#gform_16").trigger("submit",[true]); }'></li></ul></div> <div class='gform_footer top_label'> <input type='hidden' class='gform_hidden' name='is_submit_16' value='1' /> <input type='hidden' class='gform_hidden' name='gform_submit' value='16' /> <input type='hidden' class='gform_hidden' name='gform_unique_id' value='' /> <input type='hidden' class='gform_hidden' name='state_16' value='WyJbXSIsImQ0NzI3YjdmMzZhYjMzOTI3YzY4MGJhYjMwODMyMDYwIl0=' /> <input type='hidden' class='gform_hidden' name='gform_target_page_number_16' id='gform_target_page_number_16' value='0' /> <input type='hidden' class='gform_hidden' name='gform_source_page_number_16' id='gform_source_page_number_16' value='1' /> <input type='hidden' name='gform_field_values' value='' /> </div> <p style="display: none !important;"><label>&#916;<textarea name="ak_hp_textarea" cols="45" rows="8" maxlength="100"></textarea></label><input type="hidden" id="ak_js_6" name="ak_js" value="150"/><script>document.getElementById( "ak_js_6" ).setAttribute( "value", ( new Date() ).getTime() );</script></p></form> </div><script type="text/javascript"> gform.initializeOnLoaded( function() {gformInitSpinner( 16, 'https://www.him.nl/wp-content/plugins/gravityforms/images/spinner.svg', true );jQuery('#gform_ajax_frame_16').on('load',function(){var contents = jQuery(this).contents().find('*').html();var is_postback = contents.indexOf('GF_AJAX_POSTBACK') >= 0;if(!is_postback){return;}var form_content = jQuery(this).contents().find('#gform_wrapper_16');var is_confirmation = jQuery(this).contents().find('#gform_confirmation_wrapper_16').length > 0;var is_redirect = contents.indexOf('gformRedirect(){') >= 0;var is_form = form_content.length > 0 && ! is_redirect && ! is_confirmation;var mt = parseInt(jQuery('html').css('margin-top'), 10) + parseInt(jQuery('body').css('margin-top'), 10) + 100;if(is_form){jQuery('#gform_wrapper_16').html(form_content.html());if(form_content.hasClass('gform_validation_error')){jQuery('#gform_wrapper_16').addClass('gform_validation_error');} else {jQuery('#gform_wrapper_16').removeClass('gform_validation_error');}setTimeout( function() { /* delay the scroll by 50 milliseconds to fix a bug in chrome */ }, 50 );if(window['gformInitDatepicker']) {gformInitDatepicker();}if(window['gformInitPriceFields']) {gformInitPriceFields();}var current_page = jQuery('#gform_source_page_number_16').val();gformInitSpinner( 16, 'https://www.him.nl/wp-content/plugins/gravityforms/images/spinner.svg', true );jQuery(document).trigger('gform_page_loaded', [16, current_page]);window['gf_submitting_16'] = false;}else if(!is_redirect){var confirmation_content = jQuery(this).contents().find('.GF_AJAX_POSTBACK').html();if(!confirmation_content){confirmation_content = contents;}setTimeout(function(){jQuery('#gform_wrapper_16').replaceWith(confirmation_content);jQuery(document).trigger('gform_confirmation_loaded', [16]);window['gf_submitting_16'] = false;wp.a11y.speak(jQuery('#gform_confirmation_message_16').text());}, 50);}else{jQuery('#gform_16').append(contents);if(window['gformRedirect']) {gformRedirect();}}jQuery(document).trigger('gform_post_render', [16, current_page]);gform.utils.trigger({ event: 'gform/postRender', native: false, data: { formId: 16, currentPage: current_page } });} );} ); </script>
[gravityform id="13" title="false" description="false"]
<div class='gf_browser_unknown gform_wrapper gform_legacy_markup_wrapper gform-theme--no-framework vinduwvloer_wrapper' data-form-theme='legacy' data-form-index='0' id='gform_wrapper_13' style='display:none'><form method='post' enctype='multipart/form-data' id='gform_13' class='vinduwvloer' action='/polyurethaan-coating-mogelijkheden-alom/' data-formid='13' > <div class='gform-body gform_body'><ul id='gform_fields_13' class='gform_fields top_label form_sublabel_below description_below'><li id="field_13_1" class="gfield gfield--type-name optin gfield_contains_required field_sublabel_hidden_label gfield--no-description field_description_below hidden_label gfield_visibility_visible" data-js-reload="field_13_1"><label class='gfield_label gform-field-label gfield_label_before_complex' >Naam<span class="gfield_required"><span class="gfield_required gfield_required_asterisk">*</span></span></label><div class='ginput_complex ginput_container ginput_container--name no_prefix has_first_name no_middle_name no_last_name no_suffix gf_name_has_1 ginput_container_name gform-grid-row' id='input_13_1'> <span id='input_13_1_3_container' class='name_first gform-grid-col gform-grid-col--size-auto' > <input type='text' name='input_1.3' id='input_13_1_3' value='' aria-required='true' placeholder='Voornaam' /> <label for='input_13_1_3' class='gform-field-label gform-field-label--type-sub hidden_sub_label screen-reader-text'>Voornaam</label> </span> </div></li><li id="field_13_2" class="gfield gfield--type-email optin gfield_contains_required field_sublabel_below gfield--no-description field_description_below hidden_label gfield_visibility_visible" data-js-reload="field_13_2"><label class='gfield_label gform-field-label' for='input_13_2' >E-mailadres<span class="gfield_required"><span class="gfield_required gfield_required_asterisk">*</span></span></label><div class='ginput_container ginput_container_email'> <input name='input_2' id='input_13_2' type='text' value='' class='medium' placeholder='E-mailadres' aria-required="true" aria-invalid="false" /> </div></li><li id="field_13_3" class="gfield gfield--type-hidden gform_hidden field_sublabel_below gfield--no-description field_description_below gfield_visibility_visible" data-js-reload="field_13_3"><div class='ginput_container ginput_container_text'><input name='input_3' id='input_13_3' type='hidden' class='gform_hidden' aria-invalid="false" value='https://www.him.nl/polyurethaan-coating-mogelijkheden-alom/' /></div></li></ul></div> <div class='gform_footer top_label'> <input type="submit" id="gform_submit_button_13" class="gform_button button btn btn-primary" value="DOWNLOAD DIRECT" onclick='if(window["gf_submitting_13"]){return false;} window["gf_submitting_13"]=true; ' onkeypress='if( event.keyCode == 13 ){ if(window["gf_submitting_13"]){return false;} window["gf_submitting_13"]=true; jQuery("#gform_13").trigger("submit",[true]); }'> <input type='hidden' class='gform_hidden' name='is_submit_13' value='1' /> <input type='hidden' class='gform_hidden' name='gform_submit' value='13' /> <input type='hidden' class='gform_hidden' name='gform_unique_id' value='' /> <input type='hidden' class='gform_hidden' name='state_13' value='WyJbXSIsImQ0NzI3YjdmMzZhYjMzOTI3YzY4MGJhYjMwODMyMDYwIl0=' /> <input type='hidden' class='gform_hidden' name='gform_target_page_number_13' id='gform_target_page_number_13' value='0' /> <input type='hidden' class='gform_hidden' name='gform_source_page_number_13' id='gform_source_page_number_13' value='1' /> <input type='hidden' name='gform_field_values' value='' /> </div> <p style="display: none !important;"><label>&#916;<textarea name="ak_hp_textarea" cols="45" rows="8" maxlength="100"></textarea></label><input type="hidden" id="ak_js_7" name="ak_js" value="218"/><script>document.getElementById( "ak_js_7" ).setAttribute( "value", ( new Date() ).getTime() );</script></p></form> </div><script type="text/javascript"> gform.initializeOnLoaded( function() {gformInitSpinner( 13, 'https://www.him.nl/wp-content/plugins/gravityforms/images/spinner.svg', true );jQuery('#gform_ajax_frame_13').on('load',function(){var contents = jQuery(this).contents().find('*').html();var is_postback = contents.indexOf('GF_AJAX_POSTBACK') >= 0;if(!is_postback){return;}var form_content = jQuery(this).contents().find('#gform_wrapper_13');var is_confirmation = jQuery(this).contents().find('#gform_confirmation_wrapper_13').length > 0;var is_redirect = contents.indexOf('gformRedirect(){') >= 0;var is_form = form_content.length > 0 && ! is_redirect && ! is_confirmation;var mt = parseInt(jQuery('html').css('margin-top'), 10) + parseInt(jQuery('body').css('margin-top'), 10) + 100;if(is_form){jQuery('#gform_wrapper_13').html(form_content.html());if(form_content.hasClass('gform_validation_error')){jQuery('#gform_wrapper_13').addClass('gform_validation_error');} else {jQuery('#gform_wrapper_13').removeClass('gform_validation_error');}setTimeout( function() { /* delay the scroll by 50 milliseconds to fix a bug in chrome */ }, 50 );if(window['gformInitDatepicker']) {gformInitDatepicker();}if(window['gformInitPriceFields']) {gformInitPriceFields();}var current_page = jQuery('#gform_source_page_number_13').val();gformInitSpinner( 13, 'https://www.him.nl/wp-content/plugins/gravityforms/images/spinner.svg', true );jQuery(document).trigger('gform_page_loaded', [13, current_page]);window['gf_submitting_13'] = false;}else if(!is_redirect){var confirmation_content = jQuery(this).contents().find('.GF_AJAX_POSTBACK').html();if(!confirmation_content){confirmation_content = contents;}setTimeout(function(){jQuery('#gform_wrapper_13').replaceWith(confirmation_content);jQuery(document).trigger('gform_confirmation_loaded', [13]);window['gf_submitting_13'] = false;wp.a11y.speak(jQuery('#gform_confirmation_message_13').text());}, 50);}else{jQuery('#gform_13').append(contents);if(window['gformRedirect']) {gformRedirect();}}jQuery(document).trigger('gform_post_render', [13, current_page]);gform.utils.trigger({ event: 'gform/postRender', native: false, data: { formId: 13, currentPage: current_page } });} );} ); </script>
[gravityform id="24" title="false" description="false"]
<div class='gf_browser_unknown gform_wrapper gform_legacy_markup_wrapper gform-theme--no-framework vinduwvloer_wrapper' data-form-theme='legacy' data-form-index='0' id='gform_wrapper_24' ><form method='post' enctype='multipart/form-data' id='gform_24' class='vinduwvloer' action='/polyurethaan-coating-mogelijkheden-alom/' data-formid='24' > <div class='gform-body gform_body'><ul id='gform_fields_24' class='gform_fields top_label form_sublabel_below description_below'><li id="field_24_1" class="gfield gfield--type-name optin gfield_contains_required field_sublabel_hidden_label gfield--no-description field_description_below hidden_label gfield_visibility_visible" data-js-reload="field_24_1"><label class='gfield_label gform-field-label gfield_label_before_complex' >First name<span class="gfield_required"><span class="gfield_required gfield_required_asterisk">*</span></span></label><div class='ginput_complex ginput_container ginput_container--name no_prefix has_first_name no_middle_name no_last_name no_suffix gf_name_has_1 ginput_container_name gform-grid-row' id='input_24_1'> <span id='input_24_1_3_container' class='name_first gform-grid-col gform-grid-col--size-auto' > <input type='text' name='input_1.3' id='input_24_1_3' value='' aria-required='true' placeholder='First name' /> <label for='input_24_1_3' class='gform-field-label gform-field-label--type-sub hidden_sub_label screen-reader-text'>First name</label> </span> </div></li><li id="field_24_2" class="gfield gfield--type-email optin gfield_contains_required field_sublabel_below gfield--no-description field_description_below hidden_label gfield_visibility_visible" data-js-reload="field_24_2"><label class='gfield_label gform-field-label' for='input_24_2' >E-mail address<span class="gfield_required"><span class="gfield_required gfield_required_asterisk">*</span></span></label><div class='ginput_container ginput_container_email'> <input name='input_2' id='input_24_2' type='text' value='' class='medium' placeholder='E-mail address' aria-required="true" aria-invalid="false" /> </div></li><li id="field_24_3" class="gfield gfield--type-hidden gform_hidden field_sublabel_below gfield--no-description field_description_below gfield_visibility_visible" data-js-reload="field_24_3"><div class='ginput_container ginput_container_text'><input name='input_3' id='input_24_3' type='hidden' class='gform_hidden' aria-invalid="false" value='https://www.him.nl/polyurethaan-coating-mogelijkheden-alom/' /></div></li></ul></div> <div class='gform_footer top_label'> <input type="submit" id="gform_submit_button_24" class="gform_button button btn btn-primary" value="DOWNLOAD DIRECT" onclick='if(window["gf_submitting_24"]){return false;} window["gf_submitting_24"]=true; ' onkeypress='if( event.keyCode == 13 ){ if(window["gf_submitting_24"]){return false;} window["gf_submitting_24"]=true; jQuery("#gform_24").trigger("submit",[true]); }'> <input type='hidden' class='gform_hidden' name='is_submit_24' value='1' /> <input type='hidden' class='gform_hidden' name='gform_submit' value='24' /> <input type='hidden' class='gform_hidden' name='gform_unique_id' value='' /> <input type='hidden' class='gform_hidden' name='state_24' value='WyJbXSIsImQ0NzI3YjdmMzZhYjMzOTI3YzY4MGJhYjMwODMyMDYwIl0=' /> <input type='hidden' class='gform_hidden' name='gform_target_page_number_24' id='gform_target_page_number_24' value='0' /> <input type='hidden' class='gform_hidden' name='gform_source_page_number_24' id='gform_source_page_number_24' value='1' /> <input type='hidden' name='gform_field_values' value='' /> </div> <p style="display: none !important;"><label>&#916;<textarea name="ak_hp_textarea" cols="45" rows="8" maxlength="100"></textarea></label><input type="hidden" id="ak_js_8" name="ak_js" value="246"/><script>document.getElementById( "ak_js_8" ).setAttribute( "value", ( new Date() ).getTime() );</script></p></form> </div><script type="text/javascript"> gform.initializeOnLoaded( function() {gformInitSpinner( 24, 'https://www.him.nl/wp-content/plugins/gravityforms/images/spinner.svg', true );jQuery('#gform_ajax_frame_24').on('load',function(){var contents = jQuery(this).contents().find('*').html();var is_postback = contents.indexOf('GF_AJAX_POSTBACK') >= 0;if(!is_postback){return;}var form_content = jQuery(this).contents().find('#gform_wrapper_24');var is_confirmation = jQuery(this).contents().find('#gform_confirmation_wrapper_24').length > 0;var is_redirect = contents.indexOf('gformRedirect(){') >= 0;var is_form = form_content.length > 0 && ! is_redirect && ! is_confirmation;var mt = parseInt(jQuery('html').css('margin-top'), 10) + parseInt(jQuery('body').css('margin-top'), 10) + 100;if(is_form){jQuery('#gform_wrapper_24').html(form_content.html());if(form_content.hasClass('gform_validation_error')){jQuery('#gform_wrapper_24').addClass('gform_validation_error');} else {jQuery('#gform_wrapper_24').removeClass('gform_validation_error');}setTimeout( function() { /* delay the scroll by 50 milliseconds to fix a bug in chrome */ }, 50 );if(window['gformInitDatepicker']) {gformInitDatepicker();}if(window['gformInitPriceFields']) {gformInitPriceFields();}var current_page = jQuery('#gform_source_page_number_24').val();gformInitSpinner( 24, 'https://www.him.nl/wp-content/plugins/gravityforms/images/spinner.svg', true );jQuery(document).trigger('gform_page_loaded', [24, current_page]);window['gf_submitting_24'] = false;}else if(!is_redirect){var confirmation_content = jQuery(this).contents().find('.GF_AJAX_POSTBACK').html();if(!confirmation_content){confirmation_content = contents;}setTimeout(function(){jQuery('#gform_wrapper_24').replaceWith(confirmation_content);jQuery(document).trigger('gform_confirmation_loaded', [24]);window['gf_submitting_24'] = false;wp.a11y.speak(jQuery('#gform_confirmation_message_24').text());}, 50);}else{jQuery('#gform_24').append(contents);if(window['gformRedirect']) {gformRedirect();}}jQuery(document).trigger('gform_post_render', [24, current_page]);gform.utils.trigger({ event: 'gform/postRender', native: false, data: { formId: 24, currentPage: current_page } });} );} ); </script>
[gravityform id="22" title="false" description="false"]
<div class='gf_browser_unknown gform_wrapper gform_legacy_markup_wrapper gform-theme--no-framework vinduwvloer_wrapper' data-form-theme='legacy' data-form-index='0' id='gform_wrapper_22' ><form method='post' enctype='multipart/form-data' id='gform_22' class='vinduwvloer' action='/polyurethaan-coating-mogelijkheden-alom/' data-formid='22' > <div class='gform-body gform_body'><ul id='gform_fields_22' class='gform_fields top_label form_sublabel_below description_below'><li id="field_22_1" class="gfield gfield--type-name optin gfield_contains_required field_sublabel_hidden_label gfield--no-description field_description_below hidden_label gfield_visibility_visible" data-js-reload="field_22_1"><label class='gfield_label gform-field-label gfield_label_before_complex' >Naam<span class="gfield_required"><span class="gfield_required gfield_required_asterisk">*</span></span></label><div class='ginput_complex ginput_container ginput_container--name no_prefix has_first_name no_middle_name no_last_name no_suffix gf_name_has_1 ginput_container_name gform-grid-row' id='input_22_1'> <span id='input_22_1_3_container' class='name_first gform-grid-col gform-grid-col--size-auto' > <input type='text' name='input_1.3' id='input_22_1_3' value='' aria-required='true' placeholder='Voornaam' /> <label for='input_22_1_3' class='gform-field-label gform-field-label--type-sub hidden_sub_label screen-reader-text'>Voornaam</label> </span> </div></li><li id="field_22_2" class="gfield gfield--type-email optin gfield_contains_required field_sublabel_below gfield--no-description field_description_below hidden_label gfield_visibility_visible" data-js-reload="field_22_2"><label class='gfield_label gform-field-label' for='input_22_2' >E-mailadres<span class="gfield_required"><span class="gfield_required gfield_required_asterisk">*</span></span></label><div class='ginput_container ginput_container_email'> <input name='input_2' id='input_22_2' type='text' value='' class='medium' placeholder='E-mail adres' aria-required="true" aria-invalid="false" /> </div></li><li id="field_22_3" class="gfield gfield--type-hidden gform_hidden field_sublabel_below gfield--no-description field_description_below gfield_visibility_visible" data-js-reload="field_22_3"><div class='ginput_container ginput_container_text'><input name='input_3' id='input_22_3' type='hidden' class='gform_hidden' aria-invalid="false" value='https://www.him.nl/polyurethaan-coating-mogelijkheden-alom/' /></div></li></ul></div> <div class='gform_footer top_label'> <input type="submit" id="gform_submit_button_22" class="gform_button button btn btn-primary" value="DOWNLOAD DIRECT" onclick='if(window["gf_submitting_22"]){return false;} window["gf_submitting_22"]=true; ' onkeypress='if( event.keyCode == 13 ){ if(window["gf_submitting_22"]){return false;} window["gf_submitting_22"]=true; jQuery("#gform_22").trigger("submit",[true]); }'> <input type='hidden' class='gform_hidden' name='is_submit_22' value='1' /> <input type='hidden' class='gform_hidden' name='gform_submit' value='22' /> <input type='hidden' class='gform_hidden' name='gform_unique_id' value='' /> <input type='hidden' class='gform_hidden' name='state_22' value='WyJbXSIsImQ0NzI3YjdmMzZhYjMzOTI3YzY4MGJhYjMwODMyMDYwIl0=' /> <input type='hidden' class='gform_hidden' name='gform_target_page_number_22' id='gform_target_page_number_22' value='0' /> <input type='hidden' class='gform_hidden' name='gform_source_page_number_22' id='gform_source_page_number_22' value='1' /> <input type='hidden' name='gform_field_values' value='' /> </div> <p style="display: none !important;"><label>&#916;<textarea name="ak_hp_textarea" cols="45" rows="8" maxlength="100"></textarea></label><input type="hidden" id="ak_js_9" name="ak_js" value="235"/><script>document.getElementById( "ak_js_9" ).setAttribute( "value", ( new Date() ).getTime() );</script></p></form> </div><script type="text/javascript"> gform.initializeOnLoaded( function() {gformInitSpinner( 22, 'https://www.him.nl/wp-content/plugins/gravityforms/images/spinner.svg', true );jQuery('#gform_ajax_frame_22').on('load',function(){var contents = jQuery(this).contents().find('*').html();var is_postback = contents.indexOf('GF_AJAX_POSTBACK') >= 0;if(!is_postback){return;}var form_content = jQuery(this).contents().find('#gform_wrapper_22');var is_confirmation = jQuery(this).contents().find('#gform_confirmation_wrapper_22').length > 0;var is_redirect = contents.indexOf('gformRedirect(){') >= 0;var is_form = form_content.length > 0 && ! is_redirect && ! is_confirmation;var mt = parseInt(jQuery('html').css('margin-top'), 10) + parseInt(jQuery('body').css('margin-top'), 10) + 100;if(is_form){jQuery('#gform_wrapper_22').html(form_content.html());if(form_content.hasClass('gform_validation_error')){jQuery('#gform_wrapper_22').addClass('gform_validation_error');} else {jQuery('#gform_wrapper_22').removeClass('gform_validation_error');}setTimeout( function() { /* delay the scroll by 50 milliseconds to fix a bug in chrome */ }, 50 );if(window['gformInitDatepicker']) {gformInitDatepicker();}if(window['gformInitPriceFields']) {gformInitPriceFields();}var current_page = jQuery('#gform_source_page_number_22').val();gformInitSpinner( 22, 'https://www.him.nl/wp-content/plugins/gravityforms/images/spinner.svg', true );jQuery(document).trigger('gform_page_loaded', [22, current_page]);window['gf_submitting_22'] = false;}else if(!is_redirect){var confirmation_content = jQuery(this).contents().find('.GF_AJAX_POSTBACK').html();if(!confirmation_content){confirmation_content = contents;}setTimeout(function(){jQuery('#gform_wrapper_22').replaceWith(confirmation_content);jQuery(document).trigger('gform_confirmation_loaded', [22]);window['gf_submitting_22'] = false;wp.a11y.speak(jQuery('#gform_confirmation_message_22').text());}, 50);}else{jQuery('#gform_22').append(contents);if(window['gformRedirect']) {gformRedirect();}}jQuery(document).trigger('gform_post_render', [22, current_page]);gform.utils.trigger({ event: 'gform/postRender', native: false, data: { formId: 22, currentPage: current_page } });} );} ); </script>
[gravityform id="24" title="false" description="false"]
<div class='gf_browser_unknown gform_wrapper gform_legacy_markup_wrapper gform-theme--no-framework vinduwvloer_wrapper' data-form-theme='legacy' data-form-index='0' id='gform_wrapper_24' ><form method='post' enctype='multipart/form-data' id='gform_24' class='vinduwvloer' action='/polyurethaan-coating-mogelijkheden-alom/' data-formid='24' > <div class='gform-body gform_body'><ul id='gform_fields_24' class='gform_fields top_label form_sublabel_below description_below'><li id="field_24_1" class="gfield gfield--type-name optin gfield_contains_required field_sublabel_hidden_label gfield--no-description field_description_below hidden_label gfield_visibility_visible" data-js-reload="field_24_1"><label class='gfield_label gform-field-label gfield_label_before_complex' >First name<span class="gfield_required"><span class="gfield_required gfield_required_asterisk">*</span></span></label><div class='ginput_complex ginput_container ginput_container--name no_prefix has_first_name no_middle_name no_last_name no_suffix gf_name_has_1 ginput_container_name gform-grid-row' id='input_24_1'> <span id='input_24_1_3_container' class='name_first gform-grid-col gform-grid-col--size-auto' > <input type='text' name='input_1.3' id='input_24_1_3' value='' aria-required='true' placeholder='First name' /> <label for='input_24_1_3' class='gform-field-label gform-field-label--type-sub hidden_sub_label screen-reader-text'>First name</label> </span> </div></li><li id="field_24_2" class="gfield gfield--type-email optin gfield_contains_required field_sublabel_below gfield--no-description field_description_below hidden_label gfield_visibility_visible" data-js-reload="field_24_2"><label class='gfield_label gform-field-label' for='input_24_2' >E-mail address<span class="gfield_required"><span class="gfield_required gfield_required_asterisk">*</span></span></label><div class='ginput_container ginput_container_email'> <input name='input_2' id='input_24_2' type='text' value='' class='medium' placeholder='E-mail address' aria-required="true" aria-invalid="false" /> </div></li><li id="field_24_3" class="gfield gfield--type-hidden gform_hidden field_sublabel_below gfield--no-description field_description_below gfield_visibility_visible" data-js-reload="field_24_3"><div class='ginput_container ginput_container_text'><input name='input_3' id='input_24_3' type='hidden' class='gform_hidden' aria-invalid="false" value='https://www.him.nl/polyurethaan-coating-mogelijkheden-alom/' /></div></li></ul></div> <div class='gform_footer top_label'> <input type="submit" id="gform_submit_button_24" class="gform_button button btn btn-primary" value="DOWNLOAD DIRECT" onclick='if(window["gf_submitting_24"]){return false;} window["gf_submitting_24"]=true; ' onkeypress='if( event.keyCode == 13 ){ if(window["gf_submitting_24"]){return false;} window["gf_submitting_24"]=true; jQuery("#gform_24").trigger("submit",[true]); }'> <input type='hidden' class='gform_hidden' name='is_submit_24' value='1' /> <input type='hidden' class='gform_hidden' name='gform_submit' value='24' /> <input type='hidden' class='gform_hidden' name='gform_unique_id' value='' /> <input type='hidden' class='gform_hidden' name='state_24' value='WyJbXSIsImQ0NzI3YjdmMzZhYjMzOTI3YzY4MGJhYjMwODMyMDYwIl0=' /> <input type='hidden' class='gform_hidden' name='gform_target_page_number_24' id='gform_target_page_number_24' value='0' /> <input type='hidden' class='gform_hidden' name='gform_source_page_number_24' id='gform_source_page_number_24' value='1' /> <input type='hidden' name='gform_field_values' value='' /> </div> <p style="display: none !important;"><label>&#916;<textarea name="ak_hp_textarea" cols="45" rows="8" maxlength="100"></textarea></label><input type="hidden" id="ak_js_10" name="ak_js" value="10"/><script>document.getElementById( "ak_js_10" ).setAttribute( "value", ( new Date() ).getTime() );</script></p></form> </div><script type="text/javascript"> gform.initializeOnLoaded( function() {gformInitSpinner( 24, 'https://www.him.nl/wp-content/plugins/gravityforms/images/spinner.svg', true );jQuery('#gform_ajax_frame_24').on('load',function(){var contents = jQuery(this).contents().find('*').html();var is_postback = contents.indexOf('GF_AJAX_POSTBACK') >= 0;if(!is_postback){return;}var form_content = jQuery(this).contents().find('#gform_wrapper_24');var is_confirmation = jQuery(this).contents().find('#gform_confirmation_wrapper_24').length > 0;var is_redirect = contents.indexOf('gformRedirect(){') >= 0;var is_form = form_content.length > 0 && ! is_redirect && ! is_confirmation;var mt = parseInt(jQuery('html').css('margin-top'), 10) + parseInt(jQuery('body').css('margin-top'), 10) + 100;if(is_form){jQuery('#gform_wrapper_24').html(form_content.html());if(form_content.hasClass('gform_validation_error')){jQuery('#gform_wrapper_24').addClass('gform_validation_error');} else {jQuery('#gform_wrapper_24').removeClass('gform_validation_error');}setTimeout( function() { /* delay the scroll by 50 milliseconds to fix a bug in chrome */ }, 50 );if(window['gformInitDatepicker']) {gformInitDatepicker();}if(window['gformInitPriceFields']) {gformInitPriceFields();}var current_page = jQuery('#gform_source_page_number_24').val();gformInitSpinner( 24, 'https://www.him.nl/wp-content/plugins/gravityforms/images/spinner.svg', true );jQuery(document).trigger('gform_page_loaded', [24, current_page]);window['gf_submitting_24'] = false;}else if(!is_redirect){var confirmation_content = jQuery(this).contents().find('.GF_AJAX_POSTBACK').html();if(!confirmation_content){confirmation_content = contents;}setTimeout(function(){jQuery('#gform_wrapper_24').replaceWith(confirmation_content);jQuery(document).trigger('gform_confirmation_loaded', [24]);window['gf_submitting_24'] = false;wp.a11y.speak(jQuery('#gform_confirmation_message_24').text());}, 50);}else{jQuery('#gform_24').append(contents);if(window['gformRedirect']) {gformRedirect();}}jQuery(document).trigger('gform_post_render', [24, current_page]);gform.utils.trigger({ event: 'gform/postRender', native: false, data: { formId: 24, currentPage: current_page } });} );} ); </script>
[gravityform id="22" title="false" description="false"]
<div class='gf_browser_unknown gform_wrapper gform_legacy_markup_wrapper gform-theme--no-framework vinduwvloer_wrapper' data-form-theme='legacy' data-form-index='0' id='gform_wrapper_22' ><form method='post' enctype='multipart/form-data' id='gform_22' class='vinduwvloer' action='/polyurethaan-coating-mogelijkheden-alom/' data-formid='22' > <div class='gform-body gform_body'><ul id='gform_fields_22' class='gform_fields top_label form_sublabel_below description_below'><li id="field_22_1" class="gfield gfield--type-name optin gfield_contains_required field_sublabel_hidden_label gfield--no-description field_description_below hidden_label gfield_visibility_visible" data-js-reload="field_22_1"><label class='gfield_label gform-field-label gfield_label_before_complex' >Naam<span class="gfield_required"><span class="gfield_required gfield_required_asterisk">*</span></span></label><div class='ginput_complex ginput_container ginput_container--name no_prefix has_first_name no_middle_name no_last_name no_suffix gf_name_has_1 ginput_container_name gform-grid-row' id='input_22_1'> <span id='input_22_1_3_container' class='name_first gform-grid-col gform-grid-col--size-auto' > <input type='text' name='input_1.3' id='input_22_1_3' value='' aria-required='true' placeholder='Voornaam' /> <label for='input_22_1_3' class='gform-field-label gform-field-label--type-sub hidden_sub_label screen-reader-text'>Voornaam</label> </span> </div></li><li id="field_22_2" class="gfield gfield--type-email optin gfield_contains_required field_sublabel_below gfield--no-description field_description_below hidden_label gfield_visibility_visible" data-js-reload="field_22_2"><label class='gfield_label gform-field-label' for='input_22_2' >E-mailadres<span class="gfield_required"><span class="gfield_required gfield_required_asterisk">*</span></span></label><div class='ginput_container ginput_container_email'> <input name='input_2' id='input_22_2' type='text' value='' class='medium' placeholder='E-mail adres' aria-required="true" aria-invalid="false" /> </div></li><li id="field_22_3" class="gfield gfield--type-hidden gform_hidden field_sublabel_below gfield--no-description field_description_below gfield_visibility_visible" data-js-reload="field_22_3"><div class='ginput_container ginput_container_text'><input name='input_3' id='input_22_3' type='hidden' class='gform_hidden' aria-invalid="false" value='https://www.him.nl/polyurethaan-coating-mogelijkheden-alom/' /></div></li></ul></div> <div class='gform_footer top_label'> <input type="submit" id="gform_submit_button_22" class="gform_button button btn btn-primary" value="DOWNLOAD DIRECT" onclick='if(window["gf_submitting_22"]){return false;} window["gf_submitting_22"]=true; ' onkeypress='if( event.keyCode == 13 ){ if(window["gf_submitting_22"]){return false;} window["gf_submitting_22"]=true; jQuery("#gform_22").trigger("submit",[true]); }'> <input type='hidden' class='gform_hidden' name='is_submit_22' value='1' /> <input type='hidden' class='gform_hidden' name='gform_submit' value='22' /> <input type='hidden' class='gform_hidden' name='gform_unique_id' value='' /> <input type='hidden' class='gform_hidden' name='state_22' value='WyJbXSIsImQ0NzI3YjdmMzZhYjMzOTI3YzY4MGJhYjMwODMyMDYwIl0=' /> <input type='hidden' class='gform_hidden' name='gform_target_page_number_22' id='gform_target_page_number_22' value='0' /> <input type='hidden' class='gform_hidden' name='gform_source_page_number_22' id='gform_source_page_number_22' value='1' /> <input type='hidden' name='gform_field_values' value='' /> </div> <p style="display: none !important;"><label>&#916;<textarea name="ak_hp_textarea" cols="45" rows="8" maxlength="100"></textarea></label><input type="hidden" id="ak_js_11" name="ak_js" value="213"/><script>document.getElementById( "ak_js_11" ).setAttribute( "value", ( new Date() ).getTime() );</script></p></form> </div><script type="text/javascript"> gform.initializeOnLoaded( function() {gformInitSpinner( 22, 'https://www.him.nl/wp-content/plugins/gravityforms/images/spinner.svg', true );jQuery('#gform_ajax_frame_22').on('load',function(){var contents = jQuery(this).contents().find('*').html();var is_postback = contents.indexOf('GF_AJAX_POSTBACK') >= 0;if(!is_postback){return;}var form_content = jQuery(this).contents().find('#gform_wrapper_22');var is_confirmation = jQuery(this).contents().find('#gform_confirmation_wrapper_22').length > 0;var is_redirect = contents.indexOf('gformRedirect(){') >= 0;var is_form = form_content.length > 0 && ! is_redirect && ! is_confirmation;var mt = parseInt(jQuery('html').css('margin-top'), 10) + parseInt(jQuery('body').css('margin-top'), 10) + 100;if(is_form){jQuery('#gform_wrapper_22').html(form_content.html());if(form_content.hasClass('gform_validation_error')){jQuery('#gform_wrapper_22').addClass('gform_validation_error');} else {jQuery('#gform_wrapper_22').removeClass('gform_validation_error');}setTimeout( function() { /* delay the scroll by 50 milliseconds to fix a bug in chrome */ }, 50 );if(window['gformInitDatepicker']) {gformInitDatepicker();}if(window['gformInitPriceFields']) {gformInitPriceFields();}var current_page = jQuery('#gform_source_page_number_22').val();gformInitSpinner( 22, 'https://www.him.nl/wp-content/plugins/gravityforms/images/spinner.svg', true );jQuery(document).trigger('gform_page_loaded', [22, current_page]);window['gf_submitting_22'] = false;}else if(!is_redirect){var confirmation_content = jQuery(this).contents().find('.GF_AJAX_POSTBACK').html();if(!confirmation_content){confirmation_content = contents;}setTimeout(function(){jQuery('#gform_wrapper_22').replaceWith(confirmation_content);jQuery(document).trigger('gform_confirmation_loaded', [22]);window['gf_submitting_22'] = false;wp.a11y.speak(jQuery('#gform_confirmation_message_22').text());}, 50);}else{jQuery('#gform_22').append(contents);if(window['gformRedirect']) {gformRedirect();}}jQuery(document).trigger('gform_post_render', [22, current_page]);gform.utils.trigger({ event: 'gform/postRender', native: false, data: { formId: 22, currentPage: current_page } });} );} ); </script>
[gravityform id="12" title="false" description="false"]
<div class='gf_browser_unknown gform_wrapper gform_legacy_markup_wrapper gform-theme--no-framework vinduwvloer_wrapper' data-form-theme='legacy' data-form-index='0' id='gform_wrapper_12' ><form method='post' enctype='multipart/form-data' id='gform_12' class='vinduwvloer' action='/polyurethaan-coating-mogelijkheden-alom/' data-formid='12' > <div class='gform-body gform_body'><ul id='gform_fields_12' class='gform_fields top_label form_sublabel_below description_below'><li id="field_12_1" class="gfield gfield--type-name optin gfield_contains_required field_sublabel_hidden_label gfield--no-description field_description_below hidden_label gfield_visibility_visible" data-js-reload="field_12_1"><label class='gfield_label gform-field-label gfield_label_before_complex' >Naam<span class="gfield_required"><span class="gfield_required gfield_required_asterisk">*</span></span></label><div class='ginput_complex ginput_container ginput_container--name no_prefix has_first_name no_middle_name no_last_name no_suffix gf_name_has_1 ginput_container_name gform-grid-row' id='input_12_1'> <span id='input_12_1_3_container' class='name_first gform-grid-col gform-grid-col--size-auto' > <input type='text' name='input_1.3' id='input_12_1_3' value='' aria-required='true' placeholder='First name' /> <label for='input_12_1_3' class='gform-field-label gform-field-label--type-sub hidden_sub_label screen-reader-text'>Voornaam</label> </span> </div></li><li id="field_12_2" class="gfield gfield--type-email optin gfield_contains_required field_sublabel_below gfield--no-description field_description_below hidden_label gfield_visibility_visible" data-js-reload="field_12_2"><label class='gfield_label gform-field-label' for='input_12_2' >E-mailadres<span class="gfield_required"><span class="gfield_required gfield_required_asterisk">*</span></span></label><div class='ginput_container ginput_container_email'> <input name='input_2' id='input_12_2' type='text' value='' class='medium' placeholder='Email address' aria-required="true" aria-invalid="false" /> </div></li><li id="field_12_3" class="gfield gfield--type-hidden gform_hidden field_sublabel_below gfield--no-description field_description_below gfield_visibility_visible" data-js-reload="field_12_3"><div class='ginput_container ginput_container_text'><input name='input_3' id='input_12_3' type='hidden' class='gform_hidden' aria-invalid="false" value='https://www.him.nl/polyurethaan-coating-mogelijkheden-alom/' /></div></li></ul></div> <div class='gform_footer top_label'> <input type="submit" id="gform_submit_button_12" class="gform_button button btn btn-primary" value="DOWNLOAD DIRECT" onclick='if(window["gf_submitting_12"]){return false;} window["gf_submitting_12"]=true; ' onkeypress='if( event.keyCode == 13 ){ if(window["gf_submitting_12"]){return false;} window["gf_submitting_12"]=true; jQuery("#gform_12").trigger("submit",[true]); }'> <input type='hidden' class='gform_hidden' name='is_submit_12' value='1' /> <input type='hidden' class='gform_hidden' name='gform_submit' value='12' /> <input type='hidden' class='gform_hidden' name='gform_unique_id' value='' /> <input type='hidden' class='gform_hidden' name='state_12' value='WyJbXSIsImQ0NzI3YjdmMzZhYjMzOTI3YzY4MGJhYjMwODMyMDYwIl0=' /> <input type='hidden' class='gform_hidden' name='gform_target_page_number_12' id='gform_target_page_number_12' value='0' /> <input type='hidden' class='gform_hidden' name='gform_source_page_number_12' id='gform_source_page_number_12' value='1' /> <input type='hidden' name='gform_field_values' value='' /> </div> <p style="display: none !important;"><label>&#916;<textarea name="ak_hp_textarea" cols="45" rows="8" maxlength="100"></textarea></label><input type="hidden" id="ak_js_12" name="ak_js" value="178"/><script>document.getElementById( "ak_js_12" ).setAttribute( "value", ( new Date() ).getTime() );</script></p></form> </div><script type="text/javascript"> gform.initializeOnLoaded( function() {gformInitSpinner( 12, 'https://www.him.nl/wp-content/plugins/gravityforms/images/spinner.svg', true );jQuery('#gform_ajax_frame_12').on('load',function(){var contents = jQuery(this).contents().find('*').html();var is_postback = contents.indexOf('GF_AJAX_POSTBACK') >= 0;if(!is_postback){return;}var form_content = jQuery(this).contents().find('#gform_wrapper_12');var is_confirmation = jQuery(this).contents().find('#gform_confirmation_wrapper_12').length > 0;var is_redirect = contents.indexOf('gformRedirect(){') >= 0;var is_form = form_content.length > 0 && ! is_redirect && ! is_confirmation;var mt = parseInt(jQuery('html').css('margin-top'), 10) + parseInt(jQuery('body').css('margin-top'), 10) + 100;if(is_form){jQuery('#gform_wrapper_12').html(form_content.html());if(form_content.hasClass('gform_validation_error')){jQuery('#gform_wrapper_12').addClass('gform_validation_error');} else {jQuery('#gform_wrapper_12').removeClass('gform_validation_error');}setTimeout( function() { /* delay the scroll by 50 milliseconds to fix a bug in chrome */ }, 50 );if(window['gformInitDatepicker']) {gformInitDatepicker();}if(window['gformInitPriceFields']) {gformInitPriceFields();}var current_page = jQuery('#gform_source_page_number_12').val();gformInitSpinner( 12, 'https://www.him.nl/wp-content/plugins/gravityforms/images/spinner.svg', true );jQuery(document).trigger('gform_page_loaded', [12, current_page]);window['gf_submitting_12'] = false;}else if(!is_redirect){var confirmation_content = jQuery(this).contents().find('.GF_AJAX_POSTBACK').html();if(!confirmation_content){confirmation_content = contents;}setTimeout(function(){jQuery('#gform_wrapper_12').replaceWith(confirmation_content);jQuery(document).trigger('gform_confirmation_loaded', [12]);window['gf_submitting_12'] = false;wp.a11y.speak(jQuery('#gform_confirmation_message_12').text());}, 50);}else{jQuery('#gform_12').append(contents);if(window['gformRedirect']) {gformRedirect();}}jQuery(document).trigger('gform_post_render', [12, current_page]);gform.utils.trigger({ event: 'gform/postRender', native: false, data: { formId: 12, currentPage: current_page } });} );} ); </script>
[gravityform id="10" title="false" description="false"]
<div class='gf_browser_unknown gform_wrapper gform_legacy_markup_wrapper gform-theme--no-framework vinduwvloer_wrapper' data-form-theme='legacy' data-form-index='0' id='gform_wrapper_10' ><form method='post' enctype='multipart/form-data' id='gform_10' class='vinduwvloer' action='/polyurethaan-coating-mogelijkheden-alom/' data-formid='10' > <div class='gform-body gform_body'><ul id='gform_fields_10' class='gform_fields top_label form_sublabel_below description_below'><li id="field_10_1" class="gfield gfield--type-name optin gfield_contains_required field_sublabel_hidden_label gfield--no-description field_description_below hidden_label gfield_visibility_visible" data-js-reload="field_10_1"><label class='gfield_label gform-field-label gfield_label_before_complex' >Naam<span class="gfield_required"><span class="gfield_required gfield_required_asterisk">*</span></span></label><div class='ginput_complex ginput_container ginput_container--name no_prefix has_first_name no_middle_name no_last_name no_suffix gf_name_has_1 ginput_container_name gform-grid-row' id='input_10_1'> <span id='input_10_1_3_container' class='name_first gform-grid-col gform-grid-col--size-auto' > <input type='text' name='input_1.3' id='input_10_1_3' value='' aria-required='true' placeholder='Voornaam' /> <label for='input_10_1_3' class='gform-field-label gform-field-label--type-sub hidden_sub_label screen-reader-text'>Voornaam</label> </span> </div></li><li id="field_10_2" class="gfield gfield--type-email optin gfield_contains_required field_sublabel_below gfield--no-description field_description_below hidden_label gfield_visibility_visible" data-js-reload="field_10_2"><label class='gfield_label gform-field-label' for='input_10_2' >E-mailadres<span class="gfield_required"><span class="gfield_required gfield_required_asterisk">*</span></span></label><div class='ginput_container ginput_container_email'> <input name='input_2' id='input_10_2' type='text' value='' class='medium' placeholder='E-mail adres' aria-required="true" aria-invalid="false" /> </div></li><li id="field_10_5" class="gfield gfield--type-checkbox gfield--type-choice gfield--width-full gfield_description gfield_contains_required field_sublabel_below gfield--no-description field_description_below hidden_label gfield_visibility_visible" data-js-reload="field_10_5"><label class='gfield_label gform-field-label gfield_label_before_complex' >Toestemming<span class="gfield_required"><span class="gfield_required gfield_required_asterisk">*</span></span></label><div class='ginput_container ginput_container_checkbox'><ul class='gfield_checkbox' id='input_10_5'><li class='gchoice gchoice_10_5_1'> <input class='gfield-choice-input' name='input_5.1' type='checkbox' value='Ik ga ermee akkoord dat HIM mijn gegevens verwerkt en mij mailt' id='choice_10_5_1' /> <label for='choice_10_5_1' id='label_10_5_1' class='gform-field-label gform-field-label--type-inline'>Ik ga ermee akkoord dat HIM mijn gegevens verwerkt en mij mailt</label> </li></ul></div></li><li id="field_10_6" class="gfield gfield--type-html gfield--width-full gfield_html gfield_html_formatted gfield_no_follows_desc field_sublabel_below gfield--no-description field_description_below gfield_visibility_visible" data-js-reload="field_10_6"><p><br/></p></li><li id="field_10_3" class="gfield gfield--type-hidden gform_hidden field_sublabel_below gfield--no-description field_description_below gfield_visibility_visible" data-js-reload="field_10_3"><div class='ginput_container ginput_container_text'><input name='input_3' id='input_10_3' type='hidden' class='gform_hidden' aria-invalid="false" value='https://www.him.nl/polyurethaan-coating-mogelijkheden-alom/' /></div></li></ul></div> <div class='gform_footer top_label'> <input type="submit" id="gform_submit_button_10" class="gform_button button btn btn-primary" value="DOWNLOAD DIRECT" onclick='if(window["gf_submitting_10"]){return false;} window["gf_submitting_10"]=true; ' onkeypress='if( event.keyCode == 13 ){ if(window["gf_submitting_10"]){return false;} window["gf_submitting_10"]=true; jQuery("#gform_10").trigger("submit",[true]); }'> <input type='hidden' class='gform_hidden' name='is_submit_10' value='1' /> <input type='hidden' class='gform_hidden' name='gform_submit' value='10' /> <input type='hidden' class='gform_hidden' name='gform_unique_id' value='' /> <input type='hidden' class='gform_hidden' name='state_10' value='WyJbXSIsImQ0NzI3YjdmMzZhYjMzOTI3YzY4MGJhYjMwODMyMDYwIl0=' /> <input type='hidden' class='gform_hidden' name='gform_target_page_number_10' id='gform_target_page_number_10' value='0' /> <input type='hidden' class='gform_hidden' name='gform_source_page_number_10' id='gform_source_page_number_10' value='1' /> <input type='hidden' name='gform_field_values' value='' /> </div> <p style="display: none !important;"><label>&#916;<textarea name="ak_hp_textarea" cols="45" rows="8" maxlength="100"></textarea></label><input type="hidden" id="ak_js_13" name="ak_js" value="39"/><script>document.getElementById( "ak_js_13" ).setAttribute( "value", ( new Date() ).getTime() );</script></p></form> </div><script type="text/javascript"> gform.initializeOnLoaded( function() {gformInitSpinner( 10, 'https://www.him.nl/wp-content/plugins/gravityforms/images/spinner.svg', true );jQuery('#gform_ajax_frame_10').on('load',function(){var contents = jQuery(this).contents().find('*').html();var is_postback = contents.indexOf('GF_AJAX_POSTBACK') >= 0;if(!is_postback){return;}var form_content = jQuery(this).contents().find('#gform_wrapper_10');var is_confirmation = jQuery(this).contents().find('#gform_confirmation_wrapper_10').length > 0;var is_redirect = contents.indexOf('gformRedirect(){') >= 0;var is_form = form_content.length > 0 && ! is_redirect && ! is_confirmation;var mt = parseInt(jQuery('html').css('margin-top'), 10) + parseInt(jQuery('body').css('margin-top'), 10) + 100;if(is_form){jQuery('#gform_wrapper_10').html(form_content.html());if(form_content.hasClass('gform_validation_error')){jQuery('#gform_wrapper_10').addClass('gform_validation_error');} else {jQuery('#gform_wrapper_10').removeClass('gform_validation_error');}setTimeout( function() { /* delay the scroll by 50 milliseconds to fix a bug in chrome */ }, 50 );if(window['gformInitDatepicker']) {gformInitDatepicker();}if(window['gformInitPriceFields']) {gformInitPriceFields();}var current_page = jQuery('#gform_source_page_number_10').val();gformInitSpinner( 10, 'https://www.him.nl/wp-content/plugins/gravityforms/images/spinner.svg', true );jQuery(document).trigger('gform_page_loaded', [10, current_page]);window['gf_submitting_10'] = false;}else if(!is_redirect){var confirmation_content = jQuery(this).contents().find('.GF_AJAX_POSTBACK').html();if(!confirmation_content){confirmation_content = contents;}setTimeout(function(){jQuery('#gform_wrapper_10').replaceWith(confirmation_content);jQuery(document).trigger('gform_confirmation_loaded', [10]);window['gf_submitting_10'] = false;wp.a11y.speak(jQuery('#gform_confirmation_message_10').text());}, 50);}else{jQuery('#gform_10').append(contents);if(window['gformRedirect']) {gformRedirect();}}jQuery(document).trigger('gform_post_render', [10, current_page]);gform.utils.trigger({ event: 'gform/postRender', native: false, data: { formId: 10, currentPage: current_page } });} );} ); </script>